Skate America 2009: Day 3
By Suzanne Herrmann
Photos ┬ę Suzanne Herrmann, Caroline Pare
Sunday was a marathon day between the Skate America events and the Gala practice. It was a pleasure and an honor to participate in the Gala but there is a price to pay when you want to do everything—no sleep!! The day began at 8am on the ice for the group number. It was time to expand upon what we had built two days prior with breakout moments and moves for a number of skaters in the event.
Following my own practice, I headed to the arena for the ladies and a short bit of dance practice. I enjoy watching the practices as I get to see what the skaters are working on and the difficulties they overcome in the competition itself. I sat behind Elene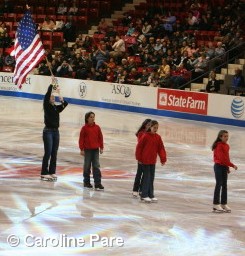 Gedevanishvili's mom and watched Rachael practice her triple-triple. A section to my right sat the Ice Network crew, including commentator Tara Lipinski. Some of the coaches were at the end and some sat down in the front of my section. The only skater I didn't see was Joshie Helgesson. Julia Sebestyen was the only other skater to not run through her program but left beforehand. It is interesting to sit and observe what takes place in a more relaxed environment.
Following the first group of dancers, I headed back to the 32/Jack Shea Arena for more group number practice. Scott (Brown) wanted to tidy up our breakout patterns and ensure the number was ready for presentation. Imagine putting 100 skaters, most of which never met before, into a well-organized three minute number of all levels and ages in less than six hours total!! I must say Scott had quite a knack for it. He was pleased with where the number stood and we were permitted to leave early which was very helpful considering the ladies were up in a short time!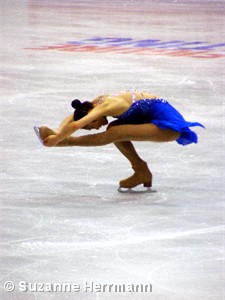 The first group of ladies was again a bit lackluster. Unlike yesterday, Sarah Hecken skated fabulously and had the crowd behind her, clapping to the music as she landed jump after jump. She was thrilled with the performance and that stood out as a highlight in the first group. Aside from Sarah and Emily Hughes, the ladies placed backward of what one might expect. Usually the skaters that skate later are the better skaters, yet they were not the ones staying on top of the leader board. The second group was far more exciting.
Finishing in first with the gold medal was Yu-na Kim with 187.98 points; a bit below her "usual" total. Though her finish is no surprise, her performance certainly was. Her usual confidence, ease and coolness was marred by insecure jump landings, a fall, and a jump that I could not quite figure out where it went wrong. She is strong enough, despite the mistakes, to stay on top. However, she actually came in second to Rachael Flatt in the long. What a confidence booster for Rachael! Despite the inconsistencies, Yu-na's program was greatly appreciated by the crowd though missing the usual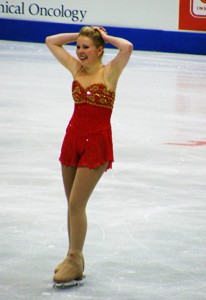 awesome energy that reverberates throughout the arena.
Silver medalist, Rachael Flatt, skated a superb program with only one mistake. She finished with a score of 174.91. Rachael almost turned out of a few of her jump landings but managed to effectively work the movement into her choreography. Her spins looked slower than usual and it did not look like she held one of her spirals long enough though I have not checked the program scoring breakdown to see if I was correct. It was definitely a success and maybe a bit of a surprise for Rachael. Throughout the medal ceremony, she would shrug her shoulders and giggle out of excitement and pleasure at her accomplishment.
Julia Sebestyen completed her second great performance to land on the podium and earn the bronze medal with 159.03 points. When she skates great she is awesome! Her jumps are superb and the landings she was not strong on, she held onto. It looked like she may have doubled a jump but I did not get the replay to check what I had seen. There was not anything negative to say about this program and it is exciting she did well throughout the competition!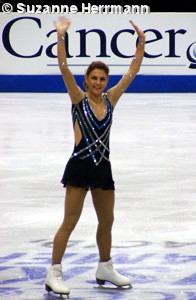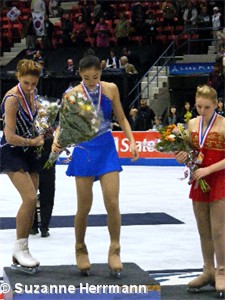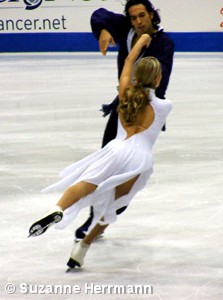 Next up was the Free Dance. I could never have predicted the result but am definitely pleased. Though I never want anyone to skate poorly, it is fantastic when skaters who do not usually land on the podium end up the medal winners.
In first place, again more expected than a surprise, was Tanith Belbin and Ben Agosto with 195.85 points. The ease of their skating is comparable to Evan Lysacek, Evgheny Plushenko, of any skater who can go out there and nail every move. I can sit in my seat and appreciate and enjoy the performance knowing they will more than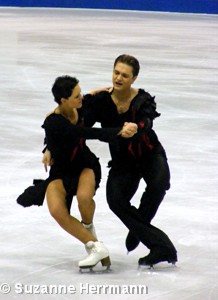 likely complete every element. Tanith and Ben's skating is pure and elegant and again, is more like the skating I miss from the seasons a couple years back. It will be interesting to see how they compare with other top teams later in the season.
Second place finishers, Anna Cappellini and Luca Lanotte, were maybe a bit surprised with their 171.86 point finish. After the event, Anna told me it was a stressful surprise—but a good one! Silver medals were well-deserved with fantastic programs all week long. Their strengths are certainly with expression. They bring a lot of passion to their programs and draw the audience in. Their lifts are unique and exciting which is something that is great about dance. There is more room for creativity than say with spirals in the ladies programs. The only element that did not look quite as strong as it could be was the first spin and that only looked a little bit slow. I believe Anna and Luca will make the GP Final and it will be interesting to see their result there!
In third place with a score of 171.77, just below that of Anna and Luca, was Alexandra and Roman Zaretsky. It was exciting to see them land on the podium and win the bronze medal after skating so well throughout the event. They also bring a lot of passion to their skating. The choreography and character was well portrayed and their unison was superb, especially in the twizzles. Hopefully this team can continue to skate and score well—they deserved it this weekend!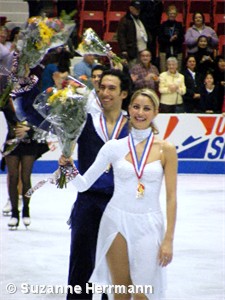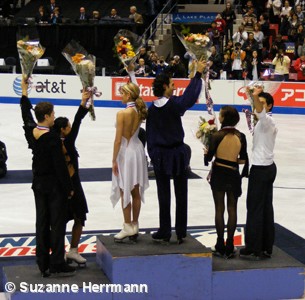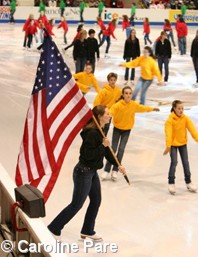 The Gala was up next a short while after the medal ceremony was completed. That meant back to the 32 rink to gather as a group and walk to the 80 rink together, escorted by credentialed people. Now I can tell you a bit about our experience. On the way over, we had to walk along with the people filing into the arena, down a set of stairs that was more like two sets of stairs, and down into the backstage area all while wearing skates. It is a good thing skaters have good balance! As we rounded one of the corners backstage, the skaters who would later participate in the exhibition were cheering us on and Kim Navarro was giving everyone high-fives as they walked by. Apparently the earlier portion of the line was high-fived by Evan Lysacek. Bonnie Retzkin shouted cheers down the hall while Emily looked on, appearing amused. We were supposed to be quiet but I think she revved up the "yellow group" a little too much!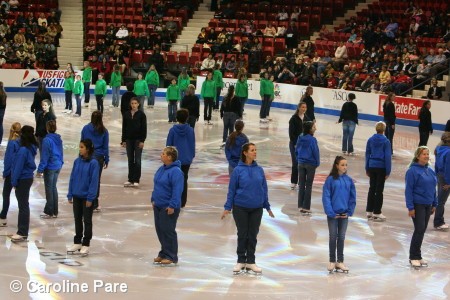 The group number opened the show to America's Song. The song has played many times for us and resonates in our heads. Hopefully we helped the spirit resonate with the audience. The group of about 100 skaters was divided into 5 groups—5 rings—of black, blue, green, yellow and red. We filed out down center ice and divided into 5 color coded circles that became travelling circles to the formation of Olympic rings. Handfuls of skaters from each group broke out to do individual moves such as axels, spirals, spins and edge moves. My group, the black group, filled out the entire arena with an Ina Bauer, Spread Eagle, Shoot the duck, Spiral and Hydroblades. I was excited to do the hydroblade as it is my move of choice and the audience always appreciates it. The group number culminated in a large American flag carried down the ice while another American flag was skated around the ice, by me. It was an honor.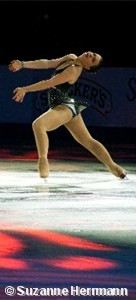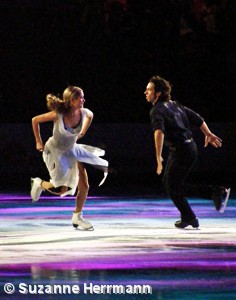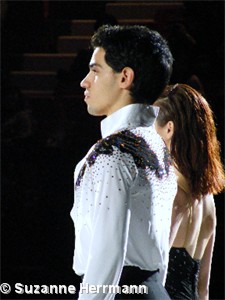 Amanda Evora and Mark Ladwig followed us and were actually on the ice as we retreated. As we walked back through the hallways, we passed and saw a number of skaters—Sarah Hughes, Xue Shen & Hongbo Zhao, Ryan Bradley, Sasha Zaretsky and Anna Cappellini. It was fun to be backstage, but in order to view the remainder of the Gala, we had to hurry up. I missed a few of the skaters and came in during Fumie's skate. There were a few standing ovations, most notably for Xue and Hongbo. Tanith and Ben and Evan also received at least a partial standing ovation. The remainder of the audience from the event was lively and greatly enjoyed what all the skaters had to offer. Ryan, Florent Amodio and Yu-na were definitely a few of the favorites and by means not the only ones! There was something for everyone. At the end, the skaters threw and tossed goodies to the audience members. I think Ryan could have hit the ceiling with the shirt he threw it went so high! I think it was Emily and Hao Zhang were throwing a Frisbee to one another and when Hao jumped to grab it, he fell down! It was humorous and it was fun to see personality come out. I do not know if other GP events do this at the end, but it is a great way to end the evening and a great competition!