Swedish Nationals 2009: Meant- to-be-triple jumps, nerves and talks with skaters
By Mireille Geurts & Anette Avdulli
Photos © Absolute Skating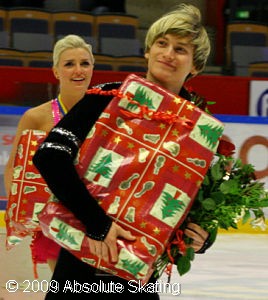 The Cloetta Center in Linköping was this year the location for the Swedish National Championships, held in 2008 but counting for 2009 as in so many other countries. It was expected to be an exciting competition, speculated about on several internet forums. Especially where it came to the senior men section, where now almost "veteran" 6 times Swedish Champion Kristoffer Berntsson not only had to go up against serious rival Adrian Schultheiss, who has already beaten him on several occasions internationally and won the title already once, as well as the rising star National Junior Champion and Junior Nordics Champion Alexander "Sasha" Majorov. In the senior ladies, 2 time Swedish champion Viktoria Helgesson would not be up against her own sister Joshi, who opted to skate another year in the junior level, but amongst others Lina Johansson, who quitted skating last year but would make her come back here. All in all enough "goodies" to look forward to and then we didn't even mention the junior levels much yet and those were sure not to be counted out!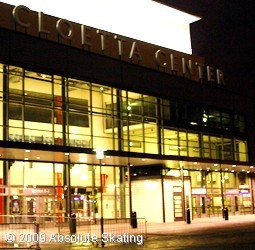 The Cloetta Center, the name being familiair for the chocolate, which sure is very delicious, is the home -amongst other rinks- of the local 50 year old figure skating club LKF, of course the ice hockey club, as well as the Bandy team. Bandy is very popular in the Scandinavian countries, as well as Russia and the favourite sport of the Swedish Royal Family, this all pretty much unknown to one of the Absolute Skating delegates and had to be looked up even after thorough explanation, but that aside.
It's a really nice stadium, pretty well equipped to hold a competition like this at (or a bigger one)¬† and very comfortable, which is the standard in Sweden. It is a nice home for Linköpings figure skating club, which has held more fractions of the Swedish nationals in the 80's and 90's, before Sweden put all age groups together in one competition, and in 1999 even the Nordics have been held there.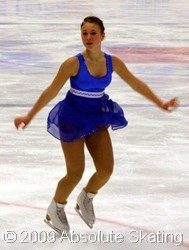 For us the competition started of with the short program of the USM ladies, better known internationally as the Novice group. We were pleasantly surprised by the general skating skills of the participating ladies, as well as the surprising choices in music for some. Like Hanna Grehn (16th), who skated an energetic program on an instrumental version of Sexyback (by Justin Timberlake), unfortunately it was not filled with much technical content with 2 single jumps, but the music choice worked very well for her. Lisa Forsgren (20th), who skated on Zorba the Greek, perhaps not rare music, but is a bold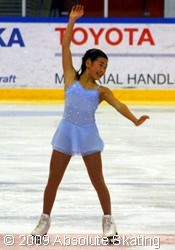 choice for a lady and made us wonder if she would be able to keep up with the pace the music asks for. Well¬Ö not entirely, but she made a mighty fine effort! Of course, there were also some more obvious choices, like 2 Nightingales, Gabriella Holmsten (18th) and Johanna Wick (2th), accidentily the last and second place endings in this part of the competition. Johanna did not perform any triples, but jumped a tano-flip as second jump which is always a magnificent sight for the eye. Next to that she certainly caught our eyes for having a very adult expression.
Fun moment in the event was Natalie Blom (11th) who at the end of her lyrical performance to Forrest Gump in a cute pale blue dress took her endposition and realised she was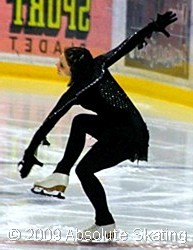 facing the wrong direction. Quickly correcting that, while simultanously cracking up, she certainly stole our hearts.
Isabell Andreasson (21th) wore a very cool looking costume which gave us the impression she would have a rocky kind of program and in that manner surprised us very much by skating on the familiar tunes of Swan Lake. Must have been a black swan then...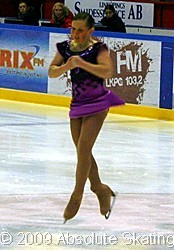 Last but certainly not least to mention is of course the winner of this competition, Josefin Taljegård. Skating in a class of her own, components as well as technicalwise, being the only lady to try and also land a triple (in combination) in a beautiful black/purple dress on Don Juan the Marco, she rightfully put her mark on that nr 1 position. With her score of 44.13 she would even have been second in the Juniors! Why didn't she skate there, one could ask? 

After the long program, the podium ended up to be: 1.Josefin Taljegård 2. Johanna Wick 3. Pålina Boukov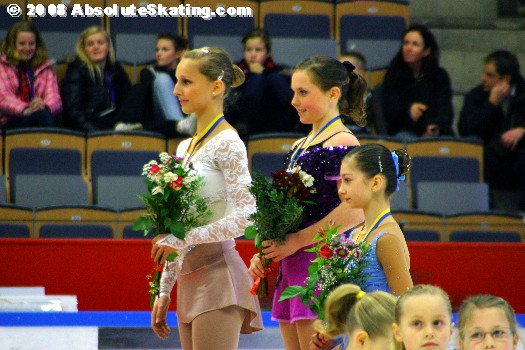 Which was lucky for us, because at least we could get a sighting of  Pålina, and pictures, since we missed her entirely unfortunately due to some delay regarding some mix up with the media accreditations.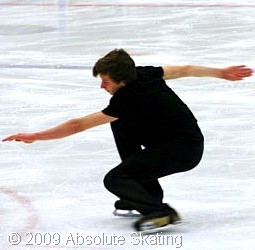 Next on the program for us were the the Junior Men and beforehand we could not have known what a treat those would be. We always heard a lot from the regular ASgirls going, but a lot of those names had this year been moved on to the senior level, leaving us with basically no before knowledge of the participating guys. Several of these guys did not fail to impress us, like Daniel Neuman, who skated his SP on Speed, fittingly with great speed and landed the last of the obligated jumps in the last 30 secs of his program. He ended with this in the 5th place,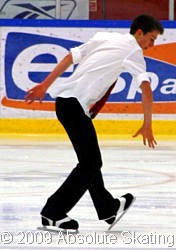 one spot below Michael Neuman, which we assume to be his brother due to mutual interest while skating, and distinctive facial features. Body and skatingwise one couldn't tell tho. Michael had a very different kind of music, Sing Sing Sing, and a bit more ¬ďcleaner¬Ē way of skating, which resulted in much higher component scores, both very pleasant in their own way and we hope they will keep skating and pushing each other further.
Bertil Skeppar, who managed to snag the first spot in the SP, because he didn't only land two triples of which one in a combination, but his jumps where blazing high as well. Unfortunately it were those same jumps that didn't want to work out in the LP, where he got a 4th place and with that dropped to the third spot. Still a bronze medal, so something to be proud of! Something to be less proud of was Anton Marberg, skating to a 6th place in as well the SP as the LP, he could not hold his emotions and ran out of the Kiss and Cry. Sorry Anton, but thats a nono.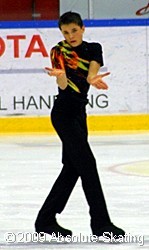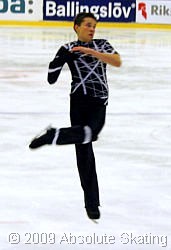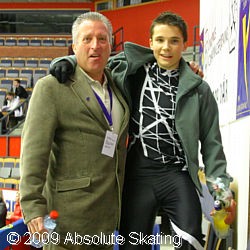 Of this competition it was
Ondrej Spiegl
who stole our hearts. Already in the SP, which he didn't win, but on the powerful music of Tosca he skated his program with attack and thats a great combination. His combination jump, triple-double toe, coincidentally was awesome as well, even tho he has a wrap up free leg in most jumps. He had a real expressive way of skating that caught our eye, and we think this might possibly be the next Swedish rising star. In the long program he managed to keep this momentum, and outskated the rest of the guys with a blazing 11 points more than the nr 2. Congratulations Ondrej! 
This made a podium of:  1. Ondrej Spiegl 2.Mathias Andersson 3. Bertil Skeppar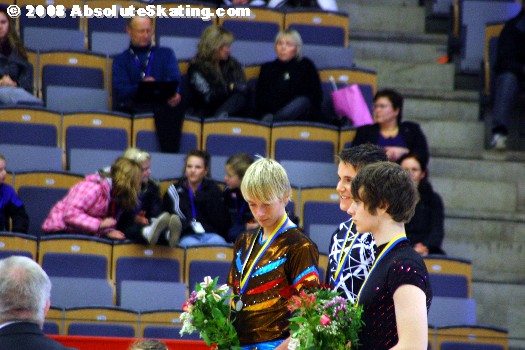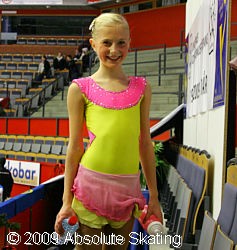 Next on the program were the RM girls, this is the competition for those that did not make it to the national level. A bit comparable with the regional competions in the USA. Jumpwise a triple didn't have to be expected but that doesn't mean there weren't any strong and enjoyable programs to be seen. Take the winner for example, Gabrielle Josefson, got a component score of 27.01,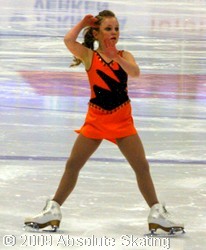 which would have beaten the 10th spot at the Novice ladies, even with her total score in the LP she could have made it to the 7th spot. Only pointing out that the level of skating was surprisingly nice. Gabrielle had an awesome skate and a beautiful program and was endearingly shy when we congratulated her and asked her to pose after she received those marks. Felicia Bruce, had a pretty adult expression and gorgeous edges but because she only got to a 13th spot in the LP after a  second  place in the SP, landed 7th. 

Podium 1.Gabrielle Joseffson, 2.Clara Callne, 3.Natasja Remstedt.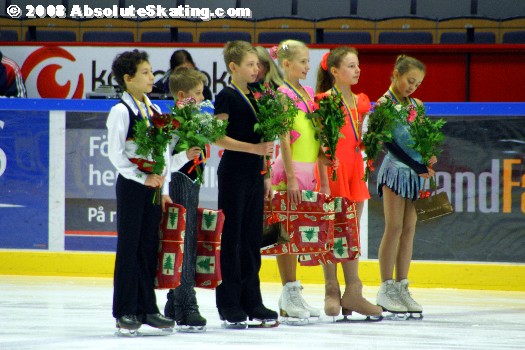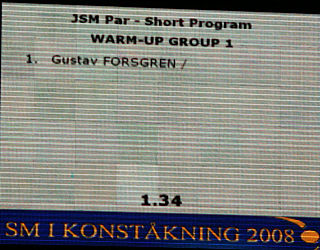 A surprise for us, because not mentioned in the original program, was that there would be a junior pair skating. Maybe it was a surprise for the organisation as well, since on the screen they failed to have the ladies name and it looked as if Gustav Forsgren had to skate alone, or as we jokingly put it ¬ďDo they have one pair, isn't it even really a pair¬Ē. Luckily the lady did have a name, which we asked right after and it was Ronja Roll. In the results later she was mentioned too, to her fortune. They are a very new team, and although that is noticeable, there is certainly some potential there. Something was wrong with their music, and they had to start over in the middle, which is always nervewrecking especially when not so experienced, but they seemed to handle it quite well. Not all elements counted yet but they already received a score of 73.72. Cute pair, we hope they get sent to Junior Worlds, so they can gain some of that oh, so important experience!¬†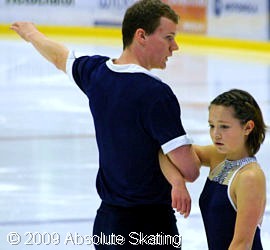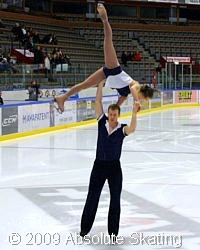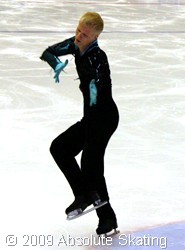 One of the two most anticipated elements, was the senior men, or better put the fight in the men¬īs competition between Kristoffer Berntsson, Adrian Schultheiss, and Alexander Majorov. All three could potentially be at the top step of that podium.¬† Adrian was the first of these 3 men having to take the ice. Aiming to reclaim his one time title as Swedens champion, he skated a spot clean program. A not so nice landing on his triple flip was the only real flaw to be noticed. Being picky, it would have been nice to see some less concentration on his face, and some more expression, like you can see when you have a chat with him. 71.64 was his score. Difficult skate tracks to fill in for the rest to come.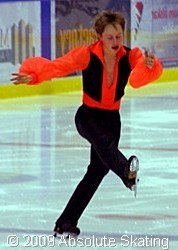 Alexander Majorov was right after, and boy, this man is not a boy anymore! Sure he is still a little smaller than the other two and that somehow conveys as 'less adult' but he sure makes up for determination in his expression. He delivered high and flowing jumps on Zorba the Greek and delivered a great program, only marginally behind Adrian, with 69.94 points. Despite having won 6 times already, or maybe because of that, Kristoffer is ever so eager to skate his best and win, or to put it in his own words ¬ďto show who is the best Swede¬Ē.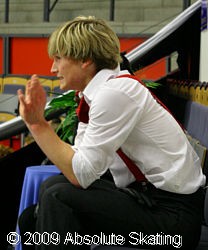 Kristoffers short program was rock on, ok, he doubled his meant-to-be triple flip, but it looked like that didn't happen at all. It was as if he took the energy of all people in the audience and gave it back to them tripled. So who'd think about a doubled jump then. Well, the judges obviously, so it must have been anxious moments for Kristoffer before he received his marks. With 72.68 points he secured the first place for him at this moment, and genuinly happy he ran off.
Luckily not too far, so we could have a few words with a very energetic him later: 

How do you feel about your skate?
I am feeling really great, it was unfortunate about the flip, but to me it was my best skate ever, looking at the complete program, the other elements and energy wise.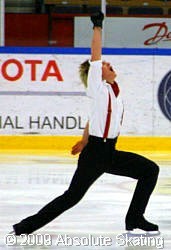 Really? Even compared to that great Europeans one? 
Yeah really, cos I learned a lot more since then. 

Did you expect to be number 1?
-laughs- I hoped to be. 

What do you expect tomorrow?
Tomorrow?? - tilts head laughing teasingly - Tomorrow I am planning to rest all day...
Erm, we mean Sunday, in the LP¬Ö
Ahhh - laughs-  then I hope to do even better than today and of course I hope to win, and show everyone the best. 

Is it different to skate in your own country?
Yes, because it¬īs a real friendly atmosphere, people cheer for me here. And here in Link√∂ping it's a real nice arena and all.. And of course, I really want to show everyone who is the best Swede.¬†

You got a new free program this season, is it skated in?
..Yes - doubty tone-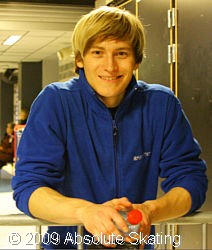 How did the program develop?
Well, I had the robot theme, with all the fitting moves, but then the 80's music got picked, so we took out a lot of those moves again.
Did you have much input in it?
Yes. I didn't pick the music, but the robot theme was my idea. 

What do you expect to do the rest of the season?
First the European Championships, and the rest will be decided after that, depending on how it goes and what the results are. 

Will you go to Nordics?
I don't know yet, first Europeans and then we will see. But I think so. Probably. 

Any expectations on your rankings?
Well, a competition result doesn't solely rely on what I do, but also on the accomplishments of the others, but I hope to skate to my full potential and do the best I can. That way showing my development and improvement, and hope to see that back in the results.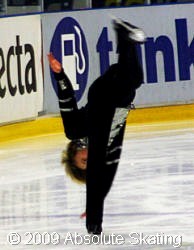 We know you have been injured, does it still bother you?
Yes...but thats part of an athletes life. 

And sadly, that is the case… With those words we parted, wishing him lots of luck in the long program. Two days later and not the day after, as is so common to us… 

The long program did not go so prosperous for him though, he fell on the first jump, the triple lutz and from then on struggled with basicly every other jump. Though not as energetic as during the SP, he didn't let that technical aspect get him down, his experience kicked in and he delivered a gorgeous to look at performance. It has to be said that he has a mighty fine program, very well choreographed, which holds your interest from beginning to end. Unfortunately with a score of 123.91 he left the door open. Which appeared to be too much pressure on little Sasha.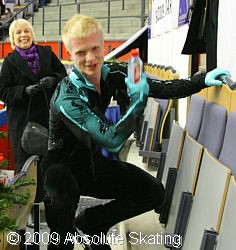 First it must be told, Adrian had to withdraw, he had a sore throat and a slight fever and thus he did not feel well enough to skate to his potential. He was really happy with how he skated in the SP but not so much with the results. "It's a judges' competition, not a skater's one, they decide, not we". Which is correct. He spent the rest of the competition watching from the stands, because he needed to be at the Medal Ceremonies. . It was really nice seeing him hang around there and talk a bit, less nice was that he passed on his throatache to me. Thanks a lot, Adrian!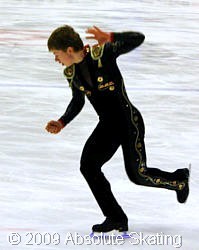 Back to the competition. Sasha seemed nervous and during the free skate his upper body was all tensed up. Too bad since it was so supple and flowing earlier, in his short program. His jumps did not work out and he had to settle for second place. Which is certainly not a bad spot to be in. And seeing this talented young man, one just knows a bright future in skating lies ahead of him.

Which with his heritage may not be that surprising. He is the son of Alexander Majorov who was Olympic Champion Alexei Yagudin's first coach. By now he certainly has some merits of his own. The last few years he's won the junior men big time at Swedish Nationals and Nordics. He has competed in the JGP. At Golden Spin this year he  was second in the freeskate and got bronze overall. EMJO also had a little talk with him, after the LP: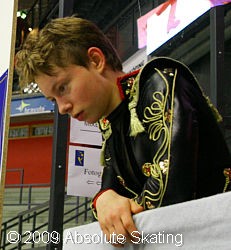 I heard that you, of course, are disappointed?
Yeah, I¬īm very disappointed, of course, but will have to take that, I just don¬īt get what happened, (3 falls) why it happened here ....... but the ones I did land, I landed good. ¬†¬†

Were you overloaded?
I wasn¬īt overloaded, skated all calm, really tried but it didn¬īt happen .... I really wanted to win tonight, the sp went well ..... for instance, with the triple lutz I rarely have any trouble, I usually always nail it.¬†¬†¬†¬†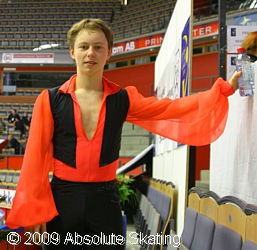 How is the triple Axel coming?
The triple axel ... I make it at times but haven´t worked on it for a long time. I only did it in competitions ...... but I have made it, it comes and then goes and then comes back again.¬†¬†

How was the JGP event in Africa?
Much fun, but the competition didn¬īt go well. ¬†¬†

Will you attend in Nordics?  
Yeah I will. 

We wish him good luck there and thanks, Sasha,  for a well executed comp here.   

In the Kiss and Cry we had plenty of time to photograph him and his family, especially mentioning his cute little brother Nikolai who is a great mimic of his father and causes some hilarious moments at times. He was in the kiss and cry with dad, with basically every skater 'they' have. Cute!  

Podium: 1. Kristoffer Berntsson 2. Alexander Majorov 3. Anton Truvé.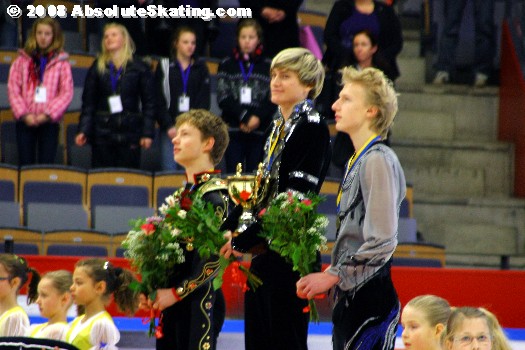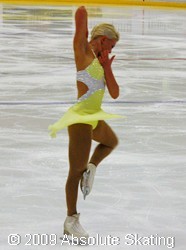 Last but not the least part of the competition we visited were the senior ladies. We had expected a fight, but one of Viktoria Helgessons main competitors, little sister Joshi skated juniors this year and won there with flying colours. Maybe a sad decision to have taken, with her total marks, she would have become second in seniors. Maybe that was the reason it was decided to have her skate juniors, to not have the battle with big sister like at the Golden Spin in Zagreb, Joshi  got bronze there and beat her sister who was 5th. As stated earlier, Lina Johansson was disappointingly not skating, because of an ankle injury. It would have been nice to see her again. Besides her, others to look out for with at least three different triple jumps were Linnea Mellgren, Angelica Olsson and Maria Taljegård. They all did not dissapoint, ending within the top 5. We loved Angelica Olsson's LP, featherlightly skating in a white dress, on Angels, she really looked like a little angel, and happily posed for us after. She came in a deserved third place. She wasn't the only one posing for us, so did Maria Taljegård, after her 4th place reaching skate in the SP. The expected triples were tried, but she unfortunately fell on her triple Salchow. Her LP consisted of a fall as well and some other unfortunate landings in the jumps, but she tried to save as much as she could and we absolutely loved her spunky catsuit costume.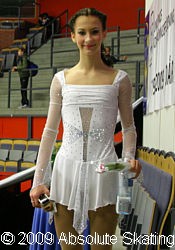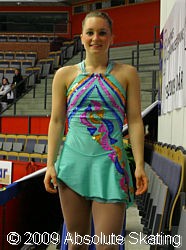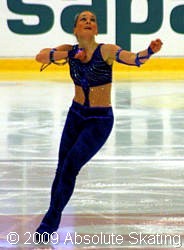 Sofia Otala had a really hard fall in SP. She competed for Finland and not Sweden, because she would be doing the Finnish nationals as well. She relocated to Malm√∂ after the summer, now working with Ela Magnusson, Lina Johansson¬īs former coach. Next year, when she has been living in Sweden a year, she can decide for which country to skate.
With almost 30 points more in total than the number two, Viktoria didn't just win, she nearly crushed her competition. Despite that result, she herself was not sure of her win, beforehand as she stated in our little talk.
How do you feel about your skate today?
I feel really good - laughs- It was the best I ever skated in a competion.
Were you nervous before?
Yeah, I always am. I think I have to be a little nervous, to perform well.
Did you expect to win?
You never know. I hoped that I would win, because we have just one spot for Europeans and Worlds. The winner here doesn't automatically go, but all recent results are counted.
If you get to go, what do you expect for Europeans?
I don't know, I don't like to predict the placements. I can only do well for myself and skate my program well. I have all my focus on me. If I do well, I am happy and then it doesn't matter which place I am in. 

And we couldn't agree more with those words.
The ladies podium was: 1. Viktoria Helgesson. 2. Linnea Mellgren 3. Angelica Olsson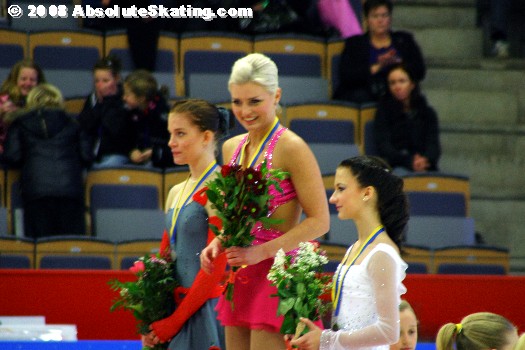 At the end of all competitions, all medal ceremonies were held. Here we saw the podiums of disciplines we missed as well, with most mention the junior ladies, with winner Joshi Helgesson. A long session of podiums, a bit tardy at times, but great to see all the beaming kids and adults too of course.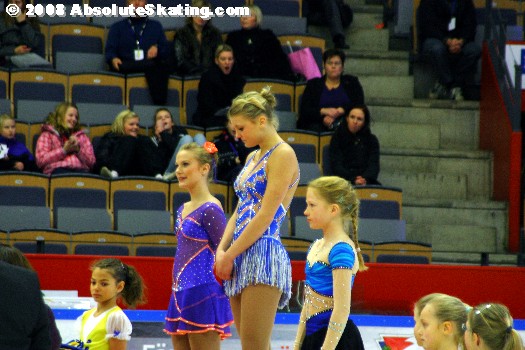 Here Adrian and Joshi received a scholarship. Adrian got This Years Figureskating Achievment à 10 000 Sek and Joshi the Salchow Scholarship à 7000 Sek, Congratulations to both!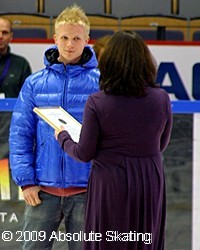 And with that we had to close our Swedish adventure and say goodbye to the Swedish skaters, as well as the beautiful arena in Link√∂ping. An event held well by the Link√∂ping skating club (LKF), despite some incoveniently placed christmas trees and an useless ¬ďmixed zone¬Ē¬Ö This club tries to forward skating as much as they can, push pairskating to get a full country team. Even after the disappointing split of their promising pair Angelika Pylkina and Niklas Hogner. They also got an own competition, the LKF Trophy, which is very popular each year with around 230 competitors in all classes. So keep going LKF!¬†
After Nationals the Swedish Federation decided that Kristoffer, Adrian, Sasha, and Viktoria were selected to participate at Euros. So congratulations to all 4, and we wish you the best in Helsinki!