Daisuke Takahashi eyes Vancouver
By CĂ©line Oreiller
Photo © Vera Alexandrova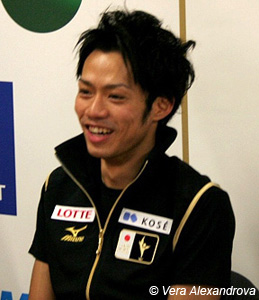 "He's back!" seems to be a very popular sentence in the world of men's figure skating at the moment. Stéphane Lambiel returned successfully to the competition at the Nebelhorn Trophy in September, while Evgeni Plushenko easily won the Rostelecom Cup in Moscow ten days ago.
This week, at the NHK Trophy in Nagano, Daisuke Takahashi, the 23-year-old star of Japanese men's figure skating, will face Brian Joubert, Johnny Weir, Jeremy Abbott and Takahiko Kozuka in his first major competition since the 2008 World Championships.
Daisuke Takahashi became World Junior Champion in March 2002, the first time he entered the event. The following fall, he debuted on the senior circuit, but his lack of consistency prevented him from becoming a serious contender for the podium in his first four seasons. After winning the national championships in December 2005, he represented Japan at the Olympic Games in Torino, but he only finished in eighth position. This experience proved to be a turning point for him, though, as he steadily moved up in the rankings from then on. With Nikolai Morozov at his side, mentally stronger and more confident, he won the silver medal at the 2007 World Championships in Tokyo and then broke the world record by total score at the 2008 Four Continents Championships (264.41 points). The pressure was on again and people expected him to win the 2008 World Championships in Göteborg, but he only placed fourth. In the weeks following what turned out to be his last competition in over 18 months, he decided to stop working with Morozov and to go back full-time to his coach of ten years, Utako Nagamitsu.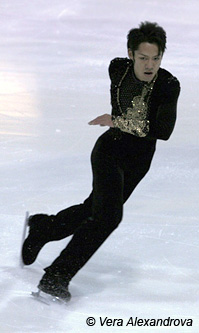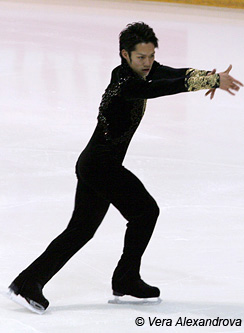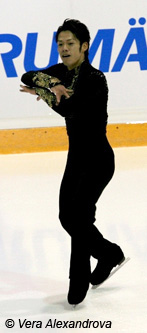 Last October, just a few days before he was scheduled to participate in his first Grand Prix event, the three-time Japanese champion suffered a serious injury to his right knee (torn anterior cruciate ligament) on the landing of a triple axel. After consultation with his doctors, he underwent surgery at the end of November and had to go through a very heavy and painful recovery process that kept him off the ice for another four months. Working out up to seven hours a day, he felt very "empty" at times, but the support of his team, friends and fans kept him motivated, as did watching skating competitions on TV.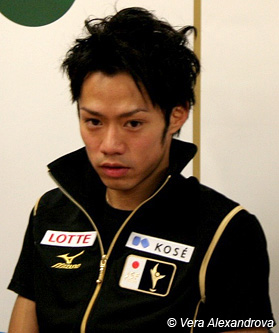 Back on the ice in April, Daisuke began practicing jumps in June and can now land everything up to the triple axel and triple-triple combinations without any problem. He started landing clean quad toe loops in practice about a month ago and plans to include the quad in his free program. He doesn't feel any pain any longer and thinks that all the exercises he did to recover the strength and mobility of his knee also improved his overall flexibility and basic skating skills.
For the Olympic season, Daisuke decided to keep the two programs he created before his injury. He chose "Eye" by the Japanese accordionist Coba for the short program. "I wanted to skate to his music since high school and when I asked my choreographer, Kenji Miyamoto, to use his music, he brought the one piece that I liked best." The free program, to Nino Rota's La Strada, was choreographed by Pasquale Camerlengo in Detroit. Daisuke admitted that, at first, he felt embarrassed doing some of the moves Camerlengo was asking him to do, but in the end his program is full of poetic moments and yet packed with technical difficulties.
On October 9 and 10, Daisuke, or Dai-chan, as his fans affectionately call him, returned to the competition at the Finlandia Trophy in Vantaa.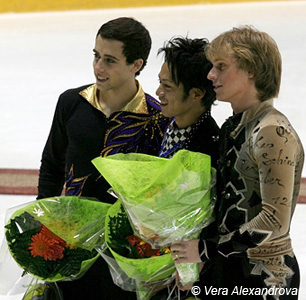 He performed a strong short program (83.23 points), despite a funny fall on his ending position that made him and the audience laugh. He wasn't as good in the free (141.02 points), making mistakes on jumps and running out of energy by the end of the program, but he still won, ahead of Sergei Voronov (Russia) and Stephen Carriere (USA). Most importantly, he enjoyed competing again and went back to Japan with a list of things to work on, from increasing the levels of his spins and steps to improving his stamina.
There seems to be no doubt that Daisuke will be among the top contenders for the podium in Vancouver in February, especially if he can resist the pressure put on his shoulders in Japan, where most journalists and fans expect him to win the gold. When asked about the future, the Kansai University student says that this might be his last competitive season. "It all depends on the Olympics!"
Good luck in Nagano and for the rest of the season, Daisuke!