TEB 2009: The Feeling Begins
By: Titanilla Bod
Photos ┬ę Absolute Skating

Incredible performances, total meltdowns and a record score: the first Grand Prix of the Olympic season, the Trophee Eric Bompard was full of interesting stories.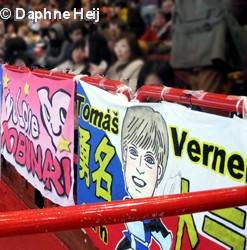 Men: Golden Chaplin
At the men's competition, Nobunari Oda took the gold medal. He was second after the short program, but in the long he performed flawlessly to his entertaining Charlie Chaplin medley. He landed seven triples and had two level 4 spins, so even without a quad he won by almost twenty points over Tomáš Verner. "I couldn't try the quad, that's why I'm not 100 % satisfied. I struggled with it at practice, so I talked with my coach, Nikolai Morozov, and he said there is no reason to put the quad in the program now, but I will try to do it later," Oda said.
Silver medalist Tomáš Verner presented two brand new routines in Paris: Zorba the Greek in the SP and The Godfather in the LP. He opened both programs with a gorgeous quad-triple combination, but he made several mistakes in the LP. "I'm a bit angry, because I did the most difficult elements, but then I made some mistakes. Anyway, it's motivation for me to get more points. The Godfather movie doesn't stop until everyone dies, so I wouldn't stop until I get enough points," Verner said with a big smile.
The bronze went to Adam Rippon from the United States. The junior World Champion skated to Jonathan Livingston Seagull in his short program, and Concerto for Violin and Orchestra by Samuel Barber in his free program. "We actually found the music for the long program by accident. We wanted to listen to a music piece from a CD, but we accidentally played the wrong track. I immediately loved the music and knew I have to skate to it," Rippon revealed.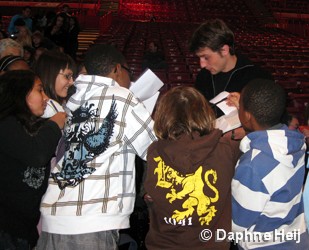 Home star Brian Joubert was struggling throughout the event, and in the end finished fourth. "Of course I'm disappointed, because I wanted to win," Joubert said. "I worked a lot, and I will continue working even harder. It's not easy for me to skate in France because it is extra pressure. It's still the beginning of the season, I want to improve."
Pairs: Meltdown of the world champions
"Pairs are boring, Savchenko and Szolkowy always win," a journalist said in the press-centre just before the two time world-champion German pair took the ice in the long program, last to skate, 1st place after the short. And the unexpected happened: Savchenko fell in a spiral, couldn't do the death spiral, and at the end popped a throw jump. Their program to the impressive "You'll Never Walk Alone" ended with not so impressive cursing and head shaking. "We don't know what happened. You can't even be prepared for this, that you will fall in a spiral," Robin said after the event, where the Germans took the bronze. This medal still had a value for them: according to some internal federation rules they had to finish on the podium to qualify for the Olympics. "That's the only positive thing," Robin said with a bitter smile.
The gold was claimed by Maria Mukhortova and Maxim Trankov, the Russian couple who have beaten Savchenko & Szolkowy in the short program several times, but usually messed up the free skating after that. This time they made no mistake, their routine to "Love Story" soundtrack was flawless. "Our coach told us: don't fight with somebody, just show what you are capable of, like at practice," Maxim explained and he added that Love Story was especially Maria's choice. "It was her dream to skate to this music. We picked it two years ago, but another Russian pair chose it as well, so we had to change. Now this is Olympic season and Maria thinks the Love Story of Sale and Pelletier was just brilliant… So this is a program for Maria."

Ladies: A record score
If Yu-Na Kim competed in the men's field, she would have finished 4th, behind Adam Rippon and ahead of Brian Joubert. But Yu-Na Kim is competing in the ladies' field, where nobody can approach her monumental scores. In the first GP of the season she earned an impressive 210.03 points, which is the highest score a woman's ever achieved. The reigning World Champion performed a great short program to a James Bond medley and a capturing free program to Gershwin's music, and she could even afford missing the triple flip. "I didn't think about the total score, and I was a bit surprised by it. It was my first competition in the season, and I usually get my personal best score at the end of the season. So I think the score might be even bigger," Yu-Na said.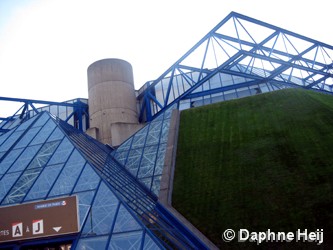 Mao Asada from Japan took the silver medal. She impressed the crowd at the Bercy stadium with two triple axels in her long program, one in combination. Asada missed the triple axel in her short program, but tried it the free skating again. "After the first triple axel I entered the second one with confidence. Maybe I lost concentration before the double axel, but I'm happy with my performance," Asada smiled.
Her compatriot, Yukari Nakano finished in third place. "I'm happy that I could get on the podium, but I made several mistakes. I realize every element is very important," she said after the free skate.
Italian Carolina Kostner had her first competition after moving to the US from Oberstdorf to be coached by Frank Carroll, but she couldn't live up to the expectations. She missed her combination and doubled the lutz in the short program, and had errors in her free program as well, and finished in 6th place.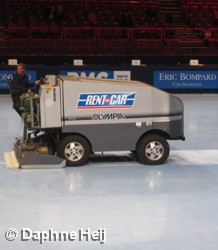 Dance: Country roads
We had a country night in Paris during the original dances. Just like two years ago, the theme is folk, and many couples have chosen country. It's nothing unusual for an American duo, but quite surprising for a French and a Scottish couple, but both Pechalat, Bourzat and Sinead and John Kerr have chosen country rhythms for their OD. "We searched for French music, but it was old-school, and we wanted to have fun. Now we are having fun," Nathalie Pechalat commented on their choice. "We already covered the Scottish area, so we wanted to move on", Sinead Kerr added. Canadians Tessa Virtue and Scott Moir, on the other hand, use Flamenco for their original dance. "We didn't find any good Canadian music, although we wanted to, since the Olympic games will be in our country. But we love the Flamenco," Tessa explained.
The Canadian couple took the gold (ahead of Pechalat, Bourzat and Kerr, Kerr) and awed the audience with daring lifts. "Everyone is asking me if it hurts when Tessa steps on my back. Well, she steps up properly and jumps off properly, so I don't have bruises all over my body", Scott laughed and added that he is pleased with their victory in Paris.
But it was clear in Paris that even if the winners are happy and the losers are disappointed, everyone takes the competition just as the first step towards something much more important: the Olympic Games in Vancouver. However, the fans can look forward to great skating even until then: the next stage of the Grand Prix will be the Rostelecom Cup in Moscow, Russia.