Europeans 2010, Tallinn, day 1:
A big gap and some small ones
By Titanilla BĹ'd
Photos © 2010 Absolute Skating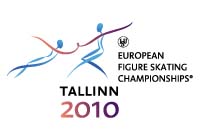 Russian ice dancers Oksana Domnina and Maxim Shabalin are in the lead after the compulsory dances at the European championships in Tallinn. Their Tango Romantica was worth 42,78 points, almost five points more than the performance of their compatriots, Jana Khokhlova and Sergei Novitski. The gap between the top competitors is much smaller in the pairs event, the top three teams are within one point.
Russian dominance
The 2008 European champions had to withdraw last year after the compulsory dances due to his injury, however, Oksana Domnina and Maxim Shabalin have shown in Tallinn that they always aim for the top. "We looked into each other's eyes and we showed true passion. The role of the strong, courageous man suits Maxim very well. We are very happy that the audience appreciated our performance. We are satisfied with it, but not a 100 percent. Maybe 90 percent. The Europeans are a very important competition for us, along with the Olympic Games and the World Championships", said Oksana, who was wearing an unusual red dress, seemingly back to front. "The idea for this costume was born recently. I think it is something different and interesting," she explained.
Reigning champions Jana Khokhlova and Sergei Novitski are currently in second place. "We were in an excellent mood and hopefully we were able to bring it across. There was a lot of support f
rom the crowd, it is a very nice atmosphere to compete in. Europeans is a final test before the Olympic Games and we will debut our new free dance here, so it is something new for the audience. We hope to repeat last year's success, but we are not thinking too much about what was last year and what happened at the beginning of the season where we maybe didn't get the results we wanted. This is a completely new phase now and we are going into it with a clear head and refreshed mind," Khokhlova stated.
Third place belongs to the Italian couple, Federica Faiella and Massimo Scali. "It is a good start for this competition. We are very close with the marks between the top teams. During the dance there was a little stumble in a corner. I almost slipped, but luckily I didn't," Scali smiled.
A happy birthday
Aljona Savchenko can be satisfied with her 26 th birthday. Many people congratulated her, some of them sang the famous "Happy birthday" song and she even got a small gold medal as a present. Savchenko, born on 19 th January 1984 is on the first place along with her partner Robin Szolkowy after the pairs' short program in Tallinn.
All the three top pairs presented flawless and emotional performances. Maria Mukhortova and Maxim Trankov skated to Apassionata, Yuko Kavaguti and Alexander Smirnov told the story of the Swan, while Savchenko and Szolkowy showed us the soul of clowns. Brilliant technique and pure emotions – the crowd loved all the three pairs. The judges probably also found it difficult to rank the performances, that's why the gap between the first three pairs is less than one point.
"We skated really well and I don't know why we got that kind of score. It was our best short program of the season. All the emotions we show in our program are not studied or choreographed, they come from our hearts," Maria Mukhortova said after earning 73,54 points for their short program. Her partner added: "We got lower levels on the death spiral and the footwork, and we did the same elements in the Grand Prix and received higher levels. I don't understand why we lost those levels."
Yuko Kavaguti and Alexander Smirov were on the other hand satisfied with their score as 73,92 is their new seasons best. "We are very happy
with our performance, we wanted to get better and better with every competition, and so we did. After the Russian Nationals we had a short break over the New Year holidays, then we continued practice, in order to perform our elements cleaner. We kept our music "The Swan" because we love it, we like skating to it", Kavaguti explained.
Aljona Savchenko had to postpone her birthday celebrations, but she wasn't unhappy about it "We'll celebrate a little later as we'll have a practice Wednesday morning and then our free skating." Her partner, Robin Szolkowy commented on the short program (in which they earned 74,12 points): "It was a very good performance. We had fun skating, we were relaxed and it was important to show this. However, some levels were not so high, the twist and the death spiral didn't get the level that we expected and this can be the tenth of a point that can make the difference."