Europeans 2010, Tallinn, day 2:
Spasibo and arigato, Tallinn!
By Titanilla BĹ'd
Photos © 2010 Absolute Skating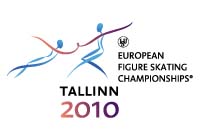 Have you ever heard European champions closing their speech in Japanese? The second day of the European championships had some surprising moments.
Good old Plushenko
The reigning Olympic champion had to skate early in the men's short program due to his low ranking points, but it didn't affect his performance, neither his score. The Russian star landed a quad-triple combination, a triple axel and a triple lutz, and although there were some small flaws in his routine, he got a new personal best score (which means a new world record): 91,30 points. "I think it was the best performance of the season. Everything went well, except for a little wobble on the combination spin, that was kind of unexpected. I did the quad-triple, and that was really important. For some reason the quad wasn't so consistent in practice here. I had an early practice, at 8.20 in the morning, I got up at six, and the quad didn't go so well, so I worried about my jumps. I had a few inner doubts. The jumps are, after all, the most important thing in Men's figure skating, in my opinion. But I told myself just to go out and do it, I pushed myself. Today I beat my personal best score, but I won't be euphoric. Tomorrow is another whole day, an important day,"
Plushenko said just after his performance.
His main competitors took the ice much later, Brian Joubert could watch Plushenko's short program from his hotel room. "It was actually the same situation as in 2006 at the Olympics – he skated early and I watched in my room, but I got very nervous then and now I coped with my nerves," said Joubert, who earned 88,55 points for his short program, landing a quad toeloop-double toeloop combination, triple axel and a triple lutz.
In the third place is another Frenchman, Yannick Ponsero, who also landed a quadruple toeloop in combination with a double. "I am satisfied about my performance, that's for sure! Even more that it is my season's best performance. 82 points is very good. I would like to do the same in the free skating. Of course, I was nervous, and there is always pressure during competitions," Ponsero admitted.
Unexpected champions
Many fans thought that pairs free skating would be a celebration of the fourth title in a row of Aljona Savchenko and Robin Szolkowy, but the reigning world champions couldn't avoid some mistakes in their free program.
Skating last, knowing that Maria Mukhortova and Maxim Trankov had a little stumble on a lift and a flawed throw, knowing that Yuko Kavaguti and Alexander Smirnov didn't try the quad thrown salchow but still had a good program, the Germans had to skate clean, but they didn't manage to do it. Aljona failed to land the throw flip properly, and when the scores appeared
on the screen, it was clear that they would only get silver.
Kavaguti and Smirnov waltzed to the melody of the famous "On the blue Danube" to the victory, the audience awed at their flexibility and emotional interpretation. "The crowd gave us energy and we gave energy to them. The Estonian audience was just great. Spasibo! Arigato!" the newly crowned champion Yuko Kavaguti said in her speech. When asked, how it felt for her as a Japanese to listen to the Russian national anthem she answered with a smile: "This time I just listened, but next time I also want to sing!"
The German pair tried to overcome their disappointment: "Of course we are a little disappointed, but not too much. We came here to win and to skate clean. But we made some small mistakes. Except for the errors on the throw flip and the second triple jump, it was a good performance, a clean performance," Szolkowy stated.
The bronze medalists, Maria Mukhortova and Maxim Trankov admitted they might be influenced by the lost levels in the short program. "We were a bit nervous that it can happen again. We really don't understand why we got lower levels for our short program elements than usually, that's why we were thinking about the score in the free skating, although we tried not to. We liked to skate in Tallinn, the crowd was shouting "Russia, Russia" from the tribunes. It felt like home," Maxim explained.