Europeans 2010, Tallinn, day 4:
Fairy tales and true stories on the ice
By Titanilla BĹ'd
Photos © 2010 Absolute Skating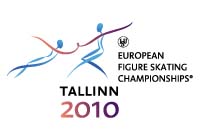 Oksana Domnina and Maxim Shabalin won the dance event at the European figure skating championships in Tallinn, but for many the true winners were Federica Faiella and Massimo Scali.
You gotta fight… for the Olympics
The Ladies event in Tallinn isn't just about a European gold medal. For many competitors it is also a fight for the Olympics – like for Italy and Finland, countries that have less spots than good skaters. So far things look good for Italian Carolina Kostner and Finnish Kiira Korpi and Laura Lepistö. They are at the top after the short program.
"I am very happy, because I was able to do what I wanted to do. I had a difficult season but I am happy with the way the progress went. Each week I made a step forward in my training. I had lot of fun today, and when I have fun, I skate well," said Kostner, who switched coaches in the summer and now trains in the US with Frank Caroll. "I was looking for new ideas, new motivation, new inspiration. Now I found a really nice place in California, the best place for me. My practice group is very strong. We have fun together, but we work very hard and this gives me confidence and energy," the two-time European champion commented. Kostner earned 65,80 points for her short program, which contained a triple flip, double toeloop combination, a triple lutz and the double axel.
In second place is Kiira Korpi, who landed a triple lutz, double toeloop combination, a triple loop and the double axel. "I must admit that I was a bit nervous, especially in the beginning of the week. It is not only the fight for the European medals but also the fight for the Olympic spots, but I got off to a good start. Last season was very, very difficult for me. I had health problems and I could do only three competitions. It was mentally hard to go into my home country competition, Europeans 2009 in Helsinki, knowing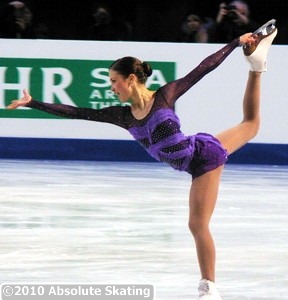 that I wasn't in the best shape. Now I've improved a lot, my summer training and the beginning of the season were good so I built confidence. I am happy to be back," Korpi smiled at the press conference.
Her compatriot, reigning champion Laura Lepistö nailed a triple, triple combination, but it still didn't help her to place higher. She admitted that she was a bit stressed about the fight for the Olympics spots: "I was more nervous at home than now. Coming here, I felt comfortable and relaxed. I just have some problems with my left boot. It means that I have to change boots immediately after Europeans. They won't last any longer. I try not to think about it, I think I have thought about it too much in the last couple of weeks."
Emotional Immigrants
Italian couple Federica Faiella and Massimo Scali placed first both in the original and free dance but their Russian rivals, Oksana Domnina and Maxim Shabalin still managed to claim the gold thanks to their high score from the compulsory dances. Shabalin, however was aware of the fact that their free dance lacked something. "We have to improve the technical score, we are not satisfied with that. We have three weeks until the Olympics to work on this."
Domnina and Shabalin skated to the "Double life of Veronique" and as Shabalin explained, they try to express their lives in this free dance. "We try to show many emotions, because sometimes you love each other, sometimes you hate each other, sometimes you fight…"
Faiella and Scali also portrayed their own lives and experiences in their free dance to Nino Rota's The Immigrants. "It's about us, because we also left our country and went to a foreign country to have a better future. When you leave your home, you are sad and scared of the new things, on the other hand you are excited about the new possibilities. We know exactly how it is because we went through this, we had to leave our family and friends behind and build a new life in a new country," Scali explained. Their skating touched the audience's heart and made the skaters themselves very emotional. "Federica cried at the end of the program and I felt really emotional as well," Scali told the press and he added he felt no disappointment about winning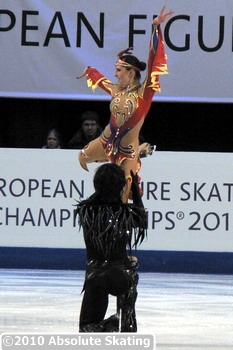 the OD and FD but not winning the whole event: "The important thing is that we managed to skate technically strong and still build an emotional relationship with the audience."
Third place belongs to last year champions, Jana Khokhlova and Sergei Novitski. Their coach, Irina Zhukova said after the scores appeared on the screen that it was harder to win a bronze medal this year than to get the gold a year ago in Helsinki. The Russians premiered their new free dance to Stravinsky's Firebird. "It is about the fairy tale character," Khokhlova told the press. "The idea of this music came up at the end of the last season but we didn't choose it because we thought something patriotic would fit the Olympic season more. Then it turned out that patriotic is not a good idea so that's why we use Firebird now."