Europeans 2010, Tallinn, day 5:
Third and hardest title for Kostner
By Titanilla BĹ'd
Photos © 2010 Absolute Skating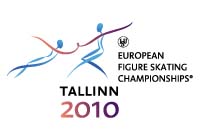 Carolina Kostner has gone through hard times. She had a meltdown last year at Worlds, struggled throughout the Grand Prix season, lost the national title. However, the 2007 and 2008 European champion proved, in Tallinn, that nobody should write her off.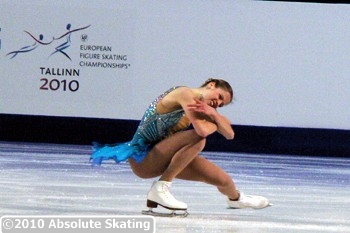 Kostner wasn't flawless in the free skating at the European championships, but her rivals had mistakes too. Reigning champion Laura Lepistö fell on the double axel, Kiira Korpi stumbled on the triple toe-loop and Elene Gedevanishvili doubled the salchow. So even though Kostner made two big mistakes (doing just a single flip and falling on the triple loop) she did more than enough to get her third European title.
"The free skating was a little nerve-wrecking. This competition felt liberating for me and I enjoyed skating. The meaning of this title is the same as for the other two, but it was the hardest one for me. Sometimes you forget how difficult it is to skate for the audience and the media and in front of the judges. It was a really good training for my head. I think I did it well," Kostner said.
Finnish Laura Lepistö has a complete set of medals at Europeans: in 2008 she got the bronze, in 2009 she got the gold, now she has won the silver. "I had a good start to the program with the triple-triple combination. I felt good, and then I had a couple of doubles and errors. I didn't feel a lot of pressure. My main goal was to get a spot for the Olympic Games and I'm very happy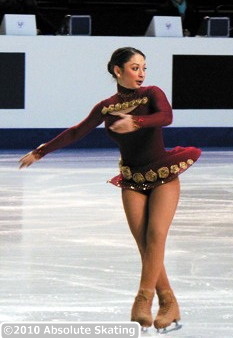 about that. I enjoy skating here. Last year at home it was great, and here are many Finnish fans. I haven't thought much about the Olympic Games. I concentrated on getting the spot. I'm in a good shape. I can skate better and challenge other skaters," Lepistö commented.
Elene Gedevanishvili climbed up from the 4 th place after the short program to the bronze medal position. "Oh my God, this is totally unexpected", the tiny Georgian skater laughed. "It means a lot to me. I was very well prepared and I will carry this feeling to the Olympic Games. I am very proud now. I am happy with my performance, but it's a pity I didn't do the salchow and I didn't do a combination. I have always wanted to skate to Carmen since I saw Katarina Witt, and this music really fits my personality."