Jason Graetz: "We are trying to open up Pro-skating. If you love to skate, skate!"
August 20, 2010
By Eva Maria Jangbro (EMJO)
Photos © EMJO, TinaTyan, Hubertus Wurm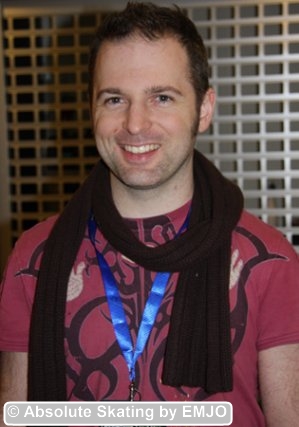 Sometimes you get surprises when going to a skating show. The star skaters make the headlines, but the professional show skaters are sometimes not even announced in advance. For frequent visitors to shows, many faces become as familiar as the stars, but who will they be at the next show?

Well, at Stockholm Ice one of them turned out to be Jason Graetz. Afterwards he shared his skating history of how and why it all started, but was also eager and enthusiastic to talk about his current project.
But let's start at the beginning!

Jason's story:
I started skating when I was five years old and my parents put me in hockey. I couldn't skate so I really didn't enjoy it. I started taking skating lessons; I liked it so I stayed with it. Later on I wasn't such a great student, didn't have the discipline and I didn't always listen to my coach as much as I should have.
I ended up playing what I was learning and creating, so that's how I ended up doing all these strange and unusual things. I was 13 when I saw Gary Beacom skate. That changed everything for me. I had this tape with him that I played over and over again, it was amazing. To find something so different and compelling was difficult back then.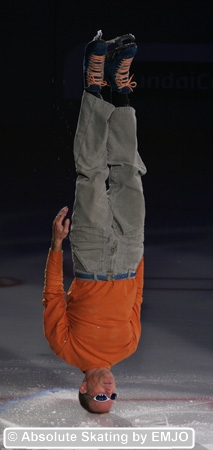 There were a few skaters I admired, people like the Duchesnays, Gary Beacom, Brian Orser and Kurt Browning. The great thing today is that we have the possibility to see all this on the Internet. But when I was growing up it was hard to find these things. Actually that's why I created the website Icetricks. It was a project designed to provide a resource to kids who were looking for something like that. It was sort of my way to give back what was given to me, because there wasn't much before youtube hit. Now, with youtube you can find whatever you want.
That's my story and how I ended up doing all these strange tricks. I just explored skating in a way that was interesting to me. I didn't compete. I wasn't so into competitions but I love skating and I am just lucky that I get to do shows.

The Proskaters project:
Proskaters is a non profit organization. We promote and support professional figure skaters. Membership is now over 300. We try to fill the gap between skaters and producers, and everything is done through our website. We try to give the skaters an opportunity to create packages to promote themselves and make them look more professional, and to showcase themselves in a manner that will get them work. On the producer end, we enable them to contact skaters and view their profiles and to post casting. So it is a really positive organization for professional skating.

The start:
It was created 10 years ago by Scott Williams and we keep growing stronger; our membership increases every year. One of the things we have done is this professional skating competition online; Virtual skate off.
It's the first competition of its kind; skaters are given the opportunity to create their own programs using youtube as the tool to upload their programs.

Is it like a short or long program, or like an exhibition?
Well, there are five categories: men, ladies, pairs/ adagio, show act and also choreography ensemble. The event is judged mostly by entertainment value. The judging is done by the entire membership and on the Internet. We are really trying to use the Internet in creative and inventive ways. As a result the first event took place last summer, but at a time when it was really difficult for people to put their programs together. To solve that issue and because it was the first time, we made the challenge a life's best program, so the skaters had the opportunity to put together a new program, but if they wanted to they could also use videos of older programs.

How many entries were there?
We had 40 entries, which we considered quite successful. It now serves more as a teaser because we wanted to have a proper competition with current programs. That's what we are doing right now for 2010, the deadline is in November. We have prize money now; first prize is 500 dollars in each category, second 250 dollars and third 125 dollars. The other thing is that we probably have the most famous judging panel that has ever been put together!

And who is on that panel?
There are 20 celebrity skaters including Brian Boitano, Kristi Yamaguchi, Elvis Stojko, Jeff Buttle, Marie France Dubreuil, Gwendal Peizerat, Todd Eldridge, Elena Berezhnaya, Kimmie Meissner, Kurt Browning and more.
What are your thoughts and what do you expect of the competition?
Kurt Browning: "It is when a skater starts to understand the power of choreography that
they start to learn how to really skate. We must build the choreographers as well as the skaters.
I expect to find some hidden artists that we can give confidence and assistance to and I hope that this project will continue to grow. I believe skaters who still compete should pay more attention to their exhibition solos because it is the perfect place to learn and grow as a performer as well as an athlete and competitor."
How did you find out about the competition and how do you feel about the concept?
Romain Gazave, one of this year's already signed up contenders:
"I heard of it through the Proskaters' website and the email advertisement sent to us by Jason. I really liked the concept. I sincerely think it can be a good way to show what we can do or create, and who knows...maybe even help the career of some young professional skaters.
This time I expect more people to take part. The quality panel of judges is amazing and there's good price money for an "almost free registration"; 1.00 $. So thumbs up to Proskaters for this idea!"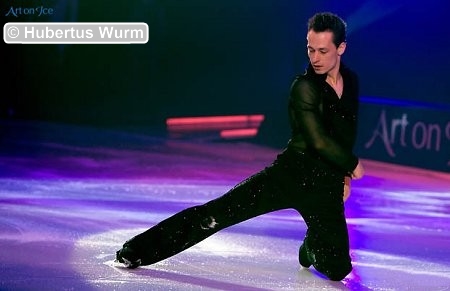 Back to Jason who sums it all up in four key points:
-it is the cheapest figure skating competition in the world
-it costs only a dollar to enter
-it has the most famous judging panel and
-it is completely international!!!
Because of the Internet we offer the skaters the possibility to join a pro competition which normally wouldn't be accessible to them.

One more advantage: I, as a viewer, will be able to watch but I don't have to travel. The audience could therefore be huge!
Yes, even better! And as a skater you can see that the difficult thing with competitions is that they are very expensive to organize. Like shows they cost a lot of money. It's tricky and you are limited with the number of people you can have participating. You are talking about an open competition that is not really entirely open. We had entries from people from South Africa, France, Sweden, the US... I don't know how many countries there were in total, but it is truly an international competition on another level and as you said, it gives the people a possibility to view the entries from anywhere. So you get an international audience as well!

Many people also feel that they lose skaters once they turn professional and aren't seen on TV anymore… but now we have the Internet!
Of course, live skating is better and the hope here is that one day this competition will become a live event. Our idea is that it is less of a competition than it is an opportunity to showcase your work. It's both, but we are really trying to promote professional figure skating and teach the skaters that their career is up to them. We are trying to get them to create their package, to create their image so they can get work and do shows. It is the modern way of self promotion and also for Proskaters to get viewed. If you are interested in skating in shows like "Disney on Ice", "Holiday on ice" etc or in smaller shows, you should have a Proskaters membership. We are truly the only thing out there to support our industry; we are the true home of professional skating!

The judging of the competition, how is it done?
The judging is based on entertaining value, so the technical judging is much less strict than in regular competitions. This is after all about show skating.
There are three rounds; the first is an elimination round. I think the board directors choose the top five skaters for round 2, so they select their number 1, 2, 3, 4 and 5 candidates. It is super simple; who has the most entertaining program? That's important for us! We had an annual meeting at Sun Valley, so anyone meeting there did round 2, and the top three to place first, second and third were all our members. So 300 emails and that's how our top three was selected!
The 2009 competition is now found online. Unlike youtube, where you have to search by names, all the entries from 2009 are on our site. Check here: www.virtualskateoff.com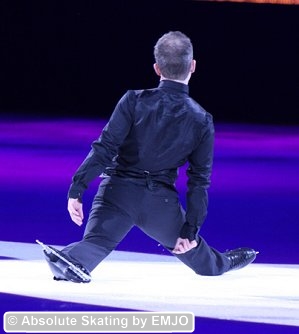 Have you ever thought about letting the Internet viewers vote?
We have thought of that and it is something we will move towards, but for now we are going to do it the same way as last year. Except that in the second round our 300 members will be the judges and in the third round it will be the celebrity judges, so the celebrity judges will get to name the winners; the first, second and third place. The judges will also have the opportunity to comment on those videos, so you will actually have a chance to get a comment from a super famous skater! That is cool! Another thing is that we feed Twitter into our site and use it to make announcements. Hopefully people can follow and also tweet about the competition to get the word out.

How often will you have a competition?
We are going to try and do it every year. The success depends on how many people actually participate. The idea is to stimulate and motivate the skaters to create new programs. Hopefully we will get a good turnout this time.

It's so nice that you are providing us with insights of the hidden world of pro-skating! You open this world both to me as a viewer and to show/proskaters.
Well, yes, this is an option that is needed. Skating is only for a period of your life. When skaters are reaching ages 14 -16 many quit, right? It's perhaps because they didn't do so well at competitions. The goal in skating is competitions and if they don't reach their goals they will find other interests.
The image of shows is not the most positive, but shows are great! You don't only perform - you also have access to free ice and you get to travel the world! But if skaters don't know there is another avenue, they quit. We want to open up the show world! It would be great if the pro part of skating was promoted more so people continued skating. Now there is a new forum for them so don't ever quit skating! There is a great world out there to continue and flourish in! Basketball or soccer you can do forever, but in skating, for some reason, when you're 16 you're done…. But you know, if you love to skate, skate! You don't have to be a "big big" champion!

So true! I often hear coaches say it is a common problem to keep the skaters motivated around that age. But it often happens that a 7th- 10th place skater catches my attention more than the podium. They have something special and I prefer artistry over strict technical ability. They may never master a quad, but boy can they put on a show and entertain!

If you need inspiration or are just curious, go to Jason's own "baby"
www.icetricks.com and watch the Hall of Fame video- and photo section. It is a true "have it all section" or why not watch the entries in the 2010 Virtual skate off at www.virtualskateoff.com? Or join the www.proskaters.org to get a membership so you can vote for your favorite or even enter the competition yourselves!

AND even better if you are a skater this is a great chance for you to show what you got. Join the competiton!