Jenna McCorkell and Kevin Van Der Perren's bumpy ride through the season
June 3, 2010
By Mireille Geurts
Photos © Absolute Skating, Ageha, Vera Alexandrova, Jenna McCorkell, Caroline ParĂ©


The season 2009-2010 was a long awaited season in figure skating because the Olympic Games 2010 would take place. Although there are World Championships every year, the Olympic Games are something special. The occurrence of the event every 4 years makes it a cycle, a goal to work towards, often with a big desire to be present to achieve the highlight of one's career. Therefore, going to the Olympic Games usually comes with a lot of excitement and apprehension. In some cases it also comes with the Olympic Committee of the skater's country, the media in said country or even just from within oneself.
This couple has had to handle both. Kevin Van Der Perren, competing at his third Olympics already—a feat not many athletes even manage nor imagine - and his wife Jenna McCorkell who would be going to her very first Olympics and was hoping it would be everything she dreamed of.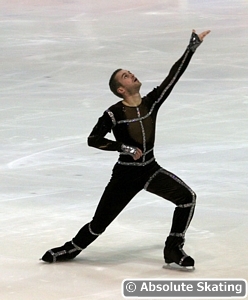 The preceding months were not exactly considered ideal. Kevin's first competition of the season, the Finlandia Trophy, ended in a struggle to even finish his program. He experienced a big fall and as it looked to the spectators, he was contemplating finishing his program or leaving the ice. "No," said Kevin in denial, "It wasn't me at all. It was the referee!!! I took a big fall and it was indeed on my injured hip, so they were very worried and wanted me to withdraw! Last year I already had to do that. I really didn't want that this time, so I begged if I could please finish!" With that in mind, one can say the actual result doesn't even really matter.
Jenna's start of the season in Finland went a little better than Kevin's, she ended up 5th.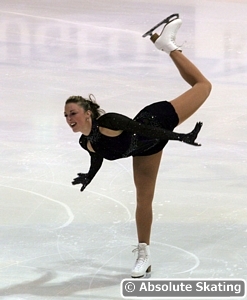 "It was a good score for first competition and also to be top 5 and get world ranking points was a bonus hehe. After that I had a real busy season, I got an unexpected invite for Cup of Russia. Heard that only 4 days before and got thrown in the deep end. Had such problems getting a VISA, because I was on a British passport, in Belgium, trying to get a Russian - VISA and that made it so complicated.

It was quite an interesting competition for her. "I had a pretty bad short program there. I wasn't at my best at all. I think I was really unprepared; then I got my personal best score in the free. I had a really good one so I was pretty pleased with that."
Kevin thinks back to Cup of Russia. "This went a little better [than Finlandia], although still no triple axel." We saw several in training though. "Yeah in training, that's no problem. I did them in Finland too in training. It's the pressure of the competition."
Kevin does work with a mental coach. "That helps a lot. It makes me a lot less nervous before the competition. It is just knowing that if I do really bad and feel bad about that, I can talk to him and he can help me with it. Unfortunately, he can't go with me to the Olympics. There is no accreditation possible for him, after all the officials have gotten theirs."
Jenna: "Right after that we had shows in Germany; in Ingolstadt. From that show on we went to Canada, for Skate Canada."
Kevin: "Skate Canada was a total mess! Impossible! Dortmund went luckily a little better—still not what it should be, but much better. I did three axels; one in the short and two in the free, so that is decent. "
In Dortmund was the NRW Trophy, where he came 3th, versus 11th at Skate Canada, it is quite clear why Kevin quickly skips over that competition.
"For the rest of the time we did a lot of shows. Those all did go okay" laughs Kevin " but yeah then there is no pressure".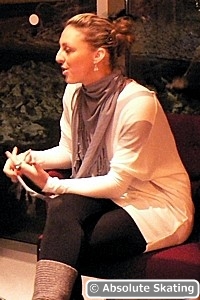 Jenna first had British Nationals, before the NRW Trophy. After that the couple flew to England to appear in some shows. Kevin got sick right after Dortmund and then the virus hopped over to Jenna.
"I will never do that again, that was really too much, 6 weekends in a row having no rest.
I got the flu right after but it got really bad. Had a bad throat and couldn't even swallow. By Christmas I got antibiotics because it had developed into a chest and throat infection. After 7 days of antibiotics and New Years, I went to Austria for a training camp with choreographer Shanette Folle. I finished the antibiotics on a Sunday and the camp started on Monday so I started to train full out. Tuesday I felt bad again. Wednesday I stayed in my bed. Couldn't swallow again, fever, it felt like someone was sticking a knife in my throat. Spent the rest of my time in Austria in bed again."
Okay, not really the way you want to spend a training camp, but her troubles weren't over yet.
"I came back in Belgium and went to the Belgian Olympic committee to see Kevin's doctor and he said that I had to take another batch of antibiotics. I took them right through 'til the Wednesday before the European Champs. Thursday I tried to skate again, and felt like I had a little bit of strength back and could do some jumps again. I skated one practice on Thursday and on Friday. Saturday I skated none.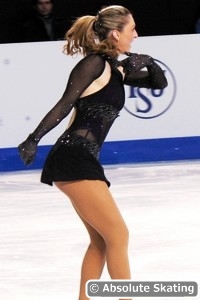 Then travelled to Tallinn and gradually started to practice there. I felt a little bit better until my antibiotics finished on the Wednesday. On Thursday I started coughing again. I went to the doctor and he suggested I withdraw, but I really didn't want to and I was thinking it is just the short program; three jumping passes and a few elements. If I can get through the first three jumps, I will make it through, so I tried. It ended up being the best skate—probably because I was focusing on just making it through. The free program would be a completely different ballgame. I didn't think it would make sense to withdraw, so I just did the best I could do in that situation. It wasn't exactly what I can do, but I am happy I tried it. I had to take another set of antibiotics afterward though.
It is the European Championships after all, you want to do everything you can to try to compete."
The marks for Jenna in Tallinn surprised us actually; we had expected them to be higher. Kevin: "that is because they downgraded a lot of the jumps and okay, not all were fully rotated, but ALL of them? They even downgraded the triple flip! Actually, my opinion is that they should rule in favor of the skater when there is doubt of under rotation."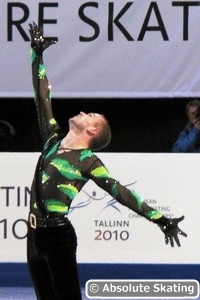 Kevin skated a complete new Free Program in Tallinn and we wondered why he changed the program he skated at Skate Canada, since he got good marks and it looked really great.
"Because the judges let me know it was fine now, but if something [an element] wouldn't work out, it would totally fall apart. So, I choose some music everybody knows –Robin Hood- and put together a new program with Yuri. I only got the costume the Tuesday before the competition."
Jenna jokingly adds "I only know to what program he is going to skate when I see the costumes he has with, when we unpack our suitcases in our hotel room."
Yuri is Yuri Bureiko, Jenna's long-time coach, now also Kevin's, even though he only last season changed from Vera Vandecaveye to Silvie de Rijcke. The decision to change had to do with problems with the choreographer [Guiseppe Arena] who was acquired to create Kevin's programs this season.
"Ohh, I don't even know where to start. For one, he can't even skate. Two, he wanted me to skate to classical music—real classical music. The costumes he designed for me—the short program was black pants with a red scarf. The arguments I had with him turned into arguments with Silvie. He had told the BIOC that even if I missed all my jumps, I would still medal. With Silvie, herself, I had no problems at all, but she'd defend his arguments. I felt the irritations shift and I wanted to stay friends with her, so thought it would be better to cut our professional ties."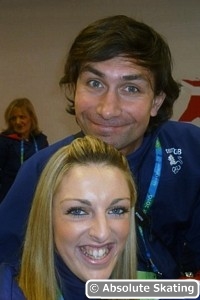 And how is it, training with Yuri now?
"That is easy, he thinks the same way about skating as I do"
Yuri by the way, now coach of both was accredited at the Olympics via the Belgian team according to Jenna.
"Via the British they could only offer it to him after the Pairs event and then I would be there all alone the time before."
The weeks in between Europeans and Olympics for her were spent "just trying to get healthy again and relax and be sensible about practicing". For Kevin however, things were entirely different.
Preceding to the Olympics the pressure only built. The media started to think Kevin could medal, while he himself was very aware that in this field, that would be an impossible feat. "I can skate two great programs and be very happy with that, and in an ideal scenario, reach my goal and end up in the top 10 and then I still come home and only get to hear I didn't medal. How on earth can I still be happy with what I do then?"
Jenna, very contradictory, had the opposite, very supportive press. "I don't know. They have always been that way. I only see articles stating how proud they are I will be there. The situation here is Belgium is so weird; it's like the polar opposite. They have always been that way—very supportive. They never run me down. I can only hope that stays that way!" – laughs.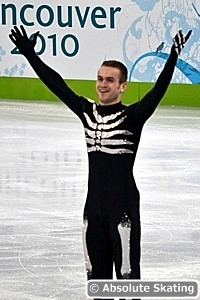 "It is upsetting to see Kevin like this. On a good day, all is fine, but on a bad day he is so unmotivated and the stuff in the newspapers is ridiculous."
And then the Olympics Games itself. Kevin skated a phenomenal short program. On Night of a Bald Mountain , in his "old" skeleton costume, he nailed all his planned jumps: a beautiful triple flip-triple toe combination, triple axel and triple loop.
His overjoyed face afterwards was worth a million and the judges rewarded his clean performance with 72.90 points. His long program unfortunately didn't go so well, the planned jumps did not want to work out and that took the wind a little out of the program, even though his flying sit spin was awarded level 4 and he landed a clean 3 Salchow/3 toe in his Robin Hood program.
For Jenna it was hard what to expect for the Olympics, "other people are competing there than usual, like no Valentina Marchei, no Viktoria Helgesson.. so I had no expectations aside just trying to skate my best."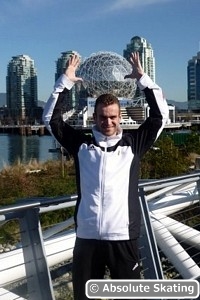 And unfortunately that did not happen. She had a disastrous short program. She fell on her combination, missing it entirely, all in all this lead to very low marks and she didn't make it to the long program. A real pity.
So, does this mean dreams shattered?? Maybe for a little while.
Should they be?? Heck no. If anything, these two have shown that they never give up, displaying their true fighter spirits, which is what makes up a real athlete and thus true Olympians! As Jenna put it herself
"To not qualify was the worst feeling, but I will have other challenges in my life, it's how you deal and overcome them that is the important thing. My confidence was knocked but I am feeling physically much better so I just want to go to World's and try and improve on my scores and position from last season."

If anybody proved those words true value, it was this couple. At said World Championships in Torino, Kevin skated a satisfying short program with a clean quad but a stumble on the Axel, sadly on the day he learned his grandfather had just passed away from an heart attack. 2 days later he opened his free with a breathtaking 4-3-3 combination, an amazing accomplishment. He was completely overwhelmed after the program, falling to his knees, earning with all of that, an 8th place.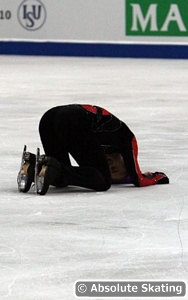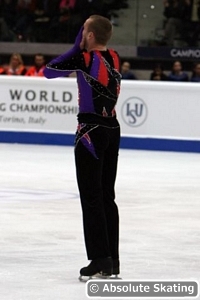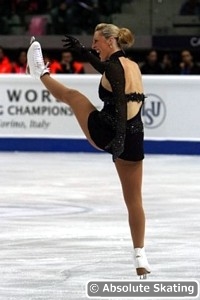 Jenna skated a clean short and a blinder of a free program, earning not only a lifetime best free program score, but also a career best overall score.
" 'This was one of my best skates, it felt so good to be out there! This will hopefully set the record straight!'"
And that it surely did. For Jenna and Kevin!
This was a rocky season to say the least. Many ups and downs, living through them all, showing the true athlete spirit this couple has. Something they will both keep showing us. At least for one more season!!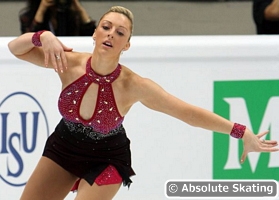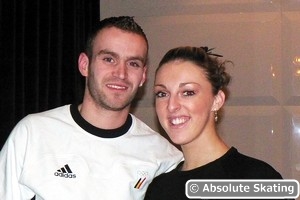 As made very clear in the article we previously published, this couple does not only compete. If you missed it, check out all about their showy side there and keep an eye on AS for updates on the most recent Ice Fantillusion show!