OG 2010 Extra - retired ice dancer Ashley Foy comments on ice dance
By Ashley Foy
Photos © Absolute Skating & Ashley Foy & D&H Höppner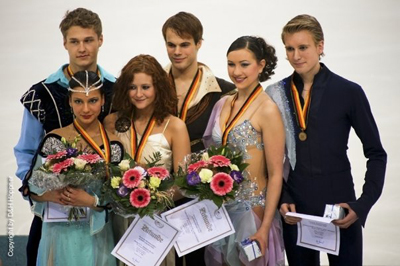 Watching the ice dance event at the 2010 Olympic Games in Vancouver has been a bittersweet joy for me. A good majority of these teams have been past competitors or friends of mine in the skating world, while others have been influences on my own skating. It is also the first Games that I have watched where I was no longer a competitive skater myself. My partner, Benjamin Blum, and I represented Germany from 2005-2008. We knew that the 2008 World Junior Figure Skating Championships would be our last junior competition as my partner had run out of age eligibility, but we were looking forward to a long career as a senior dance team, with a dream of representing our country (Germany) at the Olympic Games.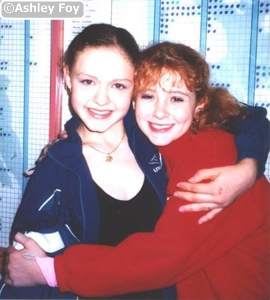 Unfortunately, it wasn't a citizenship issue that stopped us from going to the Games. Though I do not have German citizenship, I was well on my way to it living and training in Germany for three years. We stopped competing in 2008 due to financial struggles. We both began studying at universities in America and hoped to begin training with coach Mathew Gates. This sadly did not work out for us, as neither one of us could afford both college tuition and figure skating expenses, even with the amazing support we received from the German figure skating federation, our club TSC-Eintracht Dortmund and the German group "Sporthilfe".

So this past week has been an emotional one for me, as I found it difficult to make time for my old life by watching the Games while juggling my new life's busy schedule. I am still on the ice nearly every day, though now it is for coaching. I coach in Simsbury, CT, where I began my career 15 years ago. I also work as an Ice Girl for the AHL affiliate of the New York Rangers NHL hockey team in Hartford, CT (The Hartford Wolfpack). I was not able to sit down and watch the CD event Friday night, because I had to be on the ice at the hockey game. Sunday night was no better for me, as I grudgingly took my skates off after hours of coaching to sit in the music box to watch and score keep an adult hockey league game, the same hours that the OD was aired. These are sacrifices I've had to make since 2008, in order to pay tuition and earn a college degree.

Last night, however, I got a special treat by being able to watch the free dance live. The first team I saw on TV was the young Canadian team Vanessa Crone and Paul Poirier. With beautiful purple costumes on, they skated with more grace than I have ever seen them skate before. They show a lot of potential and room for growth in their skating and should be very proud of the way they represented their country in Vancouver. To me it seems as if they are the next generation of Virtue/Moir while Emily Samuelson and Evan Bates seem to be the next generation of Davis /White. The last time I saw these two teams skate live was at my last competition in Bulgaria for the World Junior Figure Skating Championships in 2008 where they finished first and second with Samuelson and Bates in the lead. Samuelson and Bates were the next team aired, and they beat out the young Canadians once again. Wearing new costumes (to the right: picture of previous costumes) they showed elegance and beautiful lines; though I did not think the program looked as secure as it had at the US Championships. At any rate, these teams both have potential to carry on the newly formed North American ice dance pride in the next few years.

The next team shown was the brother-sister duo from Great Britain, Sinead and John Kerr. Though I am not a huge fan of their skating in particular, I was very proud of them for making the risky music choice they did ("Krwing" by Linkin Park). They are always ready to try something new and original, which sets them apart from the other teams. They also draw a younger fan base to the sport of ice dancing, which is
always a good thing as we all know that figure skating has lost popularity over the last 15 years. They showed immense improvement from previous seasons which in my opinion, is largely due to their coach, Evgeni Platov (two time Olympic ice dance champion). I do, however, think that they are near their potential. I was pleased to see their improvements, despite some minor technical mistakes on John's behalf. I think they should feel proud of everything they have achieved and for making Great Britain relevant in ice dancing once again.

Following them were Nathalie Pechalat and Fabian Bourzat of France, one of my personal favorites. I have not seen them perform at all this season, so I was very excited to watch them. I was a bit disappointed by the music choice ("Requiem for a Dream" by Kika) since it has been used many times before by other teams and I think it did not suit the team well. Despite the music and some obvious holding back in their skating, I still enjoyed the program. I hope they hold on and fight for a medal in 2014.

Watching the veterans Isabelle Delobel and Olivier Schoenfelder of France skate their final program after so many years was inspiring. To see Isabelle competing again so soon after giving birth was brilliant, and the longevity of this team displays the devotion they have showed to their sport through all of their ups and downs. I think younger ice dancers should look up to them for their perseverance and use them as an example for their own skating.

Next out were Russians Jana Khokhlova and Sergei Novitski. I have loved this team since I first watched them skate at the 2006 Games in Turin. They displayed gorgeous costumes really fitting their music "Firebird". This program, in my opinion, had the potential to be one of my favorite ice dance programs ever, but they did not seem to be as strong as they have been in previous years. Though they showed they are clearly still the most innovative when it comes to lifts, I felt a lack of passion coming from both skaters, with expression quite minimal for this normally exuberant team. She is in my opinion one of the strongest female ice dancers I have ever seen skate, so I hope this team will step it up next season and beyond, or that she will find success with another partner. She truly deserves an Olympic medal at some point in her life, though this was not the time for her.
Skating first in the last group were the American favorites, Meryl Davis and Charlie White. Dancing to one of my favorite pieces of music ("The Phantom of the Opera") this team did not leave room for errors in their competitors' programs. Though both appeared quite nervous on the ice before the skate and were shaky on some elements, the program was beautifully skated. There is pretty much never anything negative to say about this team, and they truly earned their silver medal. I believe they are also a great inspiration for younger dance teams, as both competed in other disciplines of skating (freestyle) through to the sectional and national level and White also played hockey for many years. They're also both college students, which is something difficult for a world class team to handle.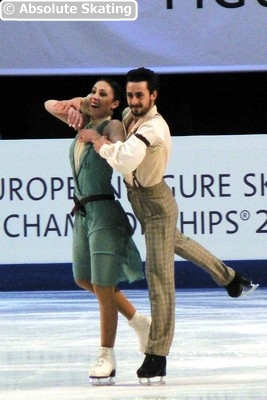 Italy's Federica Faiella and Massimo Scali unfortunately had to follow that solid performance from Davis and White. In direct comparison to Davis and White, I believe Faiella and Scali looked slower than ever. I was also not a fan of the program in general, as the music was not to my liking nor were the costumes. I was sad when I realized I did not enjoy this team at all in Vancouver, since I have enjoyed many programs of theirs in the past. can do better than their performance in Vancouver but will have to count on close competition from the other Italian team in seasons to come. Anna Cappellini and Luca Lanotte look very promising for Italy's ice dance future.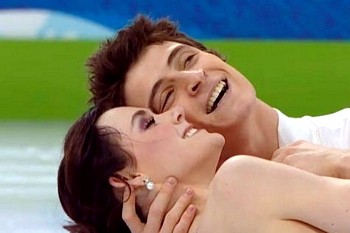 The stars of the night came out next, Canada's own Tessa Virtue and Scott Moir. Rivals, friends and training mates of Davis and White, this team knew exactly what they were up against coming into these Games. Despite some nerves creeping into Tessa's face before the skate, they did not hold back in their program one bit. Everything was perfect, from the costumes to their trademark balance lift. I absolutely loved this program to "Symphony No. 5" by G. Mahler. They showed wonderful grace as they executed many difficult elements. For these young Canadians to be at their first Olympic Games, on home soil and winning by a large margin, it must be a dream come true. I hope their fairy tale has not yet come to an end, however. I believe they can repeat what only one other dance team in history has done before (Oksana Grishuk and Evgeni Platov): win the Olympic gold twice!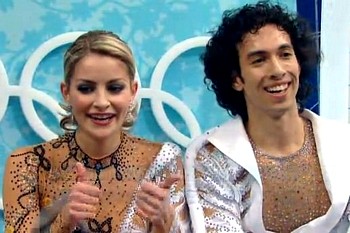 Next Canadian born Tanith Belbin stepped on her birth country's ice with partner Benjamin Agosto representing America. Though I am American, I lived in Germany for three years and only thanks to the support of that federation was I able to afford to skate those last few years of my competitive career. I am very grateful for the experiences the German federation allowed me, and would feel like a traitor if I were to ever represent a different country in skating. I know that Tanith must feel equally grateful for the experiences the USFSA has given her, so I think I can relate well to whatever feelings she felt being in her home country at the Games, representing the USA. Personally if I were in her position, I don't know if I could have done it. I do applaud them both though for the improvements they have made in their skating. I (surprisingly enough) enjoyed their performance to "Ave Maria" immensely. I could not help but feeling sad when they placed out of the medals, because this performance was clearly much better than their silver medal performance in Turin (which I did not believe was worthy of a medal).

The last team to skate were Russians Oksana Domnina and Maxim Shabalin. I have always been a huge supporter of Russian dance and pair teams. This year was a huge let down for me, seeing neither event having a Russian team on the top of the podium. I just love the style of Russian teams, whether it is in pairs (from Gordeeva/Grinkov to Totmianina/ Marinin) or dance (from Grishuk/ Platov to Navka/ Kostomarov). Domnina and Shabalin have a beautiful presence on the ice, and fit the role of an ice dance team aesthetically more than the other teams do. Though I thoroughly enjoyed their program, there was an obvious feeling of defeat in their skating. I think the controversy over the OD costumes took its toll on the team. And even if I did not enjoy their original dance, I think they should be given credit for trying to do something different and creative. I was also appalled by the NBC commentator's remarks calling the costumes "ridiculous" and basically never missing a chance to insult the team. I was glad to see them win a medal after all of the injuries and setbacks they have been put through. I would like to see them continue to compete, and hopefully they can rise above the cruel comments many North American skaters and skating fans have been shooting at them.

I would also like to mention a few of the teams not placing in the very top. Take the "Reeds"; both the brother sister duo Cathy and Chris Reed, and Allison Reed (partnered with Otar Japaridze). I have watched these skaters since they were young and representing the US. Cathy and Chris now represent Japan (their mother's native country) and Allison represents Georgia (partner Otar's native country). To see these talented skaters find a way to compete at the Games by representing a country other than the US is a positive part of figure skating. By allowing partners from two different countries to skate together for one partner's country, the level of world ice dancing is taken higher and we as spectators have more beautiful teams to watch. I know from training with them that all three of the Reed's have a wonderful work ethic, and I am extremely pleased to see all three of them make a terrific debut at the Olympic Games, and hope to see a lot more of both teams.


I have to mention Alexandra Zaretsky and Roman Zaretsky of Israel! I have been friends with these skaters since 2001. Watching Sasha and Roman train over the last 9 years has been an inspiration to my own skating (see also picture above). These siblings are two of the hardest workers I know and have shown improvement that has simply stunned the skating world. They have shown that Israel is able to produce more than one elite ice dance team. One cannot help but respect these two, as they remain humble and down to earth. I am so proud of them, watching them progress from their first season at the junior level through to their 10th place finish at these Games. Their music selection for the free dance was also very appropriately that of "Schindler's List".

And last but not least I'd like to mention the Germans, Christina Beier and William Beier. This team has been through a lot, from injuries to partner swaps. I was excited when they teamed back up and won the German Nationals this year, as they are only team from Germany since Kati Winkler and Rene Lohse who has shown skating strong enough for the Olympic Games. It is great that they had the chance to compete at the Olympics and pave the way for the 2014 German Olympic ice dancers, who by the looks of it will be the promising junior team Stefanie Frohberg and Tim Giesen.

For more info on Ashley, read our interview with her and Benjamin in 2006 here. Thank you Ashley!