The Olympic Games 2010 - Tamar Katz comments on the ladies short program
By Tamar Katz
Photos © Absolute Skating
As most of you know, although I was supposed to be competing in Vancouver, I am instead sitting in front of the TV screen in Boston writing my impressions of the ladies short program. All in all, I thought it was a captivating event where many of the ladies brought us their best.
My favorite skater of the night was Joannie Rochette. Not only was she as amazing as usual, but she was skating under very emotional circumstances. After losing her mom only two days ago, she was able to put those emotions on the side and concentrate on her performance. It was truly a mesmerizing moment, being in Canada, with the crowd behind her and all of the skating community cheering for her. I really hope that she is able to deliver a strong performance in the long program as well and win a medal (I'm rooting for her to win gold, even though I believe that it is Yu-Na's to win or lose).
I watched all thirty performances and was rooting for Jenna McCorkell and Tugba Karademir. I was watching these two girls with breathless anticipation as both are close friends of mine. I definitely felt Jenna's disappointment in her performance. I know she can do those elements in her sleep, but ice is slippery and sometimes you miss at the wrong time. Tugba gave a solid performance which I felt was a bit undermarked. I liked that she skated to Turkish-themed music and was listening to all the nuances of that music. I was surprised by the second Korean girl, Min-Jung Kwak, who I had never seen before. What a feeling it must be to perform a clean short program in your first ever senior international competition and at the Olympics! She reminds me of a young Yu-Na Kim.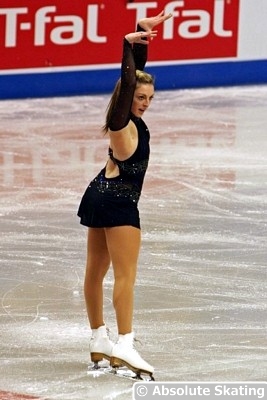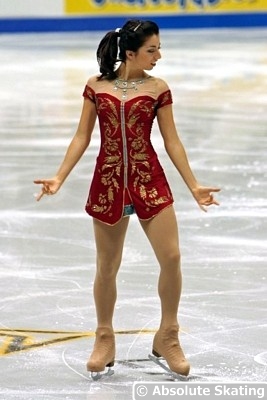 And now for the top ten ladies: Elene Gedevanishvili, whom I have trained with off-and-on for the past three years, really brought it tonight. The music suited her quirky personality and she gave an entertaining performance that highlighted all important aspects of the short program – strong jumps, spins, footwork, and elements as well as musicality and positive grades of execution of those elements. I hope she is able to recap her long program at the European Championships and skate a solid performance tomorrow.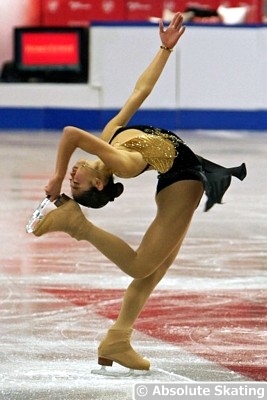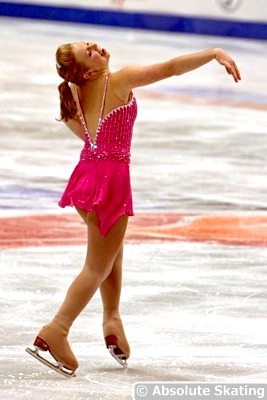 Mirai Nagasu was the life of the party. From the minute she stepped on the ice you could see her focus and determination. She flew to her "Pirates of the Caribbean" program showing off her flexibility in her spins and capping it off with strong triple jumps. She has a bright future ahead of her! Rachael Flatt skated a technically more
difficult program with a triple-triple combination, but she was more reserved than Nagasu, and personally I would have put Nagasu ahead of Flatt. And although Miki Ando skated a powerful program, her expression and interpretation were a bit weak for me, and I felt a lack of theme in her program. I would have placed both Flatt and Nagasu ahead of Ando.
But the top three skaters are right where they should be. Joannie's presentation and transitions are unmatched, but the other two skaters beat her technically. Mao Asada was incredible; her jumps are as light as feathers, she has a gorgeous triple Axel and she kept smiling. I know the short program has been a demon for her this past season and executing all of the elements at this time and with such ease must have been a huge mental breakthrough for her. She radiated joy throughout her performance. The only thing I might have changed was her costume.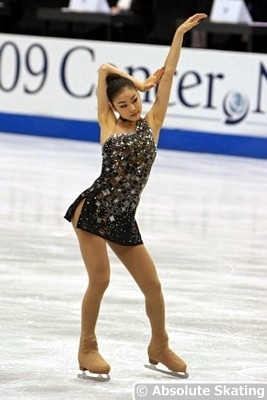 However, the best, and by far, was Yu-Na Kim. What she did that the others didn't do, was portray a character. The dress, the music, the moves; everything had a theme and she became a Bond Girl through and through making her performance completely believable. Her speed across the ice, the flow out of jumps and her grace were unmatched by anyone. The judges marked her five points above the rest of the field for a good reason – she really is that amazing! She also performed under extreme pressure. The amount of media here watching her every move is staggering! But she was able to rise to the occasion and stand up to the pressure. You could tell she was prepared for this event with her confidence shining through in her solid execution of all eight elements.
I think the top three will remain in that order. My prediction is gold for Yu-Na, Mao will take silver and Joannie bronze. The rest are actually pretty tightly bunched together and anything could happen. If the ladies deliver in the free program like they did in the short, it is bound to be a nail-biting event, don't miss it!