The Olympic Games - pure magic or just another competition?
By Reut Golinsky
Photo © Reut Golinsky, EMJO, 2010 Absolute Skating

Special thanks to Mireille Geurts who talked to Kevin van der Perren and Jenna McCorkell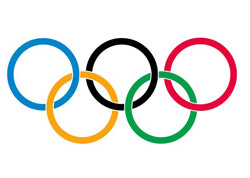 The Olympic Games, what are they really?
A famous Russian sports journalists and an Olympic gold medalist herself, Elena Vaitsehovskaya wrote in the introduction to her book "My Olympic Games":
"During all the years of existing mankind never invented anything more interesting than the Olympics Games... I heard those words from my father [a famous Russian swim coach] when I was still a schoolgirl... The Olympic Games are far from being the whole sport; they are rather the upper section of it including the totally inexpressible pressure and the unbelievable tension of combat and human drama. Each time I recall that sentence of my father I again reach the same conclusion; during all the time of its existence mankind did indeed not invent anything more interesting than this".
So what makes the Games so special for fans and athletes? Is it the fact that they happen only once every four years? Or the fact that you represent not only yourself but your whole country? Or that all the sports come together and you can root for your countrymen and celebrate with them afterward in the House of your country? Or maybe the medal matters the most after all? Or just maybe the Games are not that special at all; they are "just another competition you should win to get a medal".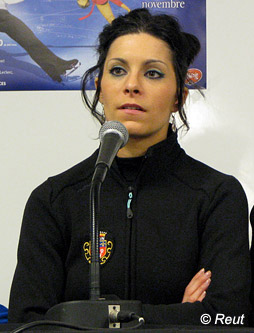 Regardless which one, they made Isabel Delobel go back on the ice just a few weeks after giving birth to baby-Lois. The Olympics is the only competition she will participate in this season, with a single goal in sight – an Olympic medal. The medal she wasn't able to win in her two previous Games. And the Games are the reason why Evgeni Plushenko, who already has every possible title and deservedly was crowned The Tsar, decided to keep a strict diet to regain his competitive form. He's exhausting himself with hard training to get the chance to be the first male skater since Dick Button to win an Olympic gold medal twice.
"The slogan 'The most important thing in the Olympic Games is not winning but taking part' could have been invented only by a person without any chance of becoming an Olympic champion," says Vaitsehovskaya in her book.
"It's about winning medals," claims the president of Israel's Olympic Committee and decides not to send Tamar Katz, the first Israeli lady who earned an Olympic spot for her country.
"The medal is important, but the road to the Olympics is what matters the most to me," – says Stéphane Lambiel explaining his comeback. "I already experienced two Olympic Games and I really want to challenge myself for the third time".
I'm not an athlete myself and even as a sports fan I never followed the Olympic Games very closely. (This time around it will be different though!) And trying to understand what is so special about the Games, I asked people I met during the European Championships in Tallinn these two questions:
What do the Olympic Games mean to you?
What is your most vivid Olympic memory?
Javier Fernandez (Spain)
Going to his first Olympic Games




For me the Olympic Games is a really important competition, I think it's one of the most important competitions for everybody. I'm young, only 18, so me and Sonia [Lafuente] will just go to compete, do everything we can and have fun. But in four years in Russia it will be a different story; then it will be "our" Olympic Games.

When I was young I loved to watch Plushenko, so when he won the Olympics I was really happy. I think this is the most important Olympic victory [I remember].
Vera Bazarova and Yuri Larionov (Russia)
Going to their first Olympic Games




Vera:

The Games are something huge, worldwide. We still don't get that this dream is becoming real for us.

Yuri:

I think it is the dream of every sportsman to participate in the Olympic Games, because it's the highest level of competition.

Yuri:

The most remarkable Olympic stories are those of people who overcame themselves, who fought and not just easily got the gold. When there is a serious rivalry between the sportsmen...

Vera:

Like it was with Yagudin and Plushenko or with Berezhnaya/Sikharulidze...

Yuri:

...and the Canadian pair [Sale/Pelletier]!
Elene Gedevanishvili (Georgia)
Placed 10th in Turin

To me the Olympic Games are fun. I don't look at it as something very-very important. I try to think about it as any other competition to not get too stressed out. But I think it is very different and not like any other competition. It has something magical to it.
When Sarah [Hughes] won in Salt Lake City, it was very... shocking.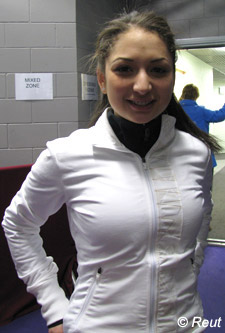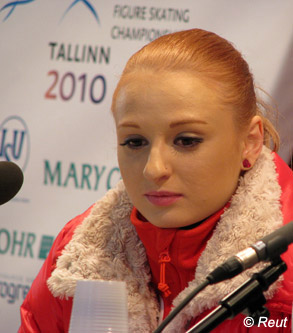 Maria Mukhortova (Russia)
Going to her first Olympic Games
The Olympic Games is just another competition, like any other. I don't see anything special about them, maybe because this will be my first time there.
One of my brightest Olympic memories is probably in Turin when Russia won three gold medals in figure skating.
Stefan Lindemann (Germany)
Placed 21st in Turin






When I was young and just getting started in skating Katarina Witt won in Calgary and I decided: "I will be there". Four years ago was my first time and this year I really can't wait for the Games to start again. I'm very proud and happy that I can skate there, because it will be my last competition; I won't go to Worlds in Turin. I thought the Olympic Games will be a great competition to finish my career with. So I'm going to enjoy it there, and hopefully I will have a good skate.

The biggest Olympic memory for me is Katarina Witt's victory. It was funny, I was seven years old then, and the competition was broadcast late at night. I wanted to stay awake, but shortly before Katarina skated I fell asleep and when she finished, I woke up. I also really enjoyed Yagudin's Olympic gold medal in 2002, because he was just a perfect skater and both of his programs were just the best I've ever seen.
Michal Brezina (Czech Republic)
Going to his first Olympic Games




It's going to be my first Olympics. I hope to enjoy it, to just do my best as in any other competition. And I will enjoy some time with my teammates from the Czech Republic, and root for them and hopefully they'll root for me and Tommy [Verner]. So, yes, I'm looking forward to a nice experience.

My biggest Olympic memory is definitely Salt Lake City and the victory of Alexei Yagudin. That was one of the best skates I've ever seen. I was 12 then, I was skating already and of course it motivated me a lot.
Kevin van der Perren (Belgium)
Placed 12th in Salt Lake City and 9th in Turin

I always went straight home after the free program. So for me the Games aren't much different than a normal competition. The opening ceremonies are very nice, but for the rest it's busy, busy, busy.
I would definitely carry the flag again! But I already did that last time so I don't think they will ask me now. Although when joining in you actually miss half of the ceremony, because you stand around waiting and you don't see a thing. You only see the happenings when your country has walked out. If I wasn't allowed to walk with my team I'd attend the opening ceremony by myself, buy a ticket and sit in the audience. *laughs* It's something you really shouldn't miss!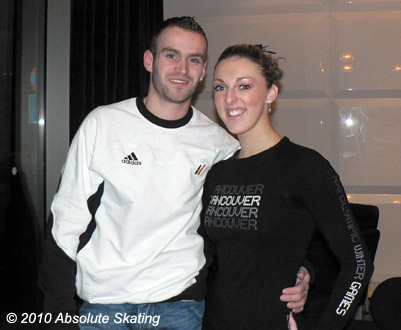 Jenna McCorkell (Great Britain)
Going to her first Olympic Games
It sounds like a real exciting experience and I hope the Vancouver Games will be everything, fun! There are like 60 of us from Great Britain, I am the only athlete from Northern Ireland. I won't be carrying the flag but I would if they asked me to, of course!
Creating Olympic memories take a real fight and struggle and determination and tears and injuries. When you're young, everyone says "oh I wanna go to the Olympics!". But it's only when you start to get to the junior level and do junior grand prix's and you see the best in the world that you start to realize that it isn't that easy.
Otar Japaridze (Georgia)
Going to his first Olympic Games

For me as a sportsman the Olympic Games are something very special. According to what I heard from people who already took part, it's something absolutely different. You can't compare it to the World or European Championships, the atmosphere, the opening ceremony... Every time I think about it I'm so excited I'll be able to participate in all this. I've seen photos of Vancouver, of the city, of the facilities, and I just can't wait to get there. I think it's going to be one of the biggest moments of my life. Maybe it won't be my last Games, but I think that the first time is always the most memorable.

A lot of Olympic moments come to mind. The very first I can think of is when I watched the performance of Alexei Yagudin in Salt Lake City in 2002. I was 14 and still skating in singles, so the men's competition was the most interesting to me. The way he skated, both in the short and in the long program... It was one of the most impressive moments, not only in figure skating, but in sport in general. I watched his performance live and after he finished his long program I had goose bumps all over.
Samuel Contesti (Italy)
Going to his first Olympic Games




It's just a competition, like the European Championships or Nationals. I'm preparing for every competition, it can be Nationals or Worlds and I will probably feel as much stress there as at any other competition. For me it's more like the Worlds Championships but only once every four years, and it's a bit like a lottery too.

I really loved the story of the Australian short track speed skater [Steven John Bradbury], whose victory wasn't expected at all at the Salt Lake City Games. All the others fell and he became the Olympic champion. I think this is fantastic, because in this competition you should prove that you can reach your goal. And this is an example; while he wasn't a favorite there he skated and won. Everybody can fall in short track, in skiing and also in skating, and if you fall it's over for you. That's why I'm saying that the Olympic Games are just a competition like any other.
Kristoffer Berntsson (Sweden)
Placed 23rd in Turin

I think the Games are absolutely amazing, the biggest competition for us! It's very special to go with all the other athletes of the Swedish team. The ice rink is pretty much the same, the competition on the ice is the same too, but the atmosphere is different. When you have breakfast or lunch and you eat with all the other athletes, it's special.
The first Olympic memory I can think of is Michael Johnson. It was in Atlanta in 1996 when he got gold running 200 and 400 m. I was pretty young, but I remember this.
[Our talk was after the short program. Kristoffer didn't place high enough in the competition to fulfill the criteria of the Swedish Olympic Committee and Sweden's only Olympic spot in figure skating went to Adrian Schultheiss.]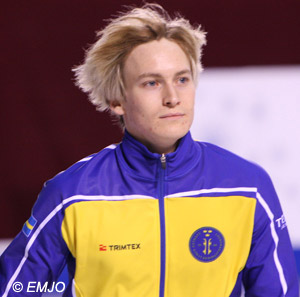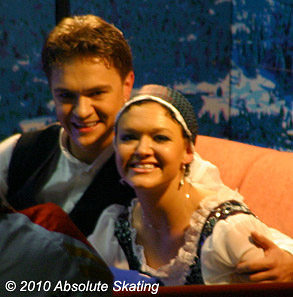 Alexandra (Sasha) and Roman Zaretsky (Israel)
Placed 22nd in Turin
Sasha:
The Olympics are... everything! This is the dream of every skater, I think.
(Roman shows his Olympic tattoo and Sasha says she has one too)
We had them made after the last Olympics.
Roman:
Every athlete, not only skaters, wants to go to the Olympics. And we got there! Yes, we didn't get very impressive results, not even top ten... but we came home with the feeling we had made our dream come true.
Sasha:
This time I'm going to be a flag bearer.
(Are you afraid? - I ask her)
Roman:
What's there to be afraid of? It's amazing. This is the Olympics, this is it. They call out the name of your country and people yell, you enter the stadium and you get all this...
Sasha:
...vibe from the audience!
Roman:
A recent exciting Olympic story... There was this girl [Natalie du Toit], she was a swimmer and competed with only one leg [in Beijing], she had lost the other leg in a car accident. This wasn't the Paralympics, she competed and she finished sixteenth.
Viktor Pfeifer (Austria)
Placed 22nd in Turin

Four years ago I was eighteen and had really big goals and I wanted to be on top in four years. But things didn't go well at all and I had two seasons when I didn't compete which was really tough for me. So this time, instead of the Olympics being my moment to compete at the very top, the real goal is to return to competitive skating and to overcome the difficult time I've had. I was at such a low level that it was almost unthinkable to come back. So the qualification and now being in the free program means I definitely qualified, and it means so much to me.

Since I'm very interested in men's figure skating, one of my biggest Olympic moments was Evgeni Plushenko competing with Yagudin. I was little boy then and a big fan of Plushenko, so I wanted him to win. But looking back watching Yagudin's programs and the pressure he was under, he skated the best programs of his life, it was really impressive. So I think that was a big moment.
I think the Olympics is definitely the biggest competition for us, because everyone back home in Britain watches it. Maybe they wouldn't normally watch figure skating; there is not so much interest in the European championships. But there is always a lot of interest in the Olympics; pretty much everyone watches it, so for us it's a very big deal. We've been thinking about Vancouver for a long time, we plan to go and enjoy the fact that this is the Olympic Games.

For us we always have Torvill and Dean, obviously our coach Evgeny Platov winning twice - those are the strongest memories. For me, I remember the Duchesnays in Calgary and the roof coming off when they skated, it was an amazing atmosphere. I remember some single skaters as well, like Katarina Witt when she won, the "battle of the Brians" [the rivalry between Canadian Brian Orser and American Brian Boitano at the 1988 Games]. I have so many strong Olympic memories...

Sinead Kerr (Great Britain)
Placed 10th in Turin



Alena Leonova (Russia)
Going to her first Olympic Games

The Olympic Games for me is first of all a big fest. These are going to be my first Olympic Games and I'm really glad to go to Vancouver. Of course I'll try to do my very best and show good skating. The first link to the Games in my mind is... Cheburashka! [A toy that has been a symbol of the Russian Olympic team for the last few Olympic Games.]

And the most important Olympic victory for me is of course all the Russian and Soviet victories, both from Winter and Summer Games. Like Irina Rodnina's tears as she was standing on the podium... Also, when I hear "the Olympic Games" I recall the Olympic Mishka flying to the sky [the mascot of the 1980 Moscow Olympic Games].
The next couple of weeks will be exciting for all of us as the mere mention of the Games obviously awakens a range of emotions and associations.
And dear skating fan, how would you answer those two questions, I wonder?