"Stockholm Ice" attempts to make figure skating Swedish sport number two
Part II
June 12, 2010
By Natalia Klintland
Photos © EMJO
Jamal Othman was the King of Pop as was written on his t-shirt surrounded by girls, which was pretty cool. He demonstrated one more time that Swiss skaters have an amazing posture and skating technique.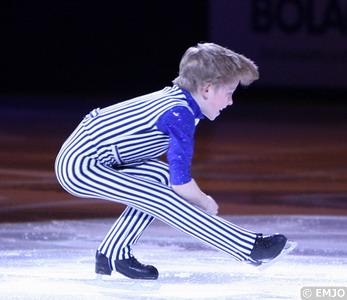 Nikolaj Majorov skated to "Sing, sing". As his father told us Nikolaj was pretty calm until he saw the audience, then he became a little anxious and hugged his old man in order to find some consolation and peace. It is definitely not easy when you only are nine years old and have to perform in front of almost nine thousands spectators, though Nikolaj has already had some experience of performing before hockey games at home. Anyway I did not notice any nervousness in his skating. The audience cheered him on tremendously.
Alexander Majorov senior thinks the participating in shows has positive effect on skaters and he allows his students to perform as much as possible. Nikolaj felt very well after the show. He said that he enjoyed being on the ice a lot and would definitely do it again another time. He did not see much of the audience just listened to the music and did his job . Only at the end he saw the audience and heard the applause.
Adrian Schultheiss presented a new exhibition program. He acts the part of a toreador who experiences stomach problems in the arena. Yes, we are not kidding, stomach aches and need of bathroom, we leave the rest to your imagination. He thought of this concept himself and got some help with choreography from Tony and Deny Hulten who also participated in creating his competition programs last season. I was impressed how well he managed to be a comedian and entertain people. The audience laughed at him and applauded a lot. His costume was so stylish and well-done that you could hardly believe that it had actually been made by his choreographer Galina Lutkova just in two days before the show. He did triple flip and triple loop, both were solid.
Sarah Meier put her usual character as a pretty nice girl aside and became a hot tough chick skating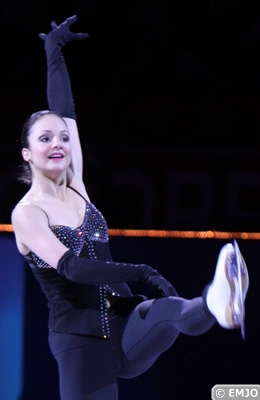 to "I got rhythm". You bet this girl got temperament as well. Salomé Brunner did excellent choreography for Sarah and AOI skaters around.
Though Isabel Delobel took off her skates in the Kiss and Cry corner immediately after the Olympic free dance, she did not put them on the shelves for good. So we were lucky to watch her dancing with her partner Olivier Schöenfelder. They performed "Immortal" and "The Great Gig on the Sky". The last one is actually their free dance from 2009 and in my opinion the best program they have ever done. If it is possible to say that they further improved their skating I dare state that they did. It became more mature and smooth. Olivier kindly answered my questions before the show. 'It is amazing to come to Sweden again', he said. 'Indeed we have good memories from Gothenburg 2008 where we won our world champion title.' Then we brought up a favourite subject of every parent namely children. Olivier already took his son, who is three and a half years old, to the ice rink a couple of times and the boy wanted to be on the ice right away. 'It would be great if he chooses figure skating but it is not easy, not easy at all', added Olivier. Isabel's son Lois is 6 months now. She did not take him with her to Stockholm but her husband took care of him at home. When they have to do long trips she takes the whole family with her.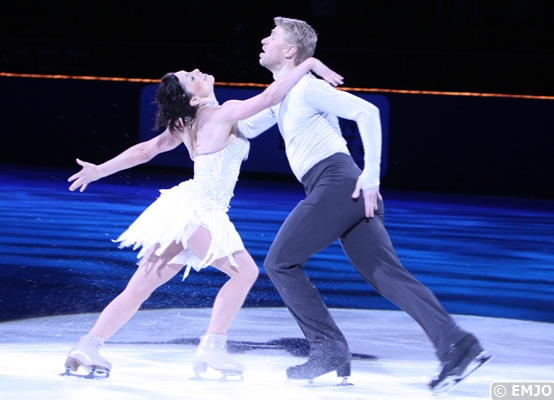 Tatiana Volosozhar Stanislav Morozov performed "Waiting for you" and " Pearl Harbour". Their skating was beautifully strong. It was a rare opportunity to see this pair, because by now they have splitted up, Stanislav works as a pair coach in Moscow and Tatiana will pair up with Maxim Trankov.
The best Swedish female skater Viktoria Helgesson, who became 11th on Europeans and 10th at Worlds, chose "Listen" for her performance. I think she is our own Swedish Grace Kelly on ice. Viktoria said she was pleasured with her competition results this season as well as her coaches did.
'How is it to be trained by your mother?'
'It works well almost all the time and when it doesn't Regina Ensen the other coach mediates a bit between us.'
'Your sister Joshi skates too. Do you have many conversations about figure skating at home?'
'No, not at all. We leave this stuff on the rink. The rest of our family wouldn't appreciate if we talked all the time about this subject.'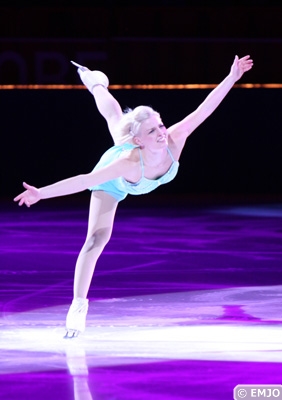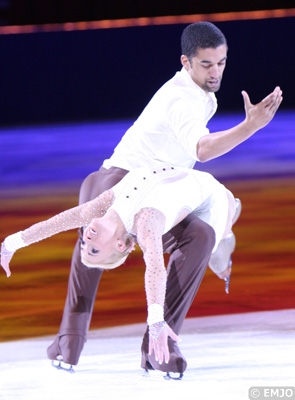 The twice world champions Aliona Savchenko & Robin Szolkowy performed a part of their free skating program and "Never be alone" later, in the second part of the show. They proved one more time that they have their own different style. To mine and many others delight they are going to continue skating on competitions until the next Olympics. Their best programs are still to come.
One of those who made a comeback this season was Evgeni Plushenko the Olympic Champion of Turin. Many coaches feel that he deserves huge respect for it because they understand how hard Plushenko was working the last few months and how many sacrifices he had to make in order to reach this good shape after three years time out with no regular practice.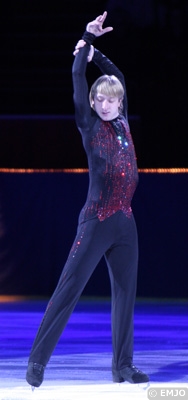 Evgeni skated "Tango" and "Je suis malade". He did two triple axels and triple toeloop triple toeloop combination. His agent Ari Zakharian was satisfied with Evgeni's performance. Like his programs or not you can definitely not deny that his charisma and energy on the ice are amazing. The audience responded to him enthusiastically with a cascade of applause and foot stamping.
After the show Evgeni talked to us a little.
'First of all I would like to thank the audience that was absolutely incredible. The spectators were awesome and responded tremendously. I think you need more shows here in Sweden, especially now because you have really good figure skaters. A long time ago, about 15 years, I actually trained here in the summer camps. I remember the environment was excellent and I would like to spend some of my training time in Sweden again. I like Sweden in general. The ice hockey is undoubtedly your sport number one but I think you can make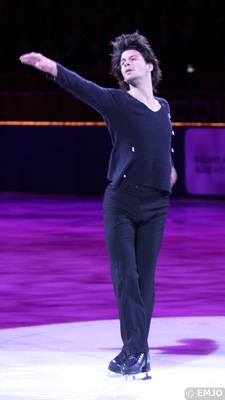 figure skating at least your number two.'
Stéphane Lambiel skated to "William Tell", his former short program and "Ne me quitte pas" by Jacques Brel, that was one of the highlights of the show. It seems like he does not just skates to the music but visualizes the music through the movement. When you see it you never forget. The audience loved him and every flower girl got a hug from him. Of course producers did not miss the fact that his 25th birthday was on the day of the show. The presenter spoke to Stéphane a little about his comeback, Olympics etc and then he said to the audience in Swedish.
'He thinks I'm going to translate our chat to Swedish but I'm not. Instead I would like to say that this guy becomes twenty five years old today. Let's stand up and sing for him.'
And all the nine thousand spectators stood up and sang "Happy Birthday to you". Stéphane surely was thrilled at this reception because it does not happen too often that such a big crowd congratulates you on your birthday.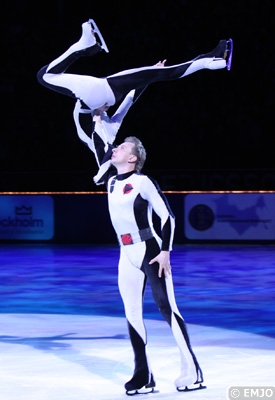 It is well-known that not only figure skaters participate in Art on Ice. The figure skating acrobats Fiona Zaldua and Dmitry Sukhanov demonstrated their absolutely incredible lifts. Sergey Yakimenko needed a car to perform his trick, which was a jump over the car. I can ensure, it was extremely spectacular, just take a look in the photo album. Kotini Junior and Jason Graetz performed the marvellous transitions between the numbers. Their characters were eccentric and fun to watch. I would like to see more of them. The footwork of Kotini at the stage and Jason on the ice was so incredible that you could not believe a human being can do this stuff without breaking one's leg.
Synchronised figure skating becomes more and more popular recently. Team Boomerang from Gothenburg represented this rather new branch. They skated to "Man with the Iron Mask" which clearly was inspired by Alexei Yagudin's program judging from this music choice as well as their costumes. It was pretty enjoyable to watch.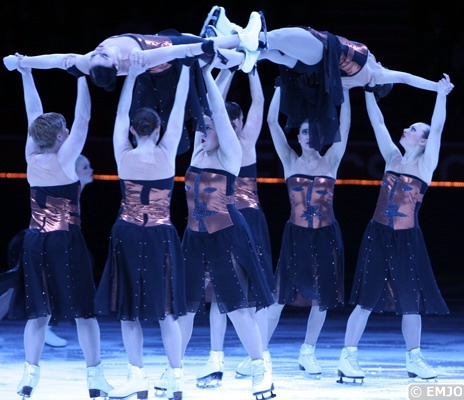 So in Stockholm we saw a whole bunch of best skaters of the world. However it did not impact the fun and greatness of the show, unfortunately I cannot state that all of them skated flawless. Some of them made minor mistakes maybe because they were tired after the long season and many shows as well, maybe they did not have enough time to get used to the ice in Globen. In addition I actually have one more general explanation of those mistakes. Their exhibition programs still are so technically difficult that even the best can fail sometimes and the ice is slippery for everybody, maybe just a little bit less slippery for the masters.
The skaters thought the audience in Stockholm was great. Here is an opinion of a common spectator.
'I've always been bored to death of watching figure skating competitions on TV but now I understand that there is a big difference between broadcasts and seeing skaters live. This show is absolutely fabulous. Next time they come to Sweden, I won't miss it. ' There were many so-called figure skating families there too. They came to Stockholm from all over the country. On my way back home I met a mother and two girls, who came from Trollhetan, a town not so far away from Gothenburg. All of them liked the show very much and mother actually bought a poster signed by Lambiel in order to put it up in their local association skating rink as an inspiration for young skaters.
There was a very important person in the arena whom we would like to speak of, the brains of this project as well as "Art on Ice" trade mark, Oliver Höner. He kindly agreed to share his impression about the show for AS.
'This show was an amazing start for like doing a first time figure skating event. The organisation was good and the producers worked very well together.'
' Will you come back to Sweden some time?'
'I hope so. After this great and successful first time it wouldn't make sense to stop now.'
In conclusion I would like to share my thoughts about the show in it's entirety with you. When you see on the label "Made in Switzerland" or "Made in Sweden" you primarily think about high quality of the product, don't you? I would proudly put these labels on "Stockholm Ice" because all the participants and all the men behind the stage fulfil the requirements of high quality production, at least in my humble opinion. I also sincerely hope that Swedish people will see more shows like this which contributes to increase the popularity of figure skating in Sweden and who knows maybe some day this sport will be a sport number two or even number one.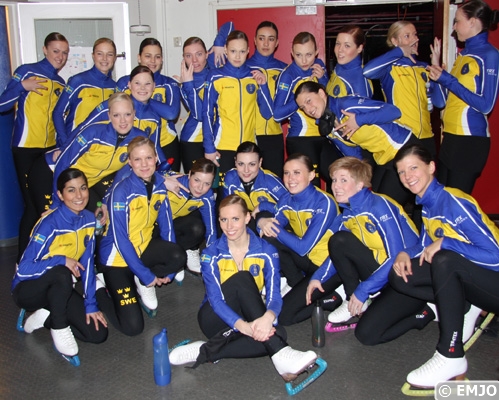 Go back to Part I