Swiss Nationals 2010 in Lugano
Part I
By Reut Golinsky, Tatiana Geikhman
Photo © Reut Golinsky
The Swiss Elite Championship 2010 was held from the 10th to the 12th of December in the city of Lugano, in the Italian-speaking canton of Ticino, which borders Italy.
I think, it's a crime to hold competitions in such beautiful places because no one, not even the competitors, has time for sightseeing. You could only understand how much you were actually missing when glancing around on the way to the rink.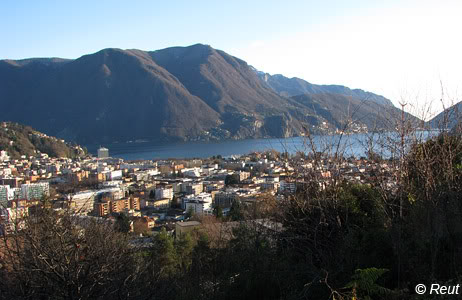 Twelve men, nineteen ladies, one pair and two dance couples took part in the event. The event received a lot of media attention. In the second day of the competition, more than 2,000 spectators and skating fans filled the rink of Resega, and gave warm welcomes and full support both to the young skaters and to the main Swiss skating stars, Sarah Meier and Stéphane Lambiel.

Meier: "I know I can do this, I can win"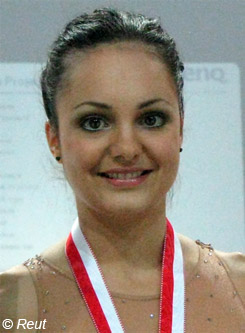 Haunted by injuries since the previous season, Sarah Meier came to Lugano to regain her national title along with her self-confidence in competition. She was very optimistic about the result. "This is the first time I have competed in a long time — since Worlds and NHK Trophy in November (she had to withdraw from the latter because of injury). In one year, two competitions are not very many. Even though I have competed for many years, I am nervous every time and I am hoping that it goes well so I again know I can do this; I can win."
Her performances left room for improvement. In the short program, though her components score was above 7.5, her technical content was inferior. The combination with a triple was turned into a double Lutz-double toe loop and a wrong edge take-off was called on her flip. "Yeah, but I have it all the time," she commented on her mistake with the flip. "I will probably change to [the] Salchow; I'm not sure. Here, I just wanted to try [it] for myself because my flip is not so consistent—just to know that I can do it, even that I know I have the edge. I tried to change it, but now the result of my flip is not good as before, but I still have the edge. So I'll stop trying to change [it]." There was, however, a noticeable improvement in her non-jumping elements since her performance in Japan. She received a level four for her Change Foot Combination Spin (versus a level one) and she received a level four for the Spiral Sequence which was not counted at all earlier this season. She also improved her other two spins and step sequence to a level three.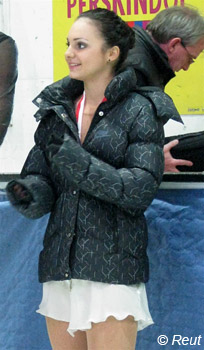 The next day was the premiere of Meier's new long program to Romeo and Juliet with an interesting mix of music from Prokofiev's ballet and Nino Rota's soundtrack from the film. The mix was chosen by the skater herself and was approved by her choreographer, Salome Brunner. "The first part (of the program) is from the ballet and I really love it because of the rhythm. In the beginning, I wanted something strong, so I decided [on] this. The middle part [is a part that] I also loved from the movie." In the free skate, Sarah performed three triple jumps: one in combination with double toe loop, two more double-double combinations, a spiral sequence, level three and four spins and a level two step sequence.
The loop jump was missing, but Sarah plans to put it back into the program as soon as she has new skating boots better adjusted for her feet. She changed boots this season to solve the problems with her back and hip. It helped, but then new problems appeared. "Right now it's not bothering me. Usually only a small part of my heel hurts, but sometimes the pain starts again and gets really strong and I can't put the boots on. Right now it's OK but I never really know." She was thinking about going back to the old ones, but she does not have a lot of time and the difference would be great. "I'll have a little adjustment with the new ones: a deeper heel so [my balance] will be further back. It will change my jumps a lot—my center or gravity will be more in the front [of the skate]."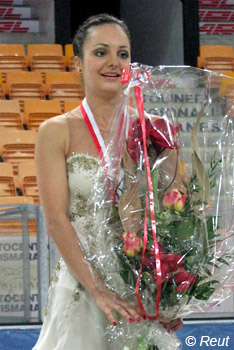 The start of the season was not lucky for Sarah. She withdrew from the Nebelhorn Trophy and the NRW Trophy. She couldn't participate in the Grand Prix series, but she told us that she watched all the competitions and checked the results. The European ladies were less consistent and strong until now: only Alena Leonova of Russia qualified for the Grand Prix Final — but she didn't medal there. Does it give her some comfort heading into Europeans? "When I watch the others I don't hope that they don't do well. I think that everyone should skate their best. I am also happy for my friends, like Kiira (Korpi), when they do well. I do see that others are also human—it is not just me [that has problems]. It gives me hope that I can do it again because everyone is having problems," Meier confessed. "I hope everyone skates their best at Europeans and that the best will win."
The criterion of the Swiss Olympic Committee is strict: the singles skaters in ladies should twice earn 153 points in senior ISU competitions. Will Sarah be able to go to Vancouver? "Now they changed it that I need to get it once: at Europeans. If I don't do it, then I don't deserve to go, so I have to do it," she clarified for us. Is it even possible that they would do such a stupid thing and not send the best Swiss skater? Meier is very hard on herself. "They have in mind that you don't go for fun to the Olympics, but to do well. And it's also my own goal. I don't want to go and skate between 10th and 20th (places), but I want to do my best."
We are sure you will, Sarah. Good luck in Tallinn!
Go to Part II