Swiss Nationals 2010 in Lugano
Part II
By Reut Golinsky, Tatiana Geikhman
Photo © Reut Golinsky
Lambiel: "I need to count every move"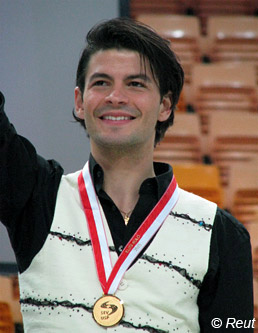 The main star of Swiss Nationals in the charming city of Lugano was obviously Stéphane Lambiel. The Nine-time national champion as of last month, actually never showed perfect skates at home (but still, beginning with his very first appearance in seniors, he won no medals other than gold). His last Nationals, in December 2007, was an absolute disaster with three falls in the long program. The results of the championship itself are not so important and can't be really compared to the international ones of his main rivals, but this was a significant check point for the skater before the main starts in Tallinn and in Vancouver. Figure skating specialists and fans that follow his career also were eager to see how much his preparation advanced since his competition at the end of September in Oberstdorf.
His spins were mesmerizing as always. His step sequences were intricate and beautiful. His jumps, unfortunately, were not that good. Though he performed two quads (one in the short and one in the long) and we saw the triple Lutz, which didn't appear in September, too many landings of his triples were rather sloppy. "I think today — it was worse than in Oberstdorf because my jumps were not clean," Lambiel said, comparing his long program in Lugano to his long program at Nebelhorn Trophy. "I didn't have the confidence that I needed to complete clean jumps and I was upset about that. The practice today was better. My programs were better at home, but here there is an additional stress: pressure. I have to handle the situation better."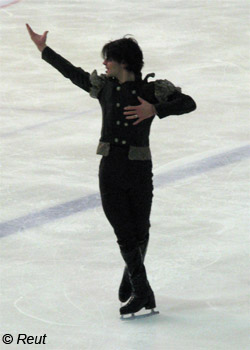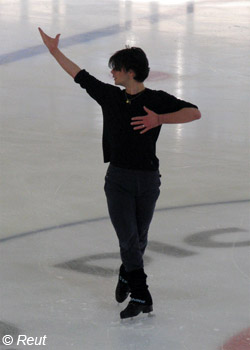 The set of jumps in both programs was not that impressive either: the quad toe-single toe combination resulted in a -3 GOE because single jumps are not allowed in short program. In the long, he only had two triple-double combinations with the flip and the Salchow. One of his jumps was just a simple triple toe-loop, which we first assumed to be а failed attempt for quadruple, but apparently it was an initial plan: "I didn't plan to do the second quad. If the quad or the Lutz were not good, I would add there second quad or second Lutz. But because I landed both of them, I didn't want to push harder. Right now I need to count every move and if there is no need to push harder, I don't want to kill myself — one quad was enough today. For Europeans, I know I will need a clean program with two quads if I want to compete and if I want to fight for a medal."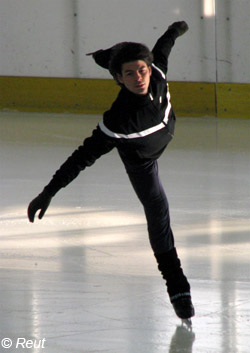 There were probably people who were upset and disappointed after his results were published, but the situation looks a bit different in the perspective of what Stéphane revealed to us about what he was going through during last months. "Two days before I left to go to Canada (in mid-October), I fell badly on my hip. After that fall, I did not skate for two days before I left for Toronto. When I tried to skate there, my leg was worse: the hip and the adductor muscle. I went to go see a doctor. Marla Pichler (a physiotherapist that helped him during the summer) helped me do everything possible to make it heal faster. After two weeks, I tried to skate again and I was so weak. I couldn't jump, I couldn't use my muscles. At first, after two weeks in Canada, I planned to go home, but I couldn't skate and it wasn't worth going home and staying at home. Marla had time for me, so I said, 'Ok, I will stay here and we will do the physio that I need to get better'. We continued with the treatment—three hours every day, even on Sundays. After one month, I felt strong enough. I went home and started skating with Peter (Grutter)." After Nebelhorn Trophy and the Japan Open, his preparation did not advance slowly as was expected, but instead took a big step backward and left him only three weeks of practice to get back into competitive shape again.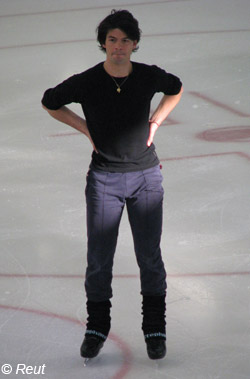 It was rather hard to hear such news. The way he told his story was touching, and his determination and strong will won our respect and admiration. We were also surprised that this information didn't appear in his latest interviews and he didn't mention it in his journal on the official site. "I didn't want to write about it. It's hard to talk about something when it is not going the way you want it to. To have to think about it and understand what had to be done was difficult, so I waited to see what would happen when I was doing better," Stéphane explained. Maybe the fact that he can tell this story now already proves that he is doing better, so we remain positive. If he was able to get his jumps back in just three weeks (while his "quad count" the two days in Lugano, during practices, warm-ups and performances, was 6 out of 7), and if he continues with his careful and thoughtful preparation for every practice, "the ritual" as he calls it, then we will see better results in a few weeks at Europeans.
And maybe a new long program, too.
Rumors about changing his Tango were circulating for quite some time, and we tried to get more details from his entourage.
"We are thinking about [a] new theme but I don't know yet," said Salome Brunner, his choreographer and close friend. "Olympic programs demand a big responsibility. You need to present something complete. This is what Peter and Stéphane believe. The Tango was not prepared for the Olympics—it was a program for in between [the Games]. I heard different feedback. Some said, 'Never change it; it is very good!' Others said, 'Please change it!' You cannot listen to everyone. People have different opinions and you have to know what is right for yourself. Stéphane has to know." The experienced choreographer prefers to keep her opinion to herself and trusts her pupil's decisions. "I really have so much confidence in Stéphane's judgment — that he feels what is right... When he feels what is right, he will do it right. I just wait for this process to finish and then I will support him in [that] direction. I am sure if he makes this decision [to change], it's because it will work."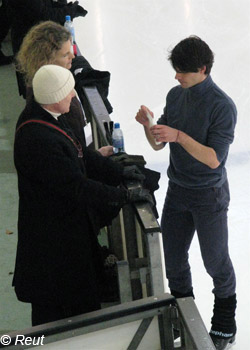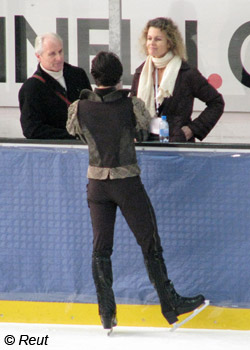 Peter Grutter, his coach, was even more frank with us as he revealed that the new program was ready. "We have the new program; he does it every day. First he does the Tango, then the short and after that he does the new program without jumps because he cannot do three programs with jumps — but the program is here. You know, when it's new, he does not have the program inside himself yet. It will be a wonderful program that people will remember. I hope a lot of people will really like the music."
It's not the first time Lambiel has changed his programs in the "rush hour" of the season. He won his first World title in Moscow with a brand new long program, King Arthur, and in 2006, he came to the Olympic Games in Turin with the new short, Dralion. Both programs were created rather fast. "I know exactly when it was," Salome Brunner recalled when they created King Arthur. "We had 'Art on Ice' shows in the beginning of February after Europeans and when we were going from the hotel to the ice rink, Stéphane was showing me [on the walkman] some music he liked. After that, there were the shows in Lausanne, so we started to choreograph later. 'Dralion' was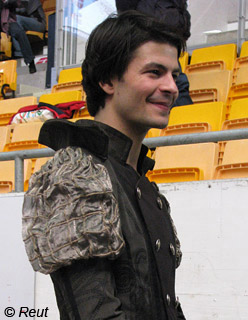 choreographed very, very quickly—maybe too quickly. He probably would have skated it with more confidence if he had felt the program better. It was stressful to create the new program. He now has to decide if it is worth going through this again or not."
"He is very mature now; very responsible for his body," explained his choreographer about the difference she noticed in Stéphane. "Before, sometimes he was going, jumping, not thinking, and now he always prepares. Maybe it comes with the maturity of the athlete, of the dancer, that he knows now how to treat his body. He takes care of his body to keep it working for a few more years."
"He is a very tough person and he can put up with a lot of pain, even when he was little. He complains too late and when he says something hurts, he should have told me two days prior. I think he's mentally strong enough," added Grutter who has trained the Swiss champion since he was a child.
"I am just so happy that I am continuing on my road to Vancouver and I am looking for the best way to get there," Lambiel concluded.
And we are just so happy to see you competing again, Stéphane.
Please, take care and keep persevering!
Go to Part III