Torino 2010 – day two:
Even impossible dreams can come true
By Titanilla BĹ'd
Photos © Daylife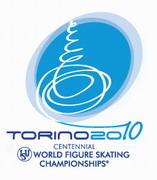 Some were redeemed after their disastrous Olympics, some had hard times in the Men's short program, while the Pairs' free skating was full of thrilling emotions at the centennial World Figure Skating Championships in Torino, Italy.


Broken blades, broken foot, broken dreams
Sometimes there are small things that ruin your dreams. Artem Borodulin of Russia could talk about it. He was aiming high, but had to withdraw after the first few seconds of his short program – because of a broken blade.
"The blade of the right boot broke in two pieces. I felt that something was wrong already on the entry of the triple Axel, but I didn't think it was anything serious. But on the landing, of course, the problem came out. You cannot do anything with this, and as they said, it is good that I survived! It is very disappointing though as we were really well prepared for this competition and had big plans after the Olympics, but it is as it is. The good thing is that this was the last big competition this season, so there is no need to rush; we have time to correct everything properly," a disappointed Borodulin said.
American Ryan Bradley was also bitter after his short program. He'd decided to compete with a broken bone in his foot, but couldn't perform as he wished. He fell on the quad toeloop, doubled the Axel and had problems with the Lutz.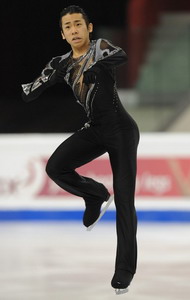 "It was a disaster, I do not know why. I trained a lot and my injury has nothing to do with my fall. This is no excuse, I did my best! Now I feel really frustrated and disappointed; I cannot believe what happened," Bradley told the press after his short program.
However, the shock of the day was Nobunari Oda. The Japanese popped all the jumps, had troubles on his step sequence… His technical score – 16,90 – speaks for itself.
"I was very shaky," Oda admitted. "My body was very rigid and I was not in perfect condition. I was not ill or injured, I was only very rigid. And I was frightened because I was very tight also during the training. I hope I will be better in the free. I will try to do my best," Oda said right after his short program without even realizing that with such a performance he wouldn't make the free skate… In the end he finished 28th.


Olympic redemptions
There were several skaters in the field who wanted to regain their confidence after their Olympic disappointment. Jeremy Abbott of the USA was one of them. He had a disastrous short program in Vancouver but skated with passion and energy in Torino. He earned 81,05 points and is currently in sixth place.
"The last competition was quite obviously bad so I wanted to come here and take a different approach than I did at the Olympics. I really focused on the program and I didn't get ahead of myself and wasn't focusing on the placement. The goal was to take each element, and when I passed through the jumps I really allowed myself to have fun with the rest of the program," Abbott said.
Canadian Patrick Chan also had big dreams before the Olympics but couldn't live up to the expectations and finished 5th. However, as he said after his short program, he learned a lot from his Vancouver experience:
"After the Olympics I kept everything the same, because physically I felt good and I was in a really good shape at the Games. The thing I have to work on is my mental training. The Olympics itself was a learning experience, it was kind of my psychologist in a way, and it gave me confidence here. If you can handle the Olympics you can handle almost anything. I had that approach and it really helped."
Chan's short program contained a triple Axel, a triple flip-triple toeloop combination and a triple Lutz and was worth 87,80 points, which was enough to place second.
But the biggest redemption we saw in the Palavela was Brian Joubert's short program. After his catastrophic performances at the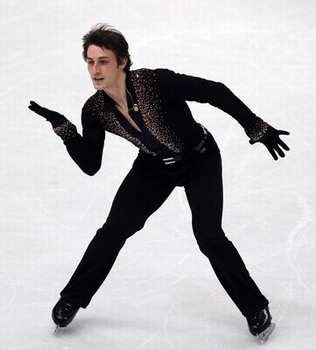 Olympic Games the Frenchmen was harshly criticized from many sides and he even had to pass a test to qualify for the Worlds. But Joubert has always been known as a fighter and he fought once again. He landed a quad toeloop- triple toeloop combination, a triple Axel and a triple Lutz and had great fun throughout his routine. The audience found his score – 87,70 – and his placement – 3rd – a bit low, but Joubert calmed them down with a smile.
"I'm very proud. It was very difficult for me after the Olympic Games. The six minutes warm up weren't so good, but I did my job. It was great to skate and I had a lot of fun with the audience. That's my goal for this competition," Joubert explained. He also talked about the changes he made since the Olympics.
"I changed my practice a little bit. I did less programs and more jumps, because when I don't feel my jumps, I'm not so confident. However, the main problem in Vancouver was just me, I have to be as relaxed as I was before. After the Olympics a lot of people said bad things about me and I wanted to show that I'm not finished yet, that I can still compete and do my job."


To quad or not to quad?
The question whether to include a quad jump in the program or not, is one of the most discussed topics in figure skating. It came up again in Torino, because Brian Joubert with a quad toe-triple toe combination is only in third place behind two quadless competitors.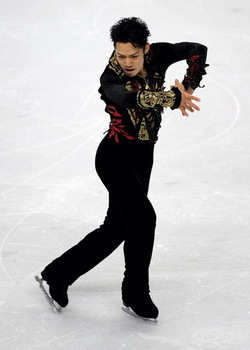 "I didn't care about the placement; I just cared about my performance. I did a quad-triple, but I probably made some mistakes on the spins or footwork, because I didn't care about the levels; I was on the ice to have fun with the audience. I will continue to do quads in the short program. Maybe the other guys will try it too next season. I won't be alone for next season," Joubert said.
Nobody questioned the first place of Japanese Daisuke Takahashi, even though he didn't have a quadruple jump in his short program. Takahashi completed a wonderful routine with a triple flip- triple toeloop combination, a triple Axel and a triple Lutz.
"I'm happy to have won a small gold medal for the first time. But my performance was not so good. I didn't have enough speed and my step sequence wasn't so good. I will decide only in the last minute before the free skating if I will include a quad flip, a quad toe or no quad at all," Takahashi told the press.

The impossible can be possible
The Pairs' free skating offered lots of emotions and energy. Russians Yuko Kavaguti and Alexander Smirnov were first to skate in the ultimate group and they started with a risky element: a throw quad Salchow. Even though Yuko fell (and later she also fell on the throw loop) the performance was good enough for a bronze medal.
"It was risky to try the throw quad Salchow after not going for it in Vancouver but we challenged ourselves, we took that risk. We missed it but we are satisfied with our performance," Kavaguti said.
Her mistakes gave way for fellow countrymen Maria Mukhortova and Maxim Trankov to climb on the podium but they had errors in their program as well. Trankov almost fell after a throw jump.
"My legs were tired, so I sat on them and stumbled a little. It's sad, because we lost time on that and had to rethink the rest of the program," he explained.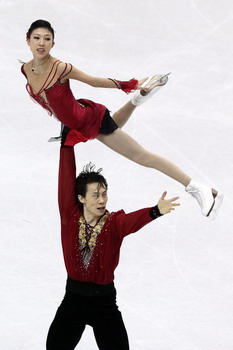 The German pair Aljona Savchenko and Robin Szolkowy also had a minor mistake in their free skating (she doubled a toeloop in the jump sequence), but the audience didn't care. The emotions that overwhelmed the Palavela arena during their "Out of Africa" routine were incredible. The skaters also felt it.
"The performance felt beautiful and the audience supported us so much. It felt so good to skate tonight, this feeling rarely comes. It was a shame with the short program, I think because of that we lost," Savchenko said after she was awarded the silver medal.
Qing Pang and Jian Tong of China skated last and claimed the victory with an almost flawless performance to the "Impossible Dream". They earned their second world title after 2006. "This time it was very hard," Tong admitted and he added: "For us, it's the impossible dream because … there are so few people who can be here in the rink for such a high-level competition. Skating at this level is our dream, the big dream."