Torino 2010 ā€" day three:
Takahashi crowned champion
By Titanilla Bőd
Photos © Daylife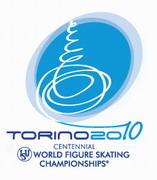 Japan won their first gold medal ever in the menā€™s event at the World Figure Skating Championships thanks to Daisuke Takahashi, who brought ā€œLa Stradaā€ to the top of the podium in Torino.
Useful Olympic experience
Olympic champions Tessa Virtue and Scott Moir from Canada are in the lead after the Original dance in Torino. Their team mates and main rivals Meryl Davis and Charlie White, USA, are currently second, while home favourites Federica Faiella and Massimo Scali are in third position.
ā€œWe love skating these programs, thatā€™s really been a help. We feel fortunate again to get to compete with them and we ought to show this again at least in the free dance. Itā€™s sad we leave behind this original dance; I really love that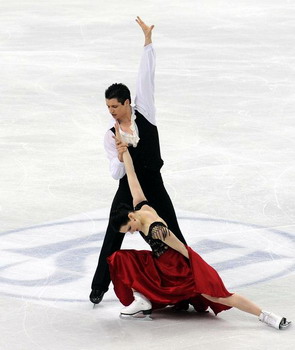 program. Itā€™s probably one of our favourites. We worked hard and weā€™re happy with where it took us this year,ā€ Moir said after their impressive flamenco routine.
Virtue added that they took a lot of experience with them from the Olympic Games:
ā€œThere was such pressure and such stress that came along with the Olympics. Everything seemed to be heightened, all the emotions were extremely intense and the highs were even higher than usual and the lows even lower. We had to manage that stress and come together and skating as one in front of a home town crowd. I donā€™t think weā€™ll be in a situation quite like that again, but we can definitely take that experience and use it. Like in dealing with the nerves and with the pressure. Itā€™s more a mental thing for us, being able to go out and do what we are able to do every day at home.ā€
With the help of the audienceā€¦
Daisuke Takahashi, the leader after the short program, was last out during the thrilling night of the menā€™s free skating. His choice of music ā€" the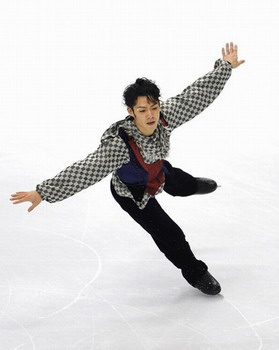 soundtrack from the famous Italian movie ā€œLa Stradaā€ ā€" was very popular with the audience. Takahashi opened his program with a quad flip and although the landing was on two feet and the jump downgraded, the Japanese was satisfied with his performance.
ā€œI enjoyed it a lot this time, because the audience was helping me. Of course, there were many Japanese fans in the audience and they helped me as well. It is an Italian movie theme and Pasquale Camerlengo choreographed it. We aimed to emphasize and express the music rather than the image and atmosphere of the movie and I think we were able to do that very well. I didnā€™t make any big mistakes, it was very good. Actually, I donā€™t know why, but somehow I didnā€™t feel pressure in this competition. I even missed Evan and StĆ©phane! I have been practicing the quad flip so this was more of a challenge-based competition for me and I really enjoyed that challenge.ā€
A silver worth gold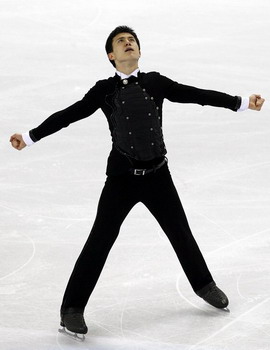 Canadian Patrick Chan won the silver medal despite a fall on his triple loop.
ā€œI think this season was quite a challenge. Today I got the silver medal, but I think that itā€™s more a gold medal for the effort I put into this season. I was coming out of an injury, had a bad Skate Canada performance and a disappointing Olympic performance as well. I was really happy with how I performed here, how I kept it together to the end of the long program. Overall I was able to go out there and enjoy! I really enjoyed each jump and element,ā€ Chan told the press.
The quad king is back
Brian Joubert has always emphasized that the quad jump is really important to him, but the last time he was able to deliver two clean quads in a program was four years ago. Until now. Because in Torino the Frenchman started his free program with a quad toeloop- double toeloop combination, and later also landed a solo quad. Even though he fell on the Lutz, the rest of his program was clean and worthy of the bronze medal. After his disastrous Olympic performances, Joubert showed his fighting spirit once again.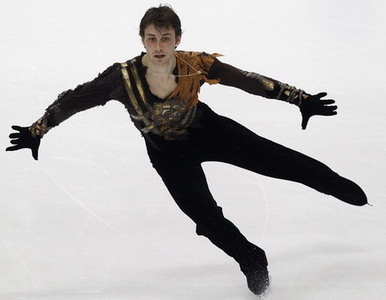 ā€œIā€™m very proud, because it was so difficult for me after the Olympic Games. I didnā€™t know if Iā€™d still be able to compete like before. Now I have my answer, I know I can fight again. Iā€™m 25 years old; Iā€™m still young. I will go step by step into the future. Youā€™ll see me in the Grand Prix and after that in the European and World Championships. As for Sochi, I donā€™t think about it at the moment. This was my 15th medal at Europeans and Worlds, thatā€™s great!ā€ Joubert said with a smile on his face. He also stated that he will still do the quad, even though it is not a well rewarded element in the new system.
ā€œThe new judging system is not for the quad, but I will skate like this, because I like to skate with the quad jump. Maybe the judging system will change. We will see.ā€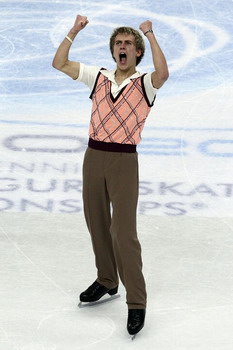 Roars of joy
Michal Březina of the Czech Republic placed 4th at his first World championship ā€" that is a good reason to celebrate!
ā€œBut first I will sleep, because I am just so tired,ā€ Březina said. ā€œAfter the Olympics I was told I shouldnā€™t roar for joy after my performance, Iā€™d better act like skating like this is a normal routine for me. So I didnā€™t after my short program, but after my free skate I just couldnā€™t hold back my happiness,ā€ Březina admitted. He beat Joubert in the free skating and if he had included a quad in his free program, he might have gotten a medal.
ā€œMaybe, if I had landed it. There is still that ā€˜ifā€™. It was my coachā€™s decision not to try the quad although for me it would have been a challenge. But looking at the points maybe it would have been enough to do a triple-triple instead of a triple-double combination and I could have had a medal. Anyway, Iā€™m really happy about my fourth place!ā€