Torino 2010 – day four:
downgrades, mistakes and the story of an unusual friendship
By Titanilla BĹ'd
Photos © Daylife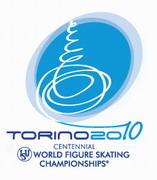 Both defending Olympic champions present in Torino were in action on Friday at the World Championships but while Yu-Na Kim had a totally off day, Tessa Virtue and Scott Moir grabbed another major title.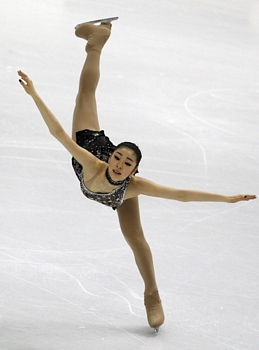 When the queen misses a spin
How often do you see a skater missing a spin or a spiral? Not too often, right? And how often do you see an Olympic Champion missing a spin AND a spiral? The Palavela in Torino witnessed a totally unexpected series of small errors by defending Olympic champion Yu-Na Kim, who opened her James Bond routine with a gorgeous triple Lutz, triple toe combination, but then had some trouble with her flip landing so the jump was downgraded. She totally missed the beginning of her layback spin and then lost her balance on a spiral. The score she received (60,30) is far behind her amazing world record and was enough only for the 7th place.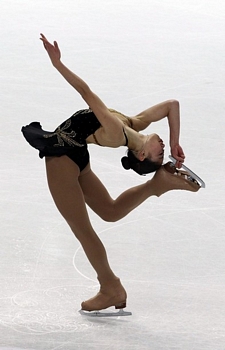 "I didn't expect a short program like that. The first triple combination was perfect but then I felt not sure on my left foot, it was shaking and I don't know why. My layback spin, my spiral and the footwork - I don't know what happened. It is the first time that I miss an element, other than jumps, and I am surprised. But in the free skating I will fight because my motivation is still high and moreover this will be the last program of the season. I was a little scared to compete again after the Olympics. The Games were my goal and I wasn't sure if I can fight again for the World Championships. Now I want to forget about this and do my best in the long program," Yu-Na told the press.
Surprising leader
The Ladies have a surprising leader after the short program: American Mirai Nagasu is in the first place with 70,40 points, a new seasons best for her.
"I'm really happy about the way I skated and I'm really glad I was able to do a triple-triple combination here, because I really wanted to do it at the Olympics, but I wasn't able to. I am happy that I managed to put together a good short program here, where I was able to do everything I planned to do. I held all my spins and spirals, gathered my levels," Nagasu said with a smile on her face.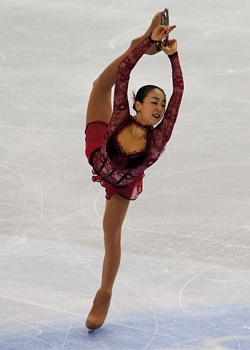 Japanese Mao Asada, former world champion attacked a triple Axel in her short program, but it was downgraded, so Asada is only in the second place.
"Of course I'm very disappointed because of the downgraded Axel, but I think I was able to perform all relatively well. And I think I picked up the momentum for going into the long program," Asada said and she also talked about how she handled the situation after the Olympics:
"Of course after the Olympics you are naturally relieved, and you can loose your concentration for a while. I just did what I do every day."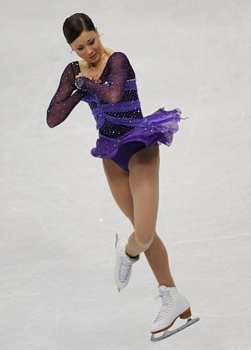 Laura Lepisto of Finland is currently in the third position, although she popped her Axel.
"I don't know why the double Axel is so hard…" she said with a bittersweet smile.
"Otherwise all the other elements were with a good quality. Maybe I am a little bit surprised about the third place, but I just worked to concentrate on my performance and skating, not on the placement. I'm very proud to be in the third place, very happy, but I really don't want to think about it too much. That way it is easier to concentrate on the free skating."
Spectacular friendship of spectacular skaters
Canadians Tessa Virtue and Scott Moir once again beat their American teammates Meryl Davis and Charlie White. Even though Davis and White won the free skating, the defending Olympic champions had enough points from the original dance to keep their first position overall.
As they confessed, training together with another high-level couple helps them a lot to push themselves.
"You can't really slack off when Charlie is there, running around like crazy, like he did today," Moir said. His partner added:
"It's not a hard friendship to keep up. Meryl and Charlie are great people and we really respect them both on and off the ice. We've been on that journey for some time together now. We're able to go and push each other on the ice and motivate one another and then get off the ice and go grab some coffee, which is great. I think that is what keeps us fresh and keeps us coming to the rink every day. I think we are here because of Meryl and Charlie."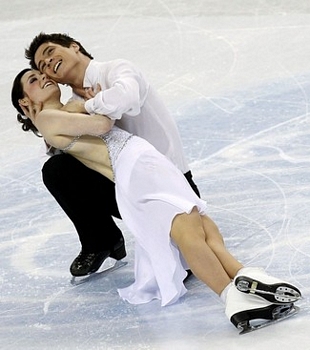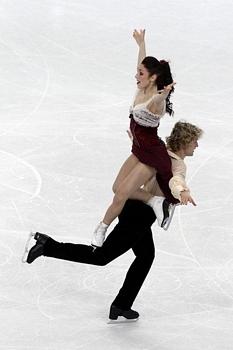 Davis and White amazed the crowd in the Palavela with a very emotional routine to The Phantom of the Opera.
"We also really love that program, the Phantom. I feel we really connected with it and I think that was something the audience and the judges were able to feel this time. It was a really high seasons best, an amazing performance. I was just dead at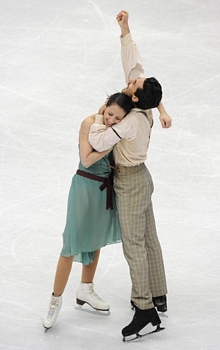 the end, we left it all out on the ice," Davis explained.
Home heroes skate to bronze
Even though the favourites of the home crowd, Italians Federica Faiella and Massimo Scali placed only fourth in the free dance, they were able to hold on to their 3rd position and after two European silvers they got their first medal from the World Championships.
"It was a very, very hard competition for us, Federica was very sick right after the Olympic Games and a week before the World Championships we actually thought that we would withdraw, because we didn't skate nor practiced at all. We were back on the ice only the last four days before the Worlds. It was really hard both physically and mentally, and I am just so proud of her. It was hard for me, because I was supporting her, but for her it was much harder. It was really unbelievable what she did in this competition," Scali said with awe in his voice.