Torino 2010 – day five:
The perfection of Mao Asada
By Titanilla BĹ'd
Photos © Daylife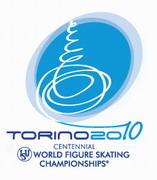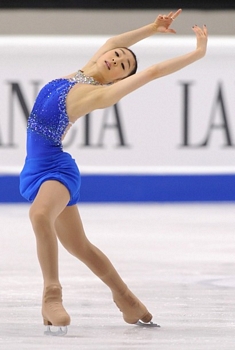 Inspired by her teammate, Daisuke Takahashi, Mao Asada of Japan skated to gold at the Ladies' free skating event at the World Figure Skating Championships in Torino.
Yu-Na is not a robot
After the shocking short program, Olympic champion Yu-Na Kim skated a much better free program, but she couldn't avoid mistakes. Even though some of her fans might have been disappointed to discover she is not a robot, Yu-Na herself seemed to be relieved after a long and tiresome season.
"Right now I'm just happy to have finished the season. These World Championships were the hardest competition mentally. My practice in the morning wasn't good and I was worried. I couldn't concentrate. I was even thinking if I should skate my long program or if I should pull out. But the practice was maybe too early for me; my body wasn't able to move. I felt good in the warm up. I missed the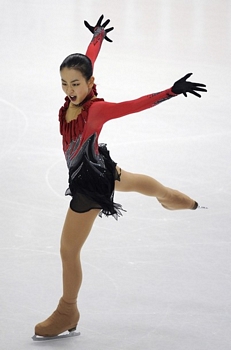 Salchow and the Axel in the performance, but overall it was ok," Yu-Na said with a smile. Her performance, even with mistakes, earned a silver medal for her.
Spirit of challenge
The gold went to Mao Asada who skated flawlessly. She included two triple axels in her free skating and she landed both, even though the one in combination was downgraded.
"For both the short and the free program I was aiming at a perfect program. I accomplished that relatively well and I'm happy with the perfection I achieved," Mao told the press. However, her almost perfect free skating was ranked only second behind Yu-Na Kim. In the new scoring system, just a triple axel won't guarantee the victory. However, for Mao it is important.
"To be honest, I didn't think I would be sitting here after the disappointed start of the season. I had to continue to challenge myself and push myself to try the triple axel. At the end of the season the triple axel went quite well. .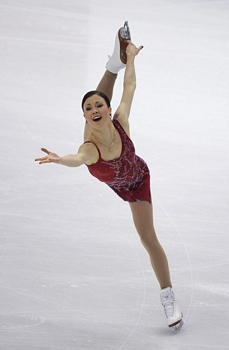 The spirit of challenge has helped me to get where I was today," the new World Champion stated.
Lepisto happy and motivated
Laura Lepisto of Finland won the bronze medal, even though she doubled a couple of jumps, and after her music finished she wouldn't think it would be a medal-worthy performance.
"In the beginning of my program I was able to do the most difficult elements, but then I made a couple of mistakes on the easier ones. But in the end, it was a very long and hard season. The Olympic Games were a good competition for me. I improved my personal best very much, which was one big step forward for me. I was very tired after that, but I was able to find new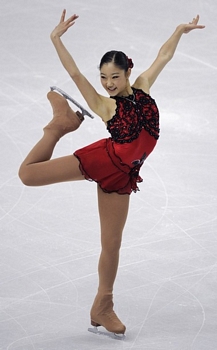 motivation quite easily. I was in a good shape, and was looking forward for this competition."
The failure of Nagasu
Overnight leader Mirai Nagasu couldn't live up to the expectations. Her free skating was only ranked 11th and overall she was 7th.
"It was an honour to skate here; I'm just really disappointed in myself for not stepping up to the plate today and not doing the best I could have done. Coming out of the Olympics in fourth place, seventh place is just a really big fall. This isn't how I have been practicing my program. I told myself that I won't feel like this anymore last year, and it's really a big bummer to feel like this again," Nagasu admitted.