Ice Dance [AOI] Shanghai 2011 - Lang Lang and His Fellow Champions
July 8, 2011
By Fannie X.F. Wang
Photos © Fannie X.F. Wang
On a drizzly weekend, a line-up of world-class figure skaters including Pang Qing/Tong Jian, Aljona Savchenko/Robin Szolkowy, Tatiana Volosozhar/Maxim Trankov, Stéphane Lambiel, Emanuel Sandhu, Sarah Meier, Isabelle Delobel/Olivier Schoenfelder and Huang Xintong/Zheng Xun assembled to brighten the night in Shanghai in the name of 'Art On Ice', which was staged for its Asia debut at the Mercedes-Benz Arena on June 18th and 19th.The cast was joined by world-renowned pianist Lang Lang and singer Tia.
Two Months before the show
Infront Sports China took on the unprecedent project of introducing famous European show 'Art On Ice' to Shanghai as part of the 'Gateway China' initiative. This cross-continental project marked the entry of major foreign ice-shows to China, conducted by Infront's Swiss headquarters and Infront China together with Art On Ice Production AG.
Weeks before the show
Pre-show proproganda kicked into start. To draw more spectators, the show was given a name in Chinese, "Ice Dance Shanghai 2011 - Lang Lang and His Fellow Champions", while keeping the original name in English articles. Organizers hoped that Lang Lang's popularity in China would secure the effect of marketing activities while skaters practised new numbers and fans started to prepare for this grand event.
One day before the show
A huge crystal curtain was hung above the stage, ready for the show. The lighting engineer tested the effects, which never disappointed and pushed Art on Ice to a different level from other shows in the past years. Skaters practiced single elements and tried their new numbers a few times each to fit them with Lang Lang's live performance. In the middle of the rink, Salome Brunner was busy doing last minute changes. For Oliver Höner, CEO of Art On Ice AG and the director of the show, it was a non-stop working day from noon till late at night so as to put all the pieces together.
Show day
The show started with beautiful low lights. Asia Games Champions Huang Xintong/Zheng Xun and the young athlete Geng Bingwa performed to Tia's songs, If I Ain't Got you and Need You Now respectively.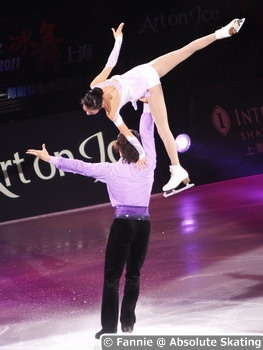 Olympic silver medalist s and China's recent best pair skaters Pang Qing/Tong Jian were in great shape, executing brilliant twists and lifts. In the death spiral Pang was extremely close to the ice. One noticable fact was that the pair seemed to have more connection than ever and this feeling was verified later.
"We were very nervous and at our first meeting with Lang Lang, he assured us and we gained confidence," Tong admitted. "We rarely skate to live music but we will not skip the difficulties. We want to interact with the audience. As for our ideal interpretation, I would like us to be floating around, like the notes in a song."
The two numbers Impossible Dream and Liebestraum furnished examples for Pang and Tong's lyrical, romantic style. However, they will have a breakthrough long program next season to Scheherazade choreographed by Lori Nichol. "Lori wants Qing to express herself. She'll be all the seductive person she could be and I'll be infatuated with her completely. We're ready to present this program as a surprise and let the spectators shout 'Oh , they can do this?'" said Tong with a smile.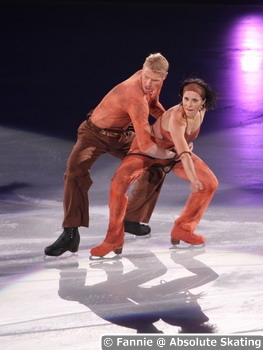 In pace with the dancers imitating a fierce duel, the program Gladiator from World Champions Isabelle Delobel/Olivier Schoenfelder immediately grabbed the audience's attention. The French team was fluid. Their lifts raised gasps from the crowd. Despite of how effortless this performance seemed to be, this number actually required perfect harmony in every detail. The reason being that there was a rope exchanging between the skaters' wrists during many difficulties and even assisting a few. They also kept the balance between dramatic upper body movements and precise control. In contrast, their second performance to Dedication by Schumann was soft and dreamy. Their strong edge skills stood out and helped maintain high speed throughout.
Three times Canadian National Champion and versatile artist Emanuel Sandhu gave a sensational performance to Chopin's EtudeTristesse. Besides the elegant bodyline and wonderful triple jumps, his creativity amazed the audience no less. In the last section with Lang Lang still playing, he disappeared through the exit. It took Emanuel a while to take off his skates and put on dance shoes for the final solo. Lang Lang, on the other hand, exerted his improvisational interpretation and slowed down bit by bit to wait until Emanuel walked back. "The ice was slippery and I had to be very careful," said Emanuel before the show. Yet when he reached the stage, one hand on the edge of the piano, his spectacular ballet moves were all that mattered. For the second half, he did his demanding gala Purple Rain by Prince, which was full of emotions.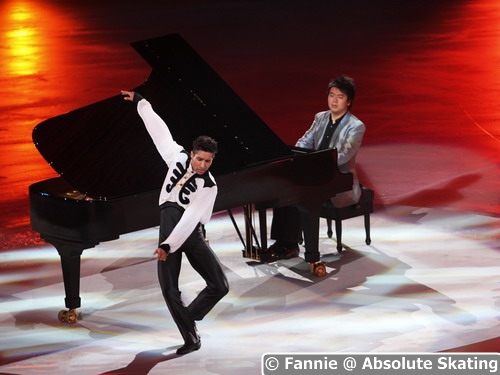 The reigning World Champions Aljona Savchenko/Robin Szolkowy presented a flawless number in collaboration with Lang Lang to The moon over the autumn lake, a traditional Chinese folk piece. "It was choreographed only one week before the show," remarked Savchenko. "We did it with the help of Ingo Steuer, but this program contains our own ideas too. We enjoy skating it." Indeed, the tranquility within stunned the audience. Their second number Pink Panther showed a vivacious side of this pair. Aljona's cheerful dance moves were endearing as always. During a transition, Robin lost hold of his partner and they parted. As a result, a naughty smile appeared on Aljona's face and she quickly gesticulated a "come on" to her partner.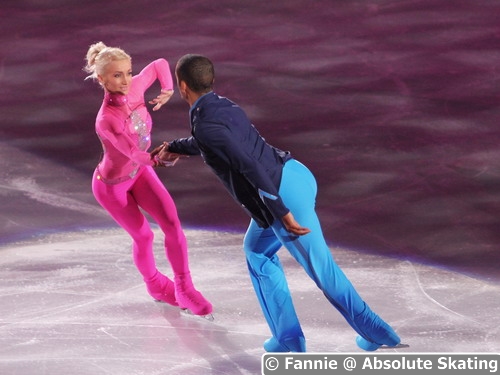 A silhouette sliding accross the ice so graceful as a dancing fairy, was Sarah Meier's , the reigning European Champion. She was dressed in snow white. The prayer was an exquisite piece jointly accomplished by Sarah and the Art On Ice dancers, exhibiting the extraordinarily conceived choreography from Salome Brunner, long-time choreographer of Art On Ice. When Sarah lit a candle on stage, dancers posed quietly; when they started again, their movement echoed and responded to that on the ice and a tender, soft feeling was embodied the whole way. To view it technically, on the other hand, Sarah was in good shape throughout the night. She landed most of her jumps cleanly and her spins were all fast and nicely centered.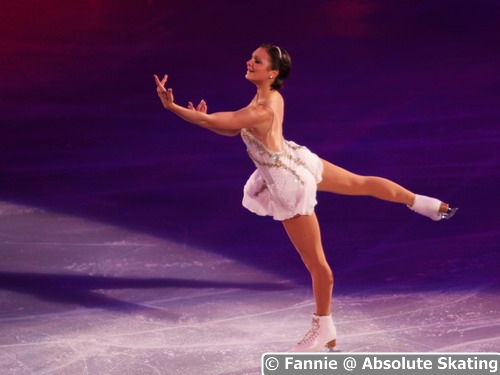 The Russian pair who swept a world silver medal at its first major event since its partnership, Tatiana Volosozhar and Maxim Trankov, astonished the audience successfully with their solid skills and outstanding execution. Their throw jumps were of remarkable height. Despite having to take out some difficulties due to the design of the center stage on the ice, they managed some beautiful, complex lifts that went smoothly with Chopin's Etude. Their second number Super Mario was a mimic of the video game. Humorously done, it had the whole arena laughing for a few times and the game over music in the end brought undoubtedly the most hilarious moment of the night.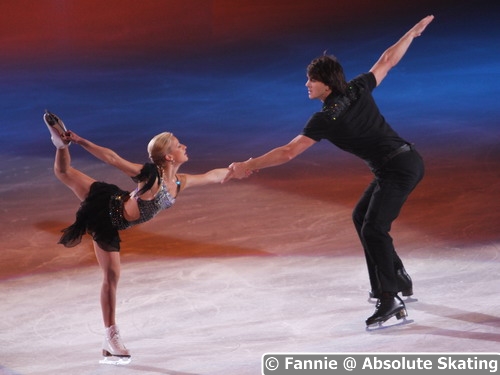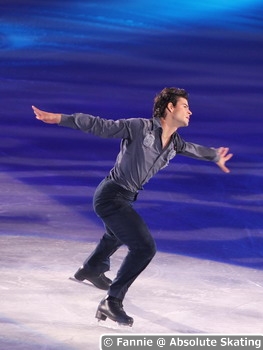 Lang Lang introduced the "next skater", but before he could say the name, screams in all directions suddenly occupied the venue like a bear waking from hibernation: "Sté-phane!" Lambiel, the two times World Champion demonstated his trademark spin technique as well as his artistry. For the majority of spectators who weren't skating fans, neither the skater nor the music (Rachmaninov 's Prelude) were familiar. Nevertheless, this program received the only applause in sync with the music that night. It was complicatedly choreographed and so passionately done with Swiss accuracy, neat in each and every pose. The other performance from Stéphane was Bring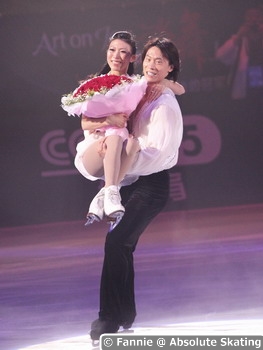 Me to Life by Katherin Jenkins. He did a few triples and his spirals were incredibly beautiful.
The promised surprise from Pang and Tong did come, but much quicker than expected. After their second number, they were asked to stay on the ice. MC announced, "Tong has something to say to Qing," which caused a huge wave of screams, "propose, propose!" And then, with thousands of spectators witnessing this moment, Tong gave a short, touching speech and asked, "Will you marry me?" With a sheepish smile, Qing took the microphone to answer, "Yes." Other skaters then came up and threw petals around them. Tremendous joy wrapped the arena and marked the best ending of the show.