Europeans 2011 - Days 1 & 2: The return of the qualification round
January 26, 2011
By Nadin Vernon
Photos © Absolute Skating

With the European Figure Skating Championships getting off to a start in Bern, it seems there was one burning question on everyone's mind: "How cold is it really?" The conditions of the arena have been a talking point for a few weeks and indeed the main rink is very cold, while the practice tent that was especially put up for the event, feels quite a bit warmer. Spectators,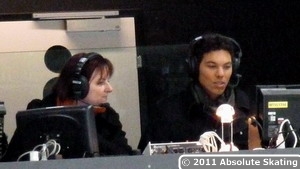 coaches and skaters alike have been commenting on the cold non-stop, and it looks like these Euros will be remembered by it.
Having said that, the overall atmosphere here is very positive. Everything is brilliantly organised and the 430 or so volunteers are super friendly and helpful.
On Monday the qualifications for Ice Dance and Men took place to determine the final entries for these events, which commence on Wednesday with the Short Dance and Thursday with the Short Program, respectively. The qualification round which used to be in effect for all skaters, was re-introduced by the ISU this season for skaters who don't automatically qualify to participate in the event based on their past results.
Current Czech Champions Lucie Mysliveckova and Matej Novak who skated at Europeans for the first time yesterday (they competed at Worlds before) won the preliminary round with 80.54 points. Despite some small mistakes on the twizzles and unison of the steps, they are through to the next round.
Joining them are the 2011 German Champions Nelli Zhiganshina and Alexander Gazsi. Alexander said that there was room for improvement and that it felt strange to kick off the competition with the Free Dance. Third today were Penny Coomes and Nicholas Buckland from Great Britain who were pleased with their performance, especially since Penny only recently recovered from a knee injury.
Later in the afternoon, the men started their campaign with two Swiss skaters taking to the ice to please the home crowd, while Jamal Othman - the 2009 Swiss Champion who retired last season - was commentating for TV.
Both Moris Pfeifhofer and Stephane Walker qualified for Thursday's Short Programme. Moris said he didn't even care about the cold: "It was just cool to skate here in Bern in front my home crowd. There were many of my friends sitting in the audience and before my program I got an SMS from Sarah Meier and she wrote: "Rock that fridge!"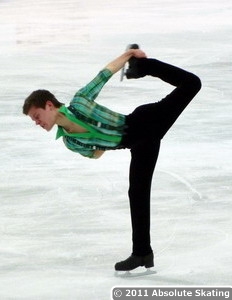 The skaters who finished in the top three put on excellent performances, led by Jorik Hendrickx from Belgian with a season's best of 118.46 points. "I'm very satisfied with my performance. The beginning was almost perfect - I did all my jumps and I got credit for all my spins and the step sequence." Jorik even decided to wear long underwear for the competition to beat the cold. He had never worn these before, let alone train in them, but his coach suggested to just use them during the warm up and to quickly change them if they didn't feel okay.
Kim Lucine who is representing Monaco at these Championships showed a clean program and came second. His playful choreography was well received by the audience and judges. Denis Wieczorek from Germany placed third and despite these being his first Europeans, he revealed he was very calm when he went on the ice and did not feel nervous.
Javier Raya who won Spanish Nationals this season placed fifth and it was good to see his teammate Javier Fernandez cheer him on in the crowd. Ali Demirboga from Turkey was the final skater to qualify. Look out for our interview with Ali on the site. Unfortunately Viktor Romanenkov from Estonia had to stop halfway through his program as the heel of his boot broke in half and he was unable to continue.
The qualification resumed today with the Ladies, and the arena was already a lot fuller than yesterday. The Belgian winning streak continued with Ira Vannut, the 2011 National Champion placing first in the preliminaries with 90.98 points. Ira's goal at her first Europeans was to qualify. "Now we will take things step by step." Being a perfectionist as ever, while Ira won, she thought several things could have gone better. At the same time she would have called other jumps underrotated than those the technical specialist did whilst not agreeing with some of his calls.
Maé Bérénice Meité from France came second and said the preliminaries were good preparation for the rest of the competition as you can show your program to the judges.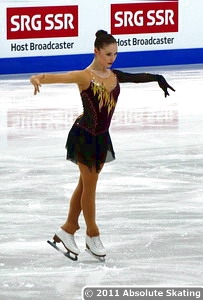 Romy Buehler from Switzerland came fourth despite some mistakes in her program. "The training went well and I can't tell what the problem was with my jumps. I was not particularly nervous before. But the audience was great and it's good that there are still people who have a real interest in skating and come and watch even without Stéphane Lambiel competing here."
Fleur Maxwell from Luxembourg also qualified and despite some issues with the jump elements, vowed the audience with her beautiful skating.
Things are hotting up here in Bern - literary - don't forget to check in with us daily to read all about the European Figure Skating Championships.