Europeans 2011 - Day 3: Expected leaders, small margins
January 27, 2011
By Titanilla Bőd
Photos © Absolute Skating

Nathalie Pechalat and Fabian Bourzat made a big step towards their first European title in the short dance at the figure skating European championships in Bern, while Aliona Savchenko and Robin Szolkowy won the short program and are aiming for their fourth continental title.
French giving emotions
Did you think that the French couple won't have any close rivals? Did you think Russian ice dance will need some seasons to recover from the absence of Domnina/Shabalin and Khokhlova/Novitski? Well, you were wrong.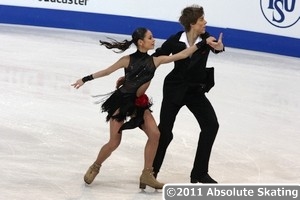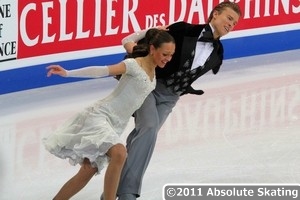 All three Russian couples are in top six after the Short Dance, and the margin between the leader and the second one is less than two points.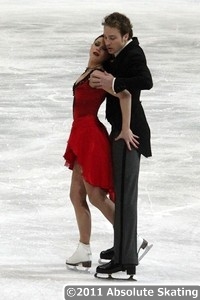 As expected, Nathalie Pechalat and Fabian Bourzat from France won the Short Dance in Bern, but they weren't really satisfied with their performance. "We are happy, because we finished in first place. But we didn't skate as free because of the pressure of a possible title. It was not our best performance," Fabian commented on their routine to the main theme of Dr. Zhivago.
"There is a lot of personality in our dance," Nathalie explained. "It's important to give some feelings into this short dance. We don't forget about the jury. They are also people and have emotions. They are not just here to give some marks, that's why it is important to give some feelings." Fabian added: "I think it doesn't depend on the steps you've got in your program. It's about the way you put everything together with the costume, music and thema. You need to get an idea and to bring it to life. I think it's more interesting for us to skate characters. It makes the Golden Waltz less obvious in the pattern."
Russians Ekaterina Bobrova and Dmitri Soloviev changed their short dance just at the beginning of January, but this didn't hold them back from delivering a great performance which earned them the second place after the first segment of the competition. "After the New Year we came back to practice on January 3rd and changed our short dance. I think we managed to create that kind of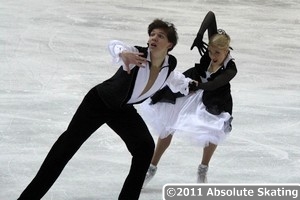 dance that really suits us, to perform all the elements with the music, with emotions. We are very pleased with our result and our scores that show what we did," Dmitri explained, while Ekaterina commented on the story of their new SD: "You have to show a story, even considering that now there is the compulsory dance. You have to incorporate the compulsory dance part into the program so that it becomes a whole and doesn't look like a separate dance. Our new short dance is to music from the musical "Chess". I'm Dmitri's fate." And maybe the fate of the Russian couple is to end on the podium in Bern.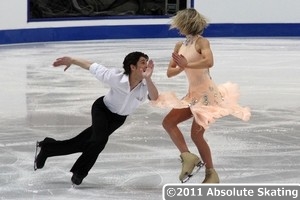 The biggest ovation, however, was awarded to Sinead and John Kerr from Great Britain, who are currently in the third place. "It is a relief to be doing a competition. As we had to take some time off due to Sinead's shoulder injury, we hadn't really competed since Skate Canada. It is nice to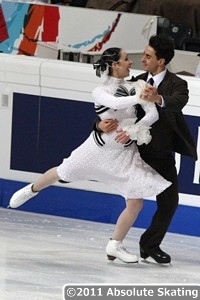 perform in front of the audience. They were really warm to us and we really appreciated it. The audience can help a lot in giving you the confidence to perform your best. The result was pretty good considering the problems we have had. The other two teams are great teams and they have had more mileage than us this year," John said.
Defending silver medalists from Italy, Federica Faiella and Massimo Scali are surprisingly only in the 9th place because of her mistake on the twizzle. "We don't know how it happened. We felt a bit more pressure this season, but we practiced so long. Every little bit can make the difference. I think the podium is gone, but we'll try to enjoy our last Europeans," Massimo told the press.
Korobushko vs. "The Big Bang"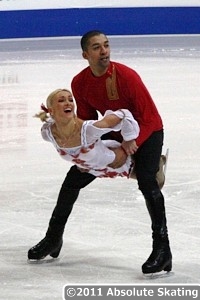 Aliona Savchenko and Robin Szolkowy are on the way to regain their European title which they lost last year against Yuko Kavaguti and Alexander Smirnov. The German pair presented a flawless short program to entartaining music Korobushko and are in the lead by almost 3 points. "I am quite satisfied. I thought it would be worse in the cold. We pushed through. We are happy to be first after the short program," Aliona said, although she was a bit surprised that they recieved only a level two for two elements: "We have to ask later about why the levels were low and have to try to do better next time," she added. Her partner Robin Szolkowy was concerned mainly about the cold: "I'm a little worried, because I felt cold halfway through the program, in the step sequence, and tomorrow in the free skating, we'll have the triple Salchow, the other throw and three lifts still to come. I'm not so much worried about myself, but about my partner, what is, if something happens to her. I discussed it with the other German skaters and we feel you can manage, but it's at the limit."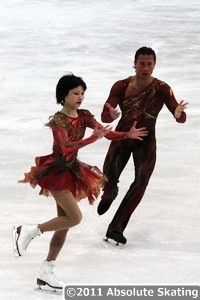 Defending champions Yuko Kavaguti and Alexander Smirnov skated to a powerful music Thus Spoke Zarathustra by Richard Strauss, just like one of their coaches, Artur Dmitriev, at the 1998 Olympic Winter Games, where he won the gold medal with Oksana Kazakova. "Our coach Tamara Moskvina picked the music," Yuko admitted. "But we didn't even see how Oksana and Artur skated in Nagano. We just want to show our different style. I didn't like it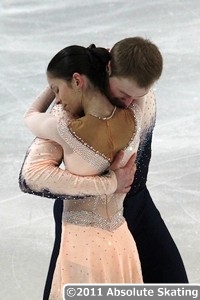 this music in the beginning, but now I do very much. It reminds me at the Big Bang in outer space and that's just the feeling I want to give to the audience."
Their compatriots, Vera Bazarova and Yuri Larionov came in third, despite her little stumble on the throw flip. "We are upset about the throw. We usually don't have problems with this element," Vera said and Yuri added: "It is too bad about the throw. We rushed it, that's why the mistake happened. But nothing is lost yet. We try not to think about placements before a competition, we want to focus on our strengths and on our programs. The competition is not over yet."