Europeans 2011 - Day 4: Surprises and the first medals
January 28, 2011
By Nadin Vernon
Photos © Absolute Skating

Day four at the European Championships in Bern was tense until the very last minute, when Aljona Savchenko and Robin Szolkowy from Germany sighed a breath of relief as they won their fourth title.
Earlier in the afternoon, Florent Amodio from France took the lead in the Men's Short Program, an event that illustrated how the next generation in figure skating is moving to the top.
I think it's fair to say that before the start of the competition, previous European Champion Brian Joubert or Tomas Verner were the hot favourites to win here in Bern. However, we were in for a few surprises. Jorik Hendrickx from Belgium skated in the first group and pulled off a beautiful program to Feeling Good with clean jumps, fast spins and expressive choreography. He was awarded 59.14 points and remained in the leading position with the ten skaters that followed him, slotting in behind.
Brian Joubert who kicked off the penultimate group, started off his Flamenco routine with a quadruple toe - double toe combination, followed by a triple axel. So far so good, however he fell on the last of the three jump elements, the triple Lutz and is now in seventh place going into the free. Brian's made this mistake in previous competitions and today admitted "It is not a technical problem but a psychological one. I've had such bad luck with this jump, I injured myself twice and I keep falling on it in the short program." Some of his fellow competitors didn't skate their best either, as Tomas Verner fell on the triple axel and Javier Fernandez fell twice during his step sequence. Kevin Van der Perren on the other hand skated a blast; he opened his program with a huge quadruple toe - triple toe combination that was followed by two further triples, which alltogeher resulted in the third best technical score of the afternoon for Kevin.
Another skater with jaw-dropping jumps (and who is a joy to watch in practice because of it) is Michal Brezina from the Czech Republic. Michal only recently recovered from injury and was all the more pleased to be in second place after a powerful performance of his Kudo drums short program. "This was my first big competition this season and I'm very happy that I skated well. Tomorrow I will do my best to stay in this position or to get even better."
Artur Gachinski from Russia was equally pleased to find himself in third place at his first Europeans, and said he wasn't really thinking about the placement going into the short program, but just wanted to give a good performance.
Going into Saturday's free program in first place however is French National Champion Florent Amodio who kept his cool and achieved 78.11 points at his European debut. His recipe for success? Train hard and stay focused. As such Florent said he would not let himself get carried away by this lead. "By tomorrow I will forget that I'm in first place and just go into training, work hard again and take things step by step." Saturday evening's free skate which concludes the competition here in Bern is promising to be a very exciting battle.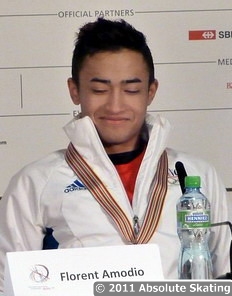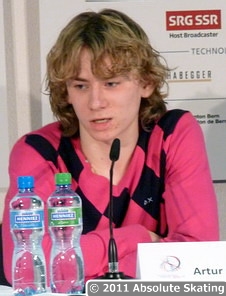 Speaking of battles, the evening's pair event was just that: a battle between German pair Aljona Savchenko and Robin Szolkowy (leaders after the short program) and reigning European Champions Yuko Kavaguti and Alexander Smirnov.
First to skate in the final group however, were Vera Bazarova and Yuri Larionov from Russia who took the bronze medal and were very happy to have won their first medal at the European Championships. "We still can't believe it, there are a lot of emotions right now and we will remember this moment for a long time".
Aljona and Robin came on the ice to the banging drums of the German pair skating fan club. They started strong with their trademark throw triple flip, but when it came to the side by side spins, Aljona got stuck and stopped. As the audience gasped and Robin continued to spin, Aljona stood waiting. "This was a completely new situation for me, I didn't know whether to wait or try and get back into the spin," in any case the points for this element were gone. Despite this incident, Aljona and Robin continued their Pink Panther program with full enthusiasm, selling it to the crowd.
Yuko Kavaguti and Alexander Smirnow were last to skate in the group and showed an untypically soft program to Clare de Lune - choreographed by Peter Tchernyshev - with beautifully executed elements and flowing blue costumes. As the scores came up, Yuko and Alexander won the free skate but Aljona and Robin's cushion from the short program proved enough to put them ahead overall. Robin later said that this felt like the longest wait of his life. Meanwhile Yuko and Alexander were pleased with their skate but a little disappointed that they focused too much on the elements and let the overall feel of the program and some of the choreography slip. Alexander said, "I think we have a successful program this year and hopefully it will become even more beautiful for Worlds."
At the World Championships, the top two teams will be joined by new Russian pair Tatiana Volosozhar and Maksim Trankov who will be making its debut at international competition in Tokyo.
But for the moment we're still at Europeans, where the Ladies will start their campaign with the short program on day five and the dance event will conclude with the free dance. Watch out for more coverage from us here on AS.