Europeans 2011 - Day 5: An emotional night for Nathalie and Fabian
January 29, 2011
By Titanilla Bőd
Photos © Absolute Skating

Nathalie Pechalat and Fabian Bourzat were the crowned champions of the fifth day of the European championships in Bern – with their emotional free dance their warmed all hearts in the freezing cold PostFinance Arena. In ladies competition, Kiira Korpi is in the lead with an impressive short program.
Overcoming the nervousness
How to stay focused when everybody is looking at you and is expecting a great performance? Skaters admit it is not easy. However, at the ladies' short program many athletes managed to coped with their nerves perfectly.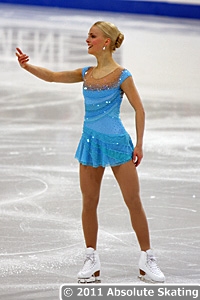 In the lead there is Kiira Korpi from Finland, who landed a triple toeloop-triple toeloop combination, a triple loop and a double axel in her lyrical routine to the well-known song: Somewhere over the rainbow. "It was quite a perfect perfomrance, but I must admit that I was nervous.After I landed the combination and the loop, I relaxed," Kiira told the press. The leading position is not unfamiliar for her, she was in the same situation at the Trophee Eric Bompard in Paris. "I have a useful experience from there. Of course it's always a
bit different to wait for the free programme when you are the first, but this was my goal and I try to focus on my job in the free program as well."
Ksenia Makarova placed only fifth at the Russian Nationals, but delivered a flawless performance in Bern and this earned her the second place: "My parents always told me when you're first it's hard to top. I don't recommend to lose, but starting here being fifth at the Nationals somehow took the pressure off me. I felt very confident and strong on the ice, I just focused on my skating."
That's what Sarah Meier did as well, although she was under a big pressure – because of an injury this was her first competition in the season and she was skating in front of home crowd. "I was very nervous... I didn't feel very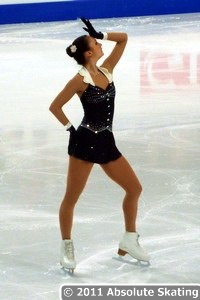 well on the trainings. Just before my skating I felt well. I know I will be even more nervous before the free program, and this will be topped by the fact I'm skating last. But then I thought: this is my last competition, maybe it was meant to be," Sarah said. She admitted it is not easy to say goodbye to figure skating, but she won't change her decision. "This will be definitely my farewell. I still love the sport, but I won't go to Worlds. It would be always hard to say goodbye, so I had to make a decision and I've decided." But there is still the free skating, when Sarah can show all what she is capable of.
Defending champion Carolina Kostner unfortunately was not able to skate her best. She fell on her triple toeloop, triple toeloop combination and also the triple loop. "Somehow I have to laugh about it, all my last practices have been so good and easy, maybe should rather skate badly in practice, then I might be good in competition. I was very nervous today; therefore I'm just relieved to be through with it. On the way to the Worlds ups and downs are part of it, I hope I can see my highlight at the Worlds. I can cope with a defeat here; of course I am a bit annoyed about those
stupid mistakes. Last year I had so many changes in my life, I'm content and happy with my skating," she commented on her performance, which put her only in the sixth place.
There were some impressive debuts in the ladies field. French Mae-Berenice Meite had a great short program to the Forrest Gump soundtrack. "My skating wasn't perfect but I'm very satisfied with it. These are my first Europeans and I enjoyed it very much. I felt much more under pressure during the preliminary round, but the practice from there helped me to skate more relaxed today," she revealed her secret.
Second debutante, the 16 year old preliminary winner Ira Vannut skated a flawless program to "A Woman in Berlin". She included a triple lutz-double toe, triple loop and a double axel. Coming with the goal of qualifying to the finals and doing that step by step, being in tenth place after the short program is definitely another succesfull step taken. To prepare for the last one, she planned to go to sleep early, to be fit for the morning practice.
A very important exhibition
It would be hard to describe that face expression. Happiness? Satisfaction? Relief? Overwhelming joy? Tears just wanting to drop out so they need to be held back? Nathalie Pechalat and Fabian Bourzat were standing on the top of the podium at the European championship for the first time in their career and listened to the French national anthem.
"I was thinking about our coaches, our family, our relatives, friends, all the people who are helping us. There are only two of us on the ice, but twenty in the background and I'm so grateful for their support," Nathalie explained still being moved at the press conference.
They were the leaders after the short dance and they skated last – the pressure before hitting the ice and starting their beautiful Charlie Chaplin routine was just growing and growing. "We didn't think much about the pressure, we tried to do our job as at practice. That's what our coach told us, that we don't have to do something we are not able to do, just what we usually repeat at practice," Fabian said and Nathalie added: "I was not nervous, I was just focused. Our coach said: just do it as an exhibition, but a very important exhibition! It's big part of the sport to be strong, so I tried to stay focused. But I'm always more nervous before the short dance, because that's when the competition starts."
Silver medalists Ekaterina Bobrova and Dmitri Soloviev from Russia won their first medal on their second Europeans. Dmitri said coming to the competition as national champion helped them: "This gave us confidence, psychologically it was easier to skate here, but it also meant big responsibility. The silver medal is a big achievement for us, we are very happy."
So were the bronz medalists, Sinead and John Kerr, who won their second European bronze. They skated to a piece by Muse. "The music started off as an exhibition for us at the Worlds last year. We loved the piece so much, that we wanted to compete to it, we didn't want any other music for our free dance. So I worked on it with Petr Tschernyshev who created the choreography with us. We wanted to show emotions," Sinead said and her brother added: "In the Olympic season we almost forgot to enjoy skating. With this free dance we wanted to
remember when you were a kid and just loved hanging around on the ice." As they still seem to love "hanging around the ice" there was a logical question if they want to extend their career until next year, when the Europeans will be held in Sheffield. "Sometimes you feel it is enough, but it's obviously tempting to skate in your home country," John started to answer the question, but Sinead interrupted with a laugh: "For me it's enough now! But as for the Worlds, I'm looking forward to it. After missing half of the season I'm glad to compete again, so we will definitely be at the world championships."