We have the winners! Who can go to a spectacular show in Bratislava?
May 18& 22, 2011
By Titanilla Bőd
Photos © 2011 Absolute Skating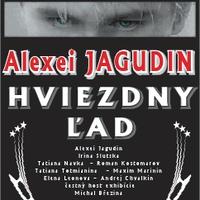 Skating fans can look forward to a spectacular treat on 28th May in Bratislava. In the capital of Slovakia, in the Ondrej Nepela Stadium there will be a show full of Olympic and world champions and skating legends.
The cast of "Starry Ice" is amazing:
Alexei Yagudin - Olympic champion of Salt Lake City, four-time world champion, three-time European champion
Tatiana Totmianina, Maxim Marinin – Olympic champions of Torino in pairs skating, two-time world champions, five-time European champions
Tatiana Navka, Roman Kostomarov – Olympic champions of Torino in ice dancing, two-time world champions, three time European champions
Irina Slutskaya – two-time world champion, two-time Olympic silver medalist, seven-time European champion
Maria Petrova, Alexei Tikhonov – world champions, two-time European champions
Ilia Averbukh – Olympic silver medalist of Salt Lake City with Maria Lobacheva in ice dancing, world champion, European champion
Albena Denkova, Maxim Staviski – two time world champions in ice dancing
Margarita Drobiazko, Povilas Vanagas – world and European bronze medalists in ice dancing
You are able to purchase tickets here.
The contest is now closed, and the winners are:
lafy244 from Twitter and Agnesa Bystrianska from facebook!
Congratulations! You will receive a message soon!
And to make things even more interesting, we are having a contest!

Prize: two tickets to see the show.

How to enter:
1) Follow @absoluteskating on Twitter and send us a tweet saying "I want to go to Starry Ice!"
or/and
2) 'Like' our Facebook page and leave us a comment saying "I want to go to Starry Ice!"

The contest will run between 18-21 May and it is open worldwide.
There will be a random draw to choose one Twitter follower and one Facebook friend to receive one ticket each.
The two lucky winners will be announced on Sunday May 22.
Be prepared to send us your address details, when we announce the winner*
Good luck!
* Of course all data will be kept private.