Stockholm Ice 2011
Part I
May 7, 2011
By Eva Maria Jangbro (EMJO), Lena Halonen
Photos © Eva Maria Jangbro (EMJO), Lena Halonen, Ia Remmel (Pia)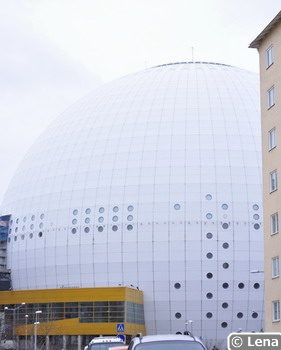 The event took place on April 2nd at the same arena as last year; The Ericsson Globe. It has a spectacular shape looking like a golf ball which makes the height inside impressive. The arena seats about 12000 spectators. Everything was perfect this year: the skaters, the time, the arena – all but the weather. It was cold and grey and there was still some snow on the ground.
Friday
The official practice started on Friday and that was something we didn't want to miss. The good news was that practice was now open to the press.
The skaters kept arriving during the day. Some were delayed but the Swedish skaters were all there and the first to enter the ice together with Shizuka Arakawa, the 2006 Olympic champion. We felt honored and excited that she would skate here in Sweden. We saw her years ago when she trained in Simsbury for Tatiana Tarasova and Maria also watched her compete at Lalique back in 2003. We both remember how Alexei Yagudin went down on his knees and bowed for her after she did a triple-triple-triple combination during a show in Simsbury.
Stéphane Lambiel came a little later but as the day went by everybody practiced their numbers under the watching eye of Oliver Höner. Alexander (Sasha) Majorov was first out, he skated his Metallica program.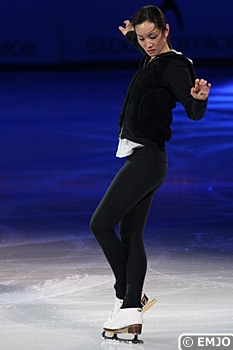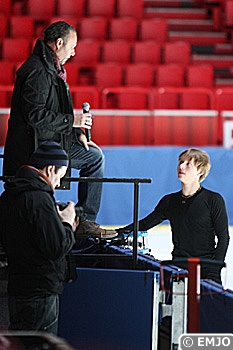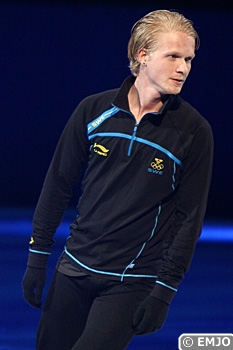 Team surprise had been asked by the organizers to do an intro number, and Kristoffer Berntsson, to our surprise, was included in it. This would for sure be a hit among his fans who thought they would only get to see him once. Adrian Shultheiss worked his new short program. He has had some time to polish it and he said it felt better now after all the turbulence earlier this season, and that things are going back to normal.
It was news to all of us that Stéphane and Viktoria Helgessons would skate together. But what a great idea, and it was nice to see how the dance choreographers Marvin A. Smith and Salomé Brunner worked to put it all together. There was not much time to prepare but they tried to get as much out of every precious minute as they possibly could. This short segment would serve as a transition piece between Stéphane's "Bring me to Life" and Viktoria's "Hair" programs.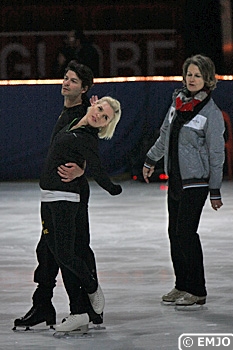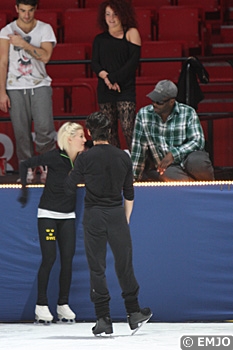 Alexander Majorov tried some quad and of course so did Stéphane, both with varied results. But there was no Plushenko on the ice yet to compete with them. There were lots of laughs amongst the Swedish guys but we had no idea what it was all about. Perhaps just being there was fun enough.
Shizuka amazed us all with her outstanding back flexibility and that she still maintains an incredibly high level of skating. Stéphane practiced his vocal skills singing "Who wants to live forever" to one of the programs Shizuka would skate.
Aljona Savchenko entered wearing a different outfit, but she always wears something in pink and this was no exception. Laura Lepistö was one of the skaters arriving late, she said after practice that "it felt a bit shaky" but that was not noticeable to us.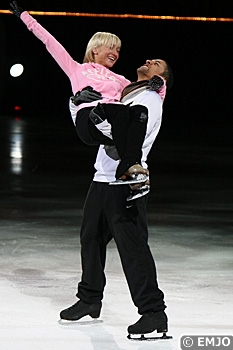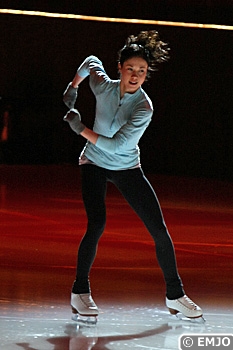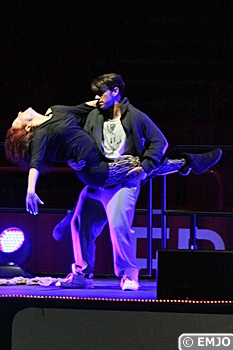 The fun VIP door from the Art On Ice show was brought in but now we learned that the object of affection was not to be Katherine Jenkins (who sang in AOI) but Sarah Meier! Sarah is always a joy to watch in practice; her style is so graceful. Two of the AOI dancers were on the podium running through their parts with choreographer Marvin A. Smith giving them instructions.
People were constantly running around the hallways. Some of the flower girls watched with big eyes as their idols walked by. The girls were very shy and discreetly sat down in the arena watching the practice session.
When the practice session was over we were very hungry. Since we didn't want to risk missing anything in the arena, our lunch had consisted of cookies and coffee. But at 6 pm it was time for Maria to finally check in to her hotel and we enjoyed a 3 course meal.
Showtime!
In the preshow, starting half an hour before the main show, there was live music as the audience filled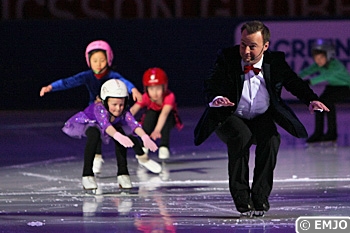 up the arena. We were introduced to our host for the evening, Fredrik Grankvist, who served as one of the judges in the Swedish version of "skating with the stars" a few years back. He told the audience that he had agreed to host this show only if he could skate in the Globe arena, which he got to do together with some very young helpers who showed him the moves for shooting the duck. We got to see skaters of all ages showing different levels of figure skating.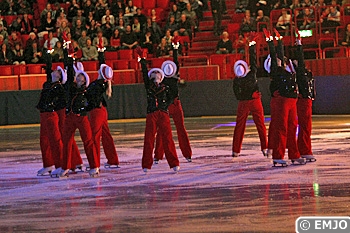 In the last part of the preshow, the winners of the "best show program from a figure skating club in Sweden" competition, the Örnsköldsvik club, showed their entertaining Michael Jackson program. It had impressive lights and pyrotechnical effects and the skaters very enthusiastically danced to the music and set the mood for the evening. The audience was with them all the way and the real show could start.
Alexandra Charles, a media profile in Sweden, was introduced by Fredrik and talked about the 1,6 million club she has started which supports research on women's heart conditions. Viktoria Helgesson entered the ice in a red dress and appropriately skated to "Lady in Red". She then came up to the other two to talk about her involvement in the project and why she had chosen to participate.
"I chose to become an ambassador because I feel the organization raises a lot of important issues. They focus on women's health, and as an athlete I have to think about my own health all the time to be able to make the most of my sport. Maybe I can be a role model for good health to others; and that would be very inspiring to me."
Team Surprise and Kristoffer Berntsson skated to Queen's "Don't stop me now". Synchro skating is very powerful, and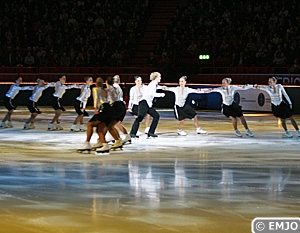 Kristoffer looked totally happy out there in the midst of all those ladies, 16 in all.
Alexander Majorov, the world junior bronze medalist this year and the first in Swedish skating history to medal at that event, skated his Metallica program wearing a tank top that showed off his muscular body. At first he had done the choreography himself but then got some help from his parents. As he put it:
"It got 90% better."
And about how he felt being in this show for the first time: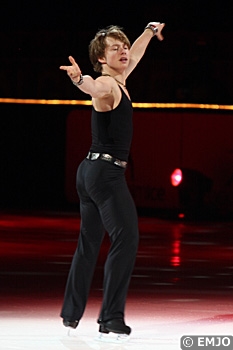 "It is amazing to be in a show so big and well organized, but the most fun is to get to skate with the big stars and have fun with them."
We have watched Sasha's skating skills evolve in the last few years and were very happy he got to skate in this show. He has turned into a well-rounded skater with a high wow-factor. His style is explosive and his spins very fast and we can't wait to watch him at Worlds!
Adrian Shultheiss showed his new short program "Nuclear Warhead" by Black Violin. The time he has spent polishing it has paid off. He chose to change to this program right before the Nordics in February since he felt uncomfortable with Scuba, his previous short program. "Nuclear Warhead" shows the more elegant skating from Adrian. It has very nice choreography that follows the music perfectly and shows off Adrian's strong spins and jumping technique, but also includes a nice step sequence. During the performance he stopped in front of the Swedish skaters in the audience and drew something in the air that looked like a heart to them.
Shizuka Arakawa: "Who wants to live forever" sung by Katherine Jenkins (a recording, Katherine wasn't there in person). Shizuka was to be one of the evening's most appreciated skaters. Even if it's been 5 years since she won the Olympic gold medal she could still win again. She is so smooth on the ice, elegant, flexible and technically perfect. We were breathless!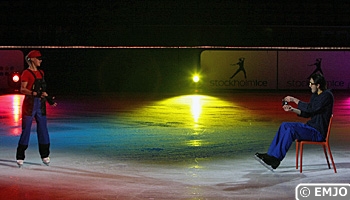 Tatiana Volosozhar and Maxim Trankov: This new Russian couple won the last Russian nationals. They skated to "Super Mario Brothers", a true show program very appreciated by the kids in the audience. Maxim worked the joystick and Tatiana was the character in the game, doing different moves on command. As the program progressed, the roles reversed and now Tatiana was controlling Maxim, who had to skate for his life since she demanded new moves all the time. Whoever dreamed up this very clever idea?
Sarah Meier: "Why don't you love me", a chick number by the current European champion. We saw nice spins, as always from Sarah, and dance moves. But the jumps did not seem to be all there…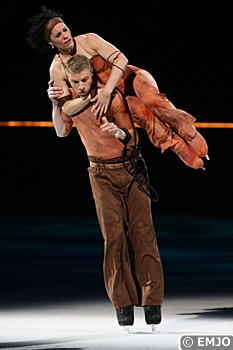 Isabel Delobel and Oliver Shoenfelder: "Gladiator". What a treat! We had only seen this on TV and YouTube. It is one of those programs that make a strong impression on you; it is very intense and emotional. Isabelle said she really, really tries to show emotions and she does succeed! Their edges are so deep and smooth; it is ice dance at its best.
Stéphane Lambiel: "Bring me to life" by Evanescence. This version was more powerful and energetic than the one performed live by Katherine Jenkins at AOI.
Katherine is more of a classic singer and therefore gave the program a bit more lyrical, romantic and softer influence than this Evanescence version. It has more speed, feels stronger and Stéphane skates it with the power that makes it more intense. It worked perfectly with the crowd that clearly appreciated Stéphane's skating. In the beginning as he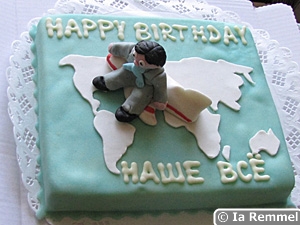 lay "sleeping" on the ice it looks so nice that you want to do it too. There was no singing for Stéphane on his birthday like last year's impressive 8000 spectators "choir". We had been hoping for a Swedish birthday song from us to him, but he did get lots of red roses and this birthday cake from his Russian fans.
Viktoria Helgesson and Stéphane Lambiel did the flirty dance transition number we watched earlier in practice. Liked it! Transition numbers are so much fun and they really hold the show together.
Viktoria Helgesson skating to "I got life" from the musical "Hair", showing that she is a versatile skater who can pull off this type of program with more dancey moves and split jumps, as well as the classical, elegant programs we have watched in competitions. We would very much like a short program in this style for next season!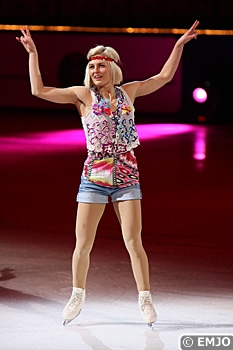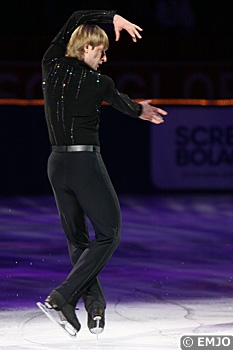 Aljona Savchenko and Robin Szolkowy: "Barbie Girl". Of course the inflatable chair Robin was sitting in was pink. Aljona, however, was not wearing pink but bluish turquoise, but together they were perfect in the roles of Ken and Barbie and we all know the song so people clapped along. This pair knows how to make advanced acrobatic moves look easy and entertaining at the same time. The program is nothing short of brilliant, and together with their coach, Ingo Steuer, Aljona and Robin have brought pair skating to a new level with their technical difficulties.
Evgeni Plushenko: "Aranjuez". The audience clearly knows who is on the ice: the Tsar, and we have to say it too: he IS good! In competition people may not always be so fond of his programs but when it comes to shows he is a true show man. His skating is more relaxed and the arm movements controlled; perhaps he got influenced by other skaters he has done shows with! This program also shows a more emotional Evgeni and he does it really well.
After his performance there was an intermission.

Go to Part II