Stockholm Ice 2011
Part II
May 7, 2011
By Eva Maria Jangbro (EMJO), Lena Halonen
Photos © Eva Maria Jangbro (EMJO), Lena Halonen, Ia Remmel (Pia)
Act II
The second act started out with a competition between ice hockey, bandy and figure skating. Now we would find out once and for all - who is the better skater?
One person representing their sport had to skate backwards. Alexander Majorov skated for the figures skaters and he won!
Sasha said: "One of the funniest parts of the show was the backwards skating competition since I got to see the audience [the lights were on in the arena]!"
Of course we already knew which sport had the best skating skills, but now it's officially proven!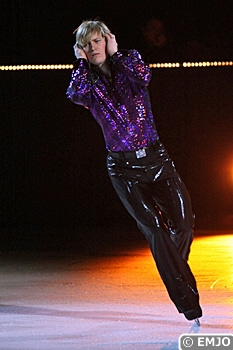 Team surprise performed their free program "Circus". It was amazing to see so many on the ice, and not a single person skating into someone else or falling.
Kristoffer Berntsson: Bee Gees /Jackson 5. We really do hope we will get to see Kristoffer in many more shows from now on. He is a true show skater; he has it all! This time he had chosen to skate to Bee Gees '"You should be dancing" and Jackson 5's "Blame it on the Boogie". Well, Kristoffer danced and skated a great boogie. He looked so relaxed and was all smiles and full of energy. He entered the ice pretending to listen to music in pretend earphones. He then acted like a disc jockey scratching records. When he started skating he really went for it and lived the program. After a while he went over to the boards and offered some of the synchro team skaters to borrow his earphones and enjoy the music along with him. I believe many of his fans in the audience would have loved to play that part too.
In between some of the skating numbers, the AOI dancers were part of the transitions. They added magic especially to Sarah Meier's program "The Prayer".
Sarah entered in the dark wearing a white shawland approached the dancers. The male dancer lifted his female partner and lowered her down to the ice and to Sarah. Now the Sarah we are used to seeing was back, with nice spirals and all the jumps were there. Wonderful number!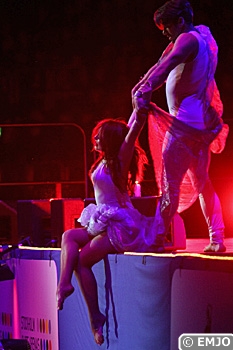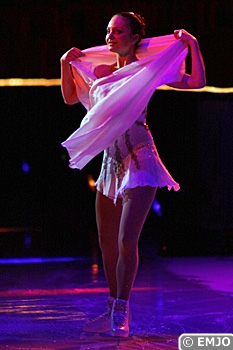 Tatiana Volosozhar and Maxim Trankov returned and we were totally amazed by this pair's natural connection. They have only skated together for a year but no one would know it. Everything seems so easy for them and this romantic program, "Amore Sei Tu", suited them as well as the funnier one in the first act. We will not be surprised if they will be on the podium at the upcoming Moscow Worlds. [Ed. - They won the silver medal.]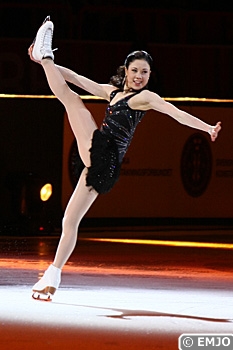 Isabelle Delobel and Olivier Shoenfelder: "Uninvited". Again these Frenchies have done it! Somehow we have come to expect them to be very innovative and they never disappoint us. This year they brought a door as a prop to their program. And we could really feel the emotions this couple radiated on the ice: anger, lust, desire and love.
Laura Lepistö skated a flirty program includinga triple jump, a double Axel, fast spins and nice foot work to "All that Jazz". This girl does everything on the ice with such ease and she looked very happy and confident. She was sparkling and full of energy in this program which suited her very well. We would love to see something like it in competition next season. We have missed her and are happy she is back from her injuries.
Fiona Zaldua and Dimitry Zukhanov: We witnessed some impressive lifts to very upbeat music by Depeche Mode. But the high point was the "headbanger" move which was probably the scariest we have seen; many in the audience closed their eyes. But you have to see it to believe it!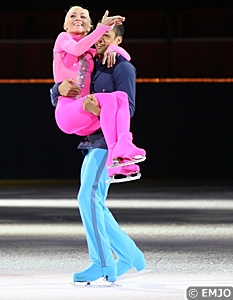 Aljona Savchenko and Robin Szolkowy performed "Pink Panther", their very popular free program this season. Aljona with all her mimicking is really perfect as the pink panther, and she gets to wear pink! This is one of few programs that don't lose anything whether it is performed in competitions or in shows. It has a strong entertainment factor, but is at the same time at a very high technical level. You can't help but thinking about the cartoon character when you see Aljona .
[learn more about the making of the program in this interview with Ingo Steuer]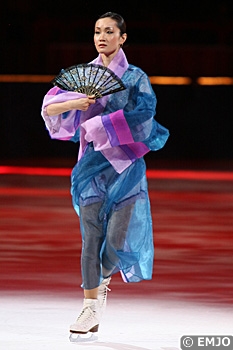 Shizuka Arakawa entered the ice in a sheer kimono, skating to "Yugao - The Tale of Genji", played by violinist Ikuko Kawai. We could feel the audience getting very emotional, perhaps also due to the present situation in Japan. We have to admit it was the grand performance of the evening. Triple jumps, a doughnut spin and of course Shizuka's trademark layback Ina Bauer – it was so emotional, beautiful, stunning and technically perfect. Pure magic!
Ekaterina and Alexander Chesna are air acrobats. This we had not seen before and it was time once again to close our eyes. Ekaterina "rested" her neck and feet on Alexander's skates in the air, way up there as the Globe arena has a very high ceiling. It was performed perfectly to music by Mireille Mathieu, a truly hair-raising but amazing and beautiful program.
Evgeni Plushenko: "Caruso". We would like to see this type of program and skating more often from Plushenko. It was very elegant, great skating as always, but to us softer and more emotional than we're used to seeing him. In the middle of the program there was a treat for the audience; he came close to the boards and blew kisses to many ecstatic ladies.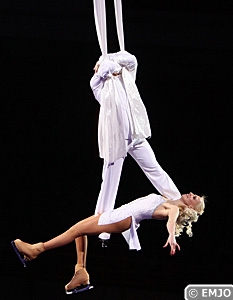 The finale was longer that in other shows we seen and this was very nice (since all shows end too soon anyway!). It was not just all the skaters entering, doing a little something and then it's all over. This built up slowly, first with all the skaters coming on the ice for a group number, as expected. But then it went on to Stéphane and his energetic "Lets dance" by Donna Summer. It included not only Stéphane's contagiously happy mood, but once again treats for the perhaps even more happy ladies in the audience. There were many of us that felt like dancing with Stéphane but we would probably have had to skip the fast spins, split jumps, fast turns and steps Stéphane performed… The finale then continued with another introduction of all skaters, and then encores.
Overall the show offered a good mix of upbeat numbers and classical ones, and also of acrobats and skaters of different disciplines. Only more transitions and maybe another group number or two could possibly lift it even higher, although we know it is difficult since the cast varies. We did miss The Kerrs, but most of all we already long for next year's Stockholm Ice show. Don't missit in the spring of 2012!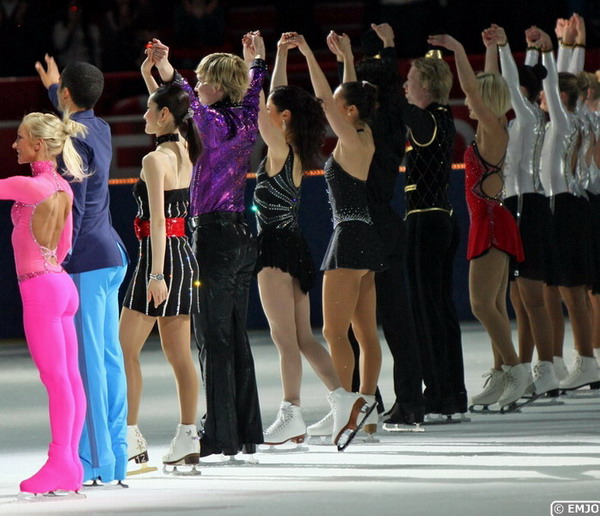 Go back to Part I