Artistry on Ice: Red Temptation
August 24, 2012
By Fannie X.F. Wang
Photos © Fannie X.F. Wang
It's the third consecutive year for Shen Xue and Zhao Hongbo to organize and to perform in "Artistry On Ice" the grand feast for Chinese skating fans. This year, it expands its tour to four cities: Taipei, Shenzhen, Shanghai and Beijing. It's themed "Red Temptation".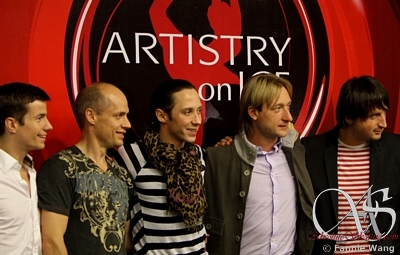 Shenzhen, Shenzhen Bay Sports Center, 2012.6.15
You don't feel how stunning a line-up can actually be until you walk to the ice rink and see Shizuka Arakawa, Evgeni Plushenko, Kurt Browning, Jeffrey Buttle, Johnny Weir and Joannie Rochette warming up right there in one single piece of ice. Separately each of them is a big shot not only for glories and medals, but also for the genuine star quality in shows. Put together their presence outshone anything else. Your eyes were so busy catching them and you wondered why this rink suddenly looked so small. You check the size again - yes, it was indeed a standard one.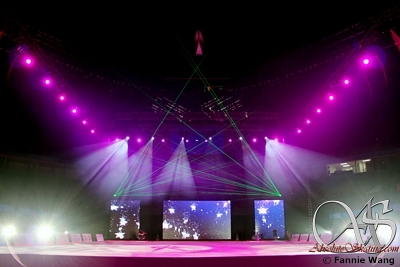 This artificial ice, however, gave the organizers a hard time. "It's extremely expensive to make ice in Shenzhen. At first we wanted another arena but it was so far away from downtown, so we moved to Shenzhen Bay Sports Center. The weather is humid and therefore the surface of the ice is constantly too wet to skate on. Even with help from the experts coming directly from Chinese Figure Skating Association, we still struggle," said Li Sheng, president of SECA, organizing company of Artistry on Ice. This powerful and lively man who's a fan of figure skating then joked: "We are so poor now because of this rink we don't even have money to invite an interpreter, so I'll be the interpreter today." He turned out to be an extraordinary interpreter during the press conference though, skillfully introducing the skaters and handling questions with expertise.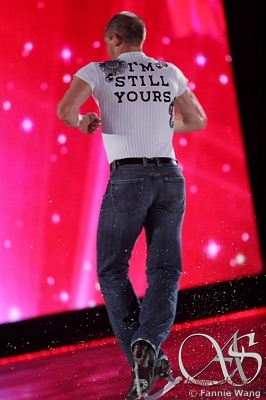 Kurt Browning, who was introduced as "A legend in Canada" showed his talent and sense of humor. In the first number "I'm yours" he wore a T-shirt with exactly that written upon it. Taking it off he showed a shirt which read 'I am yours' in Chinese. But that wasn't the end of it, peeling off one more layer finally revealed 'I am still yours' in English this time . "I enjoy skating this program and it is fun. I like it; taking off the tops one by one and hearing the reaction from the audience," Kurt said. Twenty-four years have passed since this four-time world champion landed the first ratified quad-toe in competitions, yet now he still jumps with ease and remarkable height. His second number "Feeling Good" brought a cozy, joyful feeling to the rink. Overall, Kurt was in good spirits: he probably broke a record of how many funny faces one can make in a press conference.
Shizuka Arakawa appeared this year with "El Flamenco", a contrast to her usual Asian image. "I want people to feel my passion in it," she said in the press conference. "This is a Japanese way to interpret flamenco." One would say that this Japanese beauty looks elegant and quiet in person, but in fact, on the ice Shizuka is one of the few ladies whose speed is comparable to elite men.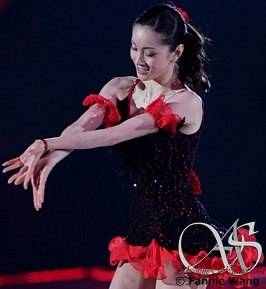 This trait together with her mature style and sharp expressions enhanced the intensity of the program. This 2006 Olympic champion received among the biggest applause for the flamenco. In the second half, she wore a white, shiny dress for "Listen". She did her trademark Ina Bauer; back fully bent while she glides the diagonal line of the rink. The audience screamed at that with astonishment.
When asked "you didn't participate in cities other than Beijing for last year's Artistry On Ice. Are you making up for it this year by attending the whole tour?" An "Oh my god I was caught!" look was on Jeffrey Buttle's face. A journalist who was clearly a fan of him then asked about his programs, stating that "Ararat (Jeff's 2008 world champion long program) is a program that Chinese fans would die for to watch once live". The entire room laughed and Jeff smiled back shyly.
In Asia, Jeff's incredible sensitivity of music and unique, in-depth interpretation set him apart and make him a true crowd favorite. He brought "Big Love" and "Both Sides Now" to China this time and the latter is a perfect example. According to the reactions from Weibo (a Chinese version of twitter), many audience found it very touching and some even cried watching it. In Shenzhen, the audience went a little quieter than usual and clapped during the emotional peaks, like the spread eagle, not just for the difficult moves. Obviously, they got it. "I always want to skate to this music by Joni Mitchell, a famous Canadian singer and song writer if not the most famous one," said Jeff. "This program is my kind of thing. We choreographed it and when we had only 30 seconds left, we realized we didn't put a single jump in. But my choreographer and I both think it's pretty complete so we kept it. I think Figure Skating is not just about the jumps."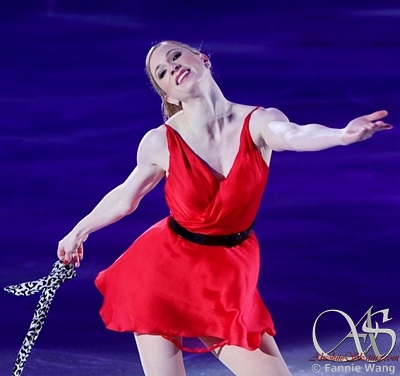 It's the third time for Joannie Rochette to join this show. Given the recent condition of competitive ladies and the announcement of comeback from Miki Ando, people wondered if there'd be any possibility for her to comeback. This olympic bronze medalist replied that she still needs time to make a decision and she enjoys her life for now. "If I want to come back, I'll be in strict discipline. No more shows like this," she said. Then she added shows help her for the artistry side too.
Joannie skated "Formidable" in a red dress, echoing the "Red Temptation" theme of this show. Comparing with last year's performance, the power remains but is expressed in a more subtle, controlled way. Another number "Indestructible" by Robyn is a hit Electropop single from Sweden. Joannie's firm and strong edging left her with abundant room to catch every beat and to dance dynamically while covering the ice.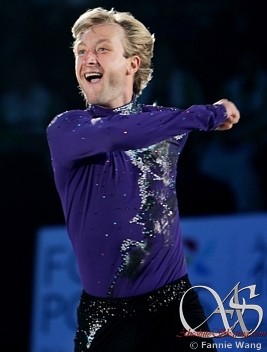 Before the on-ice warm-up session, Evgeni Plushenko walked to a corner of the rink to stretch. He almost stumbled stepping on a platform which was actually a hollow one. Evgeni stood up, looked around and made a face. A funny moment for this king on ice.
It's not easy to ask Evgeni questions partly because many journalists do not speak Russian, partly because his skates speak for him so well. In Shenzhen, he looked very relaxed and not in his fighter mode at all, but he landed 3As in warm-ups and both of his programs with ease as if they were just required elements. Luckily, the Chinese fans got to see his short program "The Storm" and long program "Tango" for next season. Both numbers were in collaboration with Edvin Marton, the well-known composer and violinist. This 30-year-old Russian has a strong fan-base and the audience always shouts - which is a rare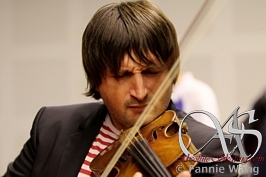 occurrence in China - when his name is announced. During "Storm", Evgeni quickly found where his banners were and stayed there for a while doing some playful movements, which drew another round of screams.
Edvin is warmly welcomed too. For some reason, he brought his Stradivarius violin to the press conference and Li Sheng smiled wryly at him saying "Edvin, the violin is here too so we can't let you go without playing a bit. Would you please?" Edvin agreed and gave a splendid short solo of "Moulin Rouge".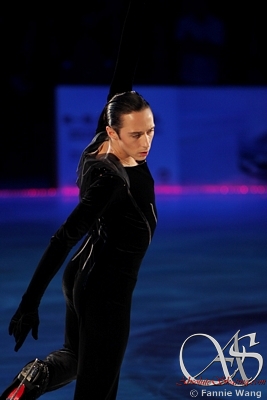 Johnny Weir is another highly-welcomed guest. People love both his soft, introverted side and the glamour, lady-gaga side. Off-ice his sincere, wicked and considerate attitude win for him love from the press, too. The first impression of Johnny this year was that he lost weight to an extent that he would fit the most insane leotard. This reflects his will for a come-back. Different from two years before, Johnny now has a family life with his husband and a puppy. "Two programs are not the end of my life now," he said. His coach accepted the fact that he had things other than skating to take care of now. In this field, each athlete has his own pace to face the almost unbearable pressure and obviously, Johnny has found his.
Johnny skated to "Fighter" by Christina Aguilera and "Nocturne" by Chopin, the latter in collaboration with Edvin Marton. He was tired and a bit pale due to the travelling, but he demonstrated his skills by landing a 3A in the show and a 3A-2T combination in the warm-up.
Fiona Zaldua/Dimitry Sukhanov, frequent guests of first class ice-shows worldwide, said they were happy to attend this show. Their extremely risky movements are "so beyond my words", said Li Sheng. When asked how it felt to do them, Fiona answered: "We train. We train in the gym, on the floor, in our garden...before we go on the ice. Besides, we really trust each other." When Dimitry had Fiona on his head and started to spin, they proved that they never fail to have people in awe.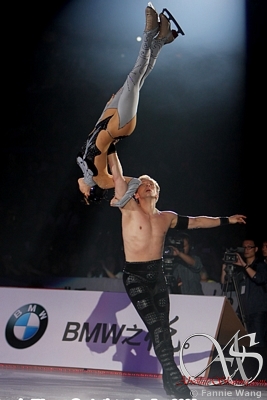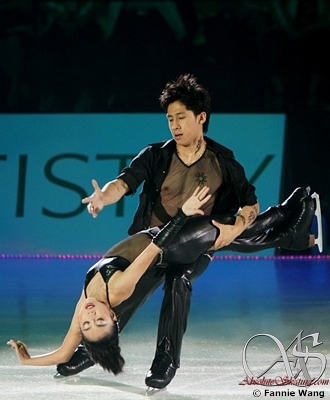 The young Chinese Sui Wenjing/Han Cong, Song Nan and Li Zijun were invited to perform too. Sui/Han' highlighted their numbers by difficult twists and throw jumps. Song Nan gave an impressive performance to "Sarabande Suite" by Globus. Li Zijun had one traditional Chinese number with a long-sleeved costume. "We always invite the young skaters to this show and hope they'll learn and gain the precious experience from the great champions, said Shen Xue. Shen and Zhao also helped with the arrangement of sending Song Nan to Canada to choreograph with Jeffrey Buttle: "Jeffrey's knees are breathing on the ice. That's awesome. We really hope Nan will learn some skills from him."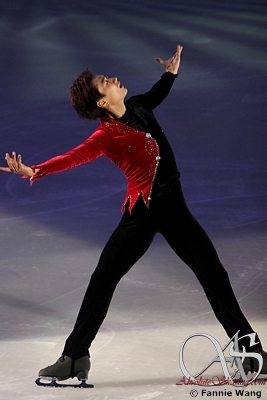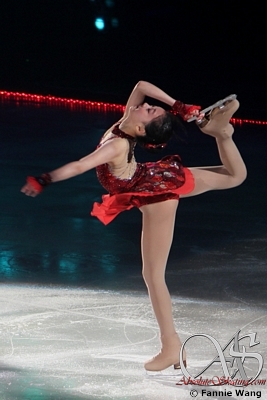 One interesting fact is that it was the 20 year anniversary of Shen Xue/Zhao Hongbo's pairing when they skated on 15th June. This golden pair of China announced that they'd retire from show skating after this year's Artistry on Ice and start working with Chinese Junior teams as coaches. "Figure Skating takes time," said Xue Shen. "Please don't expect a quick production of world champions from us. The cycle for this business is long. We'll need to work day by day, little by little to go far. When we paired 20 years ago, we started from nothing and we worked our way up to the ultimate goals, like Asian champion, world champion and Olympic Champion. What we really want to show the young skaters from what we've been through is that they can do it too. They can chase their dreams."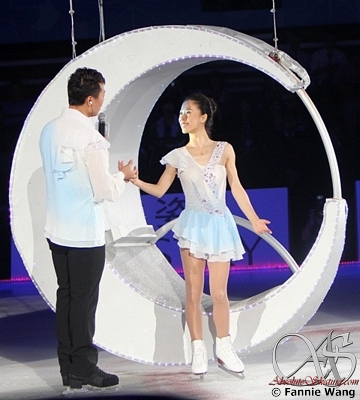 The two numbers of this couple are both special this year. First number is a romantic, old Chinese song "The Moon Tells My Heart" in collaboration with the Taiwan singer Huang Xiaohu. Xue stepped onto the ice first and sat down in new-moon shaped equipment before she was lifted to the air. Then under the spotlight people saw it was Hongbo singing the song to her. This program was a fairy-tale on ice. As Hongbo once said : "When I'm on the ice, I don't need to fake that I love her (Xue). I love her from my heart."
Shen/Zhao's second number "20 Years of Ours" was a live montage of their competitive career, from "Meditation" to "Turandot". For the very last time they let the moments live again on the ice, on which their story is written and memorized. During the whole tour, Beijing, Shanghai, Shenzhen and Taipei, this is the program that had people in tears. "When we skate it, the past comes alive, " said Xue. "To hang up our skates isn't easy, but all good things come to an end. We want to bow and make this final curtain call."
Reporter's Note: Yuna Kim participated in and only in the Shanghai show and therefore not covered.