Costumes on Ice
Part II: Ladies
September 14, 2012
By Reut Golinsky
Photos © Ksenia Nurtdinova, CNOSF / KMSP, Eva Maria Jangbro (EMJO)
While watching different sports during the recent Olympics, I noticed that there is actually not that much opportunity for women in summer sports to "embrace their inner princess" while competing. Synchronized swimming and rhythmic gymnastics offer some freedom in the creation of leotards. But figure skating obviously leaves much more room for imagination and creativity, allowing its ladies to perform while emphasizing their feminine side with beautiful dresses and fashion items.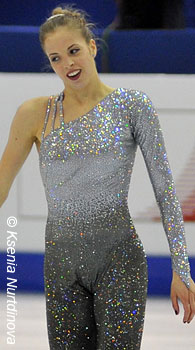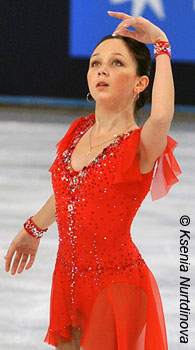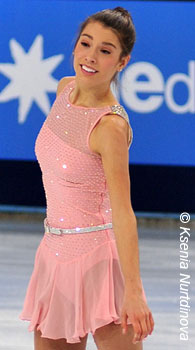 About the importance of how you look for a good performance, the changes costumes often undergo, the difference between skating dresses for juniors and seniors and more in this talk with some lady skaters I met during last season.
"The costume is definitely a part of the whole package. It's not just the jumps and the elements, it's not just skating, but a whole image which we represent that is important," says Alissa Czisny, two-time U.S. National champion and,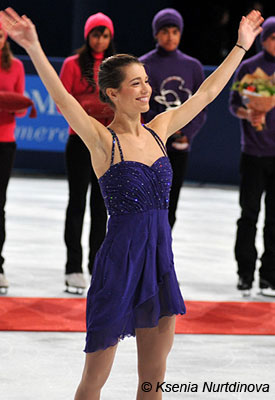 in my opinion, one of the most beautiful skaters now competing. "I really need to have a great dress, because wearing it makes me feel special, puts me into the character of the program and gets me into the competition mood. When I feel special and beautiful out there on the ice, I can translate it into my skating. So I'm very picky about my dresses!"
Some take their costumes so seriously that they engage the very best in the fashion business. One such collaboration was that of 2012 World champion Carolina Kostner and Italian haute couture designer Roberto Cavalli. "Originally I chose to study arts history, because I wanted to study fashion design which is very popular in Italy", Carolina recalls. "So when I had a chance to work with Cavalli, we started in 2005, it was a very big honour for me. I was able to peek into this crazy [fashion] world, and see some fashion shows and learn how everything works".
While the four-time European champion immensely enjoyed this experience, she noted that working with people far from the skating world, was not always smooth. There were priorities they simply were not aware of: "The most important thing about a skating costume is that it feels comfortable. When you're working with fashion designers, you need to explain to them, for example, how important it is that the dress won't be heavy. On the runway you can pin the dress in the back and it will be OK [for the show], but on the ice it has to stretch easily and it should follow certain rules. It was not easy to find someone who would agree to fulfill all those requirements."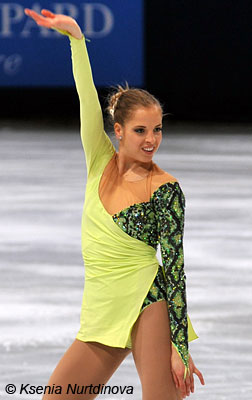 Maybe that was one of the reasons why last season Carolina took the process into her own hands: "I was behind the ideas and drawings, and then my dressmaker implemented them." Especially the short program dress stood out for me, both in cut and colour: "The idea was to make something simple, without too many details. Since the brand Swarovski Elements agreed to sponsor the rhinestones, we decided to adorn half [of the dress] with them. It created a contrast to the other, empty half. From afar it was supposed to look like snake skin." More about the costumes created by Carolina for last season is found on her official site.
The 2011 Grand Prix Final champion is not afraid to experiment, both with music and costumes. Carolina is one of not so many ladies who have ventured into wearing unitards. She has had a few in previous seasons and one for the long program lately: "Since girls are now permitted to wear pants in competition, sometimes it's good to have them, just for a change, to feel a bit different".
At times it's this difference in costumes which turns your attention to a certain skater, and only later do you notice the program and the personality behind it. This is what happened to me at the Youth Olympics, during ladies' short program when I first saw Anaïs Ventard. From the moment she came on the ice - in black pants, a red jacket, and the whole costume covered with gold patterns - she made me curious to see what would come next in her routine choreographed to music by guitar duo Rodrigo y Gabriela. "This costume implements the theme of my program. You can't be a toreador in a skirt, it's impossible," the French two-time junior National champion smiles, explaining why she chose pants for her costume and not a dress. "Costumes should always go with the program. We see the program and then we start creating the costume, trying to check what goes better with the music. Sometimes it is indeed better to have a skirt; it is one of those decisions I should make together with my coach and designer."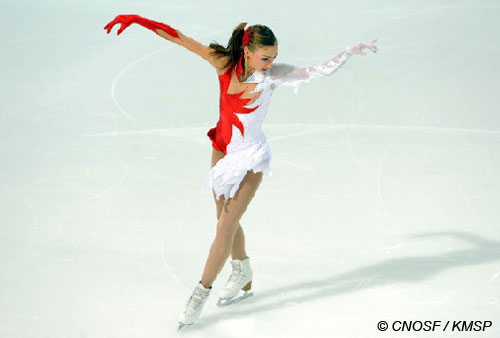 Costume should always derive from the program, but sometimes adjustments for a better look-and-feel are made - one of the reasons why Anaïs' dress for the long program (to "Angel and Demon" by M. Rodriguez) had lots of red in it. "We could have made it in, for example, black and white, but it would have looked a bit too toneless. Next year I probably won't have anything red. I don't know, we'll see," says the young Olympian. To my compliments about the originality of both of her costumes, she adds that she always tries to make creative programs, and for such programs you clearly need distinctive costumes to match them.
Should dresses for juniors and seniors differ? Should juniors be careful to avoid looking too old or too skimpy? Some noted that 2012 Youth Olympics champion Elizaveta "Liza" Tuktamysheva wore dresses that made her look older. On the other hand, she already tried herself in senior competitions last season, and her results definitely prove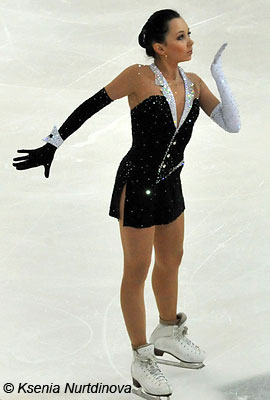 that she deserves to be taken seriously, not as a little girl but as a grown up. This Russian prodigy, who claimed gold in both of her senior Grand Prix events in Mississauga and Paris, confirmed: "Yes, of course, we felt that I should look more adultish now, but not because of the move to seniors, but because it's time to grow up." Still, Liza holds looks only second to comfort: "I think the style and the cut are very important, but the costume must be comfortable. Because if it's not comfortable enough, you will think about it all the time and the feeling [while skating] will be different, which is not good. So the bottom line is comfort first, and then beauty." Yet, behind the change of her short program dress there were mostly aesthetic reasons: "I had a simple black dress, but we wanted something in more of a tango style".
Costumes often undergo changes in the course of the season. Sometimes they are changed completely, because they don't fit, don't look good or just because the original costumes were not ready on time. The latter was the case for 2011 World Junior champion Adelina Sotnikova: "Initially we planned to have a red costume but it just wasn't ready for the beginning of the season," she explains. "After Cup of China we compared two costumes and in the end decided that we would go with the red dress instead. I did like the blue one better, but I felt more comfortable in the red one." She also admitted that after winning her third National title in this dress she considered it to be a lucky one for her: "After I won wearing it, for me it is the costume now, my costume." Unfortunately this lucky dress let her be only the silver medallist at the Youth Olympics.
Sometimes drastic changes are not needed, only some refinement. Like, for example, with Alissa Czisny's short program costume from the season 2010-11.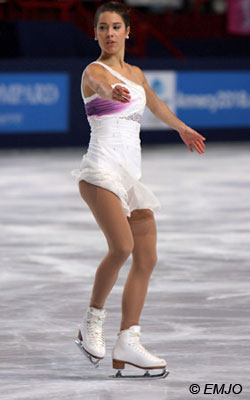 First it was a pure white dress, but later in the season a purple touch was added, which immediately gave it some dimension and made it look more sophisticated. "That season Yuka Sato helped designing both my costumes, she had the ideas and I went with whatever she said," the 2010 Grand Prix Final champion recalls. "We first put them on at Skate Canada, and we realized that the white dress looked too white on the ice. Yuka wanted to put some colour into it, and that [purple] was what we came up with. My dresses "grow" as the season continues. We see how they look on the ice and then we make adjustments accordingly. We get feedback from the judges, from different people who see them on the ice and on TV, we see how it works, how it feels."
If the costume is so important and so much effort goes into finding the one and only which will be perfect, maybe it's a pity that there is no separate mark for it? Alissa smiles: "You know, there is no separate mark for the costume, but I believe it sort of seeps into the judges' images and maybe into their overall feeling about the skating, which in some way might affect the mark too."
Like the unforgettable Coco Chanel said: "Dress shabbily and they remember the dress; dress impeccably and they remember the woman". Or in this case, the woman's performance on the ice.
Part III: Men.