Europeans 2012 - day 1 & 2: Who said the preliminary round is boring?
January 25, 2012
By Titanilla Bőd
Photos © Absolute Skating
Getting into the mood. That is what preliminaries are perfect for. Skaters and fans get to know the arena and the city, and the atmosphere is somewhat more relaxed than when the big guys compete for medals. Watching the qualifications in Sheffield was a pleasant experience.
To be remembered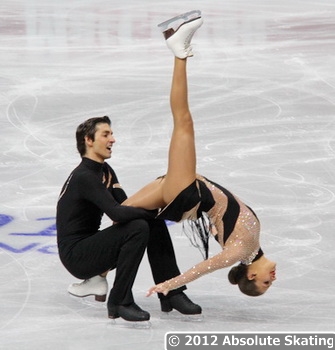 The ice dancing scene is always changing: you see old faces in new roles, well-known skaters in new partnerships. In the preliminary round we spotted Alper Ucar, a former singles skater from Turkey, who is now teamed up with Alisa Agafonova. They are the first ice dancing couple to represent Turkey at an ISU competition. Czech Lucie Myslivečková is now skating with Neil Brown from France, and their debut was successful; they made it to the short dance! Barbora Silna, many times seen at international competitions with Dmitri Matsiuk, now made her international debut with Juri Kurakin. They represent Austria, although Barbora was born in Kroměříž, the Czech Republic, and Juri in Tallinn, Estonia. But such things are not unusual in ice dancing: Charlene Guignard is originally from France but now skates for Italy with Marco Fabri, while British Tiffany Zahorski now wears a French jacket, as she skates with Parisian Alexis Miart.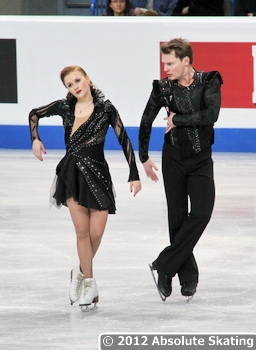 Julia Zlobina and Alexei Sitnikov were both born in Russia, but switched countries and now represent Azerbaijan. They won the preliminary segment with a score of 81.55 points. "It was exactly the nice, clean performance we were looking for. We haven't fully realized it yet that we are finally here. We have hoped for it and worked for it and it means that all our work in these past years wasn't in vain," Julia commented on competing at their first Europeans. "We want to leave a strong impression so that the judges and spectators will remember us," Alexei added. With their unusual routine full of interesting elements it is quite likely that people will remember them.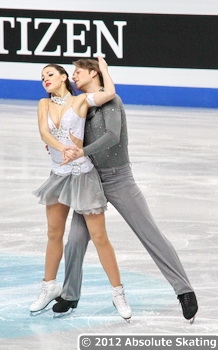 Unfortunately, people will also remember the many falls of the preliminary round. One of the couples that tumbled was the German team Tanja Kolbe and Stefano Caruso, but they still made it to the short dance. "It was the same lift as we missed at Nationals. I was looking to put my foot on his skate in the right place, but I slipped off. He helped me to get up, he encouraged me and we were back into it very quickly," Tanja described the mistake.
Oh, my God, he's back again!
The king keeps returning. Being three-time World Champion, six-time European Champion, Olympic champion and two-time Olympic silver medalist, Evgeni Plushenko still has some more room for medals in his closet. The Russian star won the men's preliminary round with 157.57 points, last year in Bern it would have had been enough to win the free skate! Plushenko landed a quad toe loop and five triples, including two triple Axels. However, his free skating had a few flaws, small wobbles and Plushenko was aware of them.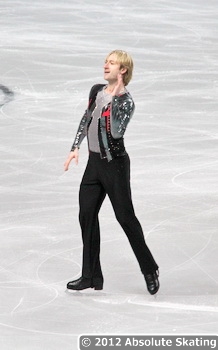 "I think this is the hardest competition in my life," he told the press. "I had meniscus surgery at the beginning of the season, but I am still in pain. I need another surgery. In practice, I do the quad and it feels like a shot into the leg and I need time to recover. The performance today wasn't my best, but for today it was good and I am happy with it. I try to forget about being injured and if I am able to skate the way I did with an injury, I will skate better when I'm healthy. It was very important for me to go for the quad, because I don't know how my knee reacts, it can be different each time. Also I pulled a muscle the other day in practice on the quad and I couldn't turn my head. To be honest, yesterday I wasn't sure if I could skate today. Actually, I am proud of myself for skating the way I did."
Zoltán Kelemen of Romania could also be proud of his performance, he finished second in the preliminaries. His routine to the Pearl Harbor and Dr. Who soundtracks wasn't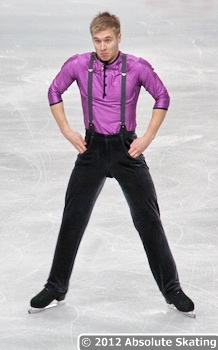 flawless; strangely, he had problems with the "easiest" jump, the double Axel. "In the air for a moment I didn't know what would happen, would I do a backflip or what? Luckily I didn't fall and I could keep on going. At the preliminaries it's not such a big problem if you don't do your best, the most important thing is to qualify. I want to be in the top 18 so that I don't have to do the preliminaries next year," Zoltán explained.
Finland's Ari-Pekka Nurmenkari also could have had a good chance to qualify for the short program, but he twisted his ankle when doing a triple flip and had to withdraw. According to the medical statement he was skating in new boots and they were too stiff.
The Ladies' great debuts
The Preliminary rounds are a great opportunity to pay attention to the "second row", and to discover new faces. Three skaters out of the top four of the qualification made their debuts on the European championship. Polina Korbeynikova of Russia, the Junior Grand Prix Final bronze medalist won this segment earning 109.73 points, landing a triple flip - triple toe loop and a double Axel - triple toe loop combinations. "I am skating for myself and I want to please myself. I didn't think about watering down my program content. The qualifying round was a good opportunity to check on myself and it is an extra practice," Polina commented on her performance.
Swede Joshi Helgesson placed second (she missed some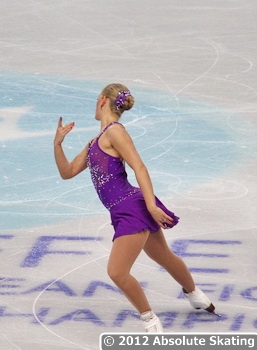 jumps in the second part of her program), while Monika Simančíková of Slovakia got the third highest score. For Monika it was also her first Europeans, but she was the bronze medalists at the 2011 European Youth Olympic Festival in Liberec. "I am happy, because this was my first clean free skate this season," she said with a big smile. Right when she finished her routine she didn't have a smile on her face. "I was just very tired. Of course I'm very happy that I managed to land all my jumps," she explained.
Another great debutant was Yretha Silete, the current French Champion, who was 4th in the preliminary round. "Competing in the preliminaries is an advantage and a disadvantage at the same time. It is more tiring, but on the other hand having done a good performance here gives me confidence. My goal is to be in the top ten and to be the top French woman in order to go to Worlds," Yretha said.
The last lady to qualify was Kaat van Daele, from Belgium.