Europeans 2012 - day 3: Volosozhar and Trankov on their way to the gold
January 26, 2012
By Titanilla Bőd
Photos © Eva Maria Jangbro (EMJO), Mireille Geurts, Daphne Heij
The Pairs' competition went unexpectedly predictable after the reigning champions withdrew, while the ice dancing competition got unexpectedly unpredictable after the reigning champions only got the fifth highest technical score in the short program.
Russians without rivals
It would probably be hard to find any similarities between figure skating and boxing, but in the philosophy of Maxim Trankov there is still one: "You have to beat the European Champion to really be the European Champion."
The Russian pair Volosozhar/Trankov is quite likely to win the pairs' competition in Sheffield, but as Trankov stated, "it won't be a full victory". Reigning champions Aljona Savchenko and Robin Szolkowy withdrew just before the competition due to Aljona's injury. The Germans are four-time European champions and were contenders for the gold in Sheffield as well. However, Aljona had suffered an injury to her left thigh in a fall on a throw jump in practice in Chemnitz on January 12, and it got worse in Sheffield. "Aljona aggravated her injury when doing a pair spin in training. She is in pain and unable to perform all elements," said the German team doctor Stefan Pfrengle. "We will continue intense physiotherapy and I expect her to resume training in five to seven days," he added.
After their main rivals withdrew, Trankov and Volosozhar had to find a new motivation. "We are used to competing with Aljona and Robin and we know for them it's the same, too – we push each other. It's not going to be a full victory if we win and we will wait for the next competition with them," Trankov said.
The Russians won the short program earning 72.80 points, and they are more than six points ahead of their fellow countrymen. The worlds silver medalists skated to Evanescence's Bring Me to Life, and their energetic program caught the audience, even if it wasn't flawless, as Tatiana had a hand down on the throw jump. "We are pleased with the score, but I am not completely satisfied with my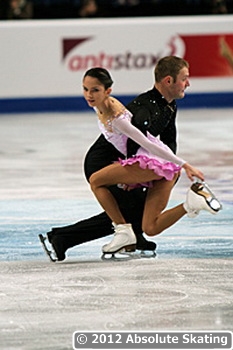 throw triple flip, I made an error. Overall it was an okay skate. As for my mistake, the jump was maybe too high and I didn't expect that," Tatiana commented on their short program.
Vera Bazarova and Yuri Larionov placed second. They already have a medal from Europeans and now they long for another one. "We feel sorry that Robin and Aljona withdrew, and we wish them a speedy recovery and hope we'll compete with them next time. We share Maxim's joy and hope that in the free skate we will do our best and share the same positions as today," Larionov told the press.
The third Russian couple, Ksenia Stolbova and Fedor Klimov, is currently in third place. A month ago they didn't even dream about competing at Europeans, but they got the chance after Kavaguti/Smirnov's withdrawal, and now have a real chance for a medal. "That was probably the best performance of the season, we are very happy with it. Obviously we were a little nervous, but not more than at other competitions. It is harder to compete here than in Juniors," Klimov explained.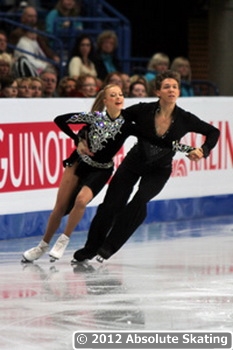 Surprising leaders in ice dance
Ice dancing is a tricky discipline. If you are not an expert (and who is an expert except for the skaters?), it's really hard to notice the small differences between the couples. And it's really hard to understand the judges' scores. At least it was like this in Sheffield, when Ekaterina Bobrova and Dmitri Soloviev won the short dance 0.17 points ahead of French Nathalie Pechalat and Fabian Bourzat, although the French couple had the most entertaining and original program.
The Russians earned 65.05 points, which is less than their season's best. "We skated first in the third warm up, before our main rivals, and maybe the judges were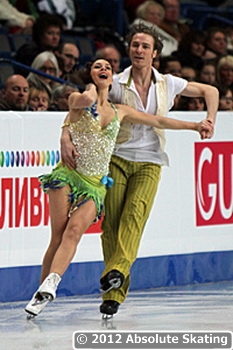 holding back a little with the scores," Dmitri said. Ekaterina was satisfied with the score: "It is just a little lower than our season's best, and it is much higher than at the Grand Prix Final and the Rostelecom Cup, so we are pleased with it."
Fans of Nathalie Pechalat and Fabian Bourzat, however, were not pleased with their favourites' scores and placement. The reigning champions got 65.89, and their technical score was only the fifth highest! "We won't know why we got low levels until we speak to the technical panel," Fabian said. "Sometimes it is better to be the challenger than the leader, so maybe it is right this way that we are second, but very close to first. We won't give our title to somebody else easily, we will fight!" Nathalie added. With their routine full of fresh ideas they spiced up the latino night in the Motorpoint Arena.
In third place there is another Russian couple: Ekaterina Riazanova and Ilia Tkachenko. When asked if they feel anything special competing in the cradle of ice dancing, in a country that had so many legendary ice dancers, Tkachenko answered: "We don't have any special feeling. It might have been different if the Kerrs were still competing."
John and Sinead Kerr are present in Sheffield "only" as ambassadors of the sport, but the home crowd was enthusiastic about Penny Coomes and Nicholas Buckland, who are currently in fourth place. "Having the crowd behind us is a real boost. It helped to clear away some of the nerves and actually relaxed me. I thought I might be more nervous in front of a home crowd, but it lifted me up and calmed me down," Nicholas said, and Penny agreed: "Absolutely. Being able to get that feed-back from the audience makes you play up to it more. It's great to get that reaction. It was a bit like it at the Olympics and last year in Moscow, but this was the best."