Europeans 2012 - day 4: All medals going to Russia
January 27, 2012
By Titanilla Bőd
Photos © Absolute Skating
Alexei Mishin must know something: his two pupils are in the lead after men's short program in Sheffield. Russian pairs must also know something (a lot!), because they took all the medals later in the evening.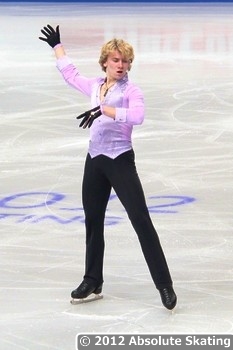 Guys of Mishin in the lead
When he was nine years old, Artur Gachinski moved from Moscow to St. Petersburg to train with Alexei Mishin, legendary coach of legendary Evgeni Plushenko. It was a wise decision; nine years later Gachinski has the chance to defeat his childhood idol.
After the men's short program in Sheffield, there are two pupils of Mishin in the lead. Gachinski is ahead of Plushenko by a really small margin: 0.09 points, although there were more differences in the programs of those two: Gachinski landed a quad toe-triple toe combination, while Plushenko only landed a triple Lutz- triple toe combination.
"I think this was my best ever skate so far. I did all the jumps, the spins and the footwork as I had planned. I basically expected such a performance as I was ready for the short program," Gachinski commented on his performance. The rising star of Russian skating added, that it is an honor for him to compete together with Evgeni Plushenko.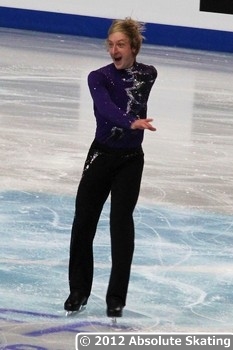 Parable about the hammer soup
Their coach, Alexei Mishin also grabbed the microphone on the press conference and actually spiced the atmosphere up: "Men's skating without a quad is like hammer soup. You can boil the hammer, add salt and pepper, but it's never tasty. If somebody likes to skate without a quad, they should organize a separate league called Men's single dancing."
Mishin was proud of both of his pupils: "All my coaching life I've had 2-3 high level skaters and this is the way it should be. I'm happy about Artur, but especially happy about Evgeni's skating. He came and showed that he's able to be a winner on one leg. No, the competition is not finished yet. Nobody knows what will happen tomorrow. But Evgeni showed that he's alive, strong, and dangerous."
Principles revised
Do you remember how Evgeni Plushenko kept saying winning without quads is not a real victory? Now the circumstances made the six-time European champion revise his principles and in Sheffield he did only a triple-triple combination.
"These Europeans are very tough for me, I have two injuries," Plushenko emphasized again. "The day before the short program I aggravated my knee injury and when I do the quad toe, I need three, four minutes to recover from the pain. Therefore we decided not to do the quad today. It was either doing a program without the quad or not competing, and I want to finish this competition. I know that it is hard to win without a quad. For me, it is about finishing this competition, having surgery and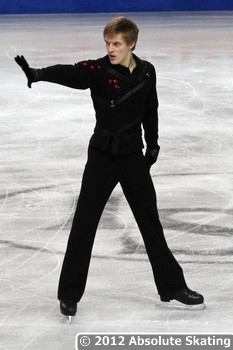 rehabilitate, and then making new programs. My motivation are the Olympic Games at home in Sochi. I am pleased with the performance considering the circumstances. A program without a quad was like a trip into the past. Doing a program without a quad is not my level, but I can't do it right now."
No matter what, he intends to finish the competition: "Once you've entered the fight you cannot back out. I'll withdraw only if I can't get out of bed."
Tomáš Verner is also skating with an aching knee, although he is not always talking about it. The Czech skater landed a not so clean quad toeloop, a nice triple Axel and a flawless triple Lutz-triple toe combination, and is currently in third place. He got 81.14 points and is also a medal contender. "I did enough for being in the last warm-up group, that was my goal," Tomáš said. "I've learnt in Canada that you can't win a competition with the short program, but you can lose it."
Joubert's self-irony, Van der Perren's bravery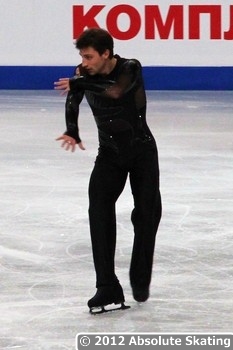 Brian Joubert of France bitterly realizes the words above are true. He fell on his quad toeloop, had a messy landing on his triple Axel, and with only 67.92 points is out of the medal contention. He ironically commented on his failure: "I am little bit lost. Today I messed up three jumps, in the free program I have eight that I can mess up."
Kevin van der Perren was considering withdrawal as he is suffering from an injury. His early morning practice went wrong, he finished it early, but in the afternoon he showed up for the short program. And he didn't do badly, and although he fell on the Lutz, his other jumps were okay. "It started about three weeks ago that my back started to hurt," Kevin told the press. "Both practices here went really bad because of the pain in my back. I didn't sleep the whole night. I tried to catch some sleep after practice, but it didn't work. I was already tired after the triple-triple combination, then I focused so much on the Axel and then I came too close to the boards when going into the Lutz. I lost focus. As this is definitely my last European Championship, I wanted to skate here. All my family and friends are in the audience."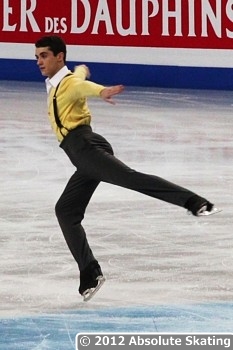 The pressure on Javi's shoulders
There were times when we found it awkward that Spain has skaters at the Europeans. There was only one Spanish flag at the competitions, cheering for Javi. Years went by and now the Motorpoint Arena was filled with the Spanish colors. Javier Fernandez has grown into a great competitor, with a real shot at a medal. After the short program he is fourth with 80.11 points, as he had some problems with his combination and triple Axel. "I felt a bit of pressure but I tried to push myself. I'm still learning how to deal with it. I practiced a lot for this event. I had a few problems, my hip and neck started to hurt so I had to stop for four days. Still, I believe I'm prepared and ready for the long program. I just came here to do my best," Javier stated.
Golden swan
They waited for it for such a long time. Tatiana Volosozhar and Maxim Trankov used to skate with different partners. Maxim won three European medals with Maria Mukhortova, Tatiana had never stood on the Europeans podium before. But in Sheffield their long wait ended; their free program to the Black Swan soundtrack was in a different league than the others.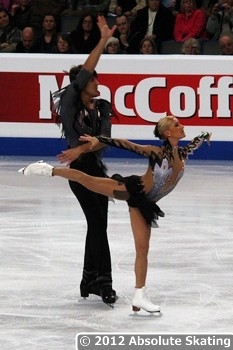 However, they were aware of their errors. "We made a few mistakes, quite a lot actually. This was our first complete run through of the free program following the Grand Prix Final. We are basically pleased with ourselves. Physically we pushed through quite well, but the elements were a little messy, we didn't finish some moves. Our main goal was to skate well and to receive a good score. We didn't chase after a seasons' best, we just went out to enjoy skating, to show the choreography of the program. But we had some problems with some elements. Tatiana is still recovering from an injury, which is hard on the body and on her as she constantly skates in pain, sometimes more, sometimes less," Trankov said.
A Caring Russian family
It was a Russian evening in Yorkshire on Thursday: Vera Bazarova and Yuri Larionov placed second, while Ksenia Stolbova and Fedor Klimov got the bronze medal. All three couples stood on the podium and held a huge Russian flag while listening to their national anthem. "We are very happy about the three medals. We are one team, one family," the newly crowned European champion said. He also talked about his vision of the future of pairs skating. "For me, it is more art, but now it has taken a technical direction. I don't think it is good in pairs skating to try a quad or a throw triple Axel; I don't want to kill my partner on the ice. I can take the responsibility for other elements, like the lifts, but not for such throw jumps. I care about my partner. So I think there should be more choreography in pairs skating, something like theater on ice. That's how we create our programs."