Europeans 2012 - day 6: Plushenko for the seventh, Carolina for the fourth time
January 29, 2012
By Titanilla Bőd
Photos © Absolute Skating
No matter how old he is, no matter how many injuries he has, Evgeni Plushenko can still deliver a perfect performance, when it's needed. That's why he became the European champion for the seventh time.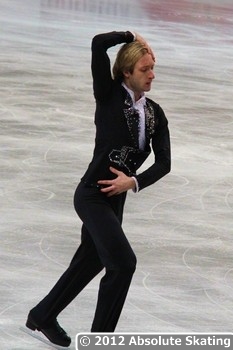 Making history
"People call me the king. It's an honor for me. I try to live up to it. Today I made a little figure skating history. Or maybe not just a little..."
That's what Evgeni Plushenko said during the press conference after men's free skating in Sheffield. He had just won his seventh European title and had all the rights to be proud of himself. He landed a quad toe loop, two triple Axels and four more triples, despite skating injured.
"I'm so happy with my performance because I did the whole program clean, I did the quad and combination, and I skated with big emotions. Like a real Plushenko! I'm sorry but I won't be able to go to Worlds. I will have to have surgery in Munich, Germany, on my left knee. But for sure I'm going to compete next year and of course in 2014 in the Olympic Games in Sochi. And we'll see, maybe in 2018, and 2022 maybe my son will compete," he said immediately after his free program.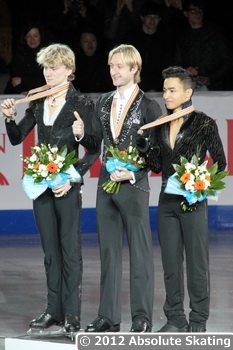 Thanks judges, thanks Cinquanta
The Russian star had to talk a lot on Saturday. As the champion he was interviewed in the kiss and cry. He thanked the audience for their support and he also thanked the judges. Plushenko's free skate was worth 176.52 points, according to the ISU statistics this is the third highest free skating score ever.
Plushenko's energetic performance to Tango de Roxanne also earned him a standing ovation. "What did I feel during my program? You could see for yourself," he said afterwards. Plushenko also didn't forget that he almost missed the Europeans; the ISU made an exception for him since he didn't have the minimum technical score from an international competition. "Thank you, Mr. Cinquanta that I could be here," Plushenko expressed his gratefulness to the head of the International Skating Union.
Gachinski sees the progress
Called "the small Plushenko", Artur Gachinski is the new hope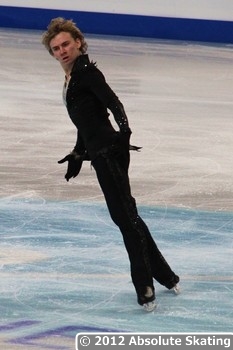 of Russian figure skating. A member of the new skating generation, who can't defeat his childhood idol yet, but definitely shows potential. Gachinski landed two quad toe loops and two triple Axels in his long program. Despite losing the gold, he wasn't disappointed: "This was my second Europeans and now I have a silver. I see the progress. I am very pleased with my skate. It all went according to plan. I did everything I wanted to and the free program went very well. After all I'm still young."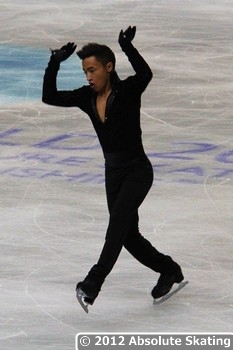 Florent Amodio of France is also young – but for now he is concentrating only on the next task ahead: Worlds in Nice. He came to Sheffield as the defending champion, but after a not perfect short program he was very happy to get on the podium. "There were a lot of difficult moments during my performance. I'm going to focus on Nice now. I am so excited. Last year I won the Europeans and it was magic, but this time to come back and fight my way back was amazing. At Worlds, it will be difficult; I can't afford to make an error on the quad like I did here. But I have two months left to prepare."
Potato medal
There is a special expression in Czech: "bramborová medaile", meaning potato medal, for the one who finishes just off the podium. Michal Brezina must be fed up with potatoes by now. He was fourth at the 2010 Europeans, he was fourth at the 2010 and 2011 Worlds, and now he was fourth again in Sheffield. "If I had landed at least one of my quads, I would have a medal now. But what can I do?" he commented on his placement. As for his performance, he was satisfied with it, although he fell on the quad toe loop and doubled the planned quad Salchow: "After missing the quad I just remembered what my coach always tells me: go step by step and concentrate on the jumps and moves ahead of you. After this competition I will get a week off and then go back to practicing to improve my jumps."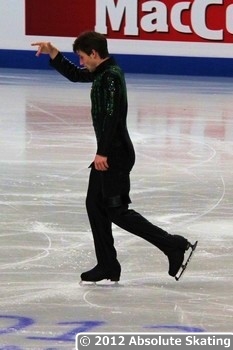 No medal for Joubert this time
Brian Joubert has won ten medals at ten straight European championships. This, his eleventh year he couldn't get on the podium. After a disappointing short program, however, he showed a decent free; skating to his trademark Matrix music he attempted two quads (one of which was flawless, while the other was downgraded). He also had some troubles with his costume. "The straps that hold the pant leg to the boot came undone, so for half of my program I was of course worried to skate in this costume. I felt a little silly to skate with a pulled up pant leg, but I had only one second to decide what to do and this seemed like the best option. I am really satisfied with how I skated. I just wanted to fight. There were some mistakes, but I am really proud of my performance. I was crazy enough to put in the second quad, but I wanted to try it. I had no combinations and I lost a lot of points, but overall this was good for me to get ready for Nice."
Kevin's painful farewell
He deserved a different farewell; a triumphant one with great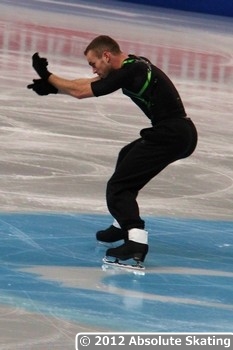 performances and personal satisfaction. Unfortunately, the last Europeans for Kevin van der Perren turned out completely different – the two time European bronze medalist had to withdraw due to injury.
"He fell on his wrist the other day. We didn't go to the hospital but we think it may be broken. In the triple Axel he needed it to make a lot of power. We tried to make it numb but then he couldn't feel anything. He decided just at the beginning of the free program to withdraw. This was to be his last competition so he is very sad that he could not compete. Now we are not sure about going to Worlds, probably not but we'll have to see," Kevin's coach Silvie de Rijcke stated. Kevin was first to skate in the third warm-up group, and showed his class even by letting his fellow competitors know what might happen. "He told me in the dressing room that there was a chance of him withdrawing, so I adjusted my warm up," Brian Joubert noted. "In fact, I prepared as if I was to skate first in the group. Kevin showed great sportsmanship for telling me and I want to thank him for that. Not everyone would have done that."
Head vs. legs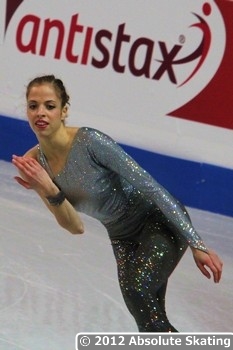 Skaters' legs often hurt. Skaters' legs often don't want to do what the skater wants from them. But skaters' head can usually convince the other parts of the body to fight – many times with the help of the audience. As it was in Sheffield during ladies' free skating.
After 2007, 2008 and 2010 Carolina Kostner became European Champion for the fourth time. In her long program she landed five triples: "I've done better programs but overall I'm pleased with my performance. I had an awesome feeling on the ice and just hearing the crowd cheer me on, it was amazing. I'm not perfectly content with all I did in this program, I think I could have done much better, but I felt my legs were telling me, 'Get it over with, the week was long, I don't want to do it anymore!' But my head didn't let my legs do what they wanted and I fought until the end. I completely blocked the pressure out of my mind. I am looking for good performances, especially just for myself because this is my 10th European Championship; I've won 3 times and in those 3 times I never had the chance to really enjoy it. That's what I did this whole week and I'm very pleased with how it turned out."
A precious victory
Carolina is used to winning – she has stood on the top of the podium many times, even at the European Championships. She still says this victory was somewhat special. "Since my last title in 2010 there was a period of time when I was down. It feels special to have come back. I'm thankful to myself that I kept the faith and to all the people who helped me believe in myself," Carolina said. Now there is time for celebration. "I'm glad it's over now. I'd love to dance tonight! But the skaters party has already started," she joked at the press conference. Next week she will also have an opportunity to celebrate: she will turn 25. However, she has no idea if she is still around at age 29 like Plushenko. "I admire him for his courage and determination. But I don't know what I will do at that age. This was already my tenth Europeans," Carolina stated.
Kiira and the rulebook
Kiira Korpi managed to keep her second place, although she was only fourth in the free skating. She made some mistakes on the ice, but the main mistake was made off-ice: Kiira had an invalid jump in her program. Her second triple loop did not count because she had already repeated two triples, toe loop and Salchow, and skaters are only allowed to repeat two triple jumps. "I actually did the program as it was planned," the Finnish silver medalist revealed. "So there was a mistake already in the planning. I must say that when I found out that my second triple loop didn't count, I got even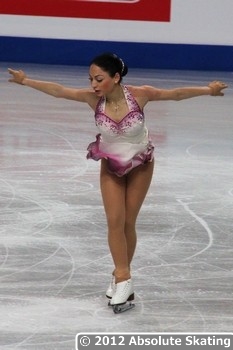 more nervous than I was before I skated! Luckily it didn't affect the overall result. Until the Worlds of course I have to change this and to be more careful about the rules."
Elene enjoying herself
This was the second European medal for Elene Gedevanishvili, but it wasn't the placement that mattered for the bearer of the Order of Honour from the president of Georgia: "When I ended my performance I was just happy that it was over and that I have been strong enough to hold my programs together. I worked really hard and it was good to know that it paid off. The most important thing for me is that after a long time I enjoyed skating again. I didn't care if I was in fourth or in tenth place. I just enjoyed skating."