Opera on Ice 2012
(September 22, Verona, Italy)
December 23, 2012
By Reut Golinsky
Photos © Stefano Guindani Photo, Reut Golinsky
What do you get by mixing three different forms of beauty: the beauty of classical music and human voice, beauty of the architecture and beauty of the movement? What might the combination of ancient stones, ice and a starry night result in? After receiving excellent feedback to their work a year ago, organizers of "Opera on Ice" in Verona decided to repeat this experience all over again.
The spectacular event, held at the Arena di Verona on September 22, showcased the world's best performers accompanied by over 200 singers and musicians of the Orchestra And Chorus Arena Di Verona, with Fabio Mastrangelo as conductor. On full display alongside the skaters we found the new talents of the opera world: sopranos Mirella Bunoaica and France Dariz, baritone Krum Gabalov, tenors Marco Frusoni and Alessandro Scotto Di Luzio and mezzo soprano Valeria Sepe.
This time the creators went even further with the whole concept of the opera. They not only put together different skating programs to the most famous opera arias, but turned opening and finale routines into actual opera scenes, with beautiful costumes created especially for this purpose. "It is actually very special," explains Stéphane Lambiel. "Usually we come [to the shows] with our own costumes and try to adapt them together. But this time it was really a concept, when everyone had to wear the real theatrical costume of some specific character."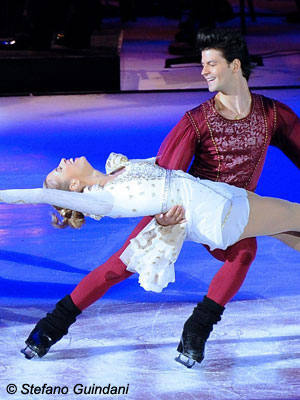 Some of the numbers were also preceded by small sketches in which other cast members took part as extras, helping to make a smooth introduction to the coming performance. For example, girls from "Hot Shivers" portrayed ladies enchanted by Evgeni Plushenko's Duke of Mantua from "Rigoletto". He blew kisses and threw red roses (while the last one - nice detail - was thrown to his wife, Yana, in the audience). Luca Lanotte, Robin Szolkowy and Stéphane Lambiel were gypsies showing off to the audience before Carolina Kostner's performance to "Coro di zingari" (Il trovatore). Almost the whole cast was involved as a crowd strolling in the streets of Siviglia for Anna Cappellini and Luca Lanotte's dance to "Cavatina di Figaro" (Il Barbiere di Siviglia). All those small details helped to glue the performances together and gave a nice impression of continuity, as if we actually were watching a "real" opera and not many disjointed programs.
A special touch in this year's production was added by the duet of two World champions, Carolina Kostner and Stéphane Lambiel, to "Je veux vivre" (Roméo et Juliette). "We choreographed it this summer with Salomé and Carolina," recalls Stéphane, "and we all contributed our ideas. Salomé has a taste, so out of all the things we proposed, she knew to choose what would suit and what wouldn't."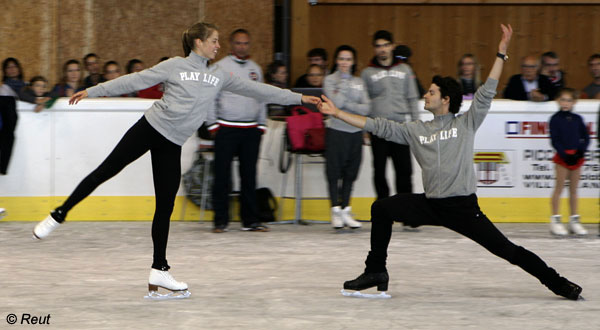 "It was the highlight of this year for me," adds Salomé Brunner, who also choreographed all the group numbers. "I enjoyed working on this very much. It wasn't my goal to create a new ice dance couple, I wanted them to be free to show their strong sides. They both have such wonderful qualities and such talent. And for me it was amazing to see how they always 'found' each other on the ice, to skate together. It's not easy at all, usually you have to skate your whole life together to be able to do something like that. For such a little time they had [to work on it] it was nice. And it was very emotional."
"I know Carolina since I'm fifteen, which makes it around the age of Romeo and Juliet themselves," continues Stéphane.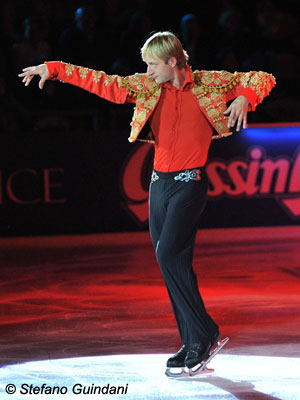 "And now, more than ten years later, we are able to perform together and to portray them! We are neither ice dancers nor pair skaters, but we just share the special connection we have between us with the crowd."
Other performances included passionate "Habanera" (Carmen) from Evgeni Plushenko; gentle and romantic program to "Interlude Act II" (Roméo et Juliette) from German multiple World champions Aljona Savchenko and Robin Szolkowy; elegant "Un bel dì vedremo" (Madama Butterfly) and "Nessun dorma" (Turandot) from Olympic champion Shizuka Arakawa. Anna Cappellini/Luca Lanotte and Stéphane Lambiel chose to skate to arias from "La Traviata": Anna and Luca - to "Amami Alfredo", while Stéphane showed an adaptation of his Olympic long program to "Libiamo ne' lieti calici" (also known as a "Drinking song"). A valuable addition to the cast was the Italian synchronized skating team "Hot Shivers", who skated to the tunes of "Nabucco".
Local kids also had the unique opportunity to perform alongside with famous skating stars. Among them were Alice Marchelli and Nikolaj Memola from Agorà Skating Team, Milan. Alice and Nikolaj have skated since four years old, last winter they were proposed to try to skate together and immediately won the competition they were entered to. It was their first time taking part in such a production, alongside such a high calibre of skaters. "They are excited, but not afraid," their parents said during the rehearsal. "It will be very interesting for them. And it's a dream for them to skate with Olympic and World medallists like Plushenko, Lambiel, Arakawa... It's a honour!"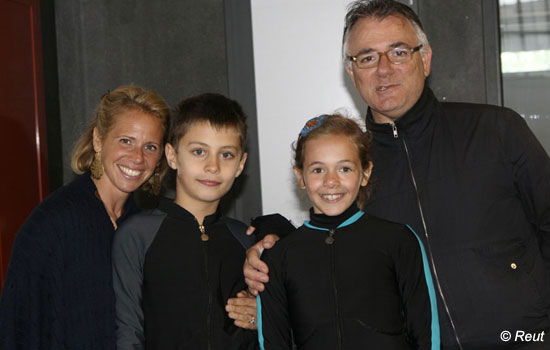 The situation with figure skating in Italy is not easy, Alice's mother and Nikolaj's father explained. Both families need to pay for everything and quite a lot of money. Another problem is the lack of support and understanding from the school's side: "Children have to be at school till half past four, so not much time is left for the practices. It's difficult to get teachers to understand that the sport could be important too."
Hopefully the amazing experience Alice and Nikolaj had in Verona and the inspiration they found from performance with their idols will help them to overcome all the obstacles they might meet during their skating careers.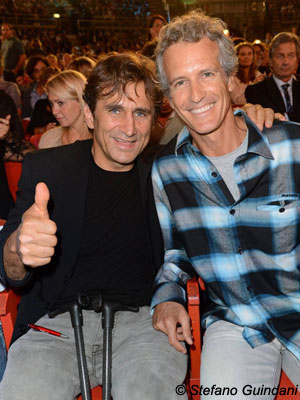 The event had impressive promotion in the way of media and posters advertising this show could be seen throughout the whole city. Many celebrity guests were invited, including Alessandro Benetton and Deborah Compagnoni with their 3 children, Alexandra of Hannover, Marina Berlusconi with her husband and children, the Ambassador of People's Republic of China to Italy Ding Wei and more. It was nice to see in the intermission that the most in demand for autographs was a fellow sportsman, former race car driver and now Paralympic champion in handbiking Alex Zanardi. During one of the chats the hosts had between the performances (and unfortunately they really love to talk on Italian TV), he was interviewed from his seat and was asked about his impressions. He joked that he was especially fascinated by Aljona Savchenko and Robin Szolkowy's lifts. Then he explained that in his sport there is a tradition when the winner lifts up his bike high in the air and he himself knows how hard that is, to lift your partner should be even harder.
Some of the cast memebers shared their thoughts on being part of such a spectacular evening.
Evgeni Plushenko: "It's been one of the most positive and extraordinary feelings I have ever felt! Such a rush of adrenaline, that I shared with an exceptional cast. This show proved that figure skating is not just a sport, it is a real art."
Carolina Kostner: "I would have never imagined the magic and atmosphere of the first year could ever happen again but the show was even more exciting and gripping, with lots of thrilled children around us, dream-like costumes and a fantastic public that in the finale embraced us all by lighting up the candles. I will always carry this image and this feeling in my heart."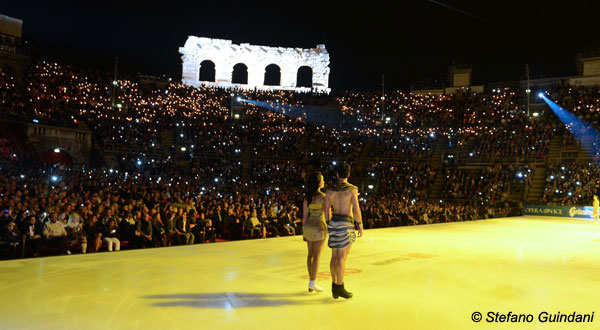 Stéphane Lambiel: "It's the most historical place I've ever skated in my life, it looks so special to have the ice inside the Arena. What I love is to be able to see the sky. When you skate and you see the sky it's so beautiful. I want to thank everybody for making this dream come true."
It was an unforgettable night and my only regret was that all this great effort was for only one performance.
The 2013 edition date is already set: worldwide skating stars will put on a show at the Arena di Verona on September 28. As of December 15, tickets are on sale on www.ticketone.it and the promotional offer will last till January 15, 2013.
Also "Opera on ice 2012", as a beautiful Christmas present for the whole family, will be broadcast on Canale 5, on Tuesday, December 25, at 5.10 pm.