'Skate Dance Dream' aims to inspire kids to think big this coming weekend
December 5, 2012
By Cate Meighan
Photo © Tina Tyan, Skate Dance Dream
Perhaps you've already heard of Skate Dance Dream or have had the opportunity to be a part of one of the handful of shows that they've already presented across the United States. Parker Pennington is the creative force at the helm of these unique exhibitions and they are intended to provide a creative outlet for kids that find themselves madly in love with either skating or dance.
'Skate Dance Dream' combines current skating stars, popular dancers from the hit show 'So You Think You Can Dance' and a troupe of young skaters that find themselves performing in front of a huge audience right beside some of their idols. It's a recipe for success and Parker's latest group of performers are set to hit the ice in Clinton, NY on Saturday December 8th at 7pm.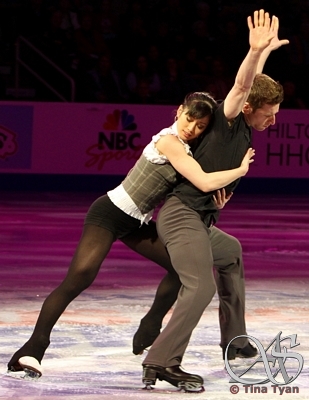 Cast members will include U.S. Ice dancers Lynn Kriengkrairut and Logan Giulietti-Schmitt and Ashleigh and Ryan Di Lello, whose ballroom skills have taken them from 'So You Think You Can Dance' to 'Dancing With the Stars'. Parker took some time out of his busy week of last minute show preparations to talk with Absolute Skating about the exciting weekend ahead!
Tell me about this weekend's show. It seems like blending skating with dance is a fabulous concept to present to the audience.
A little background on the show for you - a few years ago we came up with the idea of putting together skating with dance because the two are very similar. We brought in a couple of finalists from FOX'S 'So You Think You Can Dance' to a benefit show that we were doing called 'Skate for Life'. That was back in 2009 and it really laid the groundwork, seeing them dance on the stage while we skated on the ice really kind of set that stage for what would eventually become 'Skate Dance Dream'. They had local dancers that participated in that show and it was really like an introduction to the dance side of things. As soon as I saw it I thought we really had something there. I had goose bumps watching the dancers perform live and that show was really what got us going. It got my brain going in terms of thinking about future shows.
That first connection with skating and dance is where the idea for 'Skate Dance Dream' ultimately came from. This show that we're doing in Clinton, like all of our shows, will have a wide variety of dance styles as well as skating and it involves the young kids right on up to our stars. We tried to make the show as unique as possible and we try to make sure that there is at least one piece in each show that connects with every member of the audience. Beyond that we try to create energy throughout the arena. We like an intimate setting but it must be in a really positive atmosphere. We really center our shows on the kids and I think the audience feels that energy. From start to finish we blend dance with the skating and we try to keep people on the edge of their seats wondering what will happen next.
How receptive were the dancers to take on this kind of project?
Well it first started with people like Gev Manoukian who was already involved in skating before. He skated as a child and he was one of the ones that we brought in for Skate for Life. The merge of the two worlds there was clear to me because Gev would understand what I was trying to do. After connecting with those Skate for Life dance stars I was able to connect with others and explain the concept and vision to them. It's important to me that any stars that we choose will be wonderful with the kids. The show is about the kids, first and foremost, with our stars being there to guide them and teach them along the way. They serve in a real mentorship position and that's why we have seminars and meet-and-greets on a performance weekend. They have rehearsals with the stars just so that the kids can absorb as much information as possible over the course of the weekend. How they'll interact with the kids definitely plays in my mind when we are asking particular SYTYCD stars to be a part of our show. Our new cast members who are doing the show, Ashleigh and Ryan Di Lello have both been involved with skating to some extent. They've done some cruise ships where skating was involved and they're very interested in our world so they seemed like a perfect fit for this show. They are a ballroom couple which will blend perfectly with our show concept as well in Clinton.
What kind of audience is the 'Skate Dance Dream' shows geared towards?
It's geared towards the skaters and dancers, first and foremost. We want to have the younger demographic part of our shows and then obviously their friends and family will come to see our shows. Skating fans in general and then of course, people who love watching shows like 'So You Think You Can Dance' on TV. I feel like they all would just love to see what we're doing. You just have to think outside the box a little. People are so used to seeing star studded shows and this is a totally different concept that will offer something unique to every spectator. All of the people that attend our shows will get a lot of value out of what we're doing and most importantly, the atmosphere lends itself for people to be inspired. I feel that everyone who has attended our shows thus far has had really positive reviews and that has been really exciting for me on the production side. I want to make sure that people want to come back again to another of our shows.
How did you find yourself on the production side of things?
How I launched into production was initially through our 'Skate for Life' shows. I really started by chance. My dad was diagnosed with Muscular Dystrophy years back and I wanted to do something to make a difference for the community and figure skating is obviously the best platform for me to use. I knew that no one had ever done anything for muscular dystrophy involving a skating show and so at the time I thought, 'alright, I'll put together a skating show, how hard can it be?' I dove right into it, not having a clue. Being on the production side is totally different then actually just skating in a show. That first show that we did in Connecticut was a huge hit and I loved seeing how excited the kids were to have a part of it. I just loved that atmosphere so much that I brought the show to Ohio the next year. That's how I got started in the production world. I wouldn't say that the first show sold me on it but it was really the second show when we integrated the dancers into it that made me realize how incredible it was. I wanted to be able to continue to do something like that and so from that 'Skate Dance Dream' was really born. I realized that this could be something unique that could give thousands of kids an opportunity that they wouldn't normally get - to actually join the stars on the ice and to skate together with the people that they look up to. It gives kids the chance to see that there's a world of opportunity out there, you just have to step into it and take the chance to try something new.
What would you like the skating fans to know about your Clinton show that maybe we haven't already discussed?
The thing that will give readers the best insight about who we are is that at the very core, we just want to inspire the kids. Each and every show that we do gives them as many opportunities as possible to be around the stars and to just soak it all up and take it all in. The number one lesson that we try and have the stars deliver is that you can go after any dream that you want to. Dream big and have fun in the process, whether they have Olympic aspirations or they just do it for the fun of it, that's really our underlying message.
'Skate Dance Dream' tickets are still available for the 7pm show on December 8th in Clinton, NY. Check here for more info and how to purchase tickets.