Worlds 2012 - Day 3: Good day for Canada and Germany, bad day for Russia
March 29, 2012
By Titanilla Bőd
Photos © Absolute Skating
Preliminaries had their small victories and sports tragedies, but the real competition starts with the short programs. In pair's competition the reigning champions are in the lead, in ice dancing last year's gold medallists are currently in second place.
The law of gravity
It was heartbreaking to watch it: all the three Russian pairs had a mistake in their short program, and all the mistakes seemed really avoidable… Yuko Kavaguti/Alexander Smirnov fell during a lift. They weren't hurt, but their dreams of a medal were immediately gone.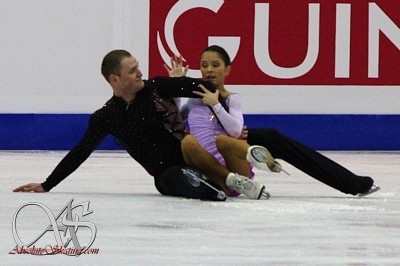 Vera Bazarova / Yuri Larionov fell right after their final pose. If looks could kill, Yuri probably wouldn't be alive right now, but in the end the judges decided that the fall didn't happen during the program, so there was no deduction for Yuri and Vera. That's why they are the highest ranked Russian pair after the short program; with 65.02 points they are in 4th place.
European champions Tatiana Volosozhar/Maxim Trankov had big plans for these Worlds – they came to Nice to fight for a medal. One could see the determination in their eyes when they took the ice. However, they weren't flawless either. There was a little wobble on the throw triple flip, but then disaster struck: Maxim's skate slipped during the death spiral. The slow motion on the screen was especially scary: it seemed that Maxim's skate just missed Tatiana's head. Fortunately, there was no blood, but there were definitely lots of sweat and probably some tears as well. Tatiana and Maxim are ranked only 8th after the short, and with 60.48 points they might have to wait another year to fulfil their dream about the gold.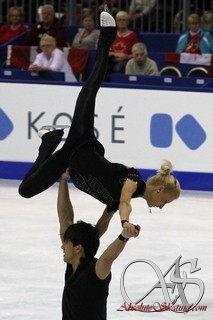 A throw triple Axel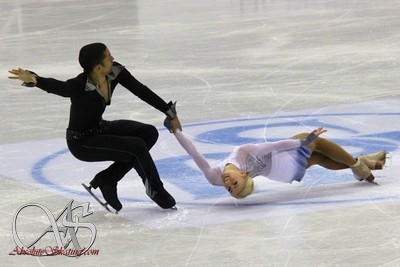 Aljona Savchenko / Robin Szolkowy are well on their way to their fourth world title. The German pair started their short program to the Angels and Demons soundtrack with a throw triples Axel. Although it was two-footed, even with the negative GOE it was worth 6.64 points. Aljona and Robin got 68.63 points for their short program, and they are more than a point and a half ahead of Qing Pang/ Jian Tong of China.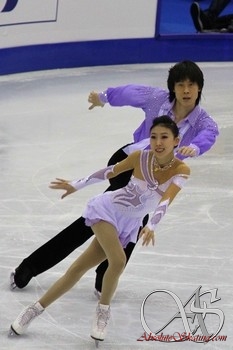 "We are just so happy to be back on the ice after my injury, it's been quite some time," Aljona said. The couple missed the European Championship because of her injury. "The program went ok, it wasn't perfect, but it was good for our first competition since the Grand Prix Final," she added.
Pang/Tong have had an even longer competitive break. "After not competing internationally all year we were quite nervous. But I think it will get better and better. The pairs from Germany and Russia are very strong and we have to show our very best in the free skating," Pang admitted. They earned 67.10 points and beat their German rivals in the component score.
Narumi Takahashi/Mervin Tran from Japan already have a bronze medal from a World Championship, although it was a junior competition. Now they are in third place in Nice. "We challenged everything that we were supposed to do. We gave a clean performance at the most important time. Usually we have mistakes, especially in the side by side jumps, but we succeeded this time," Narumi commented on their performance.
What the skaters feel, what the judges feel
There are only 3.18 points difference between the first and the third ranked ice dancing couple after the short dance. Tessa Virtue/Scott Moir of Canada are in the lead, ahead of their training mates Meryl Davis/Charlie White of the USA, and home stars Nathalie Pechalat / Fabian Bourzat.
Ice dancing has been a North American issue, but now it seems that Europe can also stir things up. Nathalie Pechalat is skating with a broken nose, but she says this is the last thing she thinks about. "We never came as close to the top two as now. This gives us hope for the free dance. Usually we were like ten points behind and no matter how well we skated in the free dance we were unable to catch up," she commented on their current situation.
The French got 69.13 points, while Tessa and Scott earned 72.31. Meryl and Charlie are second with 70.98 points. "We are happy with our score and now we are just excited about the free dance, this is our program. We don't really know what the points we got mean, but we had a good skate and a strong connection on the ice," Scott said about their performance.
Sometimes the feelings of the ju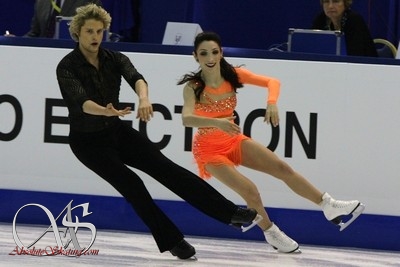 dges and the skaters can differ, as Charlie White experienced. "It felt fantastic out there; the best short dance we've skated all season. But we got three level threes, which was disheartening, simply because we felt we nailed our edges and everything. We're a little sad about our levels, but we thought the performance felt amazing," he told the press.
The drama continues on Thursday evening with the free dance.