Worlds 2012 - Day 4: Tessa and Scott danced to the top
March 30, 2012
By Titanilla Bőd
Photos © Absolute Skating
Ice dancers Tessa Virtue/ Scott Moir won their second gold medal at the World Championships. In ladies competition, Alena Leonova is in the lead.
A pirate searching for gold
What do pirates do? Fight, steal, enjoy life and search for gold! That's exactly what Alena Leonova of Russia did in ladies short program – she fought hard, stole the show, enjoyed her time out there on the ice and now has a real shot at the gold medal. Skating to Pirates of the Caribbean she earned 64.61 points and is currently in first position. She landed a triple toe-triple toe combination, a triple flip and a double Axel. "I showed my maximum today. I think it was my best performance of the short program, the cleanest one, not a single mistake, so I am very happy. I am very glad to be here," she said. Nice is a lucky location for her, she regularly takes part in the Coupe de Nice. "I love this city; you can say it is lucky for me. I am competing here for the sixth time already, and I never left Nice without a medal," she added.
Kanuko Murakami of Japan has to love Nice as well. In the short program she delivered a flawless performance, with a triple toe-triple toe combination, a triple flip and a double Axel. "As my practice didn't go well this week, especially the double Axel, I was very nervous and worried. However, I skated clean, so I am really, really happy. I'm most of all pleased with my clean performance," the 2010 junior world champion commented on her performance.
Reigning European champion and winner of the Grand Prix Final Carolina Kostner is third. She landed a triple toe-triple toe combination, but she doubled the loop. She looked disappointed at the end of her short program. "It could've been better. I made a mistake, so I am a bit angry, but the rest was good. The goal for the free program is to simply stay concentrated and fight. In the end, all I can do is fight and then it's up to the judges to decide," Carolina said.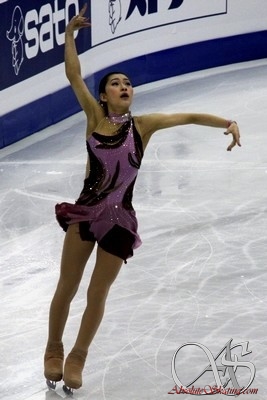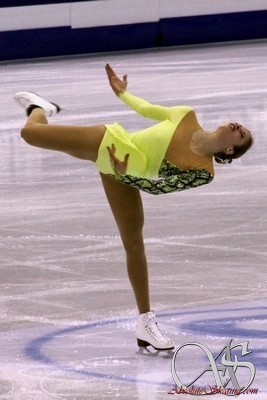 When the jumps aren't there
2010 world champion Mao Asada attempted her trademark triple Axel in the short program, but fell and that's why she is only in fourth place. "I was a little worried about the triple Axel because I haven't done it well once since I got to Nice, in practice or in the warm up. I am really disappointed about my performance. I felt a lot of support from the audience and I wanted to do my best and live up to their expectations," a disappointed Mao told the press.
Alissa Czisny of the USA had an even more disastrous short program. She fell on the triple Lutz and on the triple loop, and her double Axel had a wobbly landing. Alissa herself didn't know the reasons: "I don't really know what happened. The jumps weren't there. I want to thank the audience for being great even though I wasn't my best today."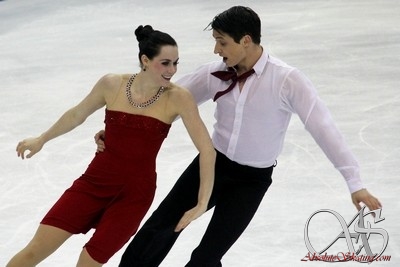 A perfect ending
Save the best for last – that's what Tessa Virtue / Scott Moir did. They were the last ones out in the free dance, they won the competition and their second world title was a perfect ending of their season. "It wasn't a magical skate; we kind of had to fight through the elements and really rely on our training. The sweetest part of the season was the ability to train to all our potential. That was our big reward this year: enjoying the training and we did," Scott said, referring to the injuries which prevented the couple to train as much as they wished in the previous season.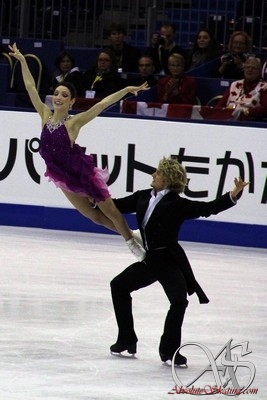 In their free dance to Funny Face they had some minor mistakes, but they still won by a relatively big margin. The Canadians earned 110.34 points, while their training mates and main competitors Meryl Davis / Charlie White got 107.64 points for their free dance. It was approximately five points less than their season best, so the American couple was a bit disappointed. "We felt we skated our season best performance and we wanted our season best scores at Worlds. But we skated our hearts out and left it all on the ice today," Charlie told the press.
Used to rough times
Skating in front of your home crowd means pressure. Skating in front of your home crowd which expects a medal means even bigger pressure. Add a broken nose to this and the pressure becomes immense. But Nathalie Pechalat / Fabian Bourzat are used to rough times. "It wasn't easy after Fabian broke my nose," Nathalie explained at the press conference after they won their first world medal – a bronze. Fabian was showing his muscles with a smile, leaving no doubts that he really has the physical strength to break a nose. "We were seeing doctors, discussing whether I needed surgery or not. The first practices were hard; we couldn't do any acrobatic elements, spins or lifts. But we have gone through a lot, difficulties are an upbeat for us," Nathalie said and Fabian added: "We have had many injuries but only withdrawn once, when she broke her hand and we couldn't grab each other. I know that Nathalie is strong, and if I can help, if I don't hurt her pretty face, I'm there to support her."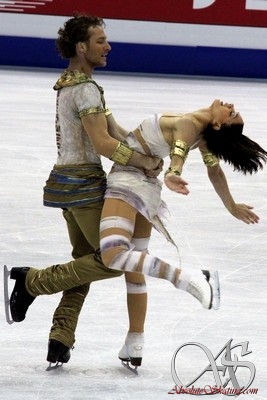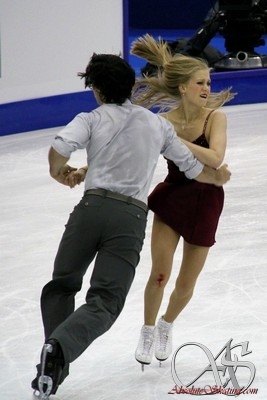 Coach moved to tears
If it were up to the French audience, they would also award a medal to the Canadian couple Kaitlyn Weaver / Andrew Poje, who finished 4th. They skated to the famous French song Je suis malade with so much emotion that their coach Anjelika Krylova was moved to tears. "It was just amazing, exactly what we wanted to show, both with the emotions and the technique. It was actually our biggest fear to screw up in front of the French audience, but it was great," Kaitlyn said.