Worlds 2012 - Day 6: Time for Patrick and Carolina
April 1, 2012
By Titanilla Bőd
Photos © Absolute Skating
Men's free skating at the World Championships in Nice offered so many emotions and memorable programs. Patrick Chan defended his title, but Daisuke Takahashi, Yuzuru Hanyu, Brian Joubert and Kevin van der Perren all received standing ovations. The Ladies didn't want to stay behind, so in the evening ladies free skating also had its amazing moments.
The way to end a career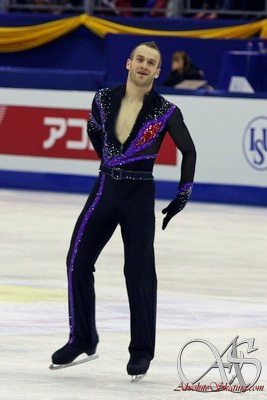 A standing ovation. That's what Kevin van der Perren received after the very last program of his long career. He was in Nice already in 2000 ("this makes me feel very old," he noted). That time he didn't make it to the short program from the qualification. Twelve years later he delivered a perfect performance in the long program, made the crowd and himself ecstatic and ended his career on a high note.
Placement or scores are not important in this case. The important thing is the satisfaction and the euphoria a skater feels if he does his very best. Skating to legendary music, the Man in the Iron Mask soundtrack, Kevin fought from the very beginning till the very end. He landed a quad toeloop. A triple Axel. A triple Lutz. A triple flip. A triple Salchow- triple toeloop- triple toeloop combination. A triple flip, double Axel sequence. A triple loop- double toeloop combination, and a double Axel. And when the music stopped, the crowd rose to its feet to applaud this unforgettable performance.
That's the way to end a career.
Joubert reloaded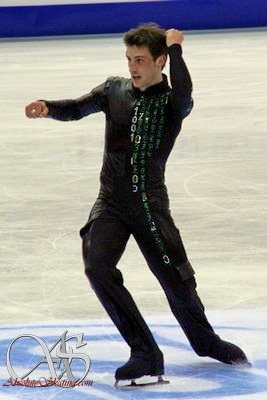 How many people had already written off Brian Joubert? "Surprisingly fourth" – said a headline in a French newspaper, referring to the six-time world medalist, while in another paper there was a photo of Florent falling, to illustrate the article about the short program, although Brian had a flawless performance.
But the attitude of the press is not a thing a skater can change or should be nervous about. Brian managed to focus on his own job, and proved once again, in the free program, what he is made of. Skating his well-known Matrix program, which often helped him in difficult situations, he landed a quad and eight triples. He jumped for joy and kissed the ice when he finished – thanks to his performance he ended 4th; the best European in the field. "I am very happy with this free skate. It was such a difficult competition, this is just amazing. This season, after ten years of competitive skating, I felt I started from scratch again. I had a bad back injury at the beginning of the season, which made me skip the Grand Prix series. But I always believed in myself and now I showed that I still can hold it together. You have to go step by step to achieve such a good performance. It's great that it happened at the end of the season, and I want to thank all the people who supported me all through this season," Joubert said.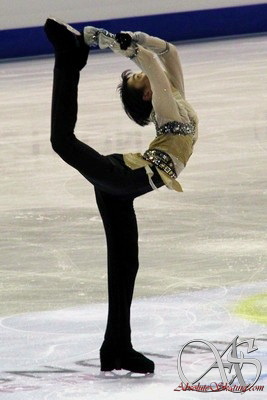 Emotional Hanyu
Skating to the Romeo and Juliet soundtrack, Yuzuru Hanyu made the crowd ecstatic and emotional. The young Japanese skater, competing at his first World Championship, ranked 2nd in the free skating, and got to climb up on the podium to receive the bronze medal. Hanyu's home and ice rink were affected by last year's earthquake, so it was the toughest season for the 17-year-old competitor. "My emotions are with the people in Japan who are still recovering from the disaster. They gave me lots of motivation and energy." Hanyu had the highest technical mark for his long program (91.99 points), and together with Daisuke Takahashi he made history: it was the first time two Japanese men shared the podium at a World Championship.
Dai proud of the quad
Daisuke Takahashi came in 2nd after a great free skate to Blues for Klook. "I'm very happy because this is the best performance of this season and especially because I was able to do a clean quad toe. It happened for the first time since my surgery. Since there was one downgraded jump, I can't say it is perfect, but it is pretty close to a perfect program. During my performance, I could feel that the audience were so excited and gave me lots of energy. I was able to use their support to push me to a higher level, and I could enjoy skating all the way through my program," Daisuke commented on his performance.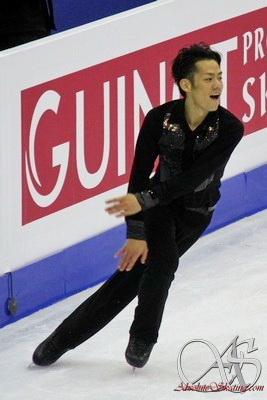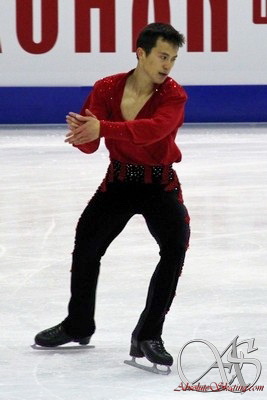 At least one freaky mistake
"I don't know what happened on the double Axel. It isn't me if I don't make a freaky mistake," Patrick Chan said with a big smile just after he defended his world title. Although he fell on the double Axel and had some troubles with a spin, his score was more than enough to secure his second title. He is the first men's skater to defend his title since Stéphane Lambiel who won in 2005 and 2006. "When I drew the last number yesterday after the short program, I was a bit disappointed. Last year I was first out and it's good to get it over with. But I took it easy, took one thing at the time, laid down to rest, put my skates back on. That's why there was such a strong opening. Being the last skater in the group, I was happy that I was finally able to go out there, feeling ready to go, ready to do the quad," Patrick said. In his free skating he landed two quad toes (one in combination) and six triples, and he got the highest mark for the program components: 90.14 points.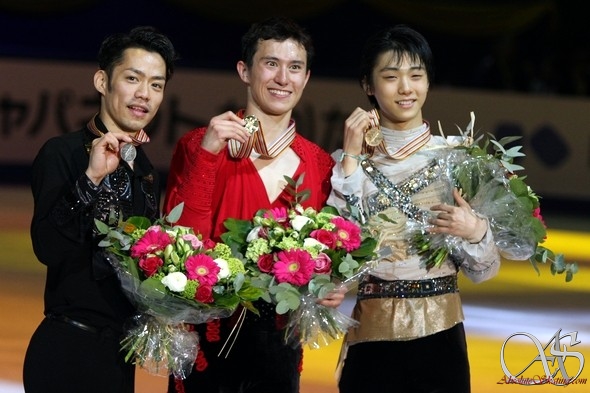 Tenth time, first place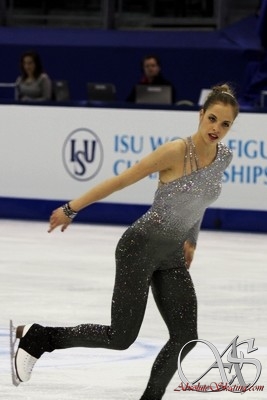 Carolina Kostner has been waiting for this moment for a long time. She competed at her tenth World Championships. She already won a silver (back in 2008), two bronzes (2005 and 2011), but she never managed to grab the gold. Until now. Skating to Mozart she delivered the best free skating of the evening, which included four different triples and a triple Salchow-double toeloop-double toeloop combination. "I knew I had skated some really good programs in practice, but it was so overwhelming to go out there and have so many people cheering, it was hard for me to stay focused. It reminded me of Torino 2006, when I was young and I felt a lot of pressure. Now I realized I can change this experience to something better," she said. "It is my tenth season at senior level, and in each season I've learned something. Today was my day and my competition. I would have been happy with second place, but I thought 'keep on dreaming to the end'."
Carolina revealed that she skipped the Friday practices because of minor leg problems: "When my coach said I was not going to skate all day, I was very surprised and a bit afraid that I might get nervous. But luckily my friends took good care of me; we went to Monaco and had a great day off."
Leonova didn't want to be a loser
Alena Leonova, on the other hand, spent all day Friday in the arena. "I watched the competitions and supported our Russian guys. I tried to relax, but of course it was very hard, because the boys skated so well - Florent, Sergei and Brian - so I didn't want to be a loser." She managed to live up to her own expectations, and with a decent free skate she got the silver medal. "I did my best these two days. There was one small mistake on my Lutz, but I'm glad that I could pull myself together. I had a really bad warm up, made single jumps, so about three minutes before my skate I started to think about the performance, so I could concentrate on it. During the warm up I was nervous, but then, before the music played, I was absolutely calm," she commented on her sensations during the competition.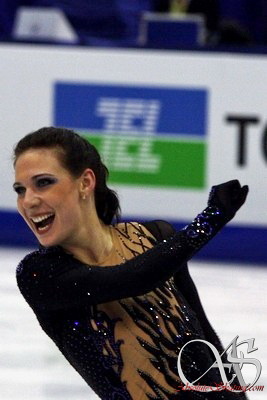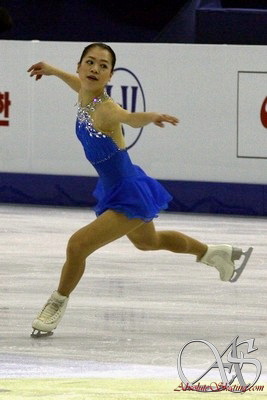 Thankful Akiko
Akiko Suzuki also won her first world medal. Skating to Strauss' Die Fledermaus she had only small mistakes in her free skating. "I have a few regrets because there were errors. But I trusted myself and my training and my coach. That's why I accomplished this result. The first person to share my happiness was my coach Mr. Nagakubo. After the medal ceremony I just wanted to put my medal around his neck."