Youth Olympic Games 2012
Part II: Figure skating at the Youth Olympic Games 2012
February 11, 2012
By Reut Golinsky
Photos © Youth Information System (YIS), Reut Golinsky
Like at any other Olympic Game, there was no individual athlete qualification, but countries which got the berths. The majority of the country qualifications occurred at the 2011 World Junior Figure Skating Championships. The remaining spots were filled at the ISU Junior Grand Prix events between August and December 2011. Austria, being the host country, was automatically qualified.
Eligibility rules of these Games had rather narrow margins: participating athletes must be born between January 1, 1996 and December 31, 1997, with the exception for male skaters in pairs and ice dance, who could be born between January 1, 1994 and December 31, 1997. Still, this left out a big portion of the strong junior skaters and the overall level of the competition was lower than in other major junior competitions. But it offered opportunities for other skaters to show what they are capable of, and for media and fans to discover new faces. No doubt that an important experience like the one young Olympians got in Innsbruck will help them in their careers. And hopefully we will hear more about some of them next season.
Pairs
The competition in pairs was pretty limited; only five pairs were fighting for the medals of these first Youth Winter Games.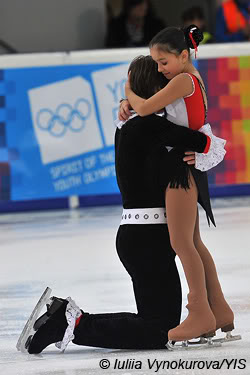 Chinese Xiaoyu Yu/Yang Jin, who finished second at the Junior Grand Prix in Innsbruck a few months earlier, and fifth at the Junior Grand Prix Final, had incomparably more experience than their rivals. It was no surprise they were in the lead after both programs; they earned 51.79 points in the short and 102.03 in the free. Their technical content, including a triple twist, a triple loop and a Salchow throw, was pretty impressive. But I found their music choice - "Nutcracker" and "Requiem for a Dream" - a bit conservative. The pair told to press that they look up to great Chinese pair skaters, and admitted that they still have a long way to go. Their main goal at the Games was to learn and study from the experience.
Lina Fedorova/Maxim Miroshkin of Russia, fifth at the 2011 Junior Grand Prix event in Innsbruck, and winners (in juniors) of the NRW Trophy and Ice Challenge, finished second in both segments, but were way behind the Chinese in the free. They were unsuccessful in their jumps - both with the double Axel and with the combination of flip and toe loop. "To tell you the truth we didn't really have a chance to reach the Chinese pair even with a clean skate. So this silver medal is well deserved. In general we gained a lot of experience in this competition", said Maxim. Their routine was very entertaining; tiny Lina apparently was an animal trainer and Maxim was... her dog!
Anastasia Dolidze/Vadim Ivanov, also from Russia, got bronze with 112.72 points. Considering the fact that they have existed as a pair only half a year, and this was their first serious international competition (they have silver from the NRW Trophy), this result was very good. In their free program to Mussorgski's "Night on Bald Mountain" they portrayed demons. Overall they were both satisfied with their performance, but agreed they need to add more complex content to their programs, which they already perform at practices; their twist and throws were only doubles.
Medalists during the victory ceremony for pairs
Men
Two-time Junior Grand Prix Final silver medalist (2010, 2011) Han Yan from China was the main favorite in men's competition, and the most decorated of all the participants. His short program didn't go as he expected; he popped his Axel into a single and then he stepped out of his triple flip not being able to add the second jump to the combination. His second mark though was rightly very high. Stéphane Lambiel was very impressed by Yan's performance: "Skating is not only about the jumps and when you watch him skating, you understand why he is up there and that the next skater will fight only for the silver. He is better in everything: he has more speed, he has better skating skills and he has a great program."
Han Yan's score, 59.65, was still good enough to place him first, but you could see how disappointed the 15-year-old was after his skate. "The overall performance was good but he had two mistakes in jumps, that's why he is not satisfied", explained Yan's coach. "Also, just a few days ago he competed at Nationals (where he finished second -ed.), and he still feels a bit tired".
Michael Christian Martinez was thrilled to be third after the short program with 54.35 points. He had the second highest component score of the evening after Han Yan. His plasticity and flexibility, especially his beautifully performed Biellmann spin, stood out for me. Martinez is the first figure skater to represent the Philippines at an Olympic event, and he credits his mother for pushing him hard to achieve his goals. He was even asked by one of the journalists in the mixed-zone: "So, do you think your Mum is happy now?"
I should also mention John-Olof Hallman of Sweden, who skated, or to be more precise, tried to skate, one of my favorite programs: Lambiel's "La Traviata". I mean literally, he took the music from that program, some moves and... even the costume! In the mixed-zone he admitted he is a huge fan of Stéphane Lambiel, that he "fell in love with the music from that program" and decided that it would suit him well. What about the costume? It was his designer's idea because the design was so good and "it was simply the best fit for the music". He added in excitement that he had had the opportunity to meet Stéphane the previous day in the congress center. Though he is still very young and this might be seen as a complimentary homage to the skater we both, John-Olof and I, appreciate, I do think it was a bit too much of a copy. If you want to achieve something, you need to find your own way and your own personality.
On Monday evening before the free program, first place could have been easily predicted, but the rest was very open: 7th up to 2nd place were all within a four point margin.
A quad and a triple Axel were announced in Han Yan's planned content, but he didn't go for either of them. Despite an edge call on the flip in the triple flip - triple toe loop combination, a singled loop in a very simple combination of three doubles, and a fall on his second Lutz, he still got the highest technical mark of the segment, 132.80 points for the free and 192.45 points total, which put him head and shoulders above the rest of the competitors.
Feodosi Efremenkov, in second place after the short program, was desperate to succeed with his triple Axel. He tried it twice, one after another, and fell both times. Three triples and two combinations placed in the second half of the program provided him with extra points, but summed with an average component score, it only resulted in fifth place in the free. That still put him on the podium, not in the second spot as he'd hoped, but in the third.
The silver medal went to Shoma Uno, who was sixth after the short program but showed a beautiful performance to "Tzigane" which earned him 115.63 points. News about the silver reached this young Japanese skater when he was talking to journalists in the mixed-zone. He looked very excited, but not surprised; he expected such result. "It was my goal, I was hoping for the medal", he said.
Even after yesterday's 6th place, you still thought you had a chance?
Yes, because I had over 50 points after the short program (Umo had 51.52 points after his short while the leader, Han Yan, had 59.65 - ed.), and I didn't fall and didn't make any big mistakes, I was sure I could make it.
But when you took the ice, were you thinking about that possibility? Did you think about the placement before the start of your program?
I didn't have a specific strategy when I went on the ice before my performance, but I thought that I wanted to do my best in the things I had practiced for such a long time.
You were watching the skaters who competed before you. Is this something you usually do?
Yes, I was there because I wanted to see Han Yan perform, but I usually only watch one performance before mine.
Something else that other skaters usually don't do: you took a bow to the audience first, and then to the judges.
Yes, I did it that way because the audience was giving me such great applause; I thought I had to bow to them first.
I saw you during a few of the cultural program activities. What do you think about this part of the Games?
Generally I like it very much because it is a way to relax during the competition, and also it was a lot of fun. And I hope that I will be able to participate in many more activities there.
Learning the YOG dance
With team mates Risa Shoji and Shu Nakamura at "Meet the role model" Q&A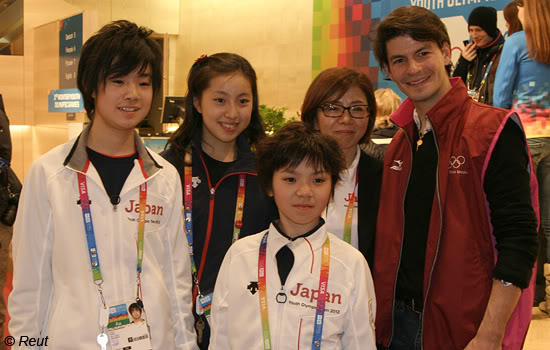 Japanese skaters with Stéphane Lambiel after "Meet the role model"
Uno named Daisuke Takahashi as his all-time favorite skater, but he realistically admitted that he doesn't think he has a chance to compete with his idol in Sochi. Well, maybe not Sochi, with such fierce competition in men it will probably be hard for him to make the Japanese team in two years. But in six years? Pyeongchang, watch out! And don't let his small height and cute looks fool you; in Innsbruck Shoma Uno proved what a serious competitor he can be.
Ice dance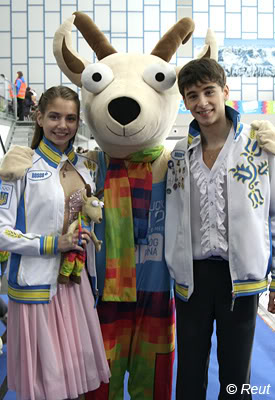 Russian 2011 Junior Grand Prix Final silver medalists Anna Yanovskaia/Sergei Mozgov had a great chance to become the first Youth Olympic champions and they didn't miss it. They won the short dance with 60.19 points, and after their passionate Flamenco performance to "Mala Luna" it was clear that there would be another gold medal for the Russian Olympic team. All their elements got positive GOE and almost all of them were level four, except steps sequences which earned level three. Not bad for this team who skates together only since last spring.
The silver medal went to Ukraine, and it was the first medal for the Ukrainian team at these Olympics, making Alexandra Nazarova and Maxim Nikitin close to national heroes. They showed gentle and fluid skating to "Lakrimoza" by Evanescence, but their technical content was less complicated; steps and one of the lifts were performed only at level two. "We didn't count on medals, we just wanted to show our best and represent Ukraine properly", they said. "The fact that the podium might be a possibility crossed our minds only when we were sitting in the kiss-and-cry after our short dance, and we realized we were second". Alexandra and Maxim name Olympic champions Tessa Virtue and Scott Moir as their idols, they "admire their technical abilities and interpretation of dance". In fact it could be seen in their free dance even before they said it, as they used one of Canadians' signature lifts. Another homage from devoted fans?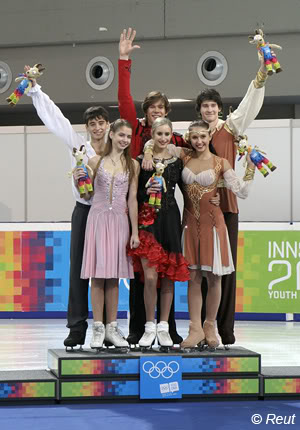 Russian ice dance couple, Maria Simonova/Dmitri Dragun, claimed the bronze skating to "King of the Mountain" by Grieg. With one of the step sequences at level one, a few other elements at level two, they got the third highest technical marks and were third overall. "Today we were the last to skate. It was exciting, but we also felt a huge responsibility; we are at the Olympic Games! Of course it wasn't easy, but then nobody said it would be. It was a valuable experience which will help us to progress in our career", they said. Unlike most leading Russian skaters they haven't moved to Moscow or St. Petersburg, but still train in Tolyatti with their coach Oleg Sudakov, who was the first coach of Olympic bronze medalist and World champion Maxim Shabalin.
The US team at this competition was smaller than it could have been. This happened because of the overlap with the US Nationals and the strict rules of the Games; according to which athletes had to stay in Innsbruck during the whole period of the Games. But American ice dancers Rachel and Michael Parsons, who finished fourth, said it didn't bother them that the US team was smaller than usual. Michael agreed that it added responsibility but also offered the possibility to be more visible. "We're a smaller team; we got to know our teammates a bit better. I feel like we really are closer than we would have been if we were a really big team", added Rachel. And they didn't feel any lack of support from the audience as their friends from other sports came to cheer them on.
It was indeed nice to spot bunches of colorful uniforms from different countries supporting their skating friends, something you'd see less of during figure skating competitions, where the teams are relatively small.
Russian hockey players came to support their skaters
Legendary pole vaulter Sergey Bubka watches ladies' competition with the Ukrainian team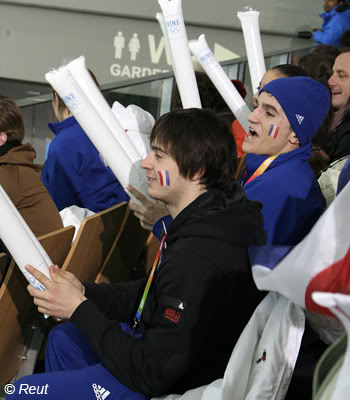 The French team cheering during ladies' free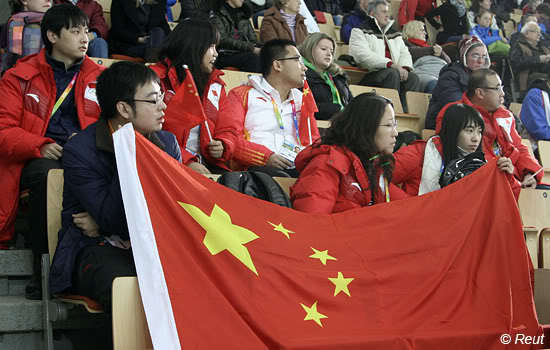 Han Yan's supporters
Tina Stuerzinger of Switzerland had someone special to cheer for her too.
In the mixed-zone with Stéphane Lambiel
Ladies
The Ladies' competition was definitely the highlight and hosted the biggest intrigue. Two rising Russian stars and hopefuls for the Sochi Games came to Innsbruck for their first international "duel" of the season. Elizaveta (Liza) Tuktamisheva excelled in the Grand Prix series, claiming gold in both her events, while Adelina Sotnikova, who had to settle for two bronze medals (at Rostelecom Cup of Russia and Cup of China), won her third National title, where Liza was only sixth.
Tuktamisheva was first out to skate in the last group on the evening of the free program. She opened with an amazing triple Lutz-triple toe loop combination, but fell on her flip and singled the Axel in her next combination with triple toe loop. Her performance wasn't perfect and she had to wait until the very end to see if her result (111.27) was good enough for the gold. She admitted in the mixed-zone afterwards that waiting wasn't easy at all. But she still preferred to watch the rest of the competition at the arena.
Liza Tuktamisheva watching the competition after her performance
The 2010 Junior Grand Prix Final bronze medalist, Li Zijun of China, charmed me with her grace and elegance. Yet her routine wasn't as light and breezy as it appeared, she had the highest technical score of the evening. She performed six 6 triples and received level four for all her spins.
She finished second in the free program with 106.78 points and earned a total of 157.70 points.
Another young skater I want to mention is Anaïs Ventard of France. Her technical arsenal was still not very impressive (only two different triples - toe loop and Salchow), but her originality in both programs drew my attention. More triples and difficult combinations will hopefully come, but she already has the bright personality for sure. Anais finished fifth with 136.08 points overall.
Sotnikova skated last, and with only a small gap after the short and not so perfect skate from Tuktamysheva, she had a good chance to become the first Youth Olympic champion in history. This probably added pressure and influenced her performance in a not so good way. The loop in her trademark triple Lutz - triple loop combination was under-rotated, the double toe loop in the next combination with an Axel was two footed, and she then singled two jumps - flip and loop. She was seven points behind Li Zijun and only thanks to her good performance two days earlier was she still able to get silver. "I had to 'switch off', to skate just for myself and enjoy it, but I wasn't able to do this", she said disappointedly after her performance which she called "the worst skate of her life".
It was sad to see this child so heartbroken in the kiss-and-cry, but fifteen minutes later she was already joyfully smiling when her rival and friend invited her to join in a photo with the Olympic mascot.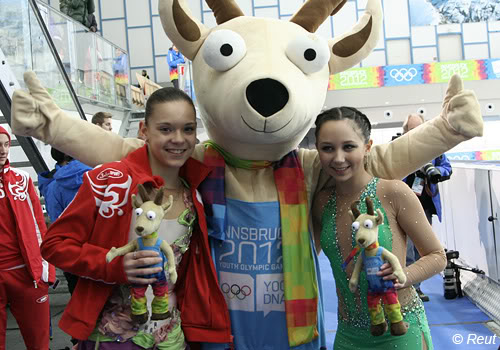 Liza Tuktamisheva (gold) and Adelina Sotnikova (silver) with Yoggl
After the Mascot ceremony Adelina found time for a little talk:
Adelina, you changed the layout of your jumps a bit and now had a triple toe-triple toe combination in your short.
Yes, because in juniors the rules are a bit different. In seniors you can do whatever you want but in juniors Lutz is a mandatory jump in the short program. I didn't want to put the Lutz in my combination, because it's more risky. If you fail it you lose too many points.
Talking about Lutz; here and in a few other competitions you've gotten edge calls on it.
Yes, we are aware of that. I do indeed have some problems, but we are working on it and I hope my Lutz will be better by the next competition.
Which would you call the main competition for you this season?
For me all the competitions are equally important, both this one and the senior Grand Prix events, everything!
You didn't do the run through of your free program at practice.
I didn't, I felt that I didn't need it, that everything would be fine. Apparently that feeling was wrong. (smiles ironically)
You were the last to skate in the last figure skating competition of these Games.
Actually, I really love to skate last. Last season I very often skated last and finished first in those competitions. I don't think this was the reason for my bad performance, maybe it was something psychological. I'm growing up and changing... and I still believe that my lucky number is the last one.
And the order to skate before or after Liza, is that important? In the short program you skated before her, and then you skated after.
It doesn't affect me because I don't watch the competition before I skate.
You had a free day between the short and long programs. Was this good or bad?
It was the first time in my life that I had a day off between two competition days. Apparently it wasn't good. But I actually I think that skating the day before could have been even worse. But anyway, I have to be prepared to compete both ways.
What did you do on your day off?
It would not be good to sit in the hotel room and think about the free program. I needed to relax and forget about everything that happened, and then start my free program with fresh energy. So we went shopping and I think we will do it again, because we really liked the shops here. Also of course we will walk around, see more of the Olympics, go to the events of the Cultural Program; I'm really curios to see it.
These are Olympic Games, but they are still a bit "not as serious", for children. What do you think will be similar in Sochi and what will be different?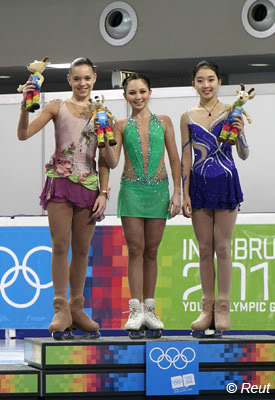 I feel like this is a rehearsal for the Games in Sochi. The same way we live here in the Olympic Village we'll probably live there; I think everything there will be rather similar to what we have now. Of course the rink will be bigger and more people will come to watch.
You were asked about Sochi and you answered: "First I need to make the team". What do you think your chances are?
I don't know. We have a lot of very strong girls in Russia now, that's why I need to work hard and try to skate well, to show my best when they decide about the team. We still have two years ahead to work on all the elements.
Mixed NOC team trophy
It was the first time to enter figure skating teams in the Games. A similar event is planned to premier in Sochi, except that in Innsbruck there were mixed-country teams which didn't include pair skaters, as not enough pairs were present. The teams were composed based on the results of individual competitions, mixing skaters with higher and lower results. The skaters were divided into three groups according to their placements and then each team was defined by a draw. Each skater/couple performed a free program/free dance, and the points awarded for each place were combined to a total team score.
The gold medal went to the team with the highest points: Shoma Uno (JPN), Jordan Bauth (USA) and ice dancers Eugenia Tkachenka/Yuri Gulitski (BLR). Eveliina Viljanen (FIN), Yaroslav Paniot (UKR) and Maria Simonova/Dmitri Dragun (RUS) claimed silver. A team consisting of So Youn Park (KOR), Alexander Lyan (KAZ) and Estelle Elizabeth/Romain Le Gac (FRA) got bronze. Skaters said that it was an interesting experience for them: an opportunity to make friends and actually feel part of a team in such an individual sport as figure skating.
Part III: Culture and Education Program (CEP).