Youth Olympic Games 2012
Part III: Culture and Education Program (CEP)
February 11, 2012
By Reut Golinsky
Photos © Reut Golinsky
The vision for the Youth Olympic Games is an event integrating sports, culture and education. The Culture & Education Program (CEP) formed the counterpart to the sports events and was an important element in the Youth Olympic Games concept for Innsbruck 2012.
A tightly packed program had been planned to bring the athletes together, from mountain excursions and drumming to media labs, teaching them about photography, or workshops about a healthy lifestyle and the prevention of sports injuries. The CEP aimed to transmit to young people the message that cultural activities, international understanding and education are important alongside sport activities, and that studying at school is vital not only for their careers but also for their lives.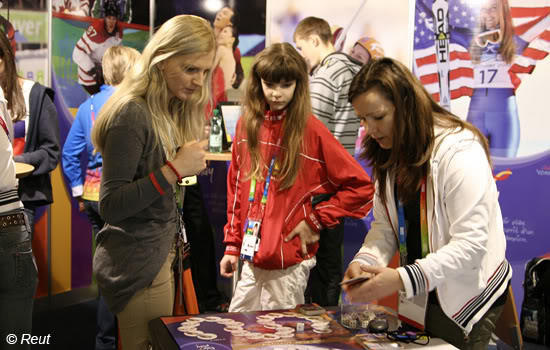 Ice dancer Eugenia Tkachenka (Belarus) partaking in one of the CEP activities
Meet the Role Model
A total of 30 well-known athletes from the international sporting scene had been appointed as Athlete Role Models (ARMs) for these Winter Games. The main task of the ARMs was to spend time with the young athletes, mentoring them and participating alongside them in the Culture and Education Program. Some of them also featured in "Meet the Role Models" forums conducted in different languages where they talked about their personal experiences and answered any questions the youngsters had. Young athletes had the opportunity to ask veterans about things that disturb or worry them, get advice about how to prepare for competition, how to balance life between sports and school, and to listen to some "memoirs" about old times, when their idols were as young and inexperienced as they are now.
I'm sure it was important for them, for example, to learn that perfect "Qween" Yuna also had ups and downs in her career and even considered quitting. "I have stopped skating a few times in my figure skating career", she recalled. "I stopped and then... I started pretend skating on the floor at home. I watched Michele Kwan's or other skaters' videos over and over again. My body needed to skate and move on the ice. So my Mum convinced me to go back to skating".
Vincent Defrasne and Stéphane Lambiel after "Meet the Role Model" Q&A
Before this question/answer session, it was probably less obvious for the young athletes that they should be ready not only to fight for the medal, but also to live with that medal. "Unfortunately, it's very natural for a sportsman to prepare himself for the victory, but it's not natural at all to prepare to live with the success afterwards", noted Vincent Defrasne, Olympic champion in biathlon.
"You need to deal with the raised attention. You expect more of yourself; people around you expect more from you as well and it's not that easy to manage. You need to repose trust in someone in your entourage - in your parents, or brother, your coach or maybe you friend who knows nothing about your sport, but can give you good advice".
The life of a sportsman is not always victories; sometimes you have to settle for the "chocolate" medal only. Stéphane Lambiel shared with the young audience his story about the injury which forced him to retire after seven months of trying to find the solution to his chronic pain. He talked about the treatment he found, and how he persisted in fulfilling his Olympic dream, about his comeback half a year before the Games in Vancouver, and about how he ended up in only fourth place. "I think in sports you learn to accept things. You work hard year after year, you sacrifice all your life to succeed, but unfortunately there is only one first place. And you have to accept if there are those who are stronger than you. I finished my career in fourth place, yes, but I live a beautiful life now. Later on you 'digest' this and you tell yourself: 'This is my life, I had incredible moments, and winning an Olympic silver medal was one of them. Maybe in the end this is the only Olympic medal I've got but it tastes... like paradise!' Vancouver was a huge disappointment for me, but now I understand that thanks to those Games I'm healthy, I can skate, I can participate in shows. And despite my fourth place, the passion for skating stayed in me".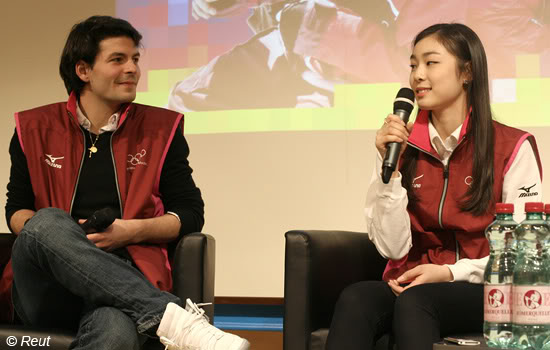 Yuna Kim and Stéphane Lambiel during "Meet the Role Model" Q&A
Olympic champion and YOG Ambassador Yuna Kim then gave some short answers to my questions:
I know you're still training.
Yes, I'm still skating but decided not to compete this year. I'm training every day, but not too hard, something like three hours a day.
Are you skating your old programs or are you preparing new ones?
I already have a new exhibition program for the next ice show and I'm going to get one more. Both will be for "All That Skate" this spring.
Are there any plans to bring "All That Skate" to the US again? Or to other countries?
I don't know, you should probably ask "All That Sport". But I would love to skate in Los Angeles or in the US in general.
When do you think you will decide about next season?
Maybe this summer.
What will influence your decision?
The way I feel then, if I feel that I want to compete or not. Now I'm not sure.
The "Social Media" workshop
This one-hour workshop gave the participants an insight to the significance of social media for the Youth Olympic Games and for themselves. Alex Huot, head of social media for the International Olympic Committee, showed the young sportsmen how to promote themselves, their sport and to be in touch with their fans. He encouraged them to use original content and personal photos, but also warned them to be careful about what and how they post, as all this might be used by the press. And he is right. Twitter, for example, is highly used nowadays as a legal source for quotes and personal information.
Alex Huot takes Lambiel's Facebook as an example of usage of social media by sport stars
Stéphane Lambiel added some input about how his Facebook is managed, what information he decides to put there and why. For example, he said that he uses it to announce the schedule of his shows, to put info about programs, to share some news. "Or for example during the holidays, it was great to have the possibility to wish 'Happy New Year' to the whole world". It was nice and a bit amusing to hear Stéphane, known for not being a big fan of the Internet, talking about the usefulness and importance of social media.
"It was a very interesting lecture", said French ice dancer Romain Le Gac, who took part in the workshop. "I have Facebook, of course, but I use it mostly to be in touch with my friends. Here we learned how to use it for publicity in the media, and how it should be done correctly".
As part of the workshop hands-on, some of participants answered questions submitted by fans to the official Facebook of the Games and made photos for the Twitter competition "I copy you".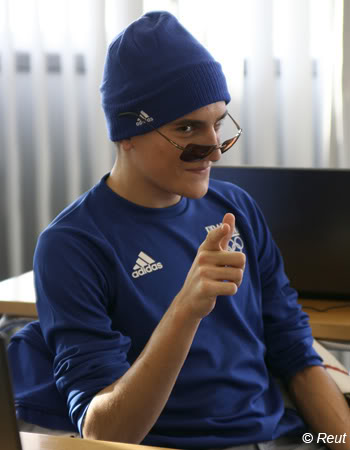 Romain Le Gac of France copies freestyle skier Kevin Rolland
After the workshop the French team had a chance to chat some more with Stéphane.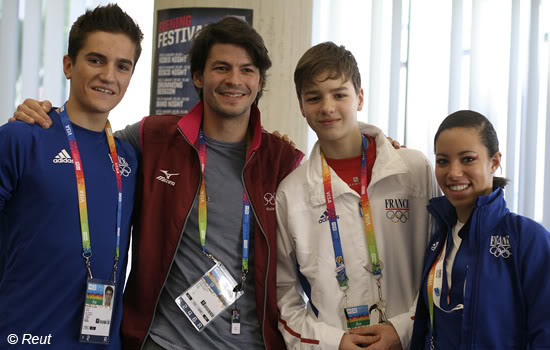 French skaters Romain Le Gac, Estelle Elizabeth and Timofeï Novaikin with Stéphane Lambiel
"I think the idea of Athlete Role Models is great; you can approach them and talk to them. I find it very cool. Stéphane shared a bit of his experiences with us", told Romain afterwards. "And he gave us some advice for the future", added his partner Estelle Elizabeth.
World Mile
Every day Tyrolean students presented eight of the 70 different nations participating in Innsbruck 2012. They provided information about the country's history, geography, art traditions, clothes, language, etc.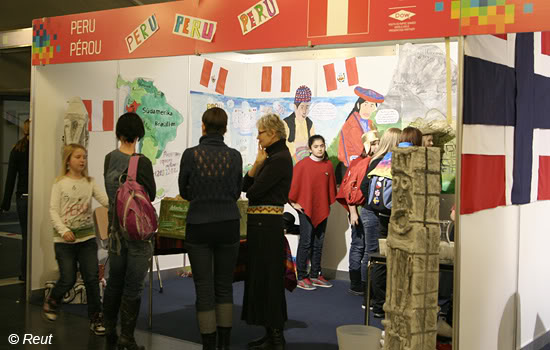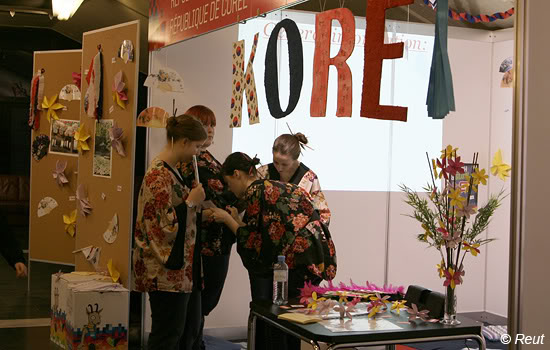 Do they all wear berets in France?
The information was given through posters, leaflets, quizzes and activities of all kinds.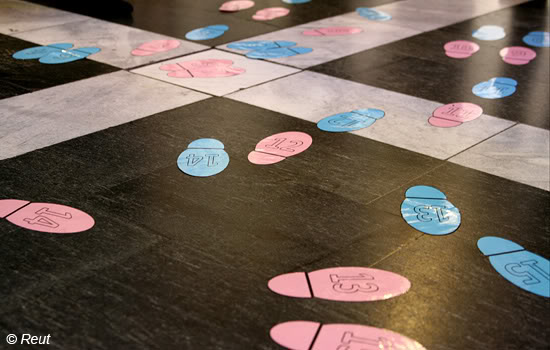 "Crib notes" to help dance Argentine tango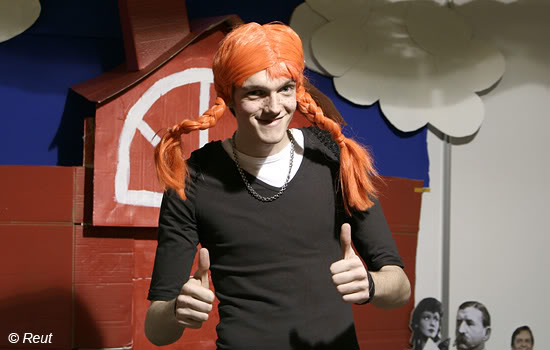 Pippi Longstocking welcomes visitors to the Swedish booth
Some groups presented traditional dances or gave out recipes of national dishes. The more creative they were, the better their chances were to win the main prize: a travel voucher worth over €5,000 in order to go and visit the country they presented.
Presentations and activities were recorded in short video clips and then uploaded to the online platform Planet Tirol, where registered users could vote for their favorite country presentation. No less than 15,742 votes were cast within the space of just eight days, with India taking the top spot ahead of Croatia and Bosnia and Herzegovina.
It was especially nice to see athletes coming to visit the booth of their own country; it was an exciting moment for both sides: to see how someone imagines your country and to meet someone from the country you've learned about.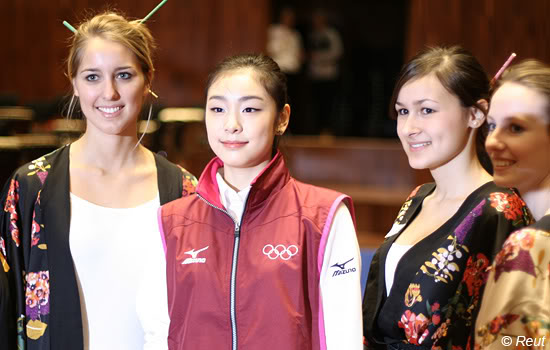 Yuna Kim posing with girls from the Korean booth
Hope Factory
Are black runners faster than white ones? Does a referee reduce or increase freedom? Without moralizing or providing ready-made answers, the Hope Factory offered an interactive exploration of the Olympic values.
"Referees are biased" and "The coach knows everything" - check which answer gave more points
YOG dance
During the "YOG dance" sessions, single moves of dance choreographed especially for these Games were rehearsed for the Opening and Closing ceremonies. But the main objective of this activity was just to dance as you like, having fun and meeting new friends.
Olympic champion Yuna Kim learning the YOG dance
"Be the chef" workshop
Twice a day this cooking workshop invited the youngsters to prepare a range of different meals, all under the guidance of a professional chef. It was all about a healthy diet, high-quality products and easy preparation.
In our session we cooked polenta and goulash. The latter is a bit too complicated to explain but polenta goes as follows: begin by heating the milk; when it boils stir in the cornmeal, stirring vigorously to avoid the formation of lumps; continue stirring in the same direction, until it gets the consistency of firm mashed potatoes. Before removing it from the heat, stir in Parmesan cheese and butter, mixing well. Bon app├ętit!
Drumming
At least 50 Djembe and Bougarabou drums were ready for the participants to help them get active together and find their own rhythm. It started with an easy general beat and then learning to improvise with the right and left hand.
You may think drumming is only about making noise, but that is so wrong. Drumming can also be light and gentle, but more importantly, it can unite people. Each one will feel that he is part of something bigger, which in a way is similar to the feeling you have in sports, especially during Olympic Games. This was the philosophy of the drumming taught during this session.
"I took part in a few activities in the congress center and it was super nice", Stéphane Lambiel said while sharing his impressions from the CEP. "Athletes, volunteers, people from different fields and of different ages were all sharing this experience together, doing something they are not used to doing on a daily basis. It helps to break through borders and overcoming language barriers which you might have. And this blend of different cultures and different sports, this union of different people who don't know each other, but live and breathe together, this is what the Olympic team spirit is about. After a hard competitive day it's a great way to share good moments, exchange ideas, learn new things, and discover other people and other pursuits.
For example, coming to Innsbruck I never imagined that I would learn drumming, and now I'm leaving with something in me, with those moments of joy from playing the drums."
21-year old Yuna Kim admitted that while watching the competition she felt old. Being "a bit" older than her, I, on the other hand, felt at least 10-15 years younger, surrounded by all these excited and exciting youth. And maybe that's what Olympic Committee President Jacques Rogge meant when he called these Games "superbly refreshing". It was the real Olympic experience but without the Olympic pressure, a festival not only of sports but of friendship and fair play, a mix of different cultures and languages, a breakthrough in new media opportunities and technologies. So if you want to feel young and breathe Olympic air, don't miss the next edition of the Winter Youth Olympic Games, to be held in Lillehammer, Norway, in 2016!