Art on Ice, Stockholm: the behind the scenes story
May 23, 2013
By Eva Maria Jangbro (EMJO)
Photos © Eva Maria Jangbro (EMJO)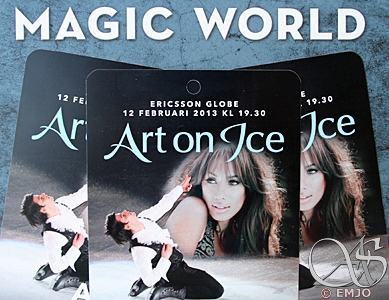 The chilly capital of Sweden, Stockholm, got the privilege to host the touring Swiss award winning skating show, Art on Ice, warming up the frozen Swedes on Feb 12th, just two days before Valentine's Day. The city shopping centers were overloaded with red hearts, but you could also spot the posters and flyers for Art on Ice, here and there. What a nice combination, hearts and figure skating! But who are the people whose hearts are in the making of the show in Sweden, when did the planning start for a show this size and how many people are involved in the process? These questions are on my mind as I arrive at the Globe arena around lunch time on the day of the show.
I pick up my accreditations from the always as friendly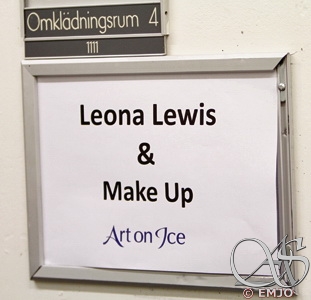 Globe arena staff greeting you upon entering the artist entrance. At this hour, the corridors in the arena are not empty, but not nearly as crowded as they will be in just a few hours. I pass the doors marked with the stars' names. I wonder how much time they will spend in their dressing rooms and how those differ from the general rooms. The ordinary dressing rooms for the skaters look just like any dressing room for athletes or dancers, with costumes hanging everywhere. Some of the costumes I recognize and automatically think: "ok, we will get to see that program!" I run into Viktoria Helgesson carrying a white dress and I know I have never seen that program before. She tells me the dress was made especially for Art on Ice and she is even going to wear a pink wig with it. That is totally new for her. I pass other dressing rooms and some skaters are trying to rest, relaxing on the benches in the rooms.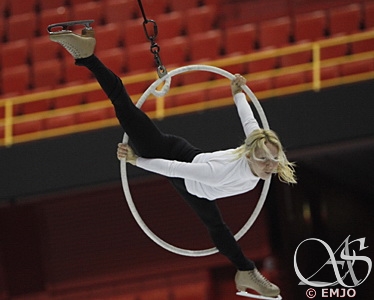 The arena staff is in full swing "fixing" things like the posters on the boards around the ice, or making a hole in the ice for the special light stick Kristoffer Berntsson is using during his program. The air acrobat Emmanuelle Balmori measures how high up she will be during her numbers. The Globe arena is quite high but there are also some attachment possibilities half way up the ceiling where ropes can be secured. Meanwhile on the ice, Stéphane Lambiel and Salomé Brunner are creating moves, perhaps for a new show number or something that will be in today's show. We will find out later.
The regular 2013 Art on Ice cast has been on an almost 2-week sold-out tour. Kristoffer Berntsson is one of the cast members. He recently became a dad to twin girls. He looks a little pale and tells me he caught the flu and had a fever already performing in the Lausanne shows the week before. It is a little hard to skate and be away from the twins, but still, the show is great and fun to be part of, he says. Irina Majorova is watching Stéphane Lambiel practicing and asks if he will coach at a training camp this year again, her younger son Nicolaj attended last year. Stéphane says he unfortunately does not have time to come, but wonders how Nicolaj is doing.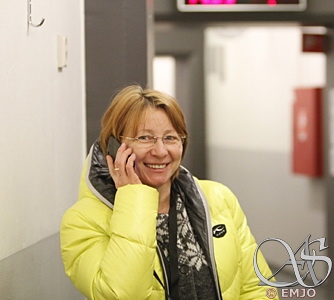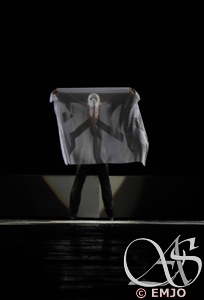 There are not many other skaters using the practice time offered since this is the very last show. After two hard weeks they need to rest and rightfully deserve to. Two of the skaters, however, were added to the show in Sweden: Viktoria Helgesson and Alexander Majorov. They practiced in the morning but did not get a chance to run through their numbers in the show lights. Irina Majorova (mom and coach of Alexander) talks to Gabriela Buchs, the team project leader from Art on Ice Switzerland, about Alexander's number. He holds up a sheet at the beginning of his routine and Irina instructs Gabriela how they want the spotlight during his number. Gabriela says "ok, will arrange that", and yes, turned out it was perfectly executed during the show without even testing it!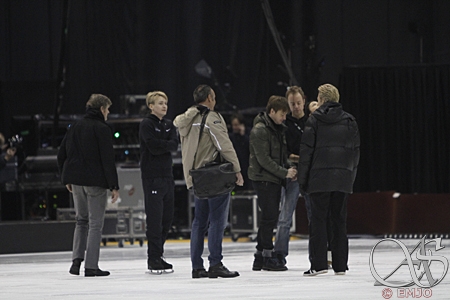 I head back towards the ice again to see what is going on, but before entering the arena, I find the show running order posted on the wall. The host of the night, René Bazinet from Cirque de Soleil, passes by and informs me it has been changed: Kristoffer will not perform in act II as planned. He received a phone call that one of the twin girls is sick, and feels he wants to head home as soon as possible.
Back on the ice, nothing much has changed. Salomé Brunner is still there, but now the Mummenschatz are practicing jumps, cheered on by Stéphane Lambiel who is giving instructions standing both on and off the ice. One of the Mummenschatz is wearing pretty scruffy-looking hockey skates, but it works fine for him. On stage, the 2Cello guys are in the middle of their soundcheck. Passing the makeup room on my way to find a restroom, some of the dancers are getting their faces made up with the heavy makeup needed for the bright showlights.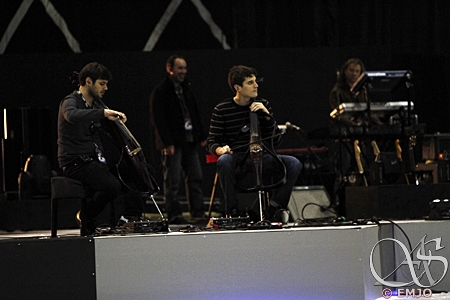 I also see Malin Karlsson, the Project Manager and "the heart" of Art On Ice Sweden, coming and going, checking this and that while simultaneously talking on two phones, but keeping calm. I wonder what is going through her head right now and what happened before we got to this stage of the show. I want to talk to her to find out how it all goes from scratch to a complete show. A few days later I do catch up with her, just after she returned the last AOI rental car, and get my answers.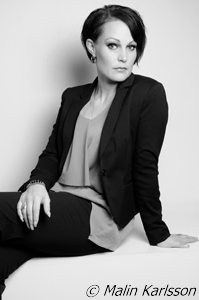 When did you find out Art on Ice was coming to Sweden?
Well, I got an email in August where they (AOI) asked if I knew anyone who could work with them in Sweden, since they planned to bring the show here. I asked them what kind of help they needed and when they defined it, I told them I have been working with Stockholm Ice for three years now, so how about me? I would be happy to help! They answered they were glad I wanted to since that was what they had hoped for. Well, why didn'tyou ask me right away? I thought, so that was kind of funny.
What are your main functions and responsibilities as Project Manager?
I do everything from recruiting volunteers to, for example, making a Swedish version of the marketing materials Art on Ice use in Switzerland. We have used the Swiss layout for the posters and flyers but have translated everything to Swedish. I bought TV commercial spots, booked hotels and made sure everything was ok in the Globe arena. The search for sponsors was hard since it was way too close to the show date to get a deal. The show date was a fact last fall and if you want a major sponsor, pockets are closed around September/October. For an event taking place in February, you need to get started earlier. I called the Swedish office of the companies sponsoring the show in Switzerland, but they felt it was too late for them to join. They also want to go all in and to do that they need to be part of the process from the beginning. But the interested parties were invited to the show, so they have seen it now and know what it is all about should the show come back in 2014.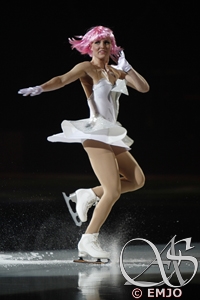 How many spectators attended the show?
About 5 600; that includes free tickets and paying spectators. The free tickets we gave away were a way to show what this is all about. It so happens that those ticket holders were totally thrilled about the show and will return as paying customers. About 3 600 are hard core skating fans; we know that they will return for sure, but we also need to reach others groups. Therefor free tickets were given to sponsors, potential future ticket-buyers etc. For 2014 we'd definitely have 5600 spectators, and we would try and reach even more.
How would you do that?
I told the people in Switzerland that it is no use having an event while the six national pre-rounds of the Eurovision Song Contest take place in Sweden. People will either be in front of the TV or in the arenas were these events take place. Eurovision and those six Saturdays are declared holy in Sweden.
On the Art on Ice website, I placed a questioner (in Swedish) asking for opinions about the show in Sweden and also sent emails to the free tickets holders asking what would bring them back, because Stockholm is not big enough to fill the Globe arena with figure skating fans alone.This means we need to have people come from other places in Sweden and from abroad, therefor the show needs to be on a Friday or Saturday. This year the show was on a Tuesday and we missed many spectators since they could not get here in the middle of a week.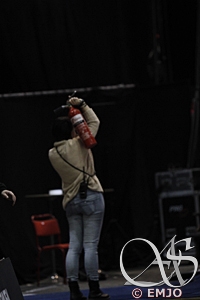 The Swedish federation can help us getting skating fans to the show. They have a major ability to bring in the figure skating interested audience. We also have to think about how to market the show in Sweden since figure skating is not something that appeals to all Swedes. Perhaps the poster should have something else but a figure skater; it might be better to have a photo of the entire show with a live band playing and singers and skaters together.
Which is the most difficult of your tasks?
I have done this all by myself for six months, ever since AOI called me, but four days before the show I brought in my closest four girls that I know I can trust, and we had volunteers. Everything was perfectly planned and I stood there welcoming everyone at the Bellingham gate. I didn't know, however, that I was also supposed to serve Leona Lewis around the clock.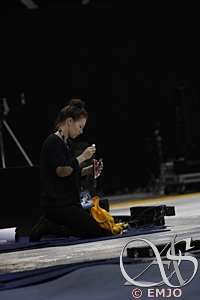 What takes the most time?
Well, when something is late, like the material to the boards from Art on Ice.We received them way too late and had to put them in place, 150 meters, at 2 o'clock in the morning, but that's ok. The work had to be done, there was no way out. To work with events like this, especially if you are alone, is like a pregnancy. In the beginning, it is easy and you feel fine and happy, but then you begin to experience false labor and pelvic girdle pain and it is very painful. But then when the show is over, it is like the delivery and it's all worth it! I didn't get to see very much of the show this time, but when you get to watch it being built up from scratch to finished show - it is amazing! I also got many emails from people after the show saying: "Wow, what a great show", "Why have I not seen this before?" and "Loved it!" Then you know it is worth all the work!
I have to thank you for the absolute fantastic position for the photographers! It was the best spot I have ever had, really! The skaters found us easily too and smiled directly into the cameras.
Well, I am glad you liked it and I can imagine you got some good photos from there. I did notice the skaters flirting with the photographers. I also have to say that removing the tall boards made such a big difference even if we had the lower boards instead. You get closer to the skaters and that was really nice.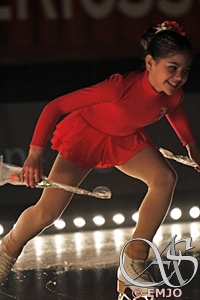 How many volunteers did you have helping out?
I had four on my team that were hands on and I also had three very helpful assistants. They basically did whatever I asked them to, and then there were eight more volunteers. We also had some from skating clubs, but next year I won't need as many. We also had six flower girls, two more than we were supposed to. Next year we will keep it at four and also minimize the number of people backstage. We have to make sure people don't get in the way of the artists.
How about makeup artists, does AOI bring their own?
No, we have MIST, the Make Up Institute, helping us, but most skaters do their own makeup. Actually, I think we were a little poor at informing the skaters there was a makeup room…
I heard that Finnish TV, YLE, broadcast the show live. How come Swedish TV did not?
I started working with this show at the same time as my Finnish colleges and YLE. The Finnish TV was interested at once. I think the reason SVT, the Swedish TV, was not is because the show took place during the time of the national pre-rounds of Eurovision. SVT is also not as interested in a live broadcaston a Tuesday, as they would have been had it been on a Friday or Saturday. If we are lucky to get a 2014 show, it'll be on a Friday or Saturday before the Eurovision pre-rounds, but after the Olympic Games.
It was interesting talking to Malin as she has some good points and really knows what it takes to put on a big show.
But back to the actual show day. The show is over and I pass the dressing rooms with smiling skaters and dancers. The staff is already bringing the stage down and everything that goes with it. It takes so much less time to tear it all down than building it up.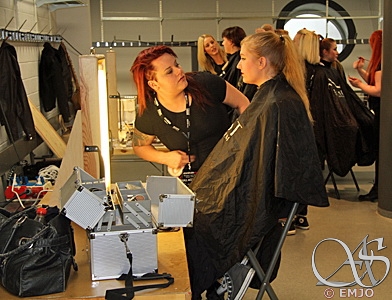 There are plenty of fans waiting to get autographs outside the skater and artist entrance. I ask some of them what they thought of the show and I get big smiles on their faces. In the hotel lobby there are even more fans waiting for their favorite skater. I don't see Leona Lewis anywhere but 2Cellos are talking to some new fans that hadn't heard of them before, but now are totally thrilled about their music. The skaters come after a while and the fans are happy. The German pair skaters Robin Szolkowy and Aljona Savchenko are talking in both German and English and there is of course Stéphane's Russian fanclub, with their regular "taking a photo of Stéphane holding a photo of himself".The skaters leave for their home countries the next day, some early in the morning, some a bit later. In June, Art On Ice will have its first show in Japan, but the European leg of the tour is now over.
I do hope the fabulous Art on Ice show returns to Sweden next year. We don't have anything like it in the Swedish arenas. The show has something for everybody: great music artists, acrobats, dancers and skaters. According to recent statistics, figure skating is on the rise in Sweden. Stockholm will be the host of the 2015 European Championships so skating is definitely in the air. Hopefully the sport will gain even more support and interest in Sweden, and Art on Ice can definitely help by following up on this year's success and making Stockholm a permanent stop on the tour map.