Art on Ice: the number one show worldwide
February 11, 2013
By Ia Remmel (Pia)
Photos © Eva Maria Jangbro EMJO

The day before the Art on Ice premiere, the marketing and communication chief, Marc Lindegger, is greeting journalists with "Hello colleagues, grüetzi" at the Hallenstadion. We will be getting a sneak peek of the show, although not all of it – Marc Lindegger wants to keep secret some of the magic to come.
At the arena, Swiss singer Seven is rehearshing his song. Young skater Adelina Sotnikova is practising different skating techniques. Aliona Savchenko and Robin Szolkowy are doing lifts while wearing luminous jackets.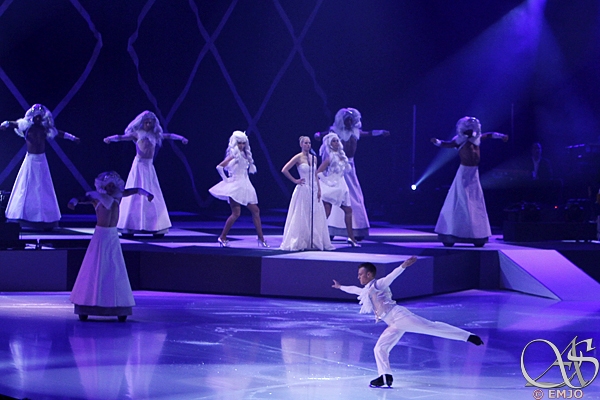 Live your fantasy
The next day there is electricity in the air as the premiere draws closer. As we enter the massive Hallenstadion we wonder if all these 13,000 seats will really be filled. After an hour though, there are no empty seats left. The hall gets dark and numerous LED-lamps light up. The music begins to play, the first piece is the Art on Ice (AOI) signature song "Live Your Fantasy". White figures are moving on the mirror-like ice. In the middle of all of them is the show's superstar, Stéphane Lambiel, in a marvellous show costume. The youngsters bring him a microphone and he begins to sing. Then he steps onto the stage and with Larissa Evans they finish their song. "Enjoy the arts (on the ice)! Live your fantasy! Let your fantasy and your dreams come true," and that is their message to the audience.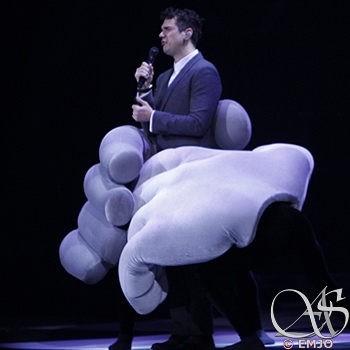 Next, another figure emerges from a puff of smoke. It is René Bazinet, the host of the evening, an actor and long-time performer at Cirque du Soleil. He carries a book of magical stories which he tells us will become reality tonight. The first story speaks of the creation of the world and the two genders – the man and the woman. The two emerge, in the form of Russian ice-dancers Viktoria Sinitsina and Ruslan Zhiganshin, the junior world champions. The couple perform an entertaining cha-cha.
Huge white hands appear on the scene – this is the Swiss show troupe Mummenschantz. The Swiss musician Seven comes forth from these hands and performs one of his most popular songs. He is soon joined by Adelina Sotnikova, junior world champion and European Championship silver medallist. While only 16, she gives a spicy performance with excellent technique, showing her great potential. Her cheerful and optimistic skating charms the audience.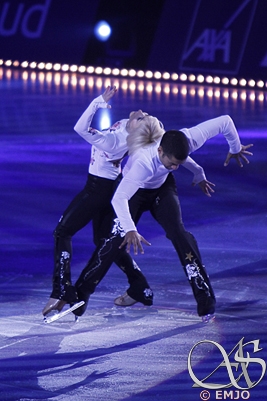 Four-time world champions Aliona Savchenko and Robin Szolkowy portray their interpretation of the song "Windows, Shadows, Roses, Cages". It's one of Seven's most powerful songs, with profound lyrics. In the beginning the song, it says "On the way of doom, there ain't no branch, no snake, just the guilty you, the devil is cheek to cheek". Then afterwards, it adds some hope to the gloom as it goes on to say "windows you have let me out, roses please let me smell your love, shadows you need to show me light, cages, from the other side." The music and skating work together to tell a deep and multi-layered story. With the performance, Savchenko and Szolkowy once again display their inventiveness, with many remarkable lifts and figures on the ice, while the program perfectly matches the song.
2Cellos, the Swiss ice princess and Latino flair
Then, an image of an ancient book appears on a screen, and Bazinet begins to read a thrilling crime story while setting the stage for the next musical performers, 2Cellos. 2Cellos are two young Croatian cellists, Luca Sulic and Stjepan Hauser, who play famous pop hits on their classical violincellos. Their first piece creates a luminous alternate world. A vertical beam of light begins to shine. We are treated to an illusion where a human figure seemingly begins to walk on the light beam. 2Cellos perform Muse's "Resistance" and two figures become visible; they are Italian ice dancers Anna Cappellini and Luca Lanotte. They express with their skating so well to the song's anxiety and unanswered questions: " Is our secret safe tonight and are we out of sight? Will our world come tumbling down? Will we find our hiding place? Is this our last embrace or will the world cease to collapse?"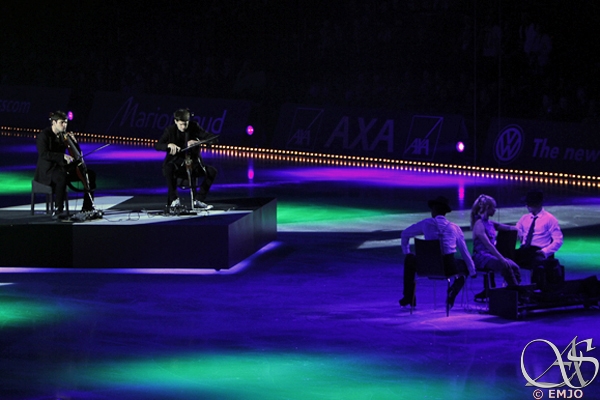 Bazinet reminds over the Bern European Championships, states "She found love in a hopeless place" and presenting this new program is the Swiss ice princess Sarah Meier. Her performance is a joy t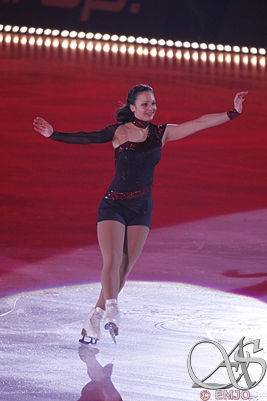 o behold – beautiful and feminine skating, a little bit in dance style this time. It is enjoyable to see her in such a good shape as she effortlessly pulls off many triple jumps. The Swiss audience gives a roaring applause to their champion.
"Benedictus" is heart-achingly beautiful piece of 2Cello's, as if it was performed by angels. The beautiful pair skaters Tatiana Volosozhar and Maxim Trankov match the intense and romantic melody with precise and fluid skating. Their flawless skating completes the heavenly atmosphere.
Then follows the fiery French Florent Amodio. His music, "Memories of Sobral" is written by Sébastien Damiani, a French pianist and composer, who has worked together with Amodio for some time. Florent's performance is unforgettable – a forceful performance with Latin rhythms, along with great energy and flair. He ends performance shirtless, to great cheering from the audience.
Swans and rock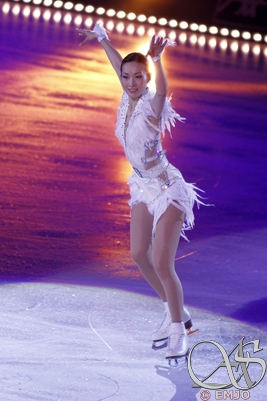 Suddenly, the host's magic book bursts into flames as feathers fly out of the blaze. The noble ice swan Shizuka Arakawa comes into view, giving a fascinating performance with perfectly precise jumps, double-triple combination to round it off. She skates to a modern rendition of Swan Lake featuring 2Cellos, wearing a white feathers-like white costume with some rock-style elements like gloves and belts.
Following Shizuka, two very strange swans stumble onto the ice. Russian acrobats Vladimir Besedin and Alexei Polishuk, dressed in ballet tutus, give an amusing performance, featuring lots of daredevil lifts and turning audience crazy.
Finally the hall darkens. Bazinet begins to talk about the colour black. And at last, the greatest appears on stage – Switzerland's Stéphane Lambiel. He instantly seizes the attention of the audience, as he appears, with tattoos, ready to perform Rolling Stones' "Paint It Black". The song is psychedelic and forceful, as Stéphane skates with tremendous energy and elegance, combining masterful skating with elements from a rock'n'roll stage performance. It is a mighty ending for the first act.
Fairy of the light, a homage and Leona Lewis
The second act begins with space, planets and whirlwind. That is one of the most wonderful spectacles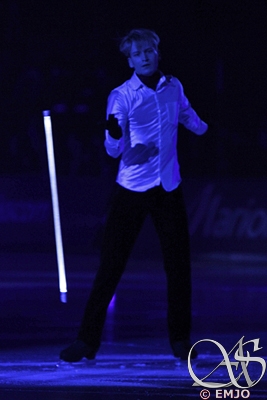 of the evening, with a touching story of a man who meets a cosmic girl of light. The man was Sweden's Kristoffer Berntsson who appears with a magical stick of light. From the darkness come a swarm of girls that surround the fairy of light Sarah Meier. The whole program has many intricate tricks but at the same time it was made in good taste.
Art on Ice then gives homage to its earlier singing stars. Last year, two of them – Robin Gibb and Donna Summer – passed away. However, their images appear once again on the big screen as skaters present some parts of their performances with them. In the finale, the skaters gather hand-in-hand by the big screen and give their final goodbye to the great artists.
The time comes for the greatest star singer of the evening. Her appearance is a spectacle in itself. From the red steam comes forth Leona Lewis in a golden mantle and performs her most popular hit "Bleeding love". Her next song "Fireflies" is mesmerizing, creating an atmosphere where time seems to have stopped. The song's anxious chirping linked very well with Emmanuelle Balmori's amazing acrobatics, performed on a hoop suspended in the air.
Sinitsina-Zhiganshin, a DJ and Russian acrobat presents a surreal intermezzo on the ice.
Then beautiful pair skaters Volosozhar-Trankov perform to Leona Lewis' song "Better in Time", telling a beautiful story of a boy, a girl and the love between them. Aliona Savchenko and Robin Szolkowy interpret Lewis' song "Happy". Both performances put forward similar thoughts and feelings. Even the costumes are similar, as both Tatiana and Aliona are wearing a pink dress. It is great to see them back to back, as their performances are great and different at the same time.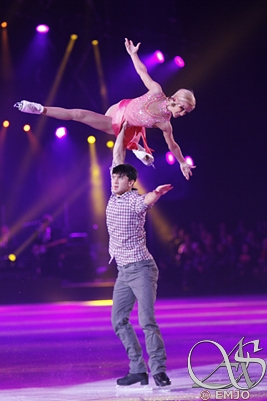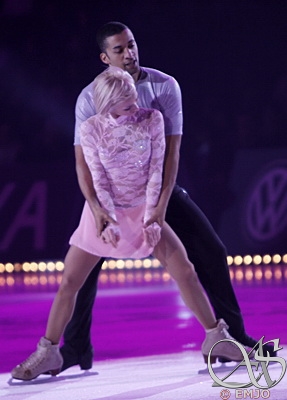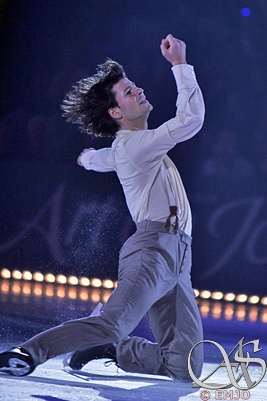 The next piece is "A moment like this", a song that Leona Lewis considers very special. The skater that performs it – Shizuka Arakawa – is of course special as well. Her skating dress is remarkably beautiful, a sparkling costume that fits perfectly on her slim figure. Her performance is like a wonderfully luminous dream.
The final performance is by the masterful Stéphane Lambiel, who gives an interpretation of the song "Run" along with Leona Lewis. "Run" is a song with deep emotions, which matches well with Lambiel's sensitive nature. What image is he trying to create as he stands there in the form of a young man from the early 20th century? Stéphane's programs always have a story embedded in them, and his costumes are evocative. He does not explain the meaning behind them yet and instead lets everyone build their own understanding. For me, he is reminiscent of Martin Eden from Jack London's famous novel – that of a young man of great potential, bringing the world his extraordinary talent.
Different people give their thoughts on the show:
M from Switzerland: "It is now my 8th year at Art on Ice and this time I especially loved two programs, Benedictus with Tatiana Volosozhar-Maxim Trankov and Run with Stéphane Lambiel. Those programs were beautifully performed with so much skill and emotion.
What I didn't like this year was the host of the event.
In the future, I hope to again see the Scottish ice-dancers Sinead and John Kerr at Art on Ice."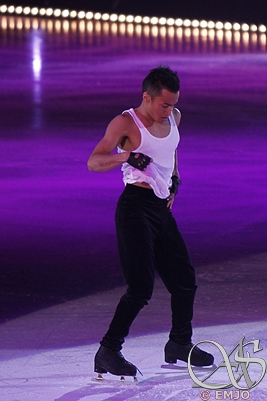 A from Switzerland: "The biggest highlight of the show was 2Cellos. Those two young men were so charming, handsome and captivating and they were such great musicians. I also greatly liked the fiery French boy Florent Amodio. Then of course – Lambiel. And Japanese skater Shizuka Arakawa was so beautiful, I was amazed at her performance."
I from Russia: "I was at the Art on Ice show two years ago for the first time and since then I've been dreaming to come to Switzerland again. People who create the show every year are true professionals in everything they do and the show never repeats itself. The show gives a unique opportunity to see the best skaters on ice, to listen to wonderful live music and to enjoy the dancers' performance on the stage.
To be honest figure skating is the most interesting thing for me and I pay a lot of attention to everything that happens on the ice. But this year I was also impressed by the musicians.
For me the highlight of the show was Stéphane Lambiel skating to Paint it Black by the Swiss singer Seven. The combination of interesting choreography and unusual execution of this song was mesmerizing.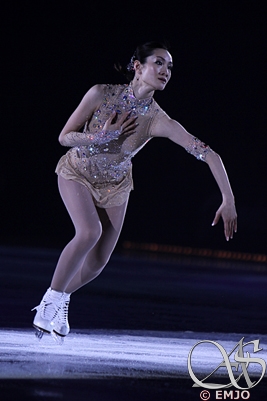 I would also like to mention the Russian skaters. It is a great pleasure to see them invited to participate in such a great show. Even our young skaters, such as Adelina Sotnikova and ice-dancers Victoria Sinitsina-Ruslan Zhiganshin proved that they could rock the audience.
Definitely this show is worth seeing."
G from Ukraine: "I am a Stéphane Lambiel fan and came to the Art on Ice for the third time. I love this show, especially the Zürich one in the beautiful Hallenstadion. The beginning of the show already tuned us to a festive mood – Stéphane Lambiel stepped onto the ice as a singer with Larissa Evans, being uniquely beautiful in his white costume. Tatiana Volosozhar and Maxim Trankov gave a very intensive performance with 2Cellos. The power and height of their skating elements was breathtaking and their skating was so soft and musical.
Stéphane Lambiel's performance by Paint it Black presented by Seven was just so bright and unforgettable. The program had a very energetic and detailed choreography, with speed and quick movements, to this fast and rhythmic music. A terrific job by the great master!
I'd also like to mention Shizuka Arakawa. Her precise and spirited skating is always so enjoyable.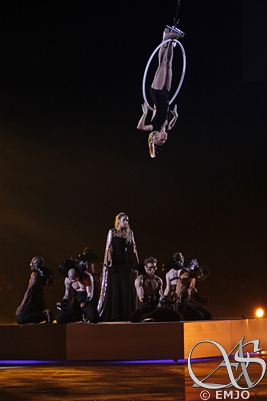 I was glad to see Art on Ice also inviting some young and interesting skaters, such as Adelina Sotnikova and Viktoria Sinitsina-Ruslan Zhiganshin. They matched the conception of the show very well.
Unfortunately I didn't know much about the singer Leona Lewis before the show but I recognized that a big part of the audience was eagerly waiting for her performance in the second act of the show. It was excellent and the presence of great skaters on the ice only strengthened the impression given by her powerful and rich voice.
Art on Ice was once again a wonderful celebration!"
M from Sweden: "I liked the acrobats Besedin-Polishuk the best. They were funny and breathtaking at the same time with their dary/scary number. Of the skaters I liked Shizuka Arakawa the best. She is still in incredibly great shape, doing difficult jumps and jump combinations in her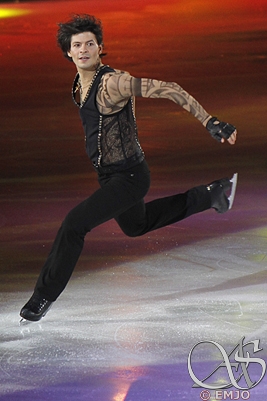 elegant and beautiful style. I wish to see her again at the competitions. I am really glad she was there so I could enjoy her stunning skating.
And as a Swede, for me of course seeing Kristoffer Berntsson again was a treat as well."
J from Japan: "The biggest highlight of show was of course Stéphane Lambiel's Paint it Black! I think this program is so different from his other programs. The others are very beautiful, elegant, cool and fun. Almost all programs have grace and poetry. But Paint it Black is speedy and wild. It's like a musician's live performance, not music from a CD. This program makes everyone excited. That is why I think this program was a highlight of Art on Ice 2013!
Then I had many more favourite programs. Especially, Anna Cappellini-Luca Lanotte's performance. Amodio and 2Cellos were great too.
And I loved Shizuka Arakawa and Leona Lewis's collaboration."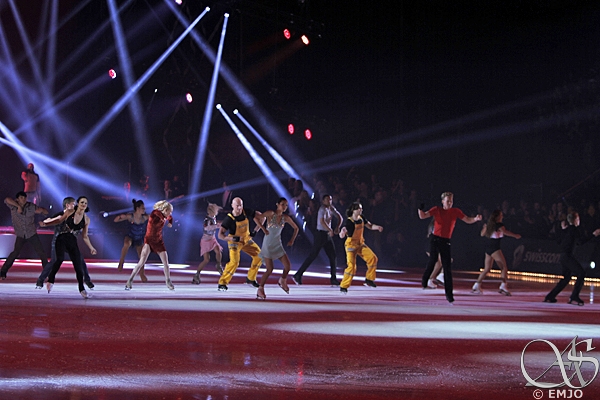 For more information about shows and tickets go to Art on Ice website.