The European Championships 2013
Day two: Volosozhar and Trankov defend their title
January 25, 2013
By Titanilla Bőd
Photos © Absolute Skating
Skating fans witnessed some great performances on the second day of the European Championships in Zagreb, Croatia. The top male skaters in Europe once again offered a spectacular competition. After the men's short program Florent Amodio of France is in the lead, Spaniard Javier Fernandez is second and Brian Joubert, also of France, is third. Seven-time European champion, Russian Evgeni Plushenko had several mistakes in his short program. He placed only sixth and withdrew before the free skating starting order draw.
Not a magic day
"It wasn't a magic day today," Plushenko said with a touch of self-irony. He already struggled at the morning practice, after that he decided not to risk the quad in his short program. This however, wasn't enough for him to "get into the mood", and he was also distracted during his off-ice warm-up when a security guard grabbed his arm, because he was on the wrong side of the arena. Cutting his hand while tying his laces was one more annoying little detail. And then the skate itself came with a flawed triple Lutz, a fall after the triple Axel and a triple loop-triple toeloop combination. Altogether it was worth 74.82 points, so it was obvious that Plushenko's chances for the title are gone. "I fell on the triple Axel. Maybe I rushed it, maybe I wasn't completely focused. When we got to the ice rink, we decided not to go for the quad toe but for the triple Lutz instead, and maybe I didn't fully switch my focus. The fall on the triple Axel is an unforgivable mistake for me. It wasn't the injury, it wasn't my back. I missed an easy element for me, I need to do the triple Axel with my eyes closed," said the Russian star, adding that last time he missed this jump was probably at the 2004 European Championships in Budapest, Hungary, when he finished second behind Brian Joubert. After the short program Plushenko announced his withdrawal, because of his chronic back condition.
Like an idiot
Tomas Verner of the Czech Republic won the European title back in 2008 in Zagreb, but lost his chance to repeat this result after the short program. He fell on his quad toeloop and landed only a double Lutz-double toeloop combination. "I feel like an idiot," he said with a bitter smile in the mixed zone. "This was a not a performance I was hoping to deliver. I've been struggling all season with the execution of jumps in the short program and I don't understand why," Tomas said. He finished 9th in the short program with 68.99 points.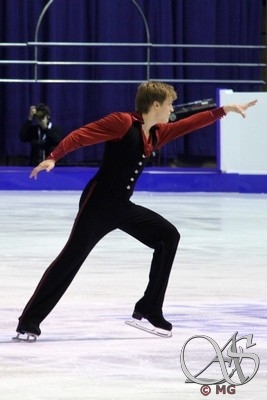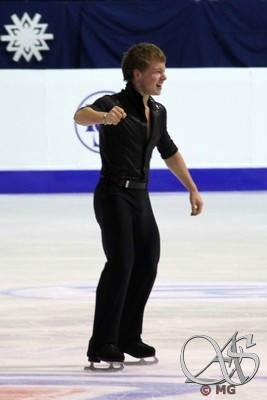 Majorov's perfect skate
Alexander Majorov of Sweden, on the other hand, had a perfect skate. He landed everything: a triple Lutz-triple toeloop combination, a triple Axel and a triple flip. And he had had to cope with the situation of not having his skates for a few days! [They were in a suitcase which got stuck in Munich.] "I didn't think at all about my skates. I just thought about doing a good program. It is not a problem for me not to practice in the main rink," Majorov said, who – along with Javier Fernandez who had similar problems – was offered some extra practice time at the practice rink. "It is the first time for me to skate really well in a major championship. I've skated well in smaller events but not yet at such a big event. Maybe I have learned and gotten more experienced," he added.
Joubert the fighter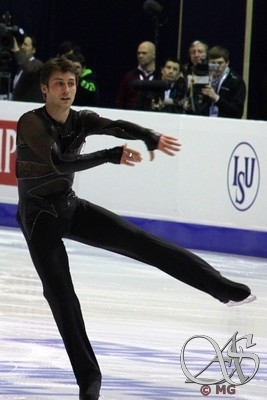 Brian Joubert has tons of experience. He stood on the European podium ten consecutive seasons before missing it last year. But he's had many difficulties at the beginning of the current season. His home town's rink is closed for renovation, he also had some coaching troubles. Still, in Zagreb he once again showed what a fighter he is and after the short program he is in third place. "I am of course very happy because even if I did a small mistake in my quad-triple combination I felt confident in my program. It was great to skate for this audience. Everybody was pushing me and I loved it," said Brian, who compared the atmosphere to the World Championships in Nice last year. "I am at the point in my career where I don't think about results or the points. I just go on the ice to fight," he emphasized.
He can show his fighting character in the free program as well, because in the middle of the season he dropped his "Inception" free program and took on "Gladiator". "I decided to change it because after the Trophée Eric Bompard I was disappointed with the component score. Everyday when I was working on my free program, I felt it getting worse. I loved the music, but physically it was very difficult. Maybe we made some mistakes in the composition of the jumps, I don't know. The president of my federation also asked me to change it, so I did a new free program just two weeks prior to Nationals. I hope people will like it as well," Joubert told us in the mixed zone. He added: "Laurie-May Ayvigan [who also works with Nathalie Péchalat/ Fabian Bourzat] worked with me and helped me a lot, but I made the composition of the program myself. So I feel it's like my baby and I feel good, very good, about this program."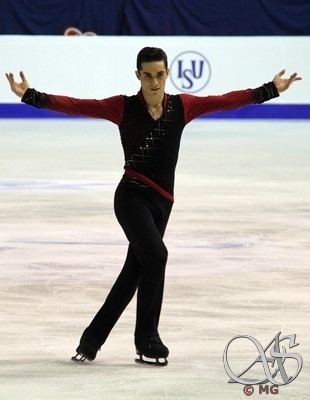 Javi's changes in the jump layout
Javier Fernandez was a medal contender at the Europeans last year as well, but didn't manage a podium spot. This time he seems to be in a top form, and he is second after the short program. He landed a quad Salchow, a triple Axel and a triple Lutz-double toeloop combination and earned 88.80 points. He used to include a quad toe in his short program, but on the judges' advice he changed it. "I talked to some judges and they weren't happy that there weren't any toe steps before the quad toe loop, so I changed it to a Salchow," he explained. The triple-double combination however, wasn't intentional, it was just to avoid the risk: "I had a small question in my mind: I don't know if I was going to be able to do the triple-triple. I wasn't feeling great and preferred to do the easier thing. I preferred a double to a fall," Fernandez said.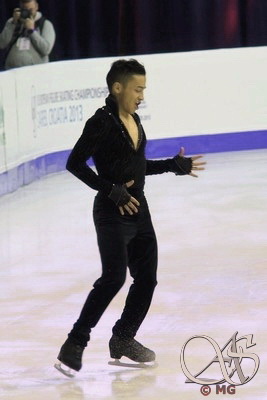 Oppa, Florent's style
A Frenchman with Brazilian roots, Florent Amodio changed his whole short program, switching to music more suitable for him. And this was a good move, as he performed a flawless short, with a quad Salchow, triple Axel and triple Lutz-triple toeloop combination. He earned 89.82 points for it, the highest of all. "The first short program was very difficult, difficult for me to express; I couldn't find myself in the music. This Brazilian style is in my heart, this is my kind of program. I feel this music," Florent said, and admitted that his main task will be to stay focused until the free skating: "I showed myself it's possible to be the best. I just did my job and now I need to stay focused on Saturday and do the same. The beginning of the season was so-so. I won Nationals but Brian wasn't there. Now we can show people the French team is still here, still strong."
Uplifting performances
The French team proved their strength also in the pairs' event. Vanessa James / Morgan Cipres finished fourth after delivering a great performance, skating to the "Pearl Harbor" soundtrack. "We're very satisfied with our performance. There was a lot of stress because we had a good short program and we wanted to keep our place. We fought for that from beginning to end," Vanessa said.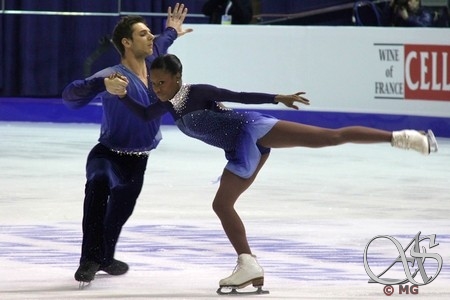 The happiest medalists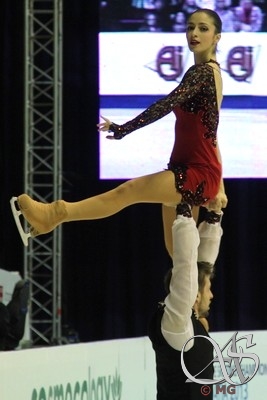 It's not common, but it happens: this time the happiest medalists were bronze medal winners Stefania Berton / Ondrej Hotarek. They won the first medal ever in pairs in the history of Italian figure skating, and they were celebrating in the kiss and cry. "Ondrej helped me a lot to deal with the pressure. And the audience here in Zagreb was with us from the very first moment," Stefania said after their free program to "Poeta", which contained a triple toeloop-double toeloop-double toeloop combination. Ondrej admitted that after the good short program the pressure was on: "Today was one of the most difficult days for us. The pressure of coming from a 3rd place in the short program was slowly getting to us. But somehow it worked out. We couldn't be happier with the result."
The hardest victory
Russians Tatiana Volosozhar / Maxim Trankov defended their title after winning also the long program, even though Tatiana had some little mistakes in the throw jumps. "The throw jumps were good in the warm up, but I was probably too tense during the performance," Tatiana explained at the press conference.
They beat their biggest rivals Aljona Savchenko / Robin Szolkowy, but they couldn't really enjoy the victory. Maxim's face said it all; after his father's sudden death it must take immense strength to compete like a professional and forget his emotions. It was probably his hardest victory ever.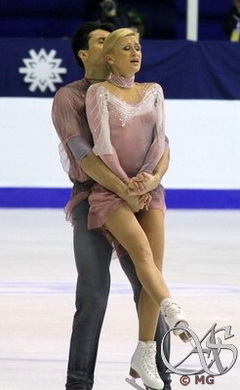 Running out of steam
Aljona Savchenko / Robin Szolkowy of Germany lost a lot of training time due to Aljona's illness, so their silver medal was kind of a comeback for them. Skating to Ravel's "Bolero" they placed second in the free skating and second overall. "We fought through it," Robin commented on their performance, which was not perfect, as they had a mistake on their side-by-side Salchow; Aljona fell and Robin doubled it. "I think the first half was strong, powerful, but then in the second half we ran out of steam a little. But we went for everything. I should have done a triple Salchow, of course, then we really would have done everything," Robin said.
The competition continues on Friday with the ladies short program and the free dance.
Don't miss our flash updates (containing text updates and fun pics) from the European Championships 2013 on Twitter and Facebook.