The European Championships 2013
Day three: Bobrova and Soloviev win their first gold
January 26, 2013
By Titanilla Bőd
Photos © Absolute Skating
After two silver medals Ekaterina Bobrova / Dmitri Soloviev of Russia won their first European title in Zagreb. There is also a Russian competitor in first place after the ladies' short program.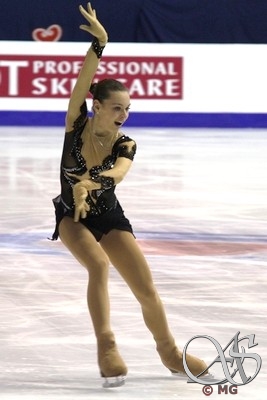 Sotnikova in the lead
Adelina Sotnikova, the long awaited young talent of Russian figure skating, started her first European championship in a great way: after the short program she is in the lead in the ladies category. Skating to Spanish rhythms she landed a triple toeloop-triple toeloop combination, a triple flip and a double Axel. She earned 67.61 points for her performance. "I am so pleased with myself, I am so content. I wanted to really present the program from the very beginning. And especially during the steps, after the elements were all finished, I could do this, I could go fast and enjoy it. At the end, I just wanted to let out all my emotions," Adelina said and added that in practice she can do the program even faster.
Four-time European champion Carolina Kostner from Italy had one mistake in her short program: she fell on the second toeloop in her triple-triple combination. She got 64.19 points, and despite her mistake, she was satisfied: "Apart from my fall I'm very pleased with how I skated. I felt very comfortable." Carolina added that even after 11 years of skating she is still nervous before competing: "It's a big success to be around in figure skating for 11 years, it makes me happy to do competitions for such a long time. But of course after 11 years it's more difficult to motivate yourself. I'm not the strongest person in competition, but I like to practice and try to get stronger."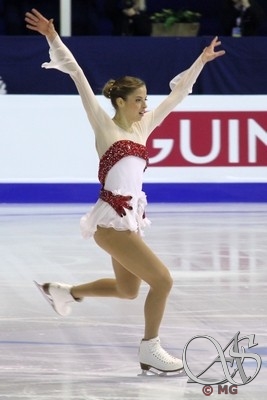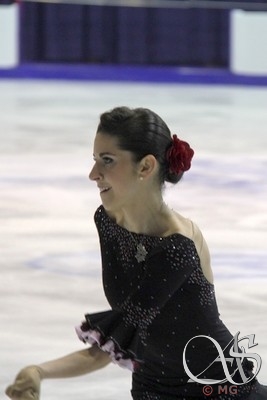 The happiest girl of all was however Kostner's compatriot, Valentina Marchei, who is in third place after her short program. She landed a triple Lutz- double toeloop combination, a triple Salchow and a double Axel and almost started crying when she saw her score of 58.22 points. "Everything went as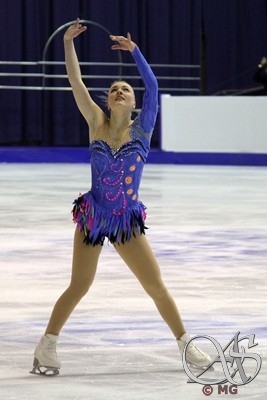 planned today. I am very pleased. During the warm-up I was nervous, but I am happy it did not affect the program," Valentina said. She admitted being very nervous: "I stress myself so much anyways. I was stressed because I knew I was ready. When you're in shape it's more difficult to control yourself, you have to not let the atmosphere of the arena and the competition stress get to you. I guess my coach, Franca Bianconi, had a good role in this, because she helped me to calm down and put me back on my feet."
We witnessed a "battle of the sisters" as well: Joshi and Viktoria Helgesson of Sweden drew to skate just after each other. It was Joshi, who skated first, who placed higher in the end; she is now fifth and Viktoria sixth. "It was difficult that (my sister) Viktoria and I had to skate after each other, as we have just one coach [their mother]. I'm always nervous watching her as I cannot help her, and I want her to show her best. It's easier when I'm skating. I enjoyed the skating and the crowd today," a happy Joshi said.
Storytelling on ice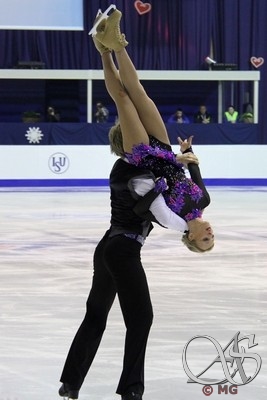 The ice dancing final also brought many uplifting and emotional moments. One of them was the skate of the Turkish couple Alisa Agafonova / Alper Ucar, who skated to the music from the TV-series "Magnificent Century", which is very popular also in Croatia. So the public applauded them right from the beginning. "This gave us goose bumps," Alisa said. They finished 13th overall, which is the best result ever in Turkish ice dancing.
The free dance of Penny Coomes / Nicholas Buckland of Great Britain, as well as that of Nelli Zhiganshina / Alexander Gazsi of Germany, were also very warmly received by the audience. However, some of the couples couldn't deliver the skate they had hoped to – Julia Zlobina / Alexei Sitnikov of Azerbaijan, who attacked the top five, fell in their free dance and didn't even comment on their performance.
The top three couples all told an interesting story with their free dance. Ekaterina Bobrova / Dmitri Soloviev portrayed a couple where the guy is sick and the girl wants to save him. However, she panics in the process and gets ill herself, so now the guy has to save her.
Their fellow competitors Elena Ilynikh / Nikita Katsalapov told us the story of the famous movie and musical "Ghost", in which the boy gets killed but appears to the girl as a ghost. Italians Anna Capellini / Luca Lanotte skated to Carmen, which doesn't really need an explanation.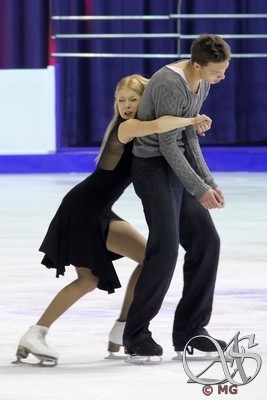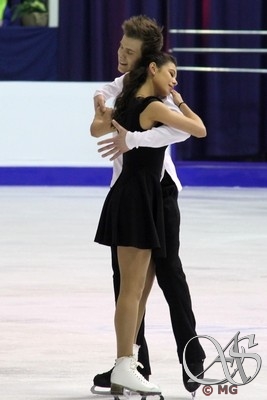 What might need an explanation is the scoring system. How can you really compare dramatic and emotional free dances? Everyone in the audience can have their preference, but in the end there was only a 0.11 point difference between the first and second couple. Ekaterina and Dmitri were
celebrating their first title, while Elena and Nikita couldn't help looking disappointed when they realized they won only the free dance, and not the competition overall.
"Everything could have been done better and apparently the judges see it the same way," Nikita commented on the situation.
Ekaterina was very happy about her gold medal, but critical about her performance: "It was not perfect and we did not show everything we can do – the diagonal step sequence only got a level two. The main thing is, however, that we are happy, our coach is happy, and that's why we skate: to be happy."
Anna Capellini / Luca Lanotte had great support in the audience. "We reached our goal tonight. It was a very good performance. There was a small mistake on the step sequence after the twizzles, but the level of competition is very high and even small mistakes are costly," Luca said.
The competition concludes on Saturday by men's and ladies' free skating.
Don't miss our flash updates (containing text updates and fun pics) from the European Championships 2013 on Twitter and Facebook.