Heroes in the Jungle
July 24, 2013
By Mireille Geurts
Photos © 2013 Absolute Skating by Joy & MG
Part 3
After the break - or after the improv piece, depending on which show you attended [see previous part for the full story]- the show continues with The Lion King. ItÂ's not the first time parts of this are used in an Ice Fantillusion show and I wondered if Kevin wasn't afraid of getting too repetitive.
"No, I am not; it is okay to repeat things as long as you do them better, make them look new. However, weÂ've done pieces of The Lion King several times already, so this would really be the last time we could use it and it had to be great. Instead of using just pieces, I wanted to do the whole story. Especially the beginning of it, with the bad guys and so."
'The circle of light': Lions, zebras, leopards celebrate the birth of the future lion king, Simba. The group on the ice is so big it is impressive. Next to all the animals, there is a small solo spot for Naomie Verdeyen (photo above) who even performs some skating moves with a hula hoop. On the built platform in the back Jeroen Vandevelde holds up the newborn lion cub, while projections are playing on the big screen, all adding to the festive mood.
While the young Simba (David) is growing up he is learning how to roar and just cannot wait to become king. He plays with his friends, including his best friend Nala (Jennifer Stone), a female lion cub. (previously posted video: http://www.youtube.com/watch?v=iez1TcXROnA) But in the meantime evil schemes are being cooked up by his uncle Scar and the hyenas. Showing off his dark side, Scar skates around in the almost dark, doing jumps and spins and slides with fire torches on his hands.
Skating with fire? You probably already guessed that Scar, at this point, was played by Kevin, since we already established he loves playing with that (link to previous article). But later, when we meet the grown up Simba - after the killing of the king (Michael), Simba's subseqential flight and hook up with Timon (Abbie) and Pumba (Nora) - he is suddenly also played by Kevin, while the part of Scar is taken over by David.
"Initially the plan was that Alex would play Scar, but since he couldn't come, this was the solution we came up with. It meant a really fast costume change."
It was these costumes that made the concept feasible, since of Scar one only sees the face, and not that clearly either. This also meant that young Simba was played by David and then the mature Simba by Kevin. This was a very neat idea, because it made you really see a change, the development to adultness. As it was for Nala; Jennifer being the young girl and then Jenna took over the mature part (and she looked stunning in a gorgeous costume!). Great symmetry!
Before Simba returns to his people to defeat Scar and take his rightful place as king, he realizes that his father will always have a place in his heart. Depicted in the song 'He lives in you', Charlotte van der Kar has her own beautiful solo. Or more, lead-role while there is also an ensemble on the ice. As we know by now, the solo's are perfectly planned and fitted in the stories/show. After the grand finale of 'The Lion King', we get another break act, this time Jelle Butzen (photo below) as 'The jungle hunter'. A hilarious piece about a young man, at first scared in the jungle, to making it his own.
"For the solos, I gave everyone, except Jelle, their music," Kevin says.
"With him I just need to mention the theme and I don't have to worry. He has something special when it comes to entertainment value. He was also the ape in The Jungle Book (I wanna be like you - ed) and he was super."
Indeed he was. In that role he was all covered in fur,
and still I could spot within seconds that it was him by the way he moved. His Jungle hunter act posed a problem though, as he did a slide on the ice... while he was wearing shorts.
"When he did that, I turned to David and said 'that's gonna hurt! He just did a kneeslide across the ice on that thick snow with bare knees,'" Jenna recounts.
"When he came off the ice, I asked: 'at what point did you think that was a bad idea? Did you not consider the fact that it would destroy your knees?' And he went: 'Midslide...'"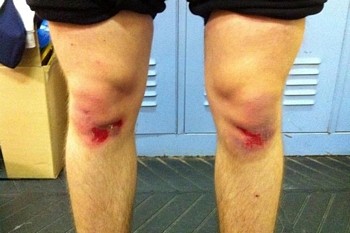 And destroying his knees it did. They were half cut open, and half burned. This happened at the first school show so one more plus three audience shows to go. Did these wounded knees keep Jelle from doing the slide/sit on his knees in those other shows? You probably guessed the answer. Nope. He did it in every single show, sometimes wearing large band aids, sometimes not, making me cringe each time. Heroic or stupid? You decide. His reasoning was that the audience paid for the tickets, so he owed them a good show.
"I just told him not to do it, really, I mean the show is not going to fall apart without that kneeslide! But boys will be boys," Jenna states.
We did try to offer him some solutions, like wearing knee socks. Kirana even offered to bring him a pair of her tights but that offer was strangely not accepted...
Putting to good use the many skaters that are to their disposal, again a giant group is on the ice. They start out in a triangle formation, with a few outsiders, by doing several dance moves shifting into an inner and an outer circle, some skating in, others skating out. It is a formidable sight, which becomes the most impressive when the entire group moves in sync. 'Put your faith in what you most believe in, two worlds, one family'. The mood is optimistic, the lights are warmly orange red, the ape family seems at peace. And then disaster strikes, a leopard sneaks in, and despite Kala's desperate attempt, she loses her baby to him.
Jennifer Stone plays Kala, and she does a great job at that. When she enters the ice and depicts the mother who lost her cub, somehow her movements and facial expression choked me up every show I saw.
'No words describe a motherÂ's tears; no words can heal a broken heart'. Kala is surrounded by her tribe forming a giant circle around her, but she feels terribly alone, mourning the loss of her cub. Until she hears a crying sound. Instinct drives her to search and she finds a human baby. The leopard heard it too, and tries to get to it, but Kala quickly dives into the safe family circle, this time managing to save the child.
"The last story in the show is Tarzan, I just love the music. I never get tired of it."
That is something I am in full agreement with Kevin about. Where the previous music is sad, emotional and then beautiful, in the next part they used the more upbeat Son of Man which immediately invites the audience to clap along to the formations of apes sometimes skating in sync, sometimes splitting up in to different groups, mirroring their moves or interweaving. It is hard to explain, but if youÂ've ever seen synchronized skating you will sort of know what I mean. Their movements are also choreographed to look ape-like, crouched down positions, jumping up and down etc.
We hear the yell of an ape, and Tarzan, aka Kevin, appears on top of the back decor stage. He runs down and skates right through the group to the front. Taking the lead, he and the entire group skate in sync to a reprisal of the song, and it is a blast. All steps and moves are really on the beat and one can really tell Kevin loves this music and knows it by heart.
The song ends with yet another creative end pose, and then we get treated to Tarzan monkeying around with little ape Amber, until Jane appears on the ice. Of course acted by Jenna. While Tarzan first hides in the jungle, little Amber is curious and wants to play with her, but Jane is scared and hides, but at the same time is also curious.
I love how they put these details in the show, it was a funny scene and it really worked to set the characters in such short amount of time. I also really enjoyed how Jenna acted out this part. Even tho she was often far away, with her gestures and expressions, she very well conveyed Jane's emotions to the audience. We, of course, all know how this story ends. Jane meets Tarzan, and they fall in love. But... Tarzan, having grown up as an ape, swings on branches and hanging vines. Kevin has long wanted to do this in the show, but never really got the chance to. Until this show. I wondered how he felt about the eventual execution of the so called 'flying'.
"They didn't deliver the safety device. So Jenna was a bit scared.
But I don't care, I just do it, the show must go on. Actually, the guy from the lighting told me I was nuts doing it without the safety device."
NutsÂ… and perhaps a little heroic as well, considering all he had to hold on to was an iron cable with a hook. No safety device or any kind of protection for the hand. It looked good though, especially when Kevin got the cable to swing and hung himself upside down. Jenna's part also looked nice, she got lifted up, while spinning around and then lowered again and caught by Kevin in mid air. But something that risky has to go wrong sometimes.
"Jelle wasn't the only one with hurt knees, I also hurt mine. When I had to catch Jenna flying, her legs came down on my knees. It is never safe to go on the ice with bare legs," Kevin laughs.
Luckily only slightly off. And it was worth it since the
flying really worked in the show. This was during the love duet Strangers like me where Kevin and Jenna also showed they can still do the pair lifts of recent years, and that their off ice chemistry really works on the ice as well. This led to expect a romantic embrace at the end, but turned hilarious when Kevin instead crouched down and hugged Jenna's leg, like an ape would do.
Previously posted video of Strangers like me on our social media channels here: http://www.youtube.com/watch?v=RvEgaywSZY0
Closing off 'Tarzan' with a fun act with the youngest skaters under the lead of Abbie to 'Trashin the camp', and all that is left of the show is the finale. This opens with the ape/monkey ensemble doing some similar shimmy and shake moves as in the shows opening to 'On the run' and then moving on to a 'Hakuna matata'/'Circle of life' medley. Every skater participating in the show enters the ice and all of them together have an amazing party, topped off with fireworks.
Story-wise that is the end of the show, but at the three public shows there were two guest acts. First of all there was a performance by lead singer Linda Martens of the successful Belgian dance formation, Milk Inc.. She sung their biggest hit Walk on water. For those that don't know, Linda was also one of the contestants on Stars on the dance floor.
"I was really happy Linda came, it was a big success," Kevin exclaims.
Another person Kevin "met" at that TV show was Charissa van Dipte, the dance partner he won the show with. Together they performed Last dance which they also did in the TV show, only now on a carpet placed on the ice.
"Initially I would skate with Charissa instead of dance, but there just was no time. From my side, not hers! And in the end, it was Stars on the dance floor not the ice floor. I heard from many people that they appreciated Charissa being involved in the show - especially those that voted for us. So this way we could give something back to them."
Because the placing of the carpet took some time, there was a speech in each show. On Friday it was held by Kevin's sister Veerle, on Saturday by Euvgenia Parakhina and on Sunday by former skating judge Patrick Ibens. Each of these were very funny, and if one would visit all three shows it was really nice that all were very different as well. Although the one similarity all three speakers had, was expressing not expecting Kevin to get very far in the dance show. His sister even thought he was joking!
"The speeches before the dance were not prepared in advance. On Friday I suddenly thought: 'shit I have only one minute to change my costume!' and I saw my sis walking by, so I just handed her the microphone. On Saturday I asked Patrick if he could do something and maybe involve Euvgenia too. In the end they just gave the microphone to Euvgenia," Kevin laughs.
"And then on Sunday Patrick did the speech. I myself don't hear the speeches because we are busy preparing."
Which is really a shame because all were funny in their own way and their own perspective. His sister of course knows him very well; Euvgenia spoke mostly of being a fan of his skating before he even started the TV show and then the experiences there, while Patrick put the most weight on how Charissa managed to turn Kevin's expression up a notch.
After the final finale, Kevin, Jenna and their crew always take time to thank a lot of the people involved, hand out flowers and other gifts, and then, on the Ice Fantillusion theme, present themselves one more time to the crowd, before really bowing out. On Sunday, this always leaves a sad feeling, knowing it was the last show of this edition. And it was truly amazing. Not just the show, but also to see the spirit around it, the teamwork involved. It is all the little pieces in the clock that make it tick in the end. All the heroes mentioned; the skaters who save the show when something goes wrong, or go above and beyond to perform their acts. The people who built the decor and seating area well into the night and all the people staying behind on Sunday evening to take everything down again. There are so many people involved, but to close with Kevin's finale words "we better stop listing names, or we'll just end up forgetting some". Giant props to the entire Ice Fantillusion team!!!
And can we please get another edition?
For more information about the shows, check out the official Ice Fantillusion website or take a look at our previously published sneak peek.
And on our facebook page you can find a short dress rehearsal pic story as well as after the show posing pics part 1 and part 2.