Returning guests and Olympic dreams in Oberstdorf

October 4, 2013
By Titanilla Bőd
Photos © Eva Maria Jangbro (EMJO), Mireille Geurts

Not only the winners and medalists were happy after the 45 th Nebelhorn Trophy in Oberstdorf. This time the traditional event was also a qualification for the Olympics.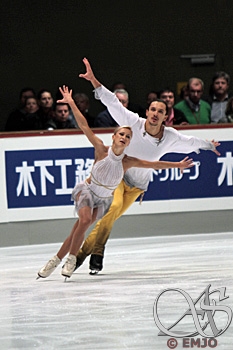 Two hat-tricks
Tatiana Volosozhar and Maxim Trankov won the pairs event for the third time in a row. In their short program, skating to Mascarade, they earned a world record score: 81.65 points. "We didn't know it was a new record, but we are very happy about that. Though it's very early in the season, we are not in a bad shape, we skated clean. We have to work on presentation, because it's difficult to dance waltz in pairs skating. For us it is a tradition to skate in Oberstdorf, it's always a lovely atmosphere here, the audience is great," explained Maxim Trankov. He has even changed his appearance because of their new programs; he has a moustache and a beard and longer hair. "I have to play my role on the ice, so I think it will stay like this for the whole season."
In their free program to Jesus Christ Superstar they portray the relationship between Jesus and Maria Magdalena. Their costume has interesting detail: Maxim wears yellow trousers. "I knew before this competition that this would be the main question," Trankov laughed when he was asked about it. "We just wanted to show that we dont want to portray Jesus Christ as in the church. We are hippies."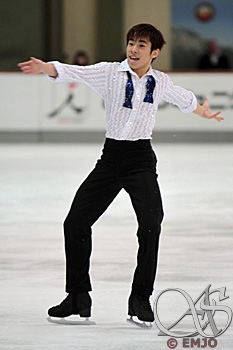 For Volosozhar and Trankov the Nebelhorn Trophy is a traditional first competition. "At the beginning of our partnership we came here to get the required points, and we liked it here, so now we come back each year," Trankov said.
In the men's field it was Nobunari Oda who completed a hat-trick. "I'm very happy. I was last to skate, so I was very nervous. I was very focused on my quads and they worked," Oda commented on his victory. He also won for the third time in Oberstdorf, which is a good start for him in the tough competition for the Olympic spots. "There are many good skaters in Japan. Every male Japanese skater is my rival. But I want to make it to Sochi," he added with determination.
Comebacks and new partners
Maylin Wende and Daniel Wende returned to competition after almost two years and placed second in the pairs' event. "We never really stopped, but I had some back injury and then there was a death in the family. After those bad things it was awesome to skate at the home rink," Daniel told the press. It was the first time the married couple competed as Wende and Wende. " When the announcer said for the first time: Maylin Wende, it felt strange, but then it was just normal," Maylin said and her husband added: " Competing as married couple means we really love each other. After problems on the ice you have to be nice at home. I love when the announcer says: representing Germany, Wende/Wende! It's perfect for me to hear."
In third place there was another German pair, Mari Vartmann and Aaron van Cleave. "Last year we didn't make it even to the long program, so we are happy," Aaron said and his partner laughed: "I'm just happy not to break his nose this time!" The duo completed their first triple twists in competition without breaking Aaron's nose…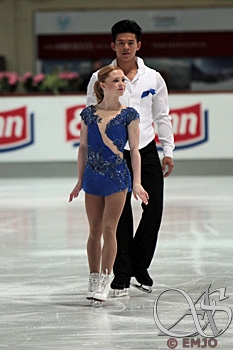 Narumi Takahashi and Mervin Tran won a world bronze medal for Japan in Nice 2012. One and a half years later they both competed with new partners. Tran now represents his native Canada with Natasha Purich. After the short program they were third; in the end they finished sixth. "We've been together 7 months and we have to compete with teams who've skate together for 7 years," Mervin said. "It's amazing to come to this high level. For me this is a senior debut," Natasha added.
Narumi Takahashi skating now with Ryuichi Kihara missed the Olympic spot. They are the first substitutes now and they have to wait if all the qualified countries send all their pairs to Sochi.
Believe in your dreams
One of the most awaited moments of the Nebelhorn Trophy was the international debut of the Turkish pair Olga Beständigova and Ilhan Mansiz. They had no chance for an Olympic spot, but in the short program they almost earned the technical minimum score for the Europeans! They earned huge respect from the audience and fellow competitors, because Ilhan used to be a football player, he is World bronze medalist, and he learnt to skate when he was 33 years old! Now he is 38 and his message is: Believe in your dreams, no matter now crazy they are.
"I would never recommend figure skating to any football player, because it's hard, but I recommend everyone, no matter what their dream is, they should go and fight for i t," Ilhan said.
"This is so emotional. People I competed with are already coaches and I'm still here competing. It felt so special," Oli Beständigova added. For her it was the first international competition after 8 years. "We didn't make it to the Olympics, but still, it is our victory."
Names to remember
United States sent to Oberstdorf two young skaters – Jason Brown in men's singles and Ashley Cain in ladies' singles. For both of them it was their international senior debut, and they both placed on the podium: Jason was second, while Ashley was third. Their performances caught the audience's attention. Jason, for example, enchanted the spectators with some great Irish dance in the free program. "I don't have an Irish descent, but I like the music and the culture," the American skater said, who was very excited about his first senior medal. "I just hope I will keep growing."
For Ashley Cain it was also a senior debut in singles, although in pairs she already competed at the senior level. Her energetic performances were worth a bronze medal. "It's a dream for me. It was just incredible. I really felt confident, I got a lot of support from the audience," Ashley said, who almost got the silver medal. She was only 0.28 point behind Miki Ando.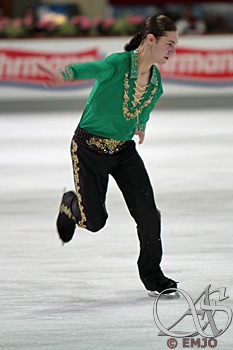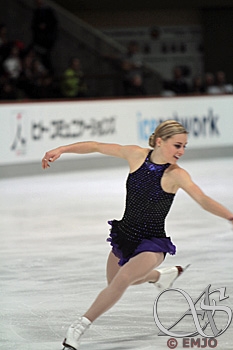 Meeting of generations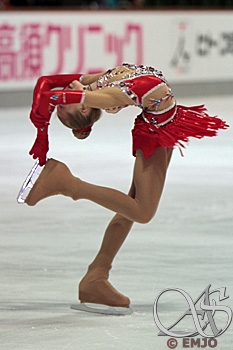 Russian Elena Radionova ruled the ladies competition – the only 14-year-old skater won both the short program and the free skate. Off the ice she resembled an ordinary kid, who was a bit embarrassed when she searched for the time schedule in the press centre "pigeon holes". However, on the ice she was the real star. "This was my first senior competition. I didn't really expect this result. I'm very satisfied. I also like Oberstdorf; a clean, quiet town, I enjoy the mountains as well," Radionova said. She even outshined the two-time world champion Miki Ando, who returned to the international scene after two years and after giving birth to her daughter.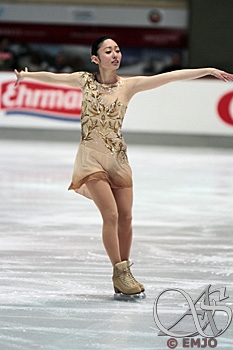 "I felt nervous, and I felt I had no speed. I know I can be better, but I was just happy to come back. Thanks for inviting me to this competition," Miki said at the press conference after the short program, in which she skated to the famous Sinatra song, I Did It My Way. Ando added that Radionova reminds her of her younger self: "When I was 14, I was also this hyper; it was really easy to do everything, the quad Salchow and the triple-triple combination. When I grew as a woman, it was different. Some jumps I lost, but I gained many other things, I skated with emotions as a woman, not as kid."
To boost a season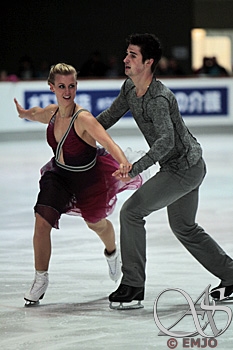 In ice dancing, American couple Madison Hubbell and Zachary Donohue moved up from second place to take their second Nebelhorn Trophy title. "For me and Madison it is a great experience to come to Nebelhorn. To be able to come back and win a second time is a big deal to us. It helped to boost our season the first time and I think it's another great stepping stone for us to work our way up", Donohue told the press conference. Russians Ksenia Monko and Kirill Khaliavin placed second, while overnight leaders Alexandra Paul and Mitchell Islam finished third.
Happiness and disappointment
The fact there are Olympic spots at the stake changed many things at the Nebelhorn Trophy. There was live television coverage, there was a proper press-centre, and compared to the "Oberstdorf standard" absolutely relaxed and friendly atmosphere, this time there was tension.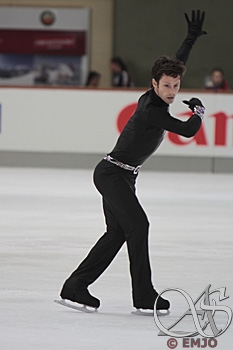 Justus Strid from Denmark, who skated last in the short program, was too nervous and he made many mistakes. However, next day he bounced back with a great free skate, even though it was not enough to earn an Olympic spot for him. "I wasn't devastated; because I don't think only Olympics is everything. After I had no chance to qualify for Sochi, I was able to skate, relaxed, in the free skate and it was a great performance. I'm looking forward to Europeans and Worlds," the Danish skater told us.
Zoltán Kelemen
of Romania, on the other hand, had a clear goal: to fight for his plane ticket for Sochi. He skated very well in his short program and also in the free skate, which meant he was second in the order of the qualifying event and overall sixth. "I still can't believe it, I'm very happy" Zoltán said right after the program. "Now we open a bottle of champagne," his coach Gheorghe Chiper added with a happy smile.
The heroes of Oberstdorf 2013
To sum up, here is the list of the medalists and Olympic spot earners from the 45 th Nebelhorn Trophy:
Men
1. Nobunari Oda, Japan 262.98
2. Jason Brown, USA 228.43
3. Jeremy Ten, Canada 205.56
Olympic spots earned by: Alexei Bychenko, Israel, Zoltan Kelemen, Romania, Michael Christian Martinez, Philippines, Brendan Kerry, Australia, Yakov Godorozha, Ukraine, Paul Bonifacio Parkinson, Italy
Ladies
1. Elena Radionova, Russia 188.21
2. Miki Ando, Japan 162.86
3. Ashley Cain, USA 162.39
Olympic spots earned by: Brooklee Han, Australia, Elene Gedevanishvili, Georgia, Anne Line Gjersem, Norway, Kerstin Frank, Austria, Elizaveta Ukolova, Czech Republic, Isadora Williams, Brazil
Ice dance
1. Madison Hubbel, Zachary Donohue, USA 147.11
2. Ksenia Monko, Kirill Khaliavin, Russia 142.14
3. Alexandra Paul, Mitchell Islam, Canada 141.99
Olympic spots earned by: Xintong Huang, Xun, Zheng, China, Alisa Agafonova, Alper Ucar, Turkey, Danielle Obrien, Gregory Merriman, Australia, Cathy Reed, Chris Reed, Japan, Sara Hurtado, Adria Diaz, Spain
Pairs
1. Tatiana Volosozhar, Maxim Trankov, Russia 231.96
2. Maylin Wende, Daniel Wende, Germany 174.88
3. Mari Vartmann, Aaron van Cleave, Germany 162.81
Olympic spots earned by: Stacey Kemp, David King, Great Britain, Elizaveta Usmantseva, Roman Talan, Ukraine, Natalja Zabijako, Alexandr Zaboev, Estonia, Andrea Davidovich, Evgeni Krasnopolski, Israel