Tomáš Verner "My Dracula is not terrorizing anybody"
January 22 , 2013
By Titanilla Bőd
Photos © Absolute Skating by Eva Maria Jangbro (EMJO) & Poggi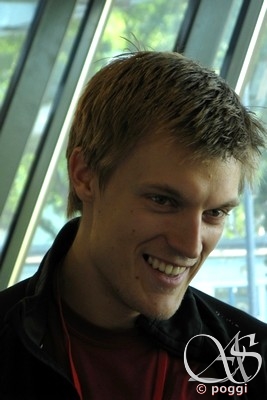 Tomáš Verner thinks Dracula is a sensitive guy who just has a lust for blood, he smiles widely every time he hears about Zagreb, plus he is sexy and he knows it. It's always a pleasure to talk with the skater and our last meeting was no exception.
The interview took off with me asking the, to me very natural, question: "Why did you chose Dracula as the music for your short program?" But instead of answering the question, he retorted: "Oh, will we start right away with that?" I replied "We can start with how you are, if you want to?" He said with a smile: "I'm okay, thank you, and now about Dracula. I was searching for a music that would say something to me and that I haven't heard on the ice for a long time. One day I was listening to the soundtrack of 'Van Helsing'. He is an even harder character than Dracula, the music was also quite fast and there weren't many parts where I could find something from my personality. But I liked that direction, and then my choreographer David Wilson suggested 'Dracula'. I listened to the whole soundtrack and I was thrilled. The last march, which I use for the step sequences, is a fantastic thing. I know that it is not that fast, but I think it's in a good place in the program and I'm able to move my legs exactly to the music. This highlights the music as well and this is what my interpretation should be like. So, I chose certain pieces of the soundtrack and it was clear that I don't want anything else, I want 'Dracula'. David Wilson put it all together. To avoid it all being too heavy, dark and serious, there is a lyrical part in the middle, where Dracula is not seen as such a black person. I think the whole music cut by David is perfect and I enjoy skating to it. I'm very happy about it."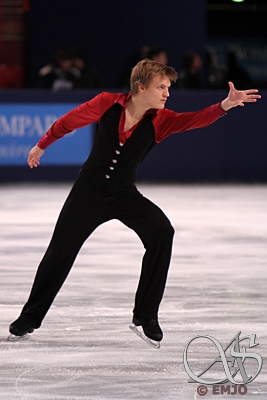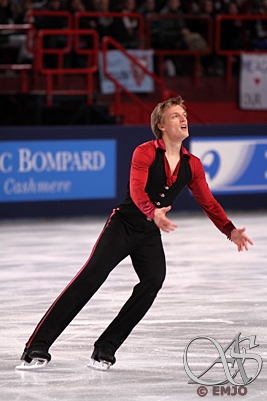 Tomáš clearly loves the music and fortunately he has fed off the audience reaction.
"I performed it at the beginning of the season at the show in Japan, and people loved it. They looked carefully all the time and started to clap only when the program was over, they were so taken into the drama of the story. I'd be glad if they applaud when I land a jump, it is nice, but otherwise I like when they let me be in my role. And as for Dracula himself... I think he is not as terrible as people sometimes think. I saw six movies about him and also read some parts from the book. I liked the most the original version by Bram Stoker which also contains a nice love story."
So Tomáš' version of Dracula is not a cruel one, as he emphasizes.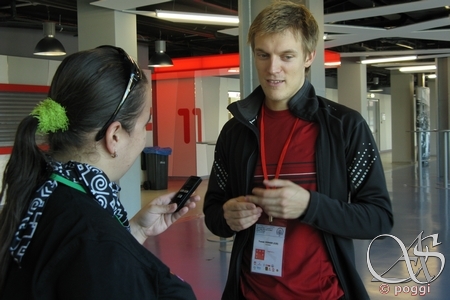 "My Dracula is not terrorizing anyone! He is a sensitive man, he just has a fail for blood. But he is not torturing those women, they are coming to him by themselves! Dracula just lets them fall in love with him. This should be like this with my skating, too."
His costume is quite conservative, black and red. [See photos above]
"This is the definitive version of it. Some people said it should be more glittery, but I don't want it to be theatrical. I have wonderful silver buttons on my costume, they are decorated with Czech granat stones, I know that it can't be noticed from a distance but I know about it. Bram Stoker presented Dracula in grey colour, but I didn't want to wear grey, it would be too pale. I like this current costume and I think it fits well the music."
While Tomáš has focused heavily on his short program he also changed a nice chunk of his long program. When asked about his reason for changing two full minutes he simply said,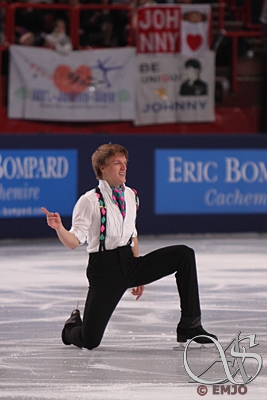 "Because I could do it. As a 26-year-old I exactly know what my skating is about and in which direction it is heading. I know it wasn't that easy for my choreographer, because we had to find two minutes for a new beginning. I told Lori (Nichol): "I don't feel like changing my free skate because I like it and I didn't have many chances to skate it well last season. But I don't like the first two minutes. Can we change them?" She said it would be easier to convert it to a short program and to make a brand new long program. So I said: "No, no, I wonder, if it's possible to change the first two minutes." And she answered it is possible, so we've done it. We've found Duke Ellington, it fits with the rest of the program. I like that it is light music, so that the program starts in an easy way. To start a program with quads and triple axel it is better than to have a music which 'hunts' me too fast. When I started with 'Sing, sing, sing', people immediately started clapping hands which is great but before the first two elements they don't really need to clap, because I have to concentrate very hard."
It's clear Tomáš is doing everything to make this season a success, perhaps because last year was a rough run due to the skaters' back injury.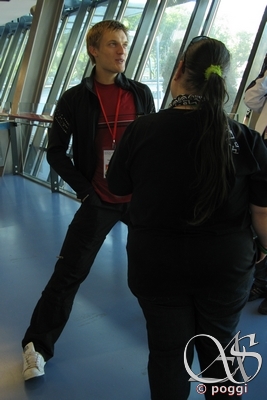 "Relatively I'm okay, though I'm having some pain, sometimes bigger, sometimes smaller. Last season was catastrophic mainly because of my health. I couldn't really get out of those injuries, I started practicing and ended, started and ended. This is very tiresome also mentally. It wasn't sure if I can continue skating at all. Luckily now I can worry about my triples and quads, and not about the fact if I can ever walk again or not. I don't really like talking about goals, although I don't think it is good to keep them absolutely secret. I have some unpaid bills at the Europeans, last year I was third after the short program and then disappeared from the top positions… So I don't want to make a similar mistake once again. And last year the Worlds were horrible for me, so I want to leave a better impression. It is very important because it's preparation for the Olympics, and we have two good Czech guys, so our goal is to earn three spots for our country. This means me and Michal (Březina) should be both in the top ten. This might seem a modest goal, but nowadays the skating field is so balanced that someone can easily be second or seventh."
Tomáš is also readying himself for the European Championships which will be held in Zagreb, a city that holds special memories for him.
"Yes! (huge smile) I remember that city. And every time I think about it, I start smiling. I have the best memories of Zagreb. Unfortunately there weren't too many spectators. I don't want to seem big-headed, but the ice rink was mine, I saw my banners all over the place, there was the Czech flag, or Tiger or the slogan 'Kick ass, Sunshine'. Thanks to good people, thanks to fans, when I arrived, the ice rink was already mine.
They believed in me and they hoped for the best, and in the end this happened! (Verner won his one, and so far only, European title in Zagreb - ed) I'm going to Zagreb, I would be very happy if the atmosphere would be the same, and I'm looking forward to the competition. I don't want to think that if I won there once I would win again, but I will go for more good memories."
This season's World Championships are also something of a homecoming for Tomáš, as they take place in London, Ontario Canada which is close to where he has trained for years. He is really looking forward to this experience as well. "I'll have a huge support, because I've been living in Canada for two years and for some reason people like me. I don't know how many spectators there will be overall, because London is not such a big city and even though I say it is only two hours ride from Toronto, it might be a lot if someone doesn't have a car. We will see, but I'm looking forward to it."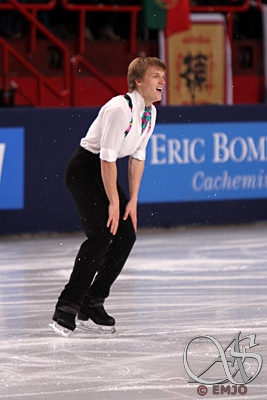 Tomáš is looking forward to skaters like Johnny Weir and Evan Lysacek returning to competitions, so he is able to talk to someone from the old party.
"Exactly! Not that I can't talk with the young guys, but if you look around and see only 17- year-old guys, you might ask if you are not here for too long. On the other hand, age is not important, the important thing is how you feel. I'm really looking forward to Johnny, Evan and Zhenya, we will compete as we used to. Of course, there will be some other people now, too, but I'm glad that there will be also my old friends."
This season the ISU raised the minimum technical score for qualifying to Europeans and Worlds.
"I won't have a problem with this, but I don't really think it is a good step. The ISU is an international organization and there are many atypical skating countries in it, but with this decision they totally make it impossible for them to be there at the Worlds Championships. I know that there is pressure from the media, but they don't have to broadcast the preliminary round, if they don't want to… By setting the technical minimum so high that for the countries with less tradition, or worse conditions for skating it will be impossible to qualify for a major event. I don't think it is good."
Some changes in the system are good, some less. What if Tomáš had the power to change anything?
"The ISU wants to leave more freedom for the skaters, so after the Olympics, they want to allow the use of vocal music. I think it would be crazy. Even now some skaters choose music which are not very suitable for figure skating. I don't want to decide what is suitable for our sport and what isn't, but imagine, poor judges will have to survive 24 songs by Britney Spears or some heavy metal… I wonder how they will manage. I would give more freedom to skaters in other aspects: concerning spins, steps, so that the judges could really see who can really skate, not only who have read the rules the most carefully."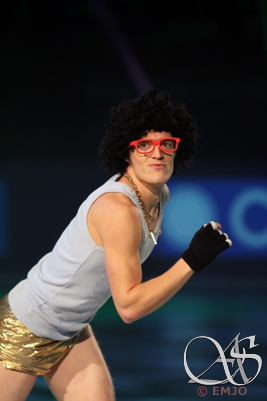 When asking if he can name some programs by other skaters which are technically on a high level and also interesting for the people, he replied:
"I always mention Daisuke Takahashi when I get this kind of question. Last season he had blues as his free skating. It was a slow, boring music, if someone else chose this music, people would die looking at it. But with him, those 4 and a half minutes flew, it was fantastic. He has the skill to draw in the people and to interpret the music. It was interesting, modern and great. I respect this guy, I like how he looks at skating. Even though he has different choreographers, he has his own style."
Speaking of memorable programs of last year, there was one very suggestive exhibition number: "I'm Sexy and I Know It". Will we be lucky enough to see it again?
"If there is an interest, I'm sure I'll perform it. I'm planning to skate it at some shows. This program is not only for the fans but also for me. Normally I'm a bit nervous even before an exhibition, because I feel the responsibility to show something to the fans. Of course we have to entertain but we also have to show something from our art. But when skating 'Sexy and I Know It', it is pure fun. I enjoy it very much. "