World Championships 2013 - A Different Perspective
June 5, 2013
By Suzanne Herrmann
Photo © Suzanne Herrmann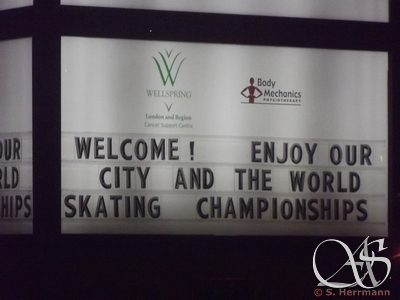 Welcome to London…London, Ontario!
Canadians have a great reputation for knowing how to put on a good show. Maybe that's because skating is a national pastime – granted hockey comes first – you will rarely find someone who doesn't know something about figure skating.
Throughout the city, welcome messages for visitors graced signs and billboards. The hotel personnel were interested in who was attending and how the competition was proceeding. It really was a BIG deal for London.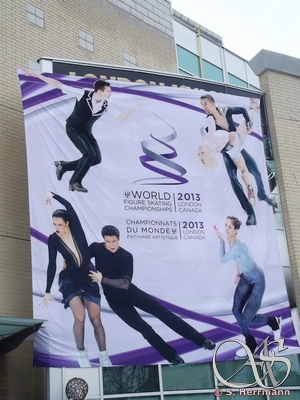 Thinking back to when the city was awarded Worlds, I remember thinking that I would most certainly be there – I just didn't know in what capacity. My task exceeded every expectation and the organization and event were phenomenal. There were shuttle buses for event staff, media and skaters. Special parking arrangements for discounted prices were offered to ticket holders in advance (otherwise you'd likely find yourself paying $25 in one of the convenient lots). There were tents set up outside the main entrance to the arena with Skate Canada, memorabilia, a "marketplace" amongst other things. A light show was also held at night and music played in the streets throughout the week. On the far side of the arena, streets and parking lots were blocked off to house the giant tent(s) set up for media and skaters. When I say huge tent, I mean the size of another arena. It was pretty fantastic…and warm!
The amount of organization that went into the event was mind boggling. Kudos to everyone who played a part! Just to give you an idea of how many people were involved…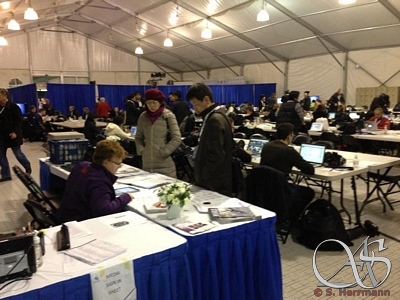 Journalists, photographers, skaters, coaches, team members
Arena personnel, shuttle drivers, Welcome / registration, ISU, assistance table, IT table, "dining" area, press conference mediator, volunteers at press conference passing microphones, volunteer translators for skaters
Media welcome table in arena, volunteer welcome/registration table, personnel at every door/staircase/escalator to check credentials
Volunteers patrolling backstage area in mixed media, interview zone, skater zone, volunteers opening and closing door of rink to skaters, announcers, judges, referees, technical panel, commentators
…and those were just the visible personnel.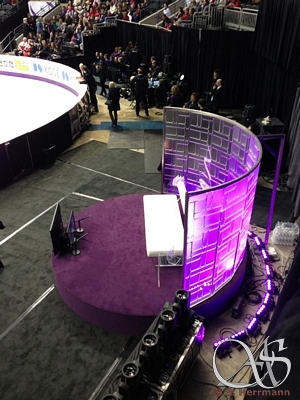 For each journalist and photographer, reporting on the event meant sitting for hours in a cold and sometimes quiet rink watching practice, gaining ideas for what could be captured or written. It included running between the media tent, the arena, the mixed zone and grabbing a food break in between. A reporter cannot be in all places at once and must choose which location will garner the greatest reaction. Will it be the candidness of the mixed zone? Could it be the performance of a lifetime in the arena? As I watched the performances, I was juggling a camera, my phone, the competitor list and the planned component sheet, trying to give immediate reactions as well as gathering information and photos for later. In the grand scheme of things, there is little sleep to be had and stimulation a-plenty. This is what goes on behind most large events you see Absolute Skating reporting on. It is an amazing experience, but much work goes into making it happen from all ends.
Throughout the skating event, the audience was excitable, supportive and LOUD. I don't know that I've ever experienced a louder audience. Ever. It didn't even matter if a top team or skater were performing. If the skaters were Canadian or a crowd favorite, the cheering blew the roof off of the place. I imagine Japanese audiences must parallel that energy. I was pretty sure the skaters could not hear their music—I could barely hear it. To be able to skate for such an enthusiastic crowd must be an honor.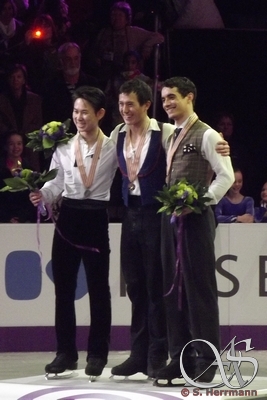 Patrick Chan mentioned how awesome the crowd was and that he was sorry he could not skate a better performance on home ice for such a wonderful crowd. Others were in awe of the experience. In the mixed zone after her skate, Gracie Gold, of the United States, stood there soaking up her experience, dazzled by what lay before her in the biggest skating experience of her life. Max Aaron, also from the United States, had a similar experience – skating his best and proving he belonged at the competition. He never expected to be where he was by season's end and was thrilled by the opportunities he had.
There were high moments and there were low moments and best of all were the surprise moments. Denis Ten offered a great surprise. When asked what he thought about competing in Canada, he said he has been there a number of times and has competed at Skate Canada. He said, "I think Canada likes me because of Jeremy Ten. He's my Canadian brother!" To which the press conference audience laughed. He was so honored and in awe to have won Kazakhstan's first ever medal in figure skating after he completed the short program. Two days later, he was flabbergasted that he brought home the World silver. One could see that it meant a great deal to him to put Kazakhstan at the forefront of figure skating.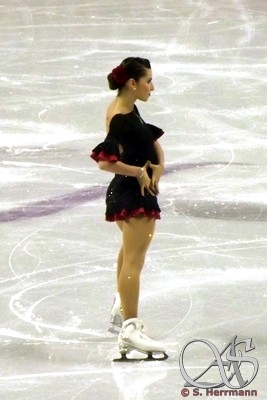 Kirsten Moore Towers and Dylan Moscovitch are audience favorites and most definitely added to the highs of the crowd experience. As I sat in my seat, I actually grabbed a sound bite of the cheering. The crowd grew silent before each and every move and just exploded with delight and cheers with every successful effort in a fantastic program. They were one of the highlights in the interesting pairs' competition.
There were skaters who didn't perform to the best of their ability and undoubtedly at Worlds, that leaves troubling thoughts. Georgian top skater Elene Gedevanishvili did not even qualify for the free skate. Valentina Marchei of Italy didn't have the skate she imagined. After the short program she explained, "I'm upset. I'm ready to skate clean." If anyone has fight and renewal in them, it is her. After Carolina Kostner finished third overall, Italy was guaranteed two spots for Sochi. Rest assured they will be training HARD. Those ladies have lots of attack in them! A couple of months later, Valentina is already gearing up and ready to begin a new and even more successful season.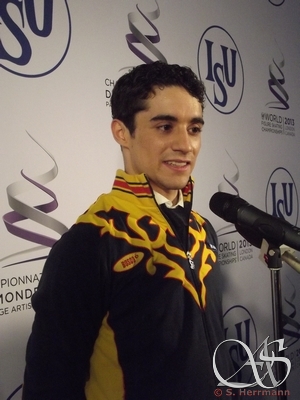 Then there was Javier Fernandez. He simply told the reporters in the mixed zone that he doesn't worry about the competitions one from the next – you can't control everything about them and you cannot always compare one to the next, so he shows up to skate the best he can at each and every one. After he finished his free skate, it was expected that he would not finish in medal range with a couple mistakes. Skater after skater, he remained in the top three. He said as the skating continued, he became more and more excited. His performance turned out to be enough to finish with the bronze – the first World medal for Spain. He was darn proud and very tired after a long competitive season!
There are also skaters who qualify for Worlds and are there to do their personal best, knowing they will not come close to a medal. I had a nice chat with Sara Hurtado and Adria Diaz. (below) They are Spain's first ice dancers and to be at Worlds for the third time was still simply an amazing experience.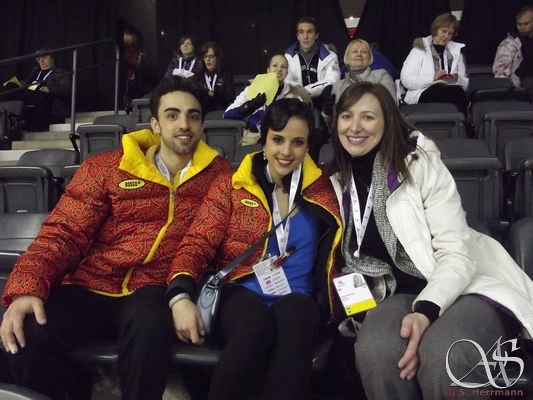 One thing that is special about attending a skating competition is that you can see the highs and the lows, the camaraderie and competitive nature and the goodwill the skaters show one another. Borrowed skates, cheering sections and tossing gifts added to the extraordinary experience the athletes and the audience shared during one blustery week in London, Ontario in the middle of March.