Yuna Kim's successful return brought ladiesÂ' skating back to life
January 23, 2013
By Chrissy Hah
Photos © Rory H.

The 2013 Korean figure skating championships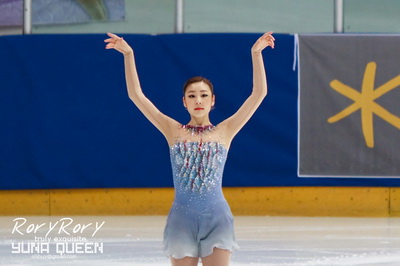 At the 2013 Korean figure skating championships held at Mokdong Ice Rink in Seoul during the first weekend of this year, Yuna Kim wowed the audience gathered at the arena to watch her live performance and claimed her fourth national title in dominating fashion.
As soon as Kim (22) announced she would compete at the nationals for the first time in seven years, Korean Skating Union (KSU) was swamped with inquiries about tickets from skating fans at home and abroad. Consequently, for the first time in its history, KSU decided to charge admission fees and sell tickets online to those eager to watch Kim's competitions. And unsurprisingly tickets were sold out within a few minutes of going on sale. So the organizers had to prepare emergency countermeasures to meet the fans' sky-high demand for tickets by releasing extra tickets, which were also sold out instantly. All the proceeds from the ticket sales will be used to support promising young figure skaters in Korea.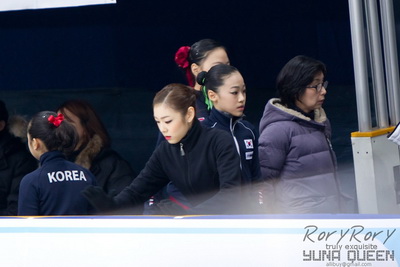 As everybody knows, Yuna Kim is South Korea's legendary skating icon. She has achieved numerous "firsts" in Korean figure skating history including the Olympic gold medal in 2010. Also, she has never placed off the podium in her entire career; she is probably the one and only female skater in the world to accomplish this feat. For these reasons there was no doubt she stood a strong chance to win and she immediately became the favourite heading into the event.
Kim's appearance at the Korean nationals this year was highly inspirational to the young skaters who got the opportunity to skate alongside Yuna on the same ice in a competition for the first time in their lives, as well as the fans looking forward to watching their favorite sports heroine skate competitively right in front of them. Almost all of the girls who attended the senior ladies event are between the ages of 12 and 16. Known as "Yuna Kids" in Korea, they have been trying to model themselves after their role model, Yuna Kim, since Kim's glorious success internationally. When asked for their impressions of skating with their idol, they unanimously said they were "really honored and privileged". Considering that most young skaters in Korea have not had the experience of skating at an arena full of thousands of people (except some of "Yuna Kids" such as Hae-jin Kim and So-youn Park), skating in front of a sold-out crowd of nearly 5,000 must have boosted their confidence and served as a great motivation for them to work harder.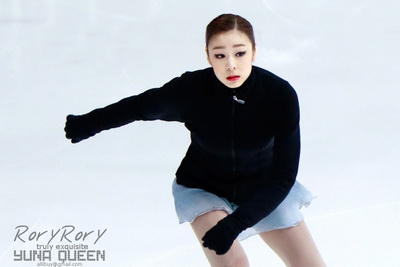 Although Kim looked fully prepared despite her nearly 20 months hiatus only having competed one other time since the 2010 Olympic games, the organizers and persons in charge of KSU were not prepared to provide the best environment for neither the skaters nor the audience. The temperature was below zero degrees Celcius in the arena stands, and the ice surface was far from perfect, with wet patches. However, despite the poor rink conditions the skaters did their best to not let down the fans; the supportive spectators became so immersed in the athletes' performances that they ceased to feel the cold.
In Saturday's short program, Yuna Kim skated last but finished first, as expected. She fell on the second jump of her triple lutz-triple toe combination in the warm-up, due to the fact that not only was the practice ice a little smaller in size, but also wet. The poor ice quality kept annoying her. Upon starting her short program to music from The Kiss of the Vampire, she had an unexpected fall even before building speed for her opening triple lutz-triple toe combination.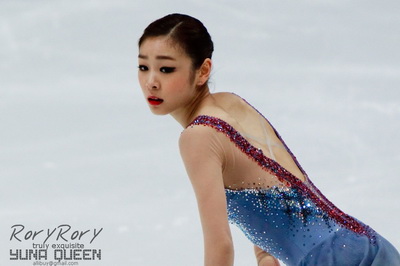 She got up and resumed her routine, but there wasn't enough time to complete her combination. She popped her triple lutz into a single. Those who witnessed the whole thing at the scene didn't see it as a mistake but bad luck, a misfortune. Otherwise, Kim give a great performance and the rest of her program was absolutely breathtaking. To make up the points lost from her unsuccessful triple-triple, she wittily added a triple toe to her triple flip and everyone marveled at her versatility in the realm of triple-triples. Triple flip-triple toe used to be her signature jump combination, but she had not performed it since the 2009-2010 season. It was like a surprise gift to the fans missing her gorgeous triple flip-triple toe! She scored 64.97 for her efforts and was well ahead of the pack going into the free skate.
Skating to a compilation of songs from Les Miserables during the free skate the next day, Yuna drew a standing ovation from the crowd with a virtually clean performance. The audience, as well as the group of reporters and broadcasters who were watching her skate, were in awe as she made a dazzling feast for the eyes. Some were even moved to tears. After she finished skating, thousands of stuffed plush toys rained down on the ice.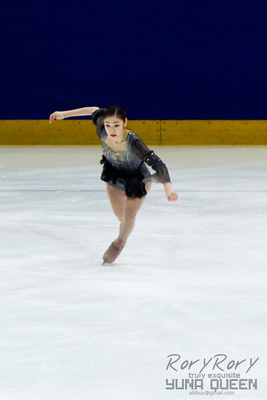 The judges rewarded her for her brilliant performance with a score of 145.80 and she easily won the title with a higher combined score (210.77) than in her season debut in Dortmund (201.66). Yuna hereby succeeded in scoring 200+ in two consecutive competitions after her return to the sport, establishing herself as the one to beat in London, Ontario. Most importantly, she presented a special performance and created unforgettable memories for her home fans in what was likely her last home competition.
At her post competition interview, Yuna modestly stated "I was nervous today, since I made a mistake in my short yesterday. But I settled down once the music started and I tried to skate like I did in practice. Training with a lot of young Korean skaters, sometimes I feel sorry for them because of the tough and exhausting training. I want to help them, but I can't do so as much as I want to because I have to focus on my own training. All the junior skaters are doing so well that my advice to them would be to stay healthy, not get injured."
The next goal for Kim is to earn at least two spots for her country for Sochi at the 2013 worlds. "It is an important step toward Sochi. In addition to just doing well there, I want to earn as many spots as possible so that younger skaters from Korea can go to Sochi with me. The Olympics Games take place once every four years and the experience is something you'll never forget, so I want to give the young skaters the opportunity to experience the Olympics," she said.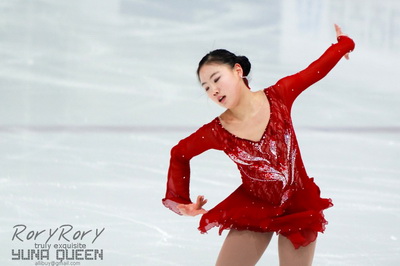 The silver went So-youn Park who scored 161.88 points in total. As one of the two leading South Korean junior skaters along with Hae-jin Kim, Park (15) won the silver medal in her JGP event in Turkey this season. She met people's expectations by delivering decent performances which included a triple Salcho-triple toe, moving her up from third after the short to second overall. Da-bin Choi (12), who surprised many people by placing second behind Yuna Kim after the short program, claimed the bronze medal with a total score of 153.09 points. Meanwhile, Hae-jin Kim (15) entered the event as defending champion but struggled with performances below her usual standard and failed to medal. But she recorded another milestone in Korean figure skating history by winning gold at an international competition last September. By winning the JGP event in Slovenia, she became the first Korean figure skater that has won the top prize at an ISU competition since Yuna Kim. Korea can send two girls to the ISU World Junior figure skating Championships, so Hae-jin Kim who finished forth overall and So-youn Park will be representing Korea there.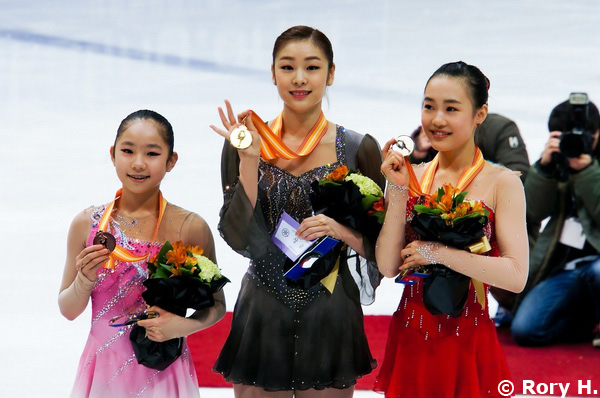 In the men's event, June-hyoung Lee (183.68 points) beat Jin-seo Kim (181.34 points) to win his first title. And the bronze went to Dong-won Lee (171.13 points). All the three medalists are 16 years old, and the friendly competition among the same age boys should bring a bright future to the Korean men's skating, too.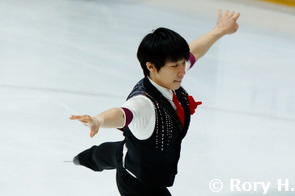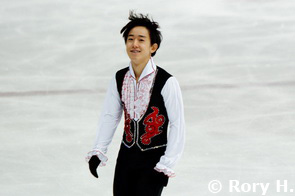 Based on the results from their national competition, KSU made the decision to send Yuna Kim and Jin-seo Kim to the upcoming World Championships. Although Jin-seo Kim finished second behind June-hyoung Lee, Jin-seo is the only Korean male skater who surpassed for the ISU minimum technical scores (TES) in both the short and the free to qualify for the senior worlds. The 2013 World Figure Skating Championships will start on March 11 in London, Ontario; approximately 80% of the spots earned, by country, for the 2014 Sochi Olympics will be determined at Worlds.